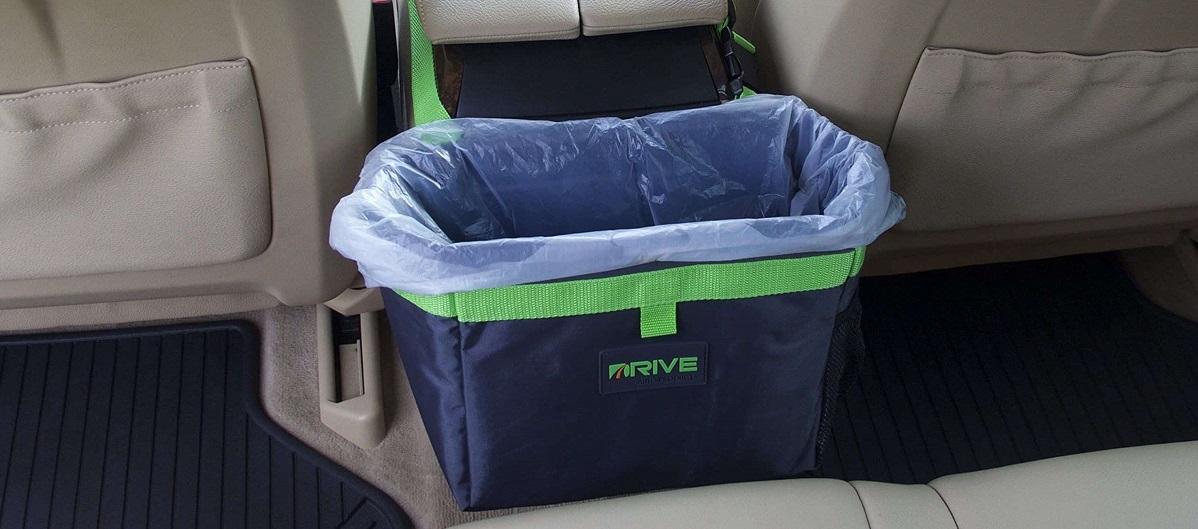 8 Best Car Trash Can to Keep Your Car Tidy in 2022 [Reviews & Buying Guide]
A bunch of tasty snacks while road-tripping can be amazing, but with suitable car trash can at hand as you can mess up your car quickly. With the right automobile trash container, you can care for your garbage easily and keep the interior of your vehicle tidy. If you want to avoid litter in the gloves compartment, center console, or a cup holder, the trash can for car is the right thing.
Durable materials such as polyester, plastic, Oxford fabric, or nylon are perfect for frequent wear and tear. At the same time, cans equipped with waterproof linings will prevent liquids from making a mess. Can with a lid which can be an elastic, flap, or made with Velcro closures can keep your trash out of sight while at the same time holding back unpleasant smells. Some of them are also collapsible, so you can conveniently store them when not in use.
This text will deal with the eight best auto trash cans in eight different categories to help you choose the right one. It can sometimes be hard to choose with so many shapes and sizes, so we also prepared a buying guide following the reviews. We strive to offer you accurate and genuine guidelines to help you find the best picks.
1. Best Overall – EPAuto Trash Can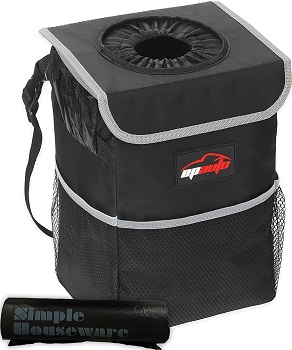 Capacity: 2 Gallons
Material: Plastic/metal
EPAuto car trash bin will maintain your vehicle clean, organized, and free of the trash. A built-in waterproof interior with a rigid structure will keep the container from collapsing. Lid with elastic opening keeps the bin access easily and out of sight. Velcro fasteners on the bottom help to avoid the bin moving around while driving. You can install it on the seatback, console, gear stick, or glove box. It also features 2 side handles that help you empty and fix the disposable bags and 3 side pockets. The Velcro on lid ensures the lid stays closed and is easy to open.
What is more, you can easily line it with a grocery bag.
WHAT WE LIKED// Big and sturdy, Waterproof
WHAT WE DIDN'T LIKE// Too heavy for the gear shift
2. Best Collapsible Car Trash Can – Zone Tech Universal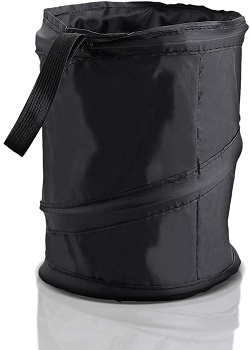 Capacity: 1.5 Gallons
Material: Heavy-duty 500 denier polyester
Zone tech universal is the right for you if you are on the budget. You do not need to compromise getting a high-quality car trash can, as this is still an amazing choice. This model is a must-have for drivers and travelers alike. The Zone Tech trash bins are designed practically, giving you full garbage capacity yet taking up a minimal amount of space without taking up all your legroom.
Its collapsible design makes it easy to use and store when not in use. It can also be used as a storage bag for clothes and toys. With the attached string hook, you can easily attach it to the headrest, put it between the seats in the trunk or wherever you prefer.
WHAT WE LIKED// Price, Waterproof, Versatile
WHAT WE DIDN'T LIKE// Small loop
3. Best Car Cup Holder Trash Can – BMZX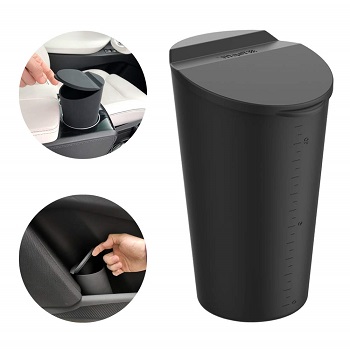 Capacity: 0.9 Gallons
Material: Silicone
This BMZX mini car trash can for car has a unique design that allows you a one-hand opening for easy garbage disposal and an odor-free ride. The opening diameter is 3.5", and the opening design makes it easy to clean up trash. This unit with elegant appearance not only fits for car center control cup holder or car door storage compartment used to store sundries but can also be used as a desktop trash can in the bedroom or living room.
This small trash can for car is made of food-grade silicone with high-temperature resistance and good lid sealing – even burning things will not damage it.
WHAT WE LIKED// Fits perfectly in a cup holder, Very durable material
WHAT WE DIDN'T LIKE// Lacking lid locking mechanism
4. Best Waterproof Car Trash Can – High Road StashAway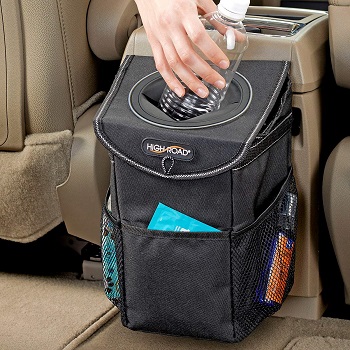 Capacity: 1.5 Gallons
Material: Polyester
This car waste bin is leak-proof and attaches to the center console or headrest with durable reinforced straps to keep dry and wet trash contained and properly covered. What is more, High Road designed the original StuffTop rubber lid to keep our compact car garbage bag covered, even while filling. It will not collapse – it stands up to heavy use. The heavy-duty vinyl lining keeps spills contained while sturdy front and back panels and side braces add stability. All this enables the bin to stay open and upright for easy filling.
The original patented StashAway features a slim design to fit all vehicles, heavy-duty polyester, and durable, sturdy construction. Full vinyl lining holds dry or wet trash with no drips or spills.
WHAT WE LIKED// Strong, Cleans up easily
WHAT WE DIDN'T LIKE// The plastic braces are too long
5. Best with Lid – AstroAI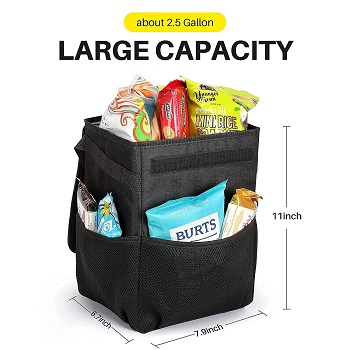 Capacity: 2.0 Gallons
Material: Polyester
This AstroAl garbage can for cars features a foldable design and adjustable belt that allows for storage in any area such as a headrest, rear seat, passenger seat, or center console. It also has 3 mesh pockets to organize small items like magazines, toys, keys, snacks, etc.
The build-in honeycomb panel on the front and backside and expandable polyethylene on the side with a sturdy structure are there to prevent the trash bin from collapsing easily, so it is sturdier and firmer than many similar products. It is made of 600D Oxford Polyester material, and the inside has a waterproof lining that is durable and leak-proof. It is very easy to wipe and clean.
WHAT WE LIKED// High-quality construction, Nice volume
WHAT WE DIDN'T LIKE// It could have firmer sides
6. Best All-in-One – Farasla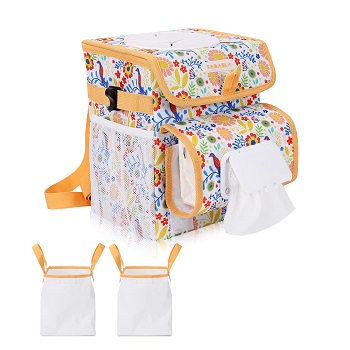 Capacity: 1.8 Gallons
Material: Polyester
This cute car trash can includes two removable liners, which are really easy to remove, wash, and put back in place, so you do not have to unclip the can from the seat again and again. The all-in-one design keeps your vehicle clean and mess-free in style, as an adjustable tissue holder will accommodate any size tissue box – you will have access to tissues while driving.
Farasla has extra hooks on each side to secure the disposable trash bag. With handy mesh pockets and elastic straps at the bottom, it is much easier to store umbrellas or bottles. It has a large capacity that you can use as a storage bag for kids' toys and drinks, as well as a travel cooler.
WHAT WE LIKED// Easy to set up and remove, Extra hooks, Great size
WHAT WE DIDN'T LIKE// The magnetic strip on the lid is weak
7. Best Trash Can for Truck – Lusso Gear XL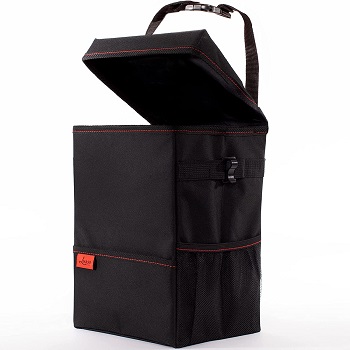 Capacity: 3.5 Gallons
Material: Oxford fabric
This truck garbage can is so spacious it need not be emptied too quickly – it is perfect for long drives and everyday use. It also has multiple install options, on a seat, on driver or passenger headrest, around the center console, and freestanding on the floorboard. You can find the perfect fit wherever you install it using the adjustable strap. It will prevent your trash from swinging and getting in the way.
Lusso Gear XL is rugged, with its reinforced lid, bottom, and sides. You can grab this model if you are looking for a sturdy, dependable, and long-lasting solution to your messy car. It features 2 mesh side pockets and 1 front mesh pocket that are perfect for tissues, spare bags, and many more.
WHAT WE LIKED// Durable, Removable and washable liners
WHAT WE DIDN'T LIKE// The hard plastic band that holds the shape around the top was a little difficult to get in
8. Best Budget – IPELY Universal
Capacity: 1.5 Gallons
Material: Oxford material
Ipely Universal offers a perfect solution for a small waste container. It has an elastic opening that makes all the garbage stay inside the bag. The pre-attached adjustable tighten belt is convenient for hanging on the headrest. The bottom is with Velcro design offering more convenience to dump trash out.
If your car is a mess, this car trashcan will keep the garbage off the floor and ready to toss with the trash bag; you do not have to worry about overflowing. It is also perfect for families with kids, as it will keep your car neat with an attractive, durable design. Made of durable Oxford material, Ipely surely has the solution to your garbage problem.
WHAT WE LIKED// Easy to empty and clean, Machine-washable, Easy to reach when mounted at the right place
WHAT WE DIDN'T LIKE// Not supposed to trash larger items like water bottles, Not waterproof
Buying Guide
If you frequently travel with your family, the chances are that you will need an automotive trash container, especially if you have kids that love to eat snacks. Here are some things you need to consider, according to your driving needs:
Material
Auto trash cans come in various materials – waterproof cloth, plastic, or stainless steel. The cloth is usually made of Oxford fabric, vinyl, and polyester. These are all waterproof and leak-proof materials that will certainly keep the risks of accidental spills at a minimum.
Mounting Options and Types
The proper placement is also very important. You do not want to be distracted during the ride or when opening the door, you do not want your trash to fall out and roll away on a windy day. Here are some places where you can place your trash bin:
Cup holder trash bin – these rather small car trash bags can be placed in cup holders or even in the vehicle door. They are usually oval and made of more rigid materials, like plastic or silicone – they are very easy to be kept clean.
Floor trash bin – these usually plastic containers are designed to be installed on the floor. They feature convenient floor mat clips for easy installation behind passenger seating or even in the trunk.
Hanging auto trash can – with various adjustable buckle and strap mechanisms, this type of can be easily installed on your console, gear shift, seatback, or glove box.
The mounting options will depend largely on the size of your car and your personal preferences, so choose the one that is designed to be used in that position.
Many models are versatile and can be placed in different locations. The most important thing to take care of is that your cup holder is secured in place so it cannot distract you during the ride and put you in jeopardy.
Prices
A trash bag for car is not a pricey accessory, but it is certainly very useful. The prices start at $10 and climb to the reasonable $20-$30 range. Luckily, even if the low end of the price range is your budget, you can find many options.
Also, think about trash bags as some manufacturers include trash bags for an extra charge or provide washable liners. If you do not want to pay extra for garbage bags, plastic grocery bags can serve as a substitute. However, they tend to get holes and may not be the right size for your can.