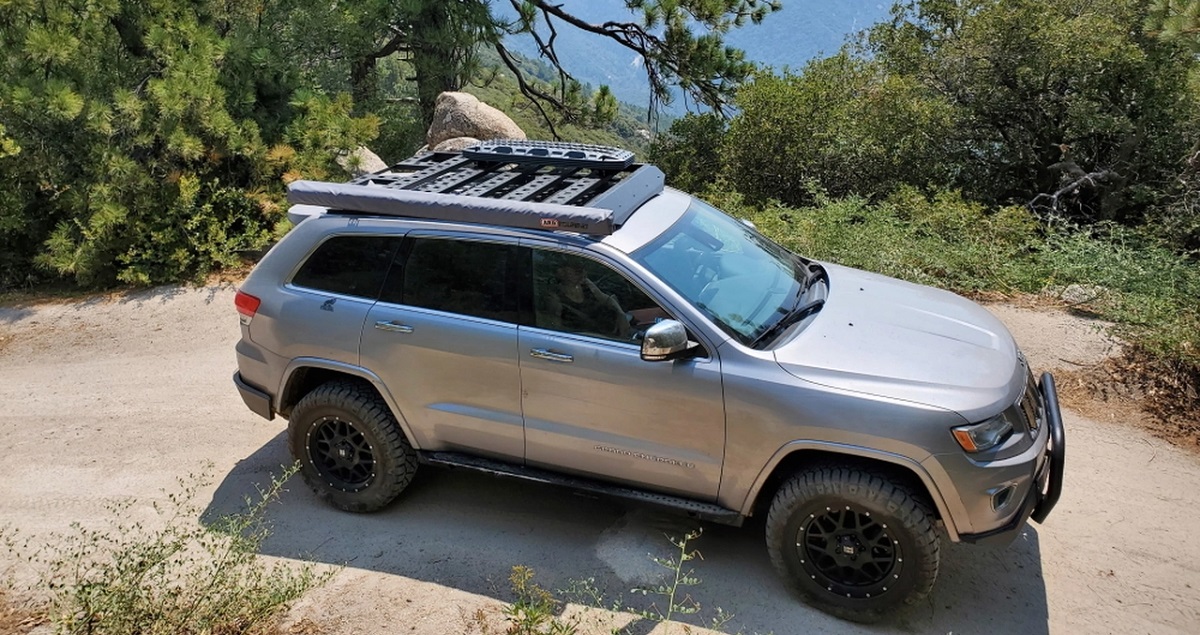 5 Top-Rated Jeep Grand Cherokee Roof Racks for 2022
A roof rack is a framework that is normally mounted on the roof of a vehicle and is used to secure luggage while traveling. It can contain two horizontal or two vertical bars. Some automobiles are equipped with a factory-installed roof rack, while others are not. If your Grand Cherokee does not come with a roof rack, you can purchase one and install it yourself. The roof rack is essential for your Cherokee, especially if you are going on a long trip and need to transport luggage while still leaving room for passengers.
Roof racks are the accessories that can assist you in moving any adventure luggage or job supplies wherever you need them without taking up any trunk room, which is a significant benefit. However, the market is flooded with many Jeep Grand Cherokee roof racks. However, finding the best Jeep roof rack would require detailed research into all of the available options. Hopefully, this guide will be really useful and will include reviews of the top 5 roof racks for your Grand Cherokee and a detailed yet concise buying guide.
Reviews of Top 5 Jeep Grand Cherokee Racks
Below is a list of the top-rated roof racks for Jeep Grand Cherokee, which are the best because of their unique qualities. We picked them based on their capabilities and features.
1. Brightlines – Best Overall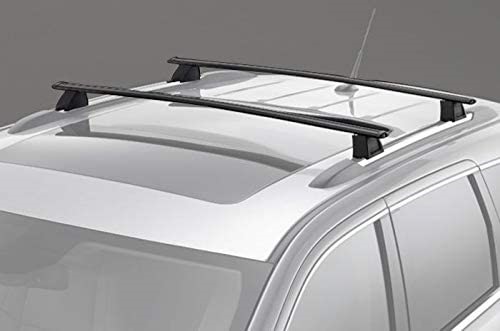 Material: Aluminum
Load Capacity: 150 lbs
Mounting Type: Hook-on
Brightlines' cross bar roof rack is a tough piece of metal with aluminum construction, secure fitment, and a high load capacity that can handle all of your cargo without any problem. When you add in the Jeep Cherokee's aerodynamics, you have the ultimate roof rack.
We start with the aluminum construction, which keeps the entire rack lightweight and strong. It is substantially lighter than other racks' alloy steel construction, which aids in rack attachment. The aluminum surface is also more rust and corrosion-resistant. You can park your Cherokee in the rain daily, and the rack will never rust. Despite its lightweight shape and appearance, this roof rack is quite robust. The hook-on style installation is extremely secure, preventing the rack from sliding or wobbling at high speeds. It is a full bolt-on setup when it comes to installation, so you will not have to chop up, drill into, or otherwise alter the bodywork of your Jeep Cherokee.
Aside from the mounting hardware, which is all included in the box, you also get a set of simple instructions to follow. We also liked how the front crossbar is slightly longer than the rear ones to match the design of the Cherokee.
WHAT WE LIKED // No wind noise or rattling sounds, All the necessary mounting hardware is included in the package
WHAT WE DIDN'T LIKE // Mileage is a bit worse when the rack is installed
2. Yitamotor – Best Lightweight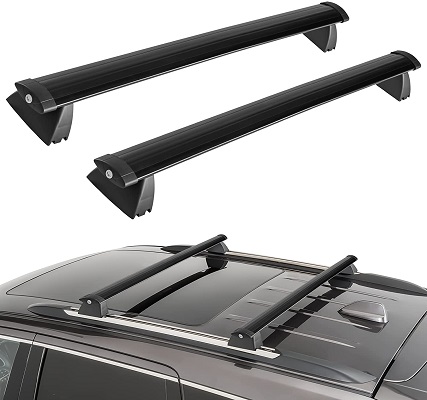 Material: ABS Plastic, Aluminum
Load Capacity: 150 lbs
Mounting Type: Bolt-on
Yitamotor is a well-known brand that sells a variety of automotive accessories, including LED lighting and interior accessories. They provide a wide range of cutting-edge technological items that are also elegant and efficient, aiming for complete customer happiness and providing free shipping and delivery as well as 24-hour online support.
This roof rack works with various Jeep Grand Cherokee models from 2011 to 2021, covering a decade of Jeep vehicles. To minimize difficulties and problems with installation, be sure you do not have an older model. The roof rack is built of high-grade aluminum, is lightweight, and is simple to install and remove due to its mobility. Despite being incredibly light, the aluminum gives the roof rack a weight capacity of 150 pounds or 68 kilograms, which is an impressive achievement. Roof racks are more than capable of holding a variety of items that passengers may wish to attach.
WHAT WE LIKED // Simple and stylish design, Easy to install, Affordable, High clearance, Excellent fit
WHAT WE DIDN'T LIKE // Heavy loads may cause bending of bars
3. BougeRV – Best Low Noise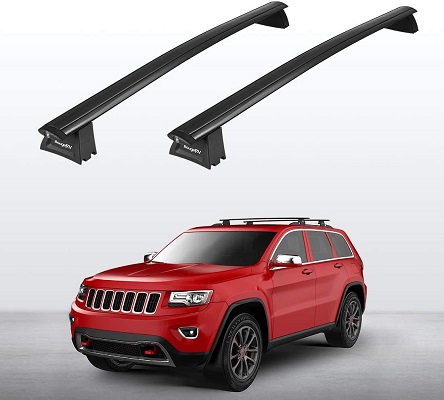 Material: Aluminum, Plastic
Load Capacity: 150 lbs
Mounting Type: Roof Mount, Rails, Luggage Rack, Crossbar Mount
One of the most premium-looking crossbars for Jeep Grand Cherokee is the BougeRV roof rack cross bars we will talk about. Except for those with plastic molding side rails, it fits all Jeep Grand Cherokees from 2011 to 2021 (SRT and Altitude). These Jeep Grand Cherokee roof rack crossbars are made of aluminum and plastic to keep the weight as low as possible. High-grade aluminum is used to construct the main body. The feet are made of high-quality plastic. The plastic feet protect your Grand Cherokee's roof from scratches.
The crossbars' forms are aerodynamically engineered to lessen wind noise while traveling at high speeds. It is simple to install, and all you need is a screwdriver to get it on the roof. The long one will take the front side, while the short one will be on the backside. There are also labels to make it easier to grasp the locations. As a result, the installation will be a breeze.
The kayaks, camping gear, baggage, fishing poles, skies, show boards, motorcycles, and other items can all be carried after the pair is installed on the roof. It has no trouble handling around 150 pounds.
WHAT WE LIKED // Durable, Reliable, Reduces wind noise
WHAT WE DIDN'T LIKE // Lacks ample instructions
4. MostPlus – Best Solid Construction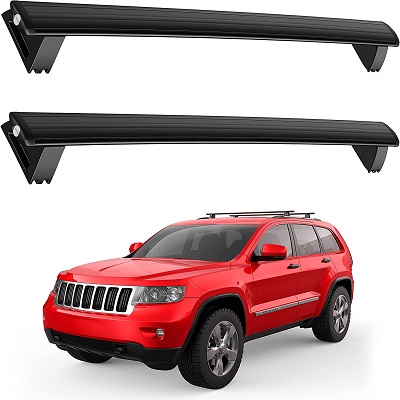 Material: Aluminum, Rubber  
Load Capacity: 150 lbs
Mounting Type: Bolt-on
We are delighted if you have recently purchased the latest Jeep Grand Cherokee 2021 and plan to use it on highways to celebrate a family vacation. If you do not have enough space to store your luggage, consider a Mostplus crossbar-style roof rack to transport extra luggage and sports equipment. Roof racks are typically made of high-quality aluminum, and this one is no exception. MostPlus built this roof rack out of strong, marine-grade aluminum for two genuine reasons. First, aluminum is a lightweight material that has a lower impact on your Grand Cherokee's aerodynamics. Second, even when laden with big luggage, it remains very durable. As a result, the roof rack's solid construction is an authentic feature. This cross-style roof rack is another ideal roof rack for Jeep Grand Cherokee due to its design. To meet the requirements of all Grand Cherokee models, the front bar is longer than the back bar. However, this roof rack is not compatible with Altitude and SRT versions, so make sure your car is compatible. The bar is kept in place by the rubber padded feet, so putting this roof rack on and taking it off is a breeze. Mounting this roof rack does not involve any drilling or cutting.
WHAT WE LIKED // Reduces fuel economy, Reliable, All hardware is included
WHAT WE DIDN'T LIKE // Lack of detailed instructions
5. Thule 959520 – Best Premium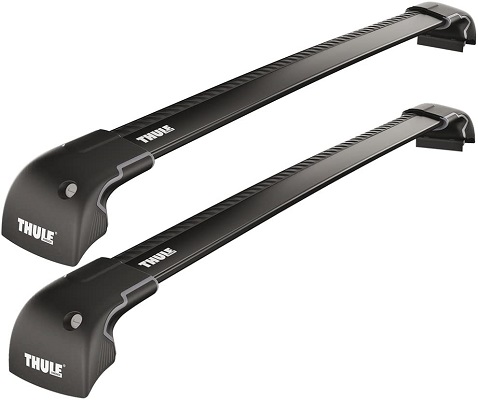 Material: Alloy Steel, Rubber
Load Capacity: 165 lbs
Mounting Type: Ceiling Mount, Railing Mount
Roof racks are known for being incredibly expensive due to their engineering complexity. They are more than just metal bars on the roof of your car. They are created with high-quality materials and designed with science in mind to support a significant amount of weight on top of a vehicle with so few contact points. Thule also makes a complete crossroad system that works well on Jeep Grand Cherokees. This item stands up to its name regarding durability and weight capability. In contrast to our previous roof rack, the Thule roof rack Jeep Grand Cherokee has a weight capacity of 165 pounds, which is higher than many of its competitors.
This design is ideal for vehicles with original side rails that require crossbars to transport kayaks, ladders, cargo boxes, and other items. This system will not require any sweat or elbow grease to install or uninstall on your Grand Cherokees. Because the mount is rubberized and flexible, installing the bars on the top of any vehicle will take less than 10 minutes. Tighten the caps with the lock after everything is in place.
WHAT WE LIKED // Sturdy, Solid, Easy to install, Durable, Low wind noise
WHAT WE DIDN'T LIKE // Poor instructions, Pricey
Buying Guide for Grand Cherokee Roof Rails
Of course, having a list of the most important appropriate features for your car is crucial. Today, we will try to compile a list of the most important factors to consider when shopping for a Jeep Grand Cherokee roof rack system, regardless of the model, to get benefits properly. Here are some things you need to know:
Material
Some roof racks are constructed using steel, while others are built entirely of aluminum. Steel racks are sturdy and can support a significant amount of weight. However, these are quite heavy. The weight of the rack reduces the vehicle's mobility. Aluminum racks tend to be superior to steel racks since they are lighter and have a higher weight-bearing capacity.
Plastic feet are sometimes included with racks. As a result, you may believe they are susceptible to damage. However, high-quality plastic feet can handle the strain and load. Choose all-aluminum racks if you do not want to take any chances.
Load Capacity
Different racks may have a lot of variation in load capacities. It all depends on why you are buying the racks in the first place. Roof racks usually have a weight capability of roughly 150-165 pounds. This load range is ideal for carrying baggage, kayaks, bicycles, and day-to-day goods.
Compatibility
First and foremost, make sure the item is compatible with your Jeep model and manufacturing year. Many vendors claim that some racks are universal, but we believe that double-checking is always a good idea. If you are confident that all of the measurements, attachment types, and other minor details fit, the item is compatible with the vehicle.
Build Quality & Durability
The build quality of a roof rack is one factor that decides whether it will be damaged by extreme weather conditions, rust, or even corrosion. A roof rack made of plastic is not expected to be as sturdy as one made of aluminum alloy or even steel. The rack will bear a heavy load, so roof racks with an aluminum metal construction are the best option.
Another thing to consider is how long this roof rack will endure after you get it and use it for a long time. The roof rack's durability determines how long it will last. That is why durability is important. Is there anything on which you cannot compromise? If you plan a long trip and your roof rack is not durable enough, it could be extremely dangerous and harmful if it breaks.
Ease of Installation
The ideal roof rack for Jeep Grand Cherokee would have a simple installation procedure. At the same time, it should be simple to disassemble. Interestingly, you should choose roof racks that are 'universally' fit to make things easier. Some rooftop racks may require drilling into your vehicle to install. These are also difficult to remove. The perfect option for most drivers would be the one that is tool-free.
Aerodynamic Design
Your overall experience is heavily influenced by the roof rack's design. The roof rack will not generate any unpleasant wind noise if it is designed aerodynamically. Furthermore, an aerodynamically constructed roof rack does not affect your vehicle's speed and fuel economy. Finally, it will complement your vehicle better than a typical roof rack. As a result, you should always choose rooftop racks that offer aerodynamic design.