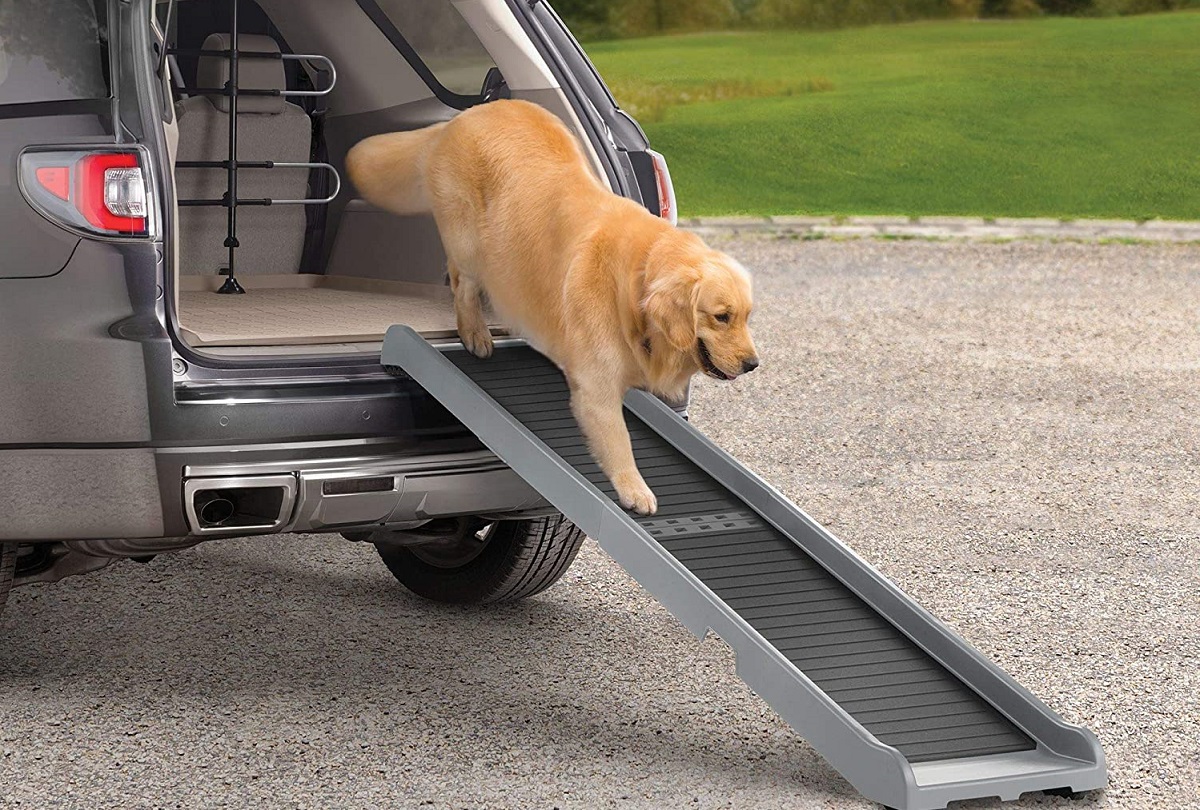 The Best Dog Ramp in 2022: 8 Models to Get Your Dog Into a Vehicle Safely
Dog ramp for car is a very handy pet gear that will help your elderly or arthritic dog gain access to your vehicle. If you are a pet parent and take your dog wherever you go, you know how it is difficult for your own back to lift your dog in and out of the vehicle constantly. Dog ramps for car are initially made for large vehicles (trucks and SUVs) and small dogs, but today even the owner of large breeds and sedans get a lot of use from dog ramps for cars. Dog ramps are not only meant to help pooches climb into the vehicle but also to exit it.
When shopping for a dog ramp for truck or sedan, be careful. You may waste a lot of time looking for the ideal ramp because there are so many models on the market. But do not worry, we are here to help you save time while shopping. We present you with a thorough review of each product, examining pricing, dimensions, durability, and non-slip features to ensure you buy the finest model for your dog. Stay with us for the handy buyer's guide if you want to learn more about the available features.
1. PetSafe Happy Ride – Best Overall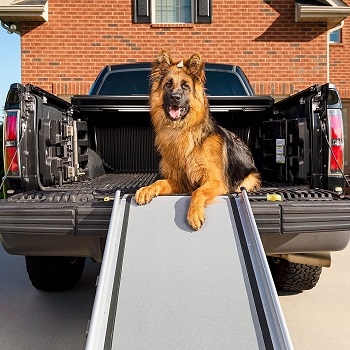 Item Dimensions: 48" x 20" x 4"
Item Weight: 18 lbs
Load Capacity: 300 lbs
Material: Aluminum
This Happy ride telescopic dog ramp will help your best friend get in and out of your tallest truck, minivan, SUV, or car all by themselves. The longer length and extra wide telescoping ramp allow you to help your pet get in and out of vehicles with steep, moderate, or gradual inclines to avoid stressing their joints.
This ramp is independently tested and rated to support pets up to 300 lbs. The side rails and a high-traction surface keep your furry friend from falling or slipping when walking on a ramp. A very stiff design utilizes four rubber feet to keep the ramp stable while in use. It is very simple to store – it easily slides inward and locks with a safety latch so you can conveniently store it in your vehicle or at home.
WHAT WE LIKED// Very wide, Sturdy
WHAT WE DIDN'T LIKE// aper texture shows nail scratches easily
2. Maxpama Premium Dog Ramp Stairs – Best with Steps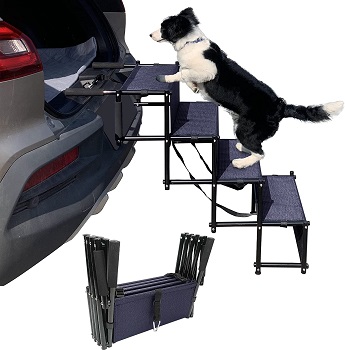 Item Dimensions: 35" x 17.7" x 8.6"
Item Weight: 9.8 lbs
Load Capacity: 150 lbs
Material: Metal/Oxford fabric
Made of high-quality steel frame and 1680D oxford fabric with upgraded non-slip design and thick plastic board added, this 4-step dog ladder for car is stable, strong, and sturdy enough to support 150 lbs large dogs. The steps feature durable non-slip fabric that prevents your pet from slipping during ups and downs. It also comes with bottom rubber pads for added traction and a quick-connect carabiner to support triple protection for securing the stairs on your vehicle.
Whether your dog is small and struggling to get where you need it or has sensitive joints or injuries, these set of stairs makes it easy for your dog to access those hard-to-reach places. With adjustable height and angle (from 25″ to 30″), Maxpama ramp stairs are a great fit for any vehicle.
WHAT WE LIKED// Light and fold up very easily, Excellent for trucks
WHAT WE DIDN'T LIKE// Nothing we could think of
3. Silly Millie – Best Folding Dog Ramp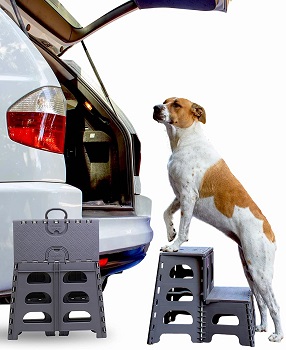 Item Dimensions: 21.25" x 20" x 17.25"
Item Weight: 5.75 lbs
Load Capacity: 300 lbs
Material: Plastic
This sturdy and practical ramp for dog to get into car features a patented, one-hand open and close design that makes it very easy to use. You will surely love the simplicity of the 2-step folding stairs design –  you will still have one hand free to control your thrilled little friend. Being so lightweight and portable, you will easily take your new stairs to any car, SUV, or truck and store it under the bed or sofa when not in use. Designed to be convenient to carry and store, it is only 1.5" thick when folded.
Using the Silly Millie ramp, you will prevent the stress to your dog's muscles and joints caused by jumping and landing.
WHAT WE LIKED// Excellent for small space, Easy to open and close, Sturdy
WHAT WE DIDN'T LIKE// Steps are not deep enough for larger dogs
4. Otto Step – Best Lightweight Dog Ramp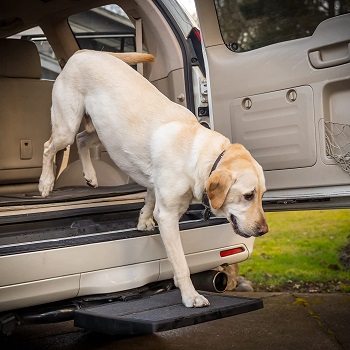 Item Dimensions: 16" x 18" x 2"
Item Weight: 5.5 lbs
Load Capacity: 200 lbs
Material: Glass-filled nylon
This Otto Step dog ramp for SUV, van, or car will help your dog jump and travel safer. The Otto step is an essential pet kit that is extremely easy to install and can be used with multiple cars. The installation does not require any hardware tools; just insert the step into any 2″ trailer hitch receiver, and your dog now has a step to get into the car.
This completely portable platform step is extremely lightweight, yet it is engineered to offer extra support in high-stress areas. The step has a non-slip corrosion-resistant surface to keep your pet safe in any weather conditions. We like the grippy sandpaper that is on it for a better grip. Big enough to let even larger dogs climb it, but small enough to be stashed easily in the back seat – try Otto Step, and you will not be disappointed.
WHAT WE LIKED// Substantial size
WHAT WE DIDN'T LIKE// Only for vehicles with a trailer hitch
5. Pet Gear – Best Dog Car Ramp for Side Door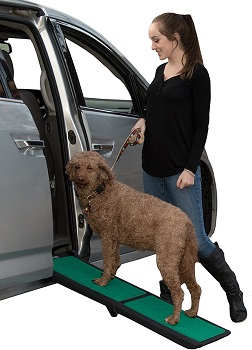 Item Dimensions: 42" x 16" x 4" 
Item Weight: 7 lbs
Load Capacity: 150 lbs
Material: Plastic
Dog ramp for car side door from Pet Gear has raised edges to prevent your pet from slipping off the side and is suitable for use with SUVs and vans. The built-in handle offers easy folding, portability, and compact storage. The rubberized bottom grippers provide secure placement.
Most importantly, the Pet Gear ramp features a soft supertraX mat that allows your pet easier access to your car and other hard-to-reach places with a better grip than ever before. Unlike different types of carpet treads, the removable supertraX mat is pressure-operated. Putting weight on it easily pushes the mat into place. It is preferred over other types of carpet treads because of the greater ground surface, allowing your pet's feet to contact the ramp more comfortably. The mat allows easy removal for more detailed cleaning.
WHAT WE LIKED// Perfect for vans, Do not take up much room, Lightweight, Top-quality
WHAT WE DIDN'T LIKE// Fingers can get easily caught during folding
6. Kurgo Wander – Best Collapsible Dog Ramp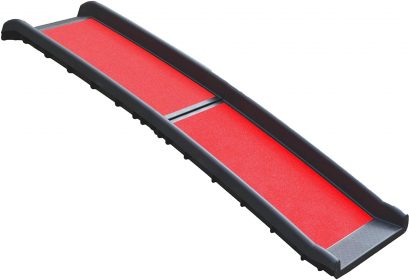 Item Dimensions: 60" x 16" x 5" 
Item Weight: 9 lbs
Load Capacity: 200 lbs
Material: Plastic
This dog walk is designed to be a starting point for low stress for your pet, regardless of age or physical condition. It is especially recommended for pets suffering from arthritis and hip dysplasia. This lightweight pet ramp is made of durable plastic construction that makes it easier for you to transport and store it. This ramp folds in half for space-saving storage. The non-slip surface and gentle incline will make your dog effortlessly enter or exit the car. To use the ramp, you first need to open the safety lock and then place it carefully, ensuring that the non-slip rubber feet are evenly and firmly set. After the use, fold the ramp again and close the safety lock.
WHAT WE LIKED// Quick and simple setup, Does not move when the dog is on it
WHAT WE DIDN'T LIKE// Wish it was a little wider
7. Coziwow – Best Portable Dog Ramp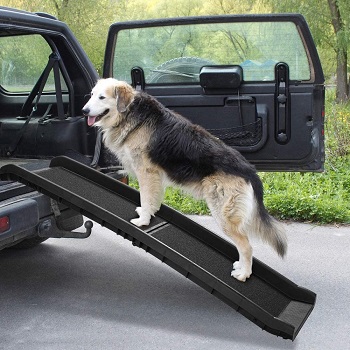 Item Dimensions: 62" x 15.5" x 5"
Item Weight: 10.4 lbs
Load Capacity: 200 lbs
Material: Plastic
Made of high-quality and durable plastic, this ramp is lightweight, wear and scratch resistant, claw-friendly, and durable for long-lasting usage. The base is decorated with a cute bone pattern. This amazing Coziwow ramp allows your four-legged friends to safely enter and exit cars, even boats, and pools. It is simple to use, easy to store, and compact when closed. The high traction surface gives the pet a safe footing, so your pet can easily be able to grip into the mat simply by putting weight on it. The non-slip texture, combined with raised side rails, provides good traction and secure feet when walking up or down. Additionally, the four rubber bases help keep the ramp stable while in use, while a set of plastic buckles prevent suddenly opening, thus ensuring extra safety.
WHAT WE LIKED// Strong and stable, Good grip
WHAT WE DIDN'T LIKE// A little steeper than expected
8. PetSafe Happy Ride Deluxe – Best Dog Ramp for Truck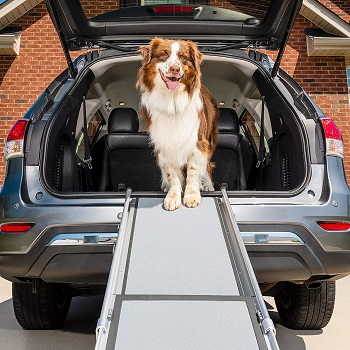 Item Dimensions: 72" x 17.5" x 4.75"
Item Weight: 13 lbs
Load Capacity: 400 lbs
Material: Aluminum
This telescopic ramp will help your furry friend get in and out of your car easily and without pain. It is adjustable and allows you to use it with different size vehicles. It is independently tested and rated for support pets up to 400 lbs. Weighing only 13 lbs, the ramp is easy to lift and carry in and out of the car between stops. The ramp slides easily from the inside and closes with a safety latch to conveniently store it in your vehicle. Stable and secure, the PetSafe Happy Ride Deluxe ramp allows you to customize the length of the ramp, based on the size of your vehicle, by extending it anywhere from 39" -72". Being one of the best dog ramps for trucks on the market, it will surely help you and your pet spend quality time in your truck.
WHAT WE LIKED// Very sturdy, Easy to carry, Easy to install
WHAT WE DIDN'T LIKE// Grip tape on the walking surface is of poor quality and little rough
What to Look For in a Dog Ramps for Vehicles?
There are a variety of pet ramps for large dogs or small dogs on the market. Whatever is the reason for your purchase, some things you need to take into consideration when looking for the best dog ramps for cars:
Size & Safety
To begin with, your car ramp for dog should be long enough to reach your car and wide enough for them to use it safely. It should be larger than the widest part of their body, which is most likely their shoulders. You must also ensure that it can support their weight because if it is not sturdy enough, your doggo may refuse to use it, or the ramp could break, hurting your pet.
To ensure that you choose the right size of ramp, it is important to measure the height and width of your vehicle's access point before purchasing it. The access point could be at the top of the bumper, the trunk floor, or the backseat floor. Dogs need to have a comfortable inclination that is strong enough to support their weight.
The slope of the ramp determines if it is too steep to meet your dog's needs. The proper slope should be from 18-20 degrees for most healthy dogs.
Design & Traction
The design is also crucial in ensuring your dog's safety. To avoid accidents, the ramp must be stable and long-lasting. Metal ramps, for example, are more solid and durable than plastic ramps.
Other elements to think about are non-slip feet for safety in wet weather and the gripping surface material. The surface material should be waterproof and have good traction to prevent dogs from slipping, but it should still be comfortable to walk on. It is especially important if you use it in rainy or snowy conditions. If the ramp does not provide a non-slip surface, then the horizontal slats are also an option.
Portability
Portability is one of the most important features of the pet ramps for car. You will probably carry your dog ramp quite a bit, so think about how much weight you are willing to work with. These ramps weight range is typically between 10 pounds to 20 pounds. Most dog ramps are folded, retracted, or collapsed for easy storage and transportation. To simplify this process, look for features such as a sturdy and comfortable handle and a safety latch or lock that prevents the ramp from unfolding while you are carrying it.