8 Best Bug and Tar Removers for Your Car
Bugs, tar, and sap can build up on the vehicle and bite into the paint, leaving unsightly spots and lowering visibility. Insects contain acids that can eat away the paint finish and etch by the clear coat. Therefore, you need to remove bugs and tar before they make a lasting impression on the paint, metal, and glass with effective bug and tar remover.



To help you make an informed purchasing decision, we've compiled a buying guide with the best products regarding the bug and tar removers for cars.
How Does It work?
A bug/tar remover contains chemicals or solvents which dissolve tar and bug stains on your vehicle, making it easy to wipe them away. To use, just spray the remover on the surface, wait a few minutes for it to act, and then wash the car as usual. This product makes it possible for you to remove bug and tar easily/quickly, without needing to scrub and risk damaging the paintwork.
Types
The two main types of bug and tar removers are aerosol and spray bottle products.
Spray bottle – Most of these products will come in a spray bottle. You can adjust the nozzle on some solutions to spray in either a concentrated stream or a misted fan pattern. Spray bottle removers can get tiresome if you've got a lot of bugs to remove, but they work well when you have to refill the product after it's nearly gone. These products aren't necessarily stronger or weaker than other types;
Aerosol – Pressurized bug removers often spray on and foam up, which can be handy if you don't want to squeeze the trigger for minutes at a time. As with any aerosol can, you need to be sure you don't knock the nozzle off the can itself; since then, the solution within is useless. Still, aerosol bug removers can also reach the smallest surfaces and store well for later use.
Benefits



Below are the main benefits of using these products.
Eliminates baked-on bugs – One of the chief benefits of using a bag remover is that it allows you to get rid of dried on bugs and insects from the car's windshield, paint, and grill. This's especially useful if you live in a hot climate where bugs are a common occurrence. Bugs that have been baked on to the vehicle's surface are hard to remove, and have to be dissolved in order to be eliminated safely;
Remove tar, tree sap, and grime – Bug and tar removers can also be utilized to treat a variety of other tough stains, such as tar, bird droppings, rubber marks, and tree sap. These can often be quite difficult to remove using water and regular soap;
Escape damaging in paintwork – As well as improving the aesthetic of the vehicle (no one likes bug carcass decals), one of the key reasons to remove bugs and tar is to avoid damaging the paintwork. Many bugs contain corrosive ingredients that will ruin your paint if allowed to remain. Scrubbing to remove bugs/tar can also scratch the paint – the best method to remove them safely is to apply a specially formulated bug and tar remover that can break down and dissolve bugs, enabling you to wipe them off effortlessly;
Improved visibility – Removing splattered bugs and grime from the windshield will also increase your visibility off the road, making your driving experience quicker;
Easier than scrubbing – Why spend the whole day scrubbing your ride, only to remove half of dried on bugs and grime, when you could spray on one of these specially formulated solutions, wait a couple of minutes and wipe them away with ease.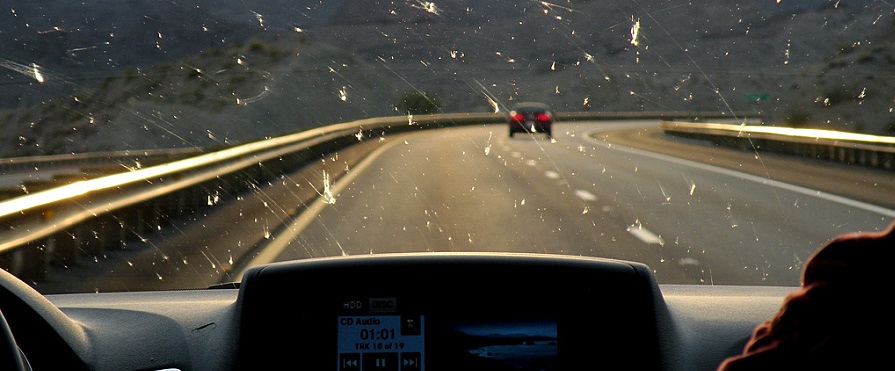 Things to Consider Before Buying



You have to consider these factors before purchasing them.
Is it safe for the surfaces – Not all bug/tar removers are safe to apply on all surfaces. For example, some contain harsh chemicals that shouldn't be utilized on clear coat paint finishes. Ensure that the bugs removers you're purchasing are suitable for use on all the exterior surfaces of your car, and the interior – if you have to use inside;
Does it contain harmful ingredients – Often the product that does contain is considered more efficient – but you need to exercise caution, as it could damage the paintwork if left on for too long, and can be harmful if consumed. Enzyme or water-based formulas that contain no toxic ingredients are safer, but not might work as well on tough tar stains;
How long will it last – Consider how much remover you're getting for the money, and how long it'll last. A larger bottle doesn't always mean longer-lasting – some concentrated formulas have to be strongly diluted with water before use;
Price – Ultimately, when buying a bug/tar remover, factor in price and value for money. Think about whether you're ready to invest a little more for a higher-quality product, or whether you would prefer to begin with a less expensive formula, which may do the job.
What Is the Best Bug and Tar Remover?
Essentially, these removers are solutions that can dissolve tar and the bug's guts for quick wiping, all while leaving the waxing over the paint job untouched.
If you're seeking such a remover, here is a review of 8 of the best bug and tar removers available on the market.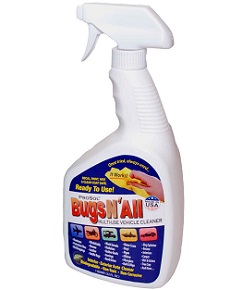 This remover is packaged in a small 4-ounce container, but it really gives you the largest quantity since the 4-ounce solution is a concentrate that can be diluted to produce up to 2 quarts (64 ounces) of the solution.
Once diluted, an empty 1-quart (32-ounce) spray bottle is included in the package for applying the solution to the vehicle's body surface, in which it can be used to clean out tar, bird droppings, love bugs, grime, algae, and many other sorts of stains.
The product works by turning all these stains into mush in a minute so that you can wipe them off but doesn't affect the paint, underlying wax, clear coat, or decals.
With such power cleaning power, you can apply the remover on multiple vehicles, including RVs, motorcycles, pickups, boats, and even airplanes.
On the downside, this solution is quite expensive, but you get a lot of quantity, and it's also non-corrosive, non-abrasive, non-flammable, and environmentally.
Pros
The concentrated solution makes up to 2 quarts of product
Includes a 1-quart spray bottle
Works on multiple stains on various surfaces
Environmentally friendly remover;
Non-abrasive, non-corrosive, and non-flammable.
Cons
Needs dilution before use.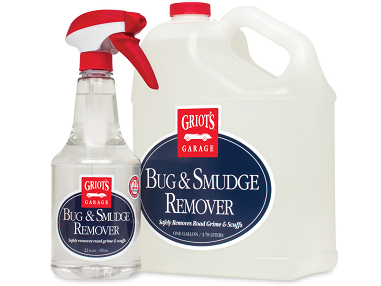 The Bug & Smudge Remover applies a potent formula that works deep to break through below the surface to destroy built-up and baked-on bug guts. Within a few minutes of using this product, you'll have a cleaner vehicle.
The great thing about this bug removing product is that you can easily refill the bottle from its gallon of concentrated liquid once it's gone. The solution goes on smoothly, with just a few squirts across the front bumper of the car.
Let the product a few minutes to work into the paint and then rinse off for a cleaner vehicle. You won't need to worry about scrubbing or picking away at leftover bug marks. The manufacturer knows that bugs aren't the only thing that will deface your car's front end. Their product will liquidate smudges of all kinds too.
Its biggest drawback is that there aren't any microfibers included. That means if you have to add a little persuasion to remove stubborn bug guts left behind, you'll need to use a few rags.
Pros
Softens and loosens stains quickly;
Eliminates rubber marks.
Safe to use on all car exterior surfaces;
It can be applied on its own or as a pre-wash.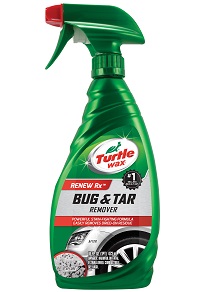 The Turtle Wax Bug and Tar Remover not only eliminates bugs and tar from the car but tree sap as well. The formula is convenient for exterior use and clings to vertical surfaces for a more efficient clean. There's no elbow grease needed – just spray it on and wipe off. Once eliminated, you'll also be left with a protective fence on your vehicle to defend against future stains.
Turtle Wax's product is the most affordable product on this list, but this doesn't mean it's a low-quality product. Coming in a 16-ounce spray bottle, the solution is formulated to get rid of bugs, tar, and tree sap from any kind of automotive finish.
Although no towel is included in the pack, no scrubbing is required, and all you have to do is to spray then wipe off the residue. Anyway, there's an option that comes with microfiber towels, and with a slightly higher cost.
Pros
Most affordable on the list;
Adheres ideally to vertical surfaces;
No scrubbing is needed;
Leaves a protective level after use.


Mother's makes bug/tar removal easy with the foaming capability of its Bug & Tar Remover. Packed in an 18.5-ounce aerosol can, the foaming neutralizes bug acid on contact. The powerful formula sprays on and wipes off so you can spend less time cleaning.
The no-drip solution for bugs of all kinds, this auto bug remover can be applied as a pre-wash solution for spot treatment or as extra scrubbing power. Simply spray the product across the entire front end of your car.
You can clean the backs of the side mirrors too. Let it soak in for 3 minutes as you use the rest of your cleaners and then wash the vehicle as normal. Also, you can grab a microfiber towel and hit affected areas only.
The only concern with this bug remover for cars is that nasty bugs will still need a bit of elbow grease to do the job completely. Even a professional-strength cleaner can't beat them all. Anyway, car detailers and amateurs alike can easily use this product.
Pros
Quick-acting remover neutralizes acidic stains automatically;
Releases foam that breaks through hard to reach areas;
Removes bugs from car efficiently;
It can be used as a prewash.
Cons
A relatively small amount of product.

Apart from providing stain removal properties, it wouldn't hurt to leave behind a nice scent, and this 15717 from Permatex does just that. The product has a fresh orange fragrance that is sure to leave the wiped surface smelling good and pleasant.
For the actual cleaning, this solution is formulated using 25% d' limonene, which is a pure, potent, and very efficient solvent that dissolves stubborn stains immediately, while also lifting away bug splatter, tar, and soil particles.
Other functions include being packed in a 17.5-ounce aerosol can, which makes the application operation slightly easier and better for hidden surfaces since the jet is released at high pressure. Mixed, these features make it the top-rated solution in this guide.
Pros
Cool orange fragrance;
Formulated with 25% d'limonene for superior cleaning;
Doesn't contain petroleum solvents;
Easy to apply.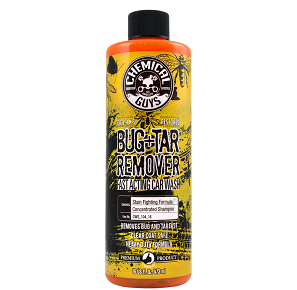 Chemical Guys is designed a heavy-duty car wash shampoo that's highly concentrated and very effective for pre-washing to loosen bug splatter, tar, and grime, plus to prevent long term paint damage.
The shampoo is available in 4 different packages, which include the smallest 4-ounce bottle, 16, 64, and 128-ounce bottles.
Since it's a concentrated shampoo car bug remover, dilution is required in the ratio of one capful per gallon of water, and it means that you can use even the smallest 4-ounce pack to wash the whole exterior of your vehicle at least once.
Pros
Cool orange fragrance;
Formulated with 25% d'limonene for superior cleaning;
Doesn't contain petroleum solvents;
Easy to apply.
Other functions include being packed in a 17.5-ounce aerosol can, which makes the application operation slightly easier and better for hidden surfaces since the jet is released at high pressure. Mixed, these features make it the top-rated solution in this guide.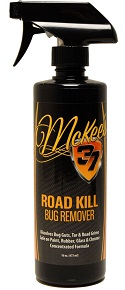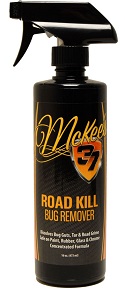 This is the product that is highly concentrated, effective, and suited only for exterior use. You can make use of the McKee Road Kill Bug Remover Combo on exterior surfaces like on plastic trims, glass, chrome and also paint.
Also, here's one interesting aspect of this bugs remover, it contains clear coat surfactants which are efficient in breaking down the bugs' carcass before they make damage to the car paint.
The remover works by spraying onto the tar, grime, and bug stain and letting to work its way on the dirt from two minutes, then you can wash off using a soft sponge before rinsing with water.
This bug cleaner also has a concentrated formula that needs dilution, but the manufacturer claims that this product is an excellent option if you're concerned how to get tar off car.
Pros
Easy-to-use remover that needs no rinsing after use;
Safe to use on multiple surfaces;
Breaks down and dissolves stains for easy wiping;
It can be added to wash solutions to enhance their cleaning power.
Cons
It needs longer to dissolve.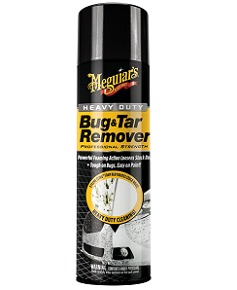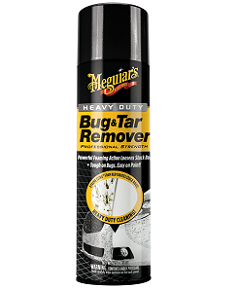 The Meguiar's is a brand that is quite respected when it comes to the planet of vehicles since they can be trusted in the manufacture of high-quality products.
This remover features a foaming action that implements surfactant, which makes it perfect for use on all exterior and painted surfaces. It's super useful in getting rid of tar and bugs.
This bug cleaner for cars can be used alone or can be applied before washing your vehicle, and after spraying – you're required to leave it on for about 5 minutes before wiping off. This's, also a top-notch product that customers are pleased with as it does the job it's aimed to do.
Pros
Contains clear coat safe formula;
Potent foaming action;
Destroys tar and bugs;
Safe to use on car paint and all exterior surfaces.
Cons
Deep scratches take a lot of work to eliminate.