Car Air Freshener: 10 Best Car Scents
Car air fresheners have been around since 1948, and almost anyone has one inside their vehicles these days. Like any other type of air purifies, these ones are designed to keep the car smelling nice at all times and rid the vehicle of any nasty odors that might otherwise make the drive unenjoyable.



In order to choose the best car air freshener for your needs, we compiled a buying guide only for you! You'll learn what it is, how it works, is it toxic, types, and 10 top products on the market.
What Is Auto Air Freshener?



It's a product you install in your vehicle to get it smelling sweet. The solution works in the same way as air freshener home products and has the same purpose, except you put it in your car. When it comes to installing these products, you can either attach them to the vehicle via a vent clip, hang them off the rearview mirror, or put them on the dashboard of your car.
How Does It Work?
The scent molecules inside a car deodorizer are continually being released into the air. The more air circulates inside your vehicle, the quicker they get released, and the faster your car absorbs that fine smell. This's true for the car vent clip ones, for those hanging fresheners, and for the fabric pouches that include gel, bamboo charcoal, or potpourri inside.



If you're talking spray fresheners (aerosols), which are also made specifically for vehicles, they work differently. Meaning, you spray the solution, and the scent molecules disperse among the air molecules. That's why you notice their smell immediately.
Is Air Freshener for Car Toxic?
Some folks are allergic to auto air freshener scents, while others have serious lung diseases that make them hypersensitive to fragranced products. If you fall into one of these two categories, air fresheners can be unhealthy.
But, if this isn't your case, these products aren't toxic for you. Obviously, you should use them moderately, as with all things in life. Still, they're completely safe if you follow their instructions.

Types
One of the things that you have to consider when buying the best car fragrance is its type. Currently, there're 6 types of car air purifiers.
Cardboard – These are very inexpensive items that will typically last about 5-10 days, with some extending up to 3 weeks. Cardboard products are mostly hanged on rearview mirrors or clipped anywhere else inside the vehicle;
Plug-in – They're oil-based air-fresheners that come in little bottles. These are easily plugged into your small cigarette socket, which heats up the perfume oil and begins filling the cabin with its scent. It's one of the most preferred types of auto air fresheners especially if you're faced with really tenacious odors;
Can – These products come in cans are made of either metal or plastic. What provides the scent is a gel-like substance contained in the box. The lid or top of the can typically come with several holes, which can be manipulated by twisting the cap to let a specific number of holes upon which the fragrance will pass through. For example, a can comes with 5 holes, you can twist the lid so that only one hole is open. Twist it again, and you've opened two holes. The more holes are opened, the stronger is the perfume;
Sticky gel – This kind of air freshener is actually a modified variant of the can. You've got a gel that comes as a single block or strip instead of being contained in a can. It easily sticks onto any surface. Unluckily, it doesn't really do an excellent job of masking stubborn odors;
Spray – Fast and very easy to apply. These are what best describes this form of air car freshener. Unfortunately, you would need to spray more frequently as the fragrance doesn't last that very long. The great news is that you can direct a spray-on area that you want to smell fresh;
Diffusers – These are simple products that can be clipped into the slat of the vehicle's AC vent. Airflow through the vent carries the fragrance given off by these fresheners, so you get a quite lovely smell inside your car.
What Is the Best Car Air Freshener?
When buying the best car scent, keep in mind our top 10 list below and apply it to discover the one that best fits your car.
1. Ozium Smoke & Odors Eliminator Gel ($4.43) – Best Air Freshener for Car
As a mix of an odor eliminator and an air freshener, this product is widely known for being able to tackle even nasty odors like cigarette smoke. You can put it under a car seat, in a cupholder, or tucked away in another inconspicuous spot.
While you don't have an option when it comes to the scent of this gel air freshener for vehicles, the light citrus scent works for most people. It lasts for a reasonably long time, especially if you only partially open the vent holes on the top of the product.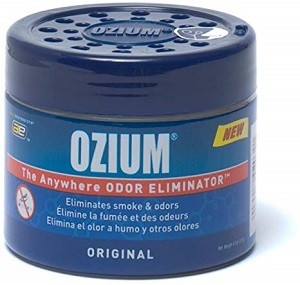 Of course, dense cigarette smoke scenarios or serious odor cases will shorten the lifespan of the container, so you'll need to hire a car detailer. Overall, though, this's an excellent set-it-and-forget-it gel product.
Strengths
Minimizes foul scents and perfumes vehicle;
Easy to install and ideal for states with windshield obstruction laws;
Lasts for several months if the lid isn't opened to the max;
Eliminates the odor particles instead of masking.
Weaknesses
No other scent besides citrus to pick from.
2. Yankee Candle Charming Scents ($8.94)
Candle Charming Scents by Yankee is a versatile and efficient product. It'll successfully reduce the number of nasty odors that linger in your vehicle. The candle releases a pleasant scent with a note from the Bahamas.
The exotic citrus aroma will eliminate smoke, pet, or sweat odors even from the most hard-to-reach locations. One of the most significant benefits is that you can put the candle in a specially designed locket. If you need it, you can also place it in a bag or a glove compartment.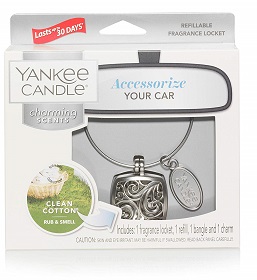 The product, including two candles, will leave a sweet smell for two months. The multipurpose of this package gives it another winning point. You don't have to use it in a single-vehicle, and it's easy to carry around.
Strengths
Looks different and unique;
Variety of scents to choose from;
Can spread through the car;
Easy to attach to some vents;
3. Anzazo Car Essential Oil Diffuser ($29.70) – Best Luxury Car Air Freshener
The Car Essential Oil Diffuser has a stainless steel case that houses a felt pad, which is offered in different colors. Each product comes with 10 felt pads.
The steel casing easily attaches to the car's air vent by a specially designed clip, with the airflow of your vehicle's A/C helping to spread the fragrance of the essential oils throughout the car. The manufacturer recommends dripping about 2-3 drops of essential oils onto the felt pad every couple of days.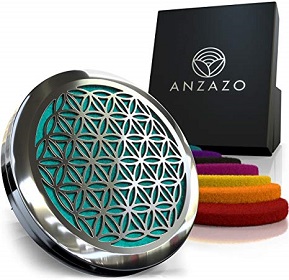 While this air freshener is quite pricey, it includes a 60-day replacement warranty, a 60-day refund warranty as well as a lifetime warranty for manufacturer defect. It's also relatively tiny compared to other products and looks stylish affixed to the air vent.
Strengths
Natural, chemical-free scent;
Classy design;
Can pick your own scent;
Has 10 felt pads in 10 different colors.
Weaknesses
It doesn't last too long.
4. Arotags Wooden Car Diffuser Air Freshener ($24.00) –
The Arotags Wooden Car Diffuser is another air freshener solution that uses essential oils to provide a chemical-free scent that masks the car odors.
This product features an Amish Wood base with an elastic noose for hanging it on the rearview mirror, or wherever else you notice fit. Plus, it comes with a bottle of scented oil, which is offered in several fragrances, including Beach Bum, Cool Breeze, and Vanilla Lavender. The oils will be dripped onto the wooden freshener base.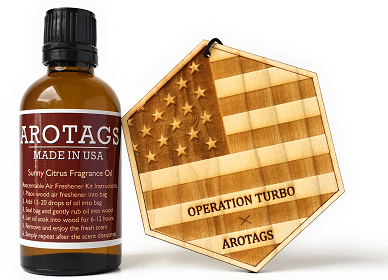 The included perfume oil isn't only a healthier solution over typical solutions, but also saves you money. The 1.6 oz bottle should keep the car smelling fresh for at least a whole year, making this a very cost-effective option – compared to dollar store products.
Strengths
Stylish wooden freshener base;
Includes a bottle of perfume oils;
Made in the USA;
Cost-effective and easy to use;
5. Meguiar's Whole Car Air Freshener G16402 ($6.74) – Best New Car Scent Air Freshener
The Meguiar's air freshener is a one-time use product that definitively eliminates all the unpleasant odors in the car.
It comes in a small aerosol with a trigger button. When you're ready to use it, turn on the air conditioning airflow on high, push the trigger button, and close the vehicle doors for 10-15 minutes. Then, air the vehicle out for another 10-15 minutes.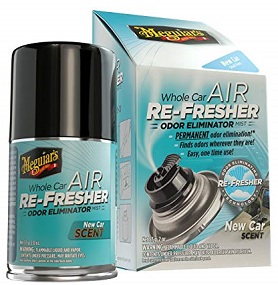 While you won't be able to use it more than once, you can be sure that the bad smells are gone for good. This freshener acts instantly, unlike traditional solutions, which may take days to rid your vehicle of the odors.
Additionally, it'll also perfume your car. There are 7 fragrances to pick from – sweet summer breeze, citrus grove, sparkling berry, spring blossom scent, spiced wood, Fiji sunset, and new car scent.
Strengths
Instantly eliminates bad car odors;
Several different fragrances are available;
It gets into all the crannies and nooks;
Leaves a new car smell.
Weaknesses
It can only be used once.
6. Little Trees Black Ice Car Air Freshener ($10.19)
Of course, the famous little tree car freshener needs to be on this list! The product lasts for up to a month and can also be used in the house.
Little Trees has a history of making car air purifiers, which makes them one of the market leaders in the USA. Besides popularity, it also means they're trusted by thousands of customers every day.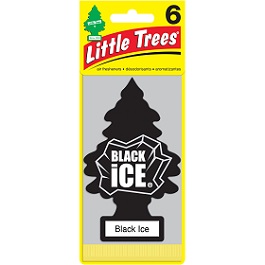 There are 41 different scents available on Amazon. They include masculine fragrances (Black Ice Car Air Freshener) to more feminine scents (Daisy Fields Freshener). Since the product comes in a 24-pack, you can easily keep replacing fresheners as they lose their scent. Therefore, each tree costs less than a dollar.
Strengths
Tons of positive reviews over the years;
Most diverse air freshener scents;
Lasts for 30 days straight;
It smells fresh and clean.
Weaknesses
Some fragrances aren't strong enough.
7. Febreze Car Air Freshener ($13.99) – Best Car Air Freshener for Smokers
The Febreze's products are well known for a reason. They're affordable, easy to install, and smell great. Each small vent usually lasts for up to 30 days, but fortunately, you can subscribe to Febreze and get a new product on the doorstep every month.
The two fragrances available are the "original," which smells like pine forests, and the "island fresh," which is essentially a flowery/fruity scent.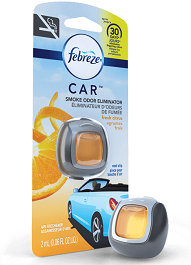 You can also adjust the scent level, which is an excellent property you won't find in many products. If you like your vehicle extra perfumed, rotate the knob to the right. If you need a more discrete aroma, turn it to the left. In addition to perfuming your car, this solution also eliminates odors. So, you get a two-in-one when you use it.
Strengths
Easy installation;
Adjustable scent capability;
Perfect for smokers;
A wide array of available scents.
Weaknesses
Unless you're running the heater, fan or a/c this product won't be nearly as effective.
8. PURGGO Car Air Freshener ($34.99) – Best Smelling Car Air freshener
This air purifier is a bamboo charcoal deodorizer that promises to eliminate unpleasant scents from your vehicle without having to mask them with an artificial aroma.
The bag is filled with bamboo charcoal and, due to two convenient cotton strings, is easily hung from any part of the car, including the headrest or seatback. The charcoal works to passively remove odors from your vehicle, working as a sponge that soaks up nasty-smelling particles as they pass through it. It'll last a full year before replacement, making it among the longest-lasting air filters on the market today.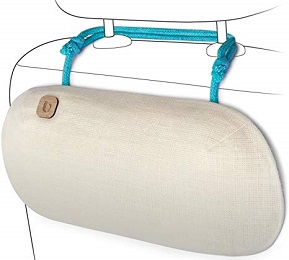 The product is made of hemp, making it all organic and more sustainable than air purifiers that use a plastic container. It's 100% allergen-free, uses no chemicals, plus safe for you, kids, and pets. The company also claims it's perfect for those with asthma, a stuffy nose, allergies, or other breathing problems.
Strengths
Superior at getting rid of a variety of odors;
Natural product;
Great for people with allergies;
It can use for an extended period.
Weaknesses
It can take a while to begin working.
9. FRiEQ Air Freshener and Ionic Air Purifier ($12.59) – Best Long Lasting Car Air Freshener
The most futuristic-looking product on the list is the FRiEQ air freshener. While it may look like a device from the Star Wars movie, we have to applaud how good this mechanism works. You just plug it into your 12V cigarette outlet and let it works for you.
This purifier absorbs foul odors before they begin to decay. Emitting negatively charged ions into the air, it liquidates bacteria, mold, and mildew. This way, you know you're not merely covering up unpleasant smells in flowery fragrances.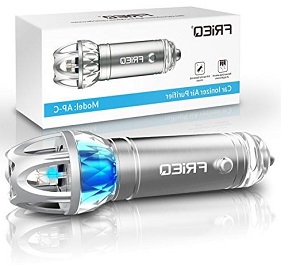 As it doesn't need any batteries, the freshener can last you years. Only ensure to follow the manufacturer's manual on how to plug it in and maintain it.
Strengths
Disposes of unpleasant smells before they develop;
Looks futuristic and fits into vehicle design well;
Lasts years when plugged-in adequately;
Easy to install.
Weaknesses
Works well only when the vehicle is running.
10. One Fur All Pet Car Air Freshener ($13.99)
This air freshener designed One Fur All is ideal for people looking to mask pet odors. One Fur All says the product is non-toxic/allergen-free, keeping you, kids, and pets away from any toxic chemicals. It's also made in the United States, so you'll be supporting a US business with your purchase.
This air freshener will last about 3-4 weeks. It's available in a wide variety of scents, including Evergreen Forest, Apple Cider, Fresh Citrus, and Fall Mix, among many more.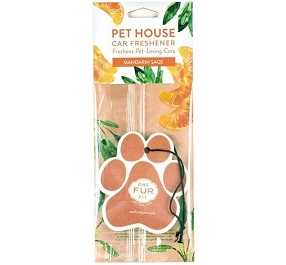 The fragrance works to deodorize the air, not just camouflage the odor, keeping your vehicle smelling fresh for weeks.
Strengths
Deodorizes air and masks smell;
Pet safe;
Useful for eliminating pet-related odors;
Made with an odor neutralizer.
Weaknesses
The scent wears off quickly.