13 Best Car Upholstery Cleaner Products That Destroy Stubborn Stains Immediately
It's no wonder that car upholstery shows the signs of aging, usually before other parts of the vehicle. By nature, this's the most vulnerable of the car's surfaces, and yet it endures the most contact and friction, next to the tires.



Even the most cautious, pedantic car owner can't avoid wear and tear on the interior fibers. However, keeping up with the carpet and upholstery is one of our least favorite chores in the car detailing.
There're several cleaners available on the market, and many credible brands such as Meguiar's, Mothers, Chemical Guys, Armor All, and CarGuys are offering amazing products.



In order to help, we have picked 13 unique solutions that provide you with a wide scope of features when choosing the best car upholstery cleaner for your baby.
1. Chemical Guys Foaming Citrus Fabric Clean – Best Car Interior Cleaner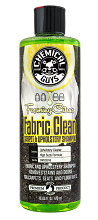 Chemical Guys Foaming Citrus Fabric Clean is formulated from some of the most advanced cleaners and protectants available.
This car seat upholstery cleaner breaks down and removes stubborn stains safely and completely. It reaches deep into the fabric and lifts away dirt or grease to leave fibers clean/odor-free.



The product mixes a superior biodegradable degreaser with an enzymatic odor eliminator for instant odor control and a long-lasting, deep clean.
This solution contains no toxic chemicals, bleach, ammonia, color damaging detergent, or solvents. It removes stains quickly and restores fabric, upholstery, and carpet to like-new condition.
Chemical Guys Foaming Citrus Fabric Clean works on pet stains, dirt, oil, grease, dirt, coffee, wine, tea, and juice from any water-safe outdoor and indoor fabric.
Key features
Restores upholstery and carpet to original appearance;
Eliminates odor-causing microbes;
Blows away stains and messes;
Breaks-down set-in stains.
2. Meguiar's Carpet & Upholstery Cleaner G9719


Meguiars Carpet & Upholstery G97179 is an aerosol-based heavy-duty cleaner that's designed to break up and release all kinds of ground-in stains.
The aerosol application makes a thick foam that sits on the top of the surface, breaking up and releasing common stains such as coffee, ketchup, lipstick, and tar.
This auto upholstery cleaner is easy to use. Spray a proper amount on the surface and allow it penetrates for a minute. Then, take a quality microfiber towel and pat the area dry. It dries fast and doesn't leave any sticky residue on the surface.
Plus, its dual-mode trigger enables both general cleaning with a wide mist spray and spot cleaning with a narrow stream. It also works to eliminate unwanted odors that tend to stay after a spill occurs.
Key features
Multi-purpose cleaner;
Doesn't need to be rinsed;
It can be used on a variety of surfaces;
Safe and non-toxic product.
3. Mothers Carpet & Upholstery Cleaner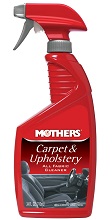 This environmentally safe formula is strong on stains while staying gentle to upholstery and carpet fibers. Mothers Carpet & Upholstery Cleaner gets the dirt out – even the worst greasy and ground-in stains.
It provides a pH-balanced treatment to the car interior, and its directional non-aerosol spray nozzle ensures the correct deployment of the cleaner every time.
To get the most out of this upholstery car cleaner, always be sure to vacuum the affected area well before the treatment, and again after the area has dried to take off any residual loosened dirt.
The product will clean, beautify, and restore auto interior back to its original texture and color.
Key features
Easy to use and apply;
Regular use provides a long-lasting benefit for your car;
Environmentally safe to use;
Reveals the true color and character of the interior.
4. Armor All Oxi Magic Carpet & Upholstery Cleaner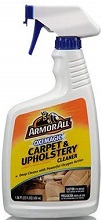 This car seat cleaner is specially designed for deep cleaning. It can deal with a range if typical stains, including cola, coffee, motor oil, and grass.
It works on powerful oxygen-based action to dissolve and lift even ground in stains smoothly but efficiently. The product is formulated for cleaning carpets, vinyl, door panels, and floor mats.
Armor All Oxi Magic Carpet & Upholstery Cleaner penetrates deep into various fibers to provide you the best result possible. The solution is safe to use on pretty much every sort of fabric.
It leaves behind a bright clean-linen scent and zero residue. Also, it's simple to use – spray it on, allow it sit, and blot it dry.
Key features
Restores interior plush, luxurious beauty;
Penetrates deep into fabrics to break up through, ground-in dirt;
Deep cleans with powerful oxygen action;
Dissolves the toughest car stains.
5. 3D Upholstery & Carpet Shampoo

3D Upholstery & Carpet Shampoo isn't a car interior cleaning product that only removes the visual effects of interior stains. It'll also break through deep into your car seats destroy the odors that these stains can sometimes generate as well!
This solution is effective at penetrating and break-up, even the most stubborn debris and stains, to give a deep clean to the interior fibers.
The product will even freshen up the look and the scent of your upholstery and carpet and restore the authentic beauty of your interior.
Key features
The superior biodegradable formula that deep cleans upholstery and carpet;
Quickly cleans and deodorizes in one step;
Tough on stains and spots without using bleach or ammonia;
Includes optical brightener to bring out the original beauty.
6. BLACKFIRE Carpet & Upholstery Cleaner

BLACKFIRE Carpet & Upholstery Cleaner is capable of consistently providing a deep-penetrating and efficient clean without risking the delicate interior surface on which you're working.
It'll allow you to remove stains, mud, grime, dirt, and other unsightly contaminants quickly and effectively. This car cloth cleaner will go to work within seconds of contact expedite you to expedite the auto detailing process.
It'll not degrade or stain the carpet fibers while it's removing heavy debris. It'll work effectively on any type of non-suede upholstery or carpet you came across.
It'll save the space in your detailing depot by considering the job of several different cleaners into one, all-around product.
Key features
Works within a second of contact;
Won't stain or degrade carpet fibers;
Destroy stains and spotting;
Provides deep penetrating and effective cleaning;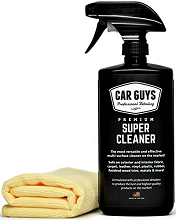 CarGuys Super Cleaner breaks and removes the grime and dirt efficiently, which sounds like a cool option for someone hunting for a one-stop car interior cleaner.
This product works on lots of surfaces, both on the inside of the vehicle along with the car exterior. It'll also do a good job cleaning upholstery and fabrics.
Even though this versatility might make the cleaner too strong for specific surfaces, it produces a clean, no-gloss, and odorless finish.
The cleaner doesn't offer UV protection and doesn't repel dust either. Even though the product works on most surfaces, it's ineffective on glass and shouldn't be applied on panel screens.
Key features
Powerful all-in-one interior care;
Cleans, deodorizes, and protects;
Includes detachable cap for easy cleaning;
Removes the toughest stains.
8. Turtle Wax Interior 1 Multi-Purpose Cleaner and Stain Remover

Turtle Wax Interior 1 Multi-Purpose Cleaner and Stain Remover is a best stain remover for car upholstery, plus it's well-suited to eliminating automotive grease and grime.
Designed with a 3-action formula that cleans, eliminates odors, and protects from oil, grease, and food stains.
The product includes an innovative and efficient applicator with micro-scrubbing bristles that scrub deep into the fabrics' surface to lift dirt and loosen sticky grease stains. It's safe for use on all car interior materials and is an incredible value.
Note – Included with purchase are two bottles of this product, with a micro-scrubbing applicator and microfiber towel.
Key features
Safe to use on all kinds of surfaces;
Provides clean finish with no gloss;
Highly-concentrated cleaning gel;
It can be used for indoor and outdoor surfaces.
9. Ultima Interior Shampoo Gel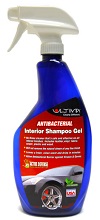 Ultima Interior Shampoo Gel is the best way to provide your vehicle with a long-lasting, germ-free interior that looks good as it protects from mildew and stains.
It's a powerful car cloth cleaner that is specifically engineered with a professional-strength additive (poly-charger) that bonds to the interior surface to produce a durable, long-lasting barrier against automotive dirt, stains, grime, and grease.
The product is also environmentally friendly. It contains zero harsh chemicals that can't damage the environment or the car interior, which makes it safe for use on all materials.
Key features
Doesn't remove the natural shine of smooth finishes;
Dries in minutes with a fresh, clean scent;
Residue and dirt simple wipes away;
Safely and smoothly cleans all interior surfaces.
10. Chemical Guys Lightning Fast Upholstery Stain Extractor

Lightning Fast Spot and Stain Remover can be sprayed on and wiped off, brushed in and vacuumed out. It can even be put into the extractor machines for miraculous results. It's more than a cleaner since its patented formula cleans without destroying color or fading surfaces.
This water-based, hyper-concentrated formula dilutes at 20 parts water to one-part concentrate. The product contains powerful cleaning agents developed for car detailers that make results fast.
This uniquely designed combination of cleaners lifts dirt particles away from the fabrics so that they can be quickly removed. Its water-based surface protectant coating protects carpet and fibers from future stains and spots.
It's one of the best auto upholstery cleaner solutions that works rapidly against even the toughest stains. The superior emulsion lifts away contaminants without the need for sturdy scrubbing.
Key features
Quickly and thoroughly eliminates stains;
Liquidate foul odors as their source;
Cleans without intense scrubbing;
Fast and easy to use.
11. SONAX Multi-Purpose Auto Interior Cleaner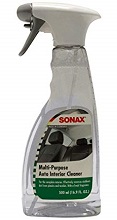 SONAX Multi-Purpose Auto Interior Cleaner thoroughly removes stains from fibers, carpets, headliners, and door panels.
The foaming action traps and eliminates the dirt particles and their odors, leaving your vehicle's interior clean and fresh.
This car upholstery cleaner is bundled with dirt-targeting surfactants. Surfactants bond to foreign contaminants and lift them from deep within fibers. This technology works efficiently on stubborn stains and dirt inside your vehicle or the RV.
Key features
Effectively cleans and eliminates stubborn dirt from carpet, and fibers;
Traps and destroys odors with a clean, fresh scent;
Works very well and leaves no residue;
Safe cleaner.
12. Black Diamond Upholstery Cleaner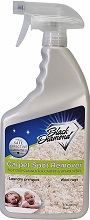 One issue with these products is that the stronger they tend to work is less environmentally- friendly they'll probably be, but this solution is different,
The Black Diamond Upholstery Cleaner, thanks to its chemical formulation, is perfectly capable of tackling various types of spills in your machine, including coffee, ice cream, and pet stains. It works mostly on fabrics, so you can use it for your cloth seats.
Also, despite being professional strength, the solution is safe to use around children and pets. So, you can spray down the car's interior without fretting about exhausting out the fumes before your friends or family climb inside.
Key features
Environmentally safe upholstery and carpet cleaner;
Works on a pet, coffee, grease, and dirt stains;
Includes a money-back guarantee;
Fast-acting.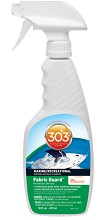 303 Fabric Guard is the car upholstery cleaner that boosts your car interior resistance to water and stains the more it's utilized. It's a useful product with a unique formula that restores the original color and feel of your vehicle's upholstery and prolongs its life.
This solution is an excellent multi-purpose cleaner that restores moisture to cracked and sun-dried vehicle interior and repels stains.
It's safe for use on all materials, including natural and synthetic interiors. Plus, It fights against mildew and mold.
Key features
Safe for natural fibers;
Guards against oil-based and water-based stains;
Doesn't change fabric color;
It offers strong resistance versus soiling.