Best Car Vacuum in 2022: 10 Best and Most Compact Choices [Cordless Options Included]
Investing in a stellar car vacuum is a money well-spent because this powerful machine may be of much help while dealing with dust, crumbs, dirt, and dander. Besides, the buildup of all these particles may make your car look less cozy, increasing the risk of allergies, irritations, and other conditions.
Luckily, you can find the best of the best car vacs on the market. There are many options available, allowing you to clean your vehicle's interior quickly and flawlessly. Since they are made to get into tight and small spaces, most car vac models are lightweight and cordless. You may also find those with a dusting or a motorized brush, including an upholstery tool to clean up the mess that could stain your seats.
To sum up, you have a wide variety of options to choose from. Check out this buying guide for picking the best vacuum for car interior and consider the 10 outstanding models we have chosen for you.
6 Crucial Things to Consider Before You Buy a Vacuum for a Car
Not all of us need a vacuum cleaner with the same capabilities, so it is vital to make a list of car vac features you find useful. For example:
1.      Corded or Cordless Car Vacuum Cleaner
A corded vacuum cleaner comes with a power cord that needs to be plugged into an outlet to work. It may be inconvenient for those whose cars don't have an outlet and parking your vehicle next to a wall outlet every time you need to clean the interior is a less suitable solution.
A cordless model is more versatile than its corded counterpart since it allows you to clean your seats without an outlet. It comes with a rechargeable battery, offering greater mobility and cleaning on the go. It is less potent than the corded models, and it must be fully charged before you take it on the road.
2.      Wet or Dry Capabilities
You will choose between a wet and dry car vacuum based on whether you need one for cleaning spilled drinks, dry messes, or both. All vacuums can pick up the dry mess, while more advanced models work with wet stains, as well.
3.      Weight
A car vacuum cleaner should be compact and lightweight so that you can clean your vehicle easily. Most models weigh 5 pounds or less.
4.      Suction Power
Suction power is an essential feature worth considering. The best cordless car vacuum should have 15-20 volts, while corded models' power should go from five to seven amps.
5.      Filter
A high-quality filter ensures top-notch cleaning and picking up even the smallest debris. Look for models with powerful filtering capabilities, especially if you or your passengers suffer from respiratory diseases or are prone to allergies.
6.      Accessories
Cleaning your car may become much easier and more profound if your vacuum is equipped with great accessories, including an extension wand, a dusting brush, and an upholstery tool. These add-ons may help you clean all hard-to-reach spaces, delicate parts of your vehicle, remove pet dirt, etc.
Best Car Vacuum Cleaner in 2022: 10 Topflight Car Vacs for Spotless Vehicle Interior
We have chosen the 10 best mini car vacuums based on their price, features, and cleaning capabilities:
1. Armor All AA255 – Best Vacuum for Car Detailing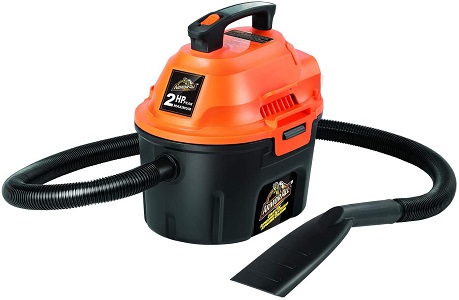 The best in class, Armor All AA255 is an excellent choice for all those who seek incredible power and a spotless car interior. Its 6-foot hose allows you to move it around easily, while robust equipment ensures more profound cleaning. This model is ideal for car owners who wash their vehicles at home and have access to a power outlet.
Wet and dry cleaning capabilities
Portable
Has several useful accessories
Two-year warranty
Great suction power.
2. HOTOR Car Vacuum Cleaner – Best Portable Car Vacuum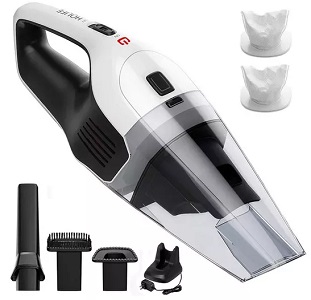 Compact and lightweight HOTOR makes your car cleaning routine much more convenient. The 16.4-feet power cord allows seamless mobility, while excellent filtration ensures durability and the vacuum's optimal functionality. All these features make the HOTOR's model the best portable vacuum for car on our list.
Lightweight (2.44 pounds)
Enhanced maneuverability
Portable
Double filtration
LED light for night cleaning.
Corded
Trouble picking pet hair.
3. Shark Rocket Ultra-Light Car Vacuum – Best Car Vacuum for Pet Hair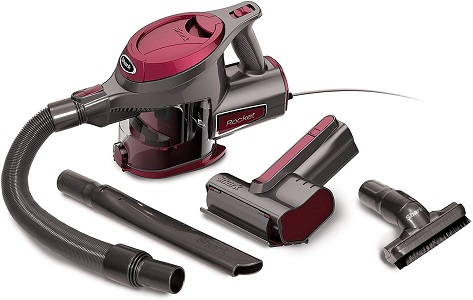 The Shark Rocket Ultra-Light is the best corded car vacuum for pet hair we have encountered so far. It's highly portable with an easy-to-empty dust cup and a power cord that allows ease of movement while picking up dirt. It is suitable for cleaning cars, furniture, stairs, and smaller rooms at your home.
Lightweight (4 pounds)
TruePet motorized brush
Washable and reusable filters
Versatile
No bag needed.
Expensive
Low suction power (3.4 amps).
4. GALSOAR Handheld Car Vacuum – Best 12 Volt Car Vacuum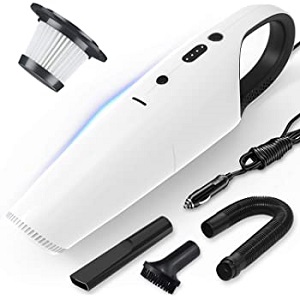 A budget-friendly GALSOAR Handheld Car Vacuum offers great value for money. It is powered by a 12V outlet and 14.8-foot cord, and its attachable and flexible hose allows you to reach even the smallest and tightest spots in your car. Most importantly, this model can clean up both dry and wet messes, which is rarely present in budget-friendly models.
Strong suction power
HEPA-filter system for the best air quality inside the car
A crevice tool
Dry and wet cleaning features
Two power sources (corded electric and battery-powered).
Consumers complain about its faulty cord connection.
5. Bissell Cleanview Deluxe – Best Corded Car Vacuum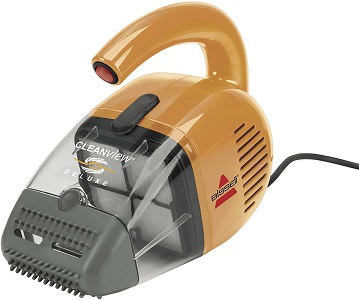 A Bissell Cleanview Deluxe is a powerful and well-equipped car vacuum that can successfully clean up dirt, spills, and pet hair. It has a wide suction area that allows you to clean all parts of a car efficiently and thoroughly. A HEPA filter eliminates the allergens, providing clean air.
18-feet-long cord
A large collection bin
Solid suction power (4 amps)
Flexible rubber attachment for removing hair and dirt
Easy-to-empty.
6. Black + Decker MAX Lithium Pivot Vacuum – Best Cordless Car Vacuum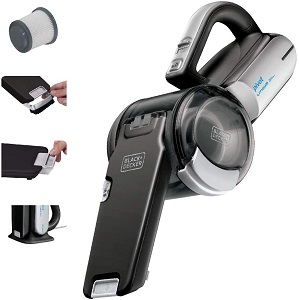 An advanced Black + Decker MAX Lithium Pivot Vacuum features the latest Lithium technology for robust suction and fade-free power. It is a very compact and high-performance machine with a top-notch design and premium quality that ensures a clean environment free of allergens, pet hair, and potentially harmful particles.
Cordless
Versatile
Lightweight
Compact and easy to use
Three-stage filtration system.
Potential battery issues.
7. Hoover DustChaser BH57010 – Best Handheld Vacuum for Car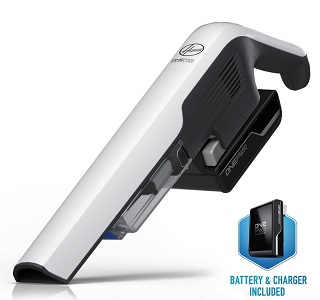 A high-end Hoover DustChaser BH57010 is an excellent pick for all those who want to invest in their next car vacuum. With an advanced suction capability, this small yet robust model is incredibly convenient for tough jobs and stubborn dirt. A cord-free design delivers a seamless cleaning experience on the go, suitable for those who spend most of the time on the road.
Lightweight and compact
Dual-stage filtration with HEPA filter
2-in-1 dusting and crevice tool included
Removes pet hair
Can clean hard-to-reach areas.
8. Holife Handheld Vacuum HM036E – Best Budget Cordless Car Vac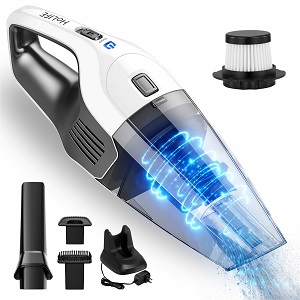 If you want to enjoy the fantastic cord-free features without spending a fortune, we suggest you go for a Holife Handheld Vacuum HM0363E. It can efficiently clean all the surfaces, helping you get rid of dirt, dust, or even pet hair. Once its battery is fully charged, you can use it for 30 minutes continuously.
Lithium battery
Lightweight (3.4 lbs.)
Ergonomic design
Crevice tool and upholstery brush included
Wet cleaning feature.
It struggles to clean small debris.
9. Bissell AeroSlim Handheld Vacuum – Best Car Vac for Small Vehicles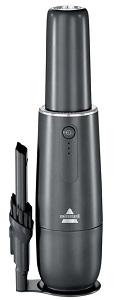 Here comes another Bissell's gem. A well-designed AeroSlim Handheld Vacuum is convenient for small cars and minor messes since it operates for 12 minutes once fully charged. Its compact size, easy-to-empty bin, and USB charging feature make it ideal for cleaning the car's interior on the go.
Modern aesthetics
USB charging
Crevice tool and dusting brush included
Quick and efficient clean-ups
Ideal for small vehicles' routine maintenance.
10. Shark CH951 UltraCyclone Vacuum – Best Portable Car Vacuum for Pet Hair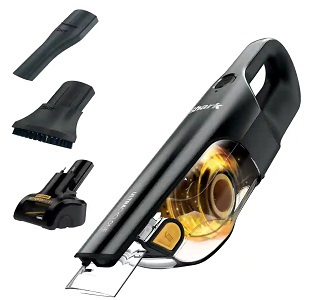 Pet owners, here comes an excellent solution for your car. A Shark CH951 UltraCyclone Vacuum is explicitly created for cleaning up pet hair, which might become a problem if your pet frequently travels with you. It's lightweight and portable, with robust features for cleaning hard-to-reach spaces and stubborn dirt.
Removes pet hair
Compact and lightweight
Washable filters
Large dust cap
CleanTouch dirt ejector for hands-free debris disposal.
It may take some time for the battery to charge fully.