Best Car Wash Soap  – 10 Perfect Solutions for Streak-Free Results
Once you decide to wash a vehicle yourself, the first step is to find good car-specific soap. However, searching for a top car wash soap can be quite challenging. Our auto detailing specialists analyze numerous products, read countless reviews, and choose the best car soap for this year to help you in this venture.
10 Best Car Wash Soaps
A good car soap should be gentle enough to utilize regularly, cleansing enough without residue, and safe enough for the car's paint, whether you're washing a sedan or an SUV. We'll guide you through the top 10 car shampoos available today.
10. Turtle Wax Ice Car Wash – Best pH Neutral
The Turtle Wax Ice Car Wash (48 oz.) uses the trademarked ICE Smart Shield technology to intensify and maximize results. Intensively interlinked polymers produce an invisible barrier and deliver weather protection. Additionally, the product creates a rich lather that suspends dirt and grime particles to clean the paint thoroughly. The neutral pH environment removes these particles without excessive scrubbing. The product contains special glossing agents that give a professional-looking shine to your ride, as it intensifies and maximizes the paint surface, bringing out the real colors. The ingredients are safe to use with various automotive finishes, and the bottle contains 48 ounces that will last a long time.
PROS//
Leaves behind a shiny, protective layer that protects your automobile from the elements
Reduces the appearance of minor marks and scratches
Keeps dirt from re-depositing on your auto finish
No water spots or swirl marks are left behind
Rich foam ensures proper cleaning of the paint.
CONS//
Might leave residue, streaks, or spots.
9. Mothers California Gold Carnauba Wash & Wax – Best Eco-Friendly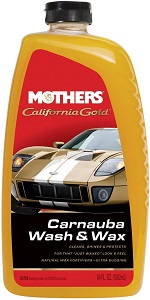 Mothers California Gold Carnauba Wash & Wax (64 oz.) cleans and shines your automobile in one step! Natural carnauba wax in the shampoo bonds to the paint, elevating its protection and shine. All you need to do is wash your vehicle as usual. Used between regular waxing, the solution easily dissolves and removes stubborn road grime and dirt, all while boosting your existing wax. Powerful, biodegradable, and pH balanced, this product has it all – lubricating suds protect the paint from scratching as dirt is removed; the pH-balanced formula doesn't strip wax; real carnauba wax improves the existing paint protection. Also, this soap features an environmentally friendly, fast rinsing formula.
PROS//
No swirls or watermarks are left behind
Provides a glossy and shiny finish
Gives a protective layer to the paint surface
Biodegradable and pH-balanced
Contains 64 ounces of a concentrated product.
8. Griot's Garage Brilliant Finish Car Wash – Best Foam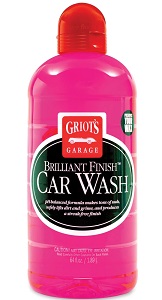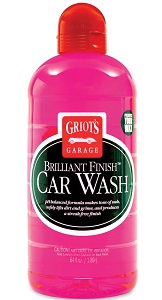 Griot's Garage Brilliant Finish Car Wash (64 oz.) is an ultra-viscosity foaming car soap that protects your paint as it gently removes contaminants and dirt. It builds thick suds that provide slick lubrication, preventing wash-induced scratches and swirl marks. This concentrated formula is 100% biodegradable with a pleasant fragrance that enhances the washing experience. The wash also includes special brighteners that are formulated to improve your car's color. You can safely use this product on your paint without worrying about stripping wax or any other protectant. It contains 64 ounces of product, and it's ideal for all types of hobbyists and professionals, particularly those with car vinyl.
PROS//
pH balanced with plenty of foam
Safe for all finishes, including vinyl wraps and matte paint
High-lubricity formula
Produces a streak-free shine
Special brighteners maximize the color and shine of the paint job.
CONS//
Might leave spots on the vehicle.
7. Chemical Guys Citrus Wash & Gloss – Best Concentrate
Chemical Guys Citrus Wash & Gloss (16 oz.) is an ultra-concentrated shampoo and the ultimate surface-prepping paintwork cleanser and gloss enhancer in one. Its 100% surface friendly and biodegradable formula outplays harsh solvent shampoos and surface cleaners. Chemical Guys car wash leaves paint smooth, clean, and ready for a paint sealant or wax. The citrus base aids foam in lifting and holding soil in suspension for easy, scratch-free rinsing. These citrus extracts break down dirt and grime while lubricating surfaces, letting debris to be gently rinsed off. They are blended with the finest cleaning and glossing agents to deliver a 100% pure citrus cleaner, free of artificial additives, thickeners, or colors.
PROS//
Formulayed to perform as both a shampoo and a conditioner
Features a citrus-based solvent to ensure easy scratch-free rinsing
Deeply conditions the car
Free of artificial colors and additives
Biodegradable formula.
CONS//
Doesn't add sealant or wax.
6. Rain-X Wash and Wax – Best Value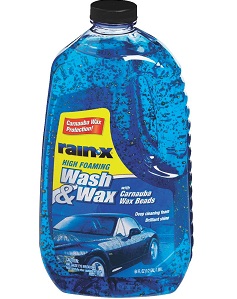 This Rain-X Wash and Wax (64 oz.) is a concentrated formula that turns into deep cleaning foam when diluted with water. The foam works by loosening and dissolving road grime and dirt. Because it's a pH-balanced and biodegradable formula, it won't damage the paint or any other exterior parts of your car. The formula also contains soft gel carnauba wax beads that produce a thin layer on the paintwork to defend it from the elements and harsh environmental conditions. Rain X car wash is a perfect solution for people who don't care to take the time and effort to wax their vehicle regularly. The manufacturer says there's no drying required. Still, it's best to use something to dry the water left behind, especially in direct sunlight.
PROS//
Includes a large amount of cleaning solution
Great protection against rain and UV rays
Leaves a deep shine and decent wet look on the paint finish
pH balanced
Minimal residue and streaks when appropriately applied.
CONS//
Only clean light and medium dirt.
5. Meguiar's Gold Class Shampoo & Conditioner – Best Wash and Conditioner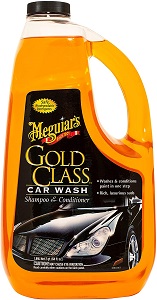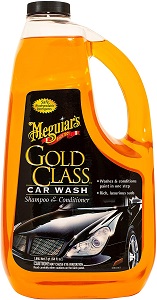 With The Meguiar's Gold Class Car Wash (64 oz.), you'll have a shampoo and conditioner in one package. You'll get more than enough suds to wash your complete car from just a sparing amount of formula. The secret mixture of conditioners nourishes the surface and lubricates the washing area, preventing the abrading effects caused by friction. There is enough cleaning power to fight with even the most cemented-on grime and dirt, yet the clean so gentle your polish and wax will stay entirely intact. It's easy to use and can be used by professionals as well as car enthusiasts. This product is ideal for those with bold-colored vehicles as it refreshes the paint job each time you wash it.
PROS//
Very sudsy and smells pleasant
Won't strip wax or any other coatings
Efficiently removes dirt and gives your paint a radiant look
Lubricates the surface to keep dirt and debris at bay
Eco-friendly product.
CONS//
Leaves spot marks when applied under direct sunlight.
4. Meguiar's Ultimate Wash & Wax – Best Car Wash and Wax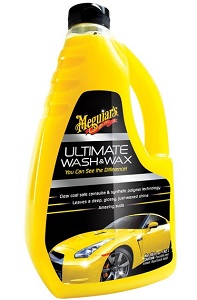 Meguiar's Ultimate Wash & Wax (48 oz.) contains highly effective cleaning agents that lift grime and dirt off the vehicle. A lot of lubrication and long-lasting suds prevent wash-induced swirls as you gently wash away the soil. The polymers further help protect the paint from swirls. It's an excellent way to boost and prolong the existing auto wax on your car. The Meguiar's car wash has natural carnauba wax and polymers that restore a deep, glossy shine to the paint. These high-quality ingredients don't strip wax – they preserve and reinforce wax for a deeper, longer-lasting sheen. The product leaves behind a smooth and hydrophobic finish that prevents water spots as you wipe the vehicle.
PROS//
Carnauba and synthetic polymer technology protect and clean the paint job
Ensures a glossy and deep shine
Excellent cleansing properties
Compatible with a wide range of washes and waxes
Creates tons of suds.
CONS//
Better results are achieved when applied to a clean surface under shade.
3. Optimum Car Wash – Best High Gloss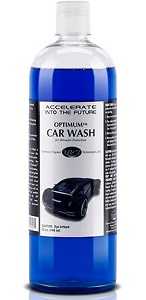 Optimum Car Wash (32 oz.) delivers your paint great protection against accidental swirls and scratches resulting from improper wash methods. Rich foam lubricates abrasive particles, so they slide off the paint in the rinse water without scratching. By maintaining the wax coat, the paint gets added protection from grit during washing. It thoroughly cleans your paint without removing sealant or wax, so your paint remains protected. With this formula, your wax will last as long as it should, so you save time and money. Optimum's biodegradable ingredients ensure that run-off from your car won't affect the surrounding environment. They're also gentler on your clear coat than chemical compounds and harsh solvents.
PROS//
Highly concentrated for rich lather
Doesn't remove or affect existing wax or polymer sealants
pH neutral and contains only biodegradable ingredients
Use only 1/2 ounce per gallon for premium cleaning at a value price
Preferred by elite auto collectors
2. Sonax High Gloss Shampoo Concentrate – Best Paint Protection

Sonax Gloss Shampoo (33.8 oz.) is a phosphate-free car soap that cleans the toughest road grime and dirt from your car. Specially developed with anionic surfactants, this product lathers into a rich lather that traps dirt and rinses clean, providing your vehicle a streak-free, spotless, and radiant shine. It's safe for all paint finishes and won't strip away the wax already applied. The special anionic surfactants within simultaneously adhere/deliver dirt particles and act as emulsifiers absorbing/dissolving oil droplets. Its non-acidic, non-alkaline formula gently removes oil, grime, and dirt without diminishing the existing paint protection.
PROS//
Great for maintaining existing protection
Good foaming ability
Leaves a glossy finish
No streaking or residue left behind
pH neutral and phosphate-free.
1. Chemical Guys Mr. Pink – Best Car Wash Soap Overall

Chemical Guys Mr. Pink (64.oz) is an ultra-concentrated car wash shampoo that produces a plethora of thick suds to make washing your vehicle a fun, enjoyable experience. It uses premium super polymers that enclose dirt particles, trapping them in its thick foam, so your paint stays scratch-free after every wash. Also, one 16 oz. bottle is enough to wash your car over 20 times! What's more, you can wash your car in direct sunlight since this product was developed with the detailer in mind. Its pH-balanced formula is also wax friendly, meaning it won't affect your sealant or wax's durability.
PROS//
Can be applied in direct sunlight without spotting or staining the car's body
Rinses clean with no residue
Safe on all automotive exterior parts
Biodegradable and pH balanced
Protects existing sealant or wax.
CONS//
Might leave a residue when rinsed with a pressure washer.
Best Car Shampoo Buying Guide
When you're buying a car wash soap, there are some specific features you have to look at. Picking a soap with the right formulation and ingredients and formulation your car's exterior paint and wax will last a long time and be protected. The following elements outlined in this should be considered when buying best car wash products.
Types
Concentrated – Most car shampoos on the market are concentrated formulas that have to be blended with water before you can use them. They typically come with instructions. You can prepare it in a bucket, wash your automobile directly with a foam pad, or load it into a foam gun or pressure washer. You have to rinse away the formula after a few minutes so that the soap doesn't leave behind a residue.
Waterless – These shampoos don't need to be rinsed after you use them to wash your vehicle. Some dry wash products need to be mixed with a little water to get the job done. Waterless has to be sprayed on the car's surface to loosen or dissolve dirt particles and is then wiped off with a towel. It saves water and is an eco-friendly solution if you don't want to wash harsh chemicals down the drain.
Key Features
pH Level – pH is the measure of a product's level of alkalinity or acidity. You want to go for a pH-balanced or pH-neutral solution, meaning that it's slightly alkaline and not too acidic. You risk damaging the paintwork or irritating your hands if you get a product that falls at either extreme. Most manufacturers will label if it's a pH-neutral formula on the bottle, so finding the right shampoo will be easy with that detail.
Formulation – Check the ingredients used to make the soap to ensure that they won't damage the paintwork or any other exterior components of your car. Also, you can purchase a standalone shampoo or a wash-and-wax. The advantage of using the latter is that wax will build a protective film that brings extra shine to the paintwork. Also, wax makes water beads run off fast, so you won't have to spend a lot of time rinsing it.
Protection – On top of cleaning your car, ensure that the product can provide prolonged protection from water spots, dirt, and other contaminants that make your paintwork look unappealing. You can get this by selecting a product that creates a thin barrier against contaminants so they can slide off or can be wiped away with a wet rag.
Design – If you're going for a waterless car washing soap, ensure that it comes in a spray bottle for easy application. If you choose a concentrated formula, ensure that you're comfortable with the bottle's design; it should allow you to pour it into a measuring cup easily.
Fragrance – You don't want a strong scent that remains on your automobile for days. So, choose a solution with a smell that you like. The soaps on the market feature different scents, including lemon, citrus, cherries, and more.
Benefits
Remove contaminants and dirt – Road grime, dust, salt, bug stains, and bird droppings are just a few of the contaminants that collect on your vehicle after driving. Most car soaps are formulated to lift the pollutants that are stick to the paintwork without damaging it.
Improve aesthetics – Washing your vehicle with car shampoo is the best method to get rid of the stains, and it'll make your paintwork look more radiant.
Gently clean your car – Washing a car with soap is easy, and you'll take better care of the paintwork and can concentrate on the stained spots. Taking it through an automated auto wash is quick, but you may end up with streaks or spots on your ride from the spinning brushes.
Better than household products – Laundry detergents and dish soap can help remove dirt, but most can stain or bleach the paintwork. Car soap is much more efficient at removing contaminants from your automobile than regular home detergents but won't damage the paintwork. Instead, most will form a protective barrier so that contaminants don't pile on the paint.