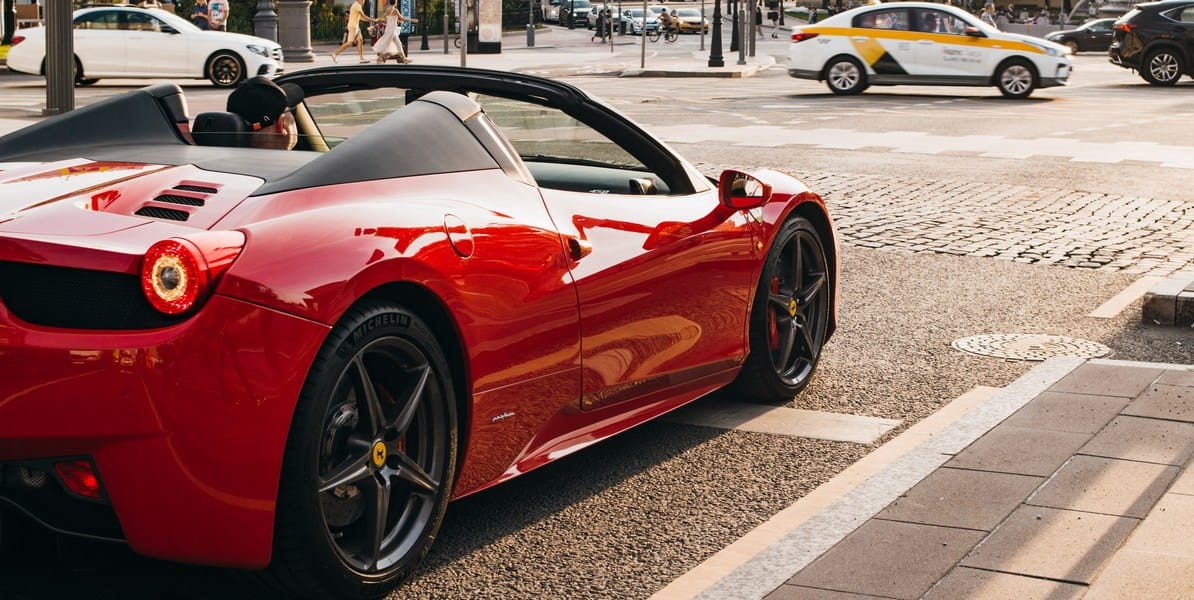 5 Best Car Wax Products to Buy This Year
10 Best Car Wax Products to Buy in 2022 (A Complete Buying Guide)
Waxing your vehicle is an extremely important part of car ownership, and not just to keep the body glossy! The best car wax protects your paint from fading due to the UV rays, and it can be seen as a sort of sunscreen for your vehicle.
Also, if you live by the ocean or anywhere where your car could be exposed to salt, the car wax is a must. It helps build up a protective coat on your paint, preventing the car from rusting. Body rust is unappealing, but it also can lead to further damage to your vehicle, resulting in substantial repair or replacement costs.
Are you looking for the best car wax? Read about types, benefits, and other must-know topics in this ultimate car wax buying guide to make the right decision.
What is Car Wax?
Car wax boasts a wide variety of materials you can use on your car to retrieve its shine and help it stay protected from environmental factors. It is a mix of oils, solvents, and waxes that often contain crude oil distillates, ethanol, and mineral spirits.
Its compound adds a layer of protection to the paint and can also bring out the best of the car's shine and luster. While the waxing highlights the beauty of the color, its most prominent feature lies in its power as a protectant.
The best wax for a car will safeguard your car from moisture, UV rays, intense heat, and pollutants, preventing the oxidation process.
What Does the Car Wax Do?
Car wax protects your car by creating a barrier between the clearcoat and the outside. That way, your car's paint remains safe from UV rays, air pollutants, and water.
Rainwater and spray from the roads are full of all kinds of contaminants, which can quickly move onto the paint, so the ideal way to protect against it is to ensure water quickly runs straight off the bodywork, which is something that the wax performs by making the surface hydrophobic.
Since the wax is repelling dirt, you may be able to go longer between vehicle washes, which minimizes potentially damaging contact with your paint and extends its lifespan.
Most Common Types of Car Wax
Natural and synthetic car wax are the two most common types of car wax. They are available in different formulations, and you'll choose one according to your preferences. For instance:
Natural Carnauba Car Wax
Natural wax formulas are the most popular type of car wax. They are commonly made from the Copernicia Cerifera palm tree, also known as carnauba, which is why they tend to be harder than their synthetic counterparts.
Carnauba wax can be white or yellow. Since the yellow type is a pure plant wax that provides high shine and the ultimate protection, it tends to be the most expensive car wax on the market. The white type is lower-grade, and it is more affordable.
You can also find synthetic wax that contains carnauba, but it is not a purely natural product. It is more affordable than white wax, but it won't provide the best results in terms of protection and shine.
While natural car wax has many benefits, longevity is its most significant downside. That said, it can last for a couple of months before you need to reapply.
Synthetic Car Wax
Synthetic car wax or paint sealant is made from synthetic polymers that bond with paint to bring an artificial layer of protection. Most car owners and detailers prefer this type as it's much more durable and easier to use.
Synthetic car waxes are a preferred choice because of their versatility. Some products contain cleaning agents, which help strip away any contaminants or residue that could affect bonding—chemicals found in synthetic car wax foster stronger bonding, which can last for up to a year.
On the other side of the coin, paint sealants don't create the same shine as natural wax – which is why some car enthusiasts will apply carnauba wax on top of synthetic solutions.
Paste Wax
A paste is the oldest and most used car wax formula. It is available in different textures, from hard to soft. It typically contains elements of natural waxes, which is why it delivers high shine and much deeper luster.
However, you will need to apply a paste more frequently as it fades away more quickly. Since it features some elements of natural wax, it tends to be more expensive than liquid or spray wax formulas.
Liquid Wax
Unlike paste, liquid wax has a smoother texture. Liquid formulas are usually synthetic, and it helps them be more long-lasting, requiring less frequent application. Still, liquid wax tends to dry faster than paste, which is why it is recommended to work in smaller sections. Users also claim that this formula is much harder to apply than other wax types.
Keep in mind that liquid wax can be abrasive, and it's advisable to read the label before you apply it.
Spray Wax
The fastest and the easiest way to use car wax is in the form of a spray. Many spray waxes contain special additives that help deal with swirl marks, blemishes, and other imperfections. They are easy to apply and non-abrasive, but you may find them less long-lasting than other options.
How to Choose the Best Wax for Car?
Both first-time buyers and car enthusiasts have their doubts when it comes to choosing the best car wax for their machine. So, we have prepared a list of key features to keep in mind when buying car wax products, helping you get the blend of high shine and long-lasting protection.
Application Method
It is important to consider how much time and effort you're ready to invest in waxing your vehicle. If you are a detailing enthusiast who enjoys spending long hours embellishing the car, a natural carnauba wax may be a way to go.
On the other hand, if you are looking for a quick and easy solution, a liquid or spray formula is the best option you have. While some products can be applied with a buffing machine, others may not be compatible with it. So, don't forget to check the compatibility before you buy a certain product.
Longevity
While natural waxes deliver better protection and shine, they are less long-lasting than their synthetic counterparts. Still, don't rely on what manufacturers say. The longevity of your wax application depends on many conditions, including the climate and how often you wash your car.
Package Size
A general rule of thumb is, the larger the wax container, the longer it should last. Still, this is not always true. Remember that natural wax formulations may start to melt in the heat, and synthetic may start to separate while still in the bottle. When something like that happens, you would need to buy another container, no matter if you finished the last one or not.
Wax Formula
The wax formula you'll pick depends mostly on your preferences and the results you seek. While some are looking for high shine and deep luster, others want their product to deliver long-lasting results. If you want both, try searching for cross formulas that contain both natural and synthetic properties.
Additives Included
Some products have additives that enhance overall paint protection. One of the most commonly used additives is UV protection, responsible for keeping the paint safe from fading and discoloration due to excess sun exposure. Another useful additive includes wax hyperbolic properties, which prevent water etching and water spots.
Compatibility
Some waxes work with particular detailing products. If you don't have them, it's recommended to check the expense of purchasing the necessary tools. If you do have them, confirm whether the chosen car wax is compatible with them.
What is the Best Car Wax on the Market?
Let's take a closer look at the 10 best car wax 2022 has brought to car enthusiasts.
1. Best-Rated Car Wax: Ethos Resist – UV Ceramic Graphene Coating Spray


Ethos Resist – UV Ceramic Graphene Coating Spray is the best-rated car wax for a reason. This is advanced graphene (rGO)-infused ceramic (SiO2) spray that ensures an effortless application and long-lasting results. It delivers unmatched 2-in-1 versatility for superior coatings and exceptional stand-alone protection.
This product is safer and easier to use than a typical car ceramic wax. It's uniquely formulated to deliver 6+ months of protection from dirt, dust, and UV rays. A final result – showroom shine and next-level shield from harmful contaminants.
It is safe for all surfaces, and you can use it on cars, boats, motorcycles, or UPV windows. It is incredibly easy to use, leaving a glossy, streak-free finish without any hassles. With Ethos Resist, you will enjoy effortless cleaning, polishing, and glossing up your machine.
PROS// Remarkable 2-in-1 formula; User-friendly; Safe for all surfaces; Unique combination of ease of use and performance; Graphene hybrid coating for extended protection.
CONS// It dries quickly.
2. Best Car Wax for Black Cars: MEGUIAR'S G7016 Premium Liquid Wax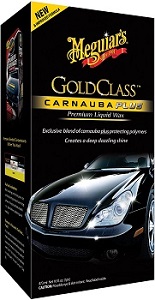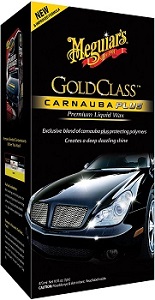 MEGUIAR'S G7016 Premium Liquid Wax is an innovative wax designed to produce marvelous levels of shine on darker-colored cars.
It doesn't use colorants or dyes but specially blended carnauba wax and protecting polymers that polish away and minimize the appearance of minor defects, creating an ideally flat and glossy finish. Besides, this unique formula removes fine swirls while leaving your paint brilliantly reflective.
The solution includes a high-quality foam applicator for easy application. You can apply it by hand or using a special dual action polisher produced by Meguiar's.
PROS// Specifically designed to produce brilliant color and shine on dark to black paint; Long-lasting protection; Can be applied in sunlight; Excellent water shedding and beading; Deeper shine and reflections.
CONS// The price may be too high.
3. Best Carnauba Car Wax: P21S 12700W Carnauba Wax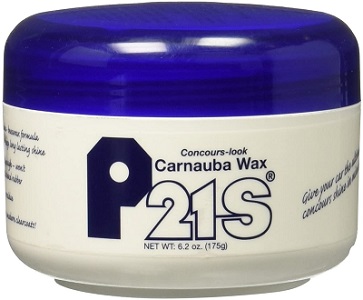 The P21S 12700W Carnauba Wax contains a blend of natural carnauba wax and beeswax, which serves as a softening agent. It is an entirely safe and fragrance-free formula derived from the highest-grade carnauba wax.
This premium-quality paste wax delivers the utmost shine and protection without leaving the powdery and white residue behind. It features a pretty smooth consistency, which can quickly dry to a visible haze that comes off quite easily.
If you are among those automotive purists that rely on premium-quality products only, you'll love traditional carnauba blends offered by the P21S. Still, keep in mind that it requires a more frequent application than the latest synthetic ceramic waxes on the market. This product comes at a high price, but even a small quantity provides impressive shine and excellent protection.
PROS// Deep shine; USA-made; No powdery residue; Doesn't leave white stains on rubber or plastic; Great value.
CONS// It doesn't provide long-lasting results as expected.
4. Best Liquid Car Wax: Meguiar's G210516 Ultimate Liquid Wax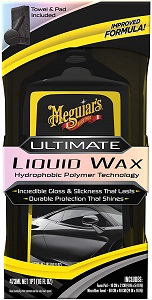 Meguiar's G210516 Ultimate Liquid Wax features an improved technology that offers the ultimate paint protection and shine in an easy-to-apply liquid formula. Meguiar's G210516 Ultimate Liquid Wax highlights the best in any paint finish.
It features Meguiar's Hydrophobic Polymer Technology, which fosters relentless water beading and prolonged protection. It can be used in direct sunlight on a warm surface – it won't affect the performance of this Meguiar's synthetic gold.
The solution lasts longer than carnauba wax and even longer than many synthetic waxes. It's formulated to provide the longest-lasting protection and water-beading.
Meguiar's proprietary hydrophobic polymer technology minimizes surface tension, so water beads and rolls off! Also, it improves paint color, depth, and reflections.
PROS// Improved formula for maximum synthetic protection, durability, depth of color, and reflection; Hydrophobic polymer technology to protect paint; Safe and effective on all glossy paint; Easy to apply; Deep glass finish.
CONS// Not the best for black cars.
5. Best Ceramic Car Wax: Meguiar's Hybrid Ceramic Liquid Wax


Are you looking for the best liquid car wax that's ceramic at the same time? Let us present you Meguiar's Hybrid Ceramic Liquid Wax. It is based on the latest and the most advanced hybrid SiO2 technology that provides an exceptional layer of protection to your car's surface. Essentially, it acts as a shield against particles and pollutants that could damage your paint.
Aside from being a top-notch paint sealant, this Meguiar's product delivers long-lasting protection from various elements. Besides, it features extreme water beading properties. It is easy to use, and you'll apply it like any traditional liquid car wax.
Another prominent upside is that this product does not leave the signs of whitening on non-painted trim and rubber gaskets, chrome, or plastic trim. Additionally, you can use it as a coat over other waxes and sealants.
PROS// Non-whitening on non-painted trim; It can be used on various surfaces; Apply by hand or DA polisher; Slick, protective, water beading layer; Advanced SiO2 hybrid technology.
CONS// A bit difficult to apply.
6. Best Long-Lasting Car Wax: Collinite No. 845 Insulator Wax

Collinite waxes were initially developed for power companies to guard against high voltage power failure, electrical fires, and explosions. So, imagine how well it'll protect your car's paint.
Collinite Liquid Insulator Wax No.845 is one of the finest liquid carnauba waxes you can find. It has the wetness and shine of carnauba but delivers long-lasting results like a paint sealant. You can expect up to five months of protection and brilliant water-beading, even on non-garaged cars.
It's best in class solution when it comes to long-term durability, easy application, and paint enhancement. The product is also used on trucks, buses, and aircraft where protection is central, but frequent reapplications aren't practical. Besides, it has been one of the favorite car waxes at car shows and in body shops for over 40 years.
Thanks to its longevity, the wax is great for fleet owners. Plus, it produces a high gloss, clear coating that repels salt spray, sun, bugs, pollution, water, and more.
PROS// Easy on/off application; Enhanced durability; High-gloss shine; Provides a similar grade of protection as a paint sealant; It doesn't leave any powdery residue.
CONS// You can only use it in warmer temperatures.
7. Best Spray-On Car Wax: Adam's Spray Wax


If you prefer the ease of use brought by the best spray car wax, look no further than Adam's Spray Wax. Adam's has always been a reputable name in the auto detailing industry, and you won't go wrong with choosing this next-level car wax to protect your paint.
Adam's Spray Wax creates a slick surface and enhances a car's paint. Thanks to its chemically advanced technology, it provides high gloss, deep shine and extends the life of car wax. It is completely streak-free and safe for any surface – windows, plastic, trim, and paint.
Adam's Spray Wax delivers incredible glow and shine, thanks to its unique blend with the highest-quality carnauba flakes. You can use it to spray over your existing sealants or waxes to take your car's shine and hydrophobics to the next level.
PROS// New, chemically advanced technology; 100% safe for any surface; Unique carnauba wax blend; Pleasant raspberry fragrance; Acts like an extra layer of protection.
CONS// No long-lasting results.
8. Best Car Wax for White Cars: Turtle Wax Color Magic White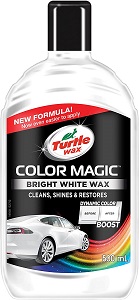 White and light-colored cars require special paint care in order to stay smooth, clean, and free from imperfections. When choosing the best car wax for white cars, it is essential to go for a product that is not created specifically for black or dark-colored cars but opt for a unique formulation to protect your vehicle and its appearance.
One of the best waxes for white cars is Turtle Wax Color Magic White. It features a special formula that rejuvenates and enhances your car's color. Besides, polyurethane-enriched properties ensure a deep, brilliant shine and a layer of protection that lasts.
Turtle Wax Color Magic White is suitable for both new and old cars. It makes the white color pop while strengthening the vehicle's protection against contaminants, sunlight, and water spots. A single coat can last up to 25 washes approximately.
PROS// Noticeable rejuvenating effect; Deep shine and long-lasting protection; Suitable for metallic and clear coats; Restores a car to the showroom-like condition; Easy to use.
CONS// It doesn't hide scratches that well.
9. Best Synthetic Car Wax: Mothers 05716 California Gold Synthetic Wax

Mothers 05716 California Gold Synthetic Wax is recognized for its incredible shine and ease of application. Customers like it for its user-friendliness and unparalleled results in terms of protection and shine.
This synthetic wax features specially formulated microencapsulated polymers that form a strong chemical bond that shields your paint's surface. It highlights the paint's gloss and luster, making your car stand out from the crowd. It wipes off easily, and the whole application method is a breeze.
Its synthetic formula ensures a higher temperature tolerance, allowing you to wax your car in direct sunlight. Besides, it delivers more long-lasting results than carnauba wax, and you'll have your vehicle washed more easily.
PROS// Unmatched protection and shine; Strong chemical bond; High-temperature tolerance; Easy to apply and remove; Deep gloss and luster.
CONS// Poor water beading properties.
10. Best Car Wax for Sun Protection: Malco Nano Care Banana Creme Wax

Many car waxes come with UV protection, but it might not be enough for those who live in extremely sunny areas or whose vehicle is constantly exposed to the sun. In that case, you need a product with superior sun protection abilities, like Malco Nano Care Banana Creme Wax.
Malco Nano Care Banana Creme Wax has excellent UV light absorbers and light stabilizers that provide next-level protection to your car's paint. Its superb UV protection properties ensure you enjoy long-lasting effects and a car that looks like new.
The product is easy to apply and remove, and it won't leave any white or powdery residue behind. It is suitable for various applications when advanced UV protection is needed, including automotive, marine, and industrial finishes. Besides, we're sure you'll love its nice and refreshing banana scent.
PROS// Best car wax for UV protection; Deep gloss and shine; Nanotechnology for enhanced performance; Nice banana scent; Easy to apply and remove.
CONS// Some users had difficulty wiping it off.
Car Wax Benefits
The benefits of using car wax go beyond keeping your vehicle glossy and clean. Here are the top 8 reasons why car enthusiasts should use car wax on their vehicles:
1.      Ultimate Protection Against Scratches
When the car wax is applied, it creates a thin layer of protection to the clear coat of paint on top of the body. That way, your car will be safe from paint scratches caused by dirt, debris, and sand.
2.      Reduces the Appearance of Scratches
Although waxing cannot fix the existing scratches, especially the deep ones, it can significantly reduce their appearance and make them less noticeable on the vehicle's body.
3.      It's Easier to Wash the Car
If you wax your car regularly, it will create a shield that prevents bird droppings, tree sap, smashing bugs, and other pollutants from sticking to your paint. Therefore, it helps you perform your future cleanings much more easily and more thoroughly.
4.      Excellent Paint Protection
Your car's body is constantly exposed to sun, UV rays, tree sap, rain, wind, salt, bird droppings and other factors that could damage its paint. These harmful elements often lead to oxidation, which slowly eats the chemicals found in the paint until it starts to separate from the body. Once that happens, you'll notice the paint fading or chipping.
By applying a coat of wax regularly, you can protect the car's body from exposure to these harmful particles, keeping it smooth and shiny in the long run.
5.      Money Saver
A paint job may be pretty costly, especially if you do it too frequently. Therefore, many manufacturers recommend having your machine waxed regularly to prevent substantial costs and protect your car's body for extended periods of time. Besides, waxing is typically included in the standard scheduled car maintenance.
6.      Shiny Look
Regular car waxing protects the paint and keeps your vehicle looking brand new. Remember that car paint that lacks sufficient protection is more prone to drying and losing shiny properties. As a result, you might notice dull or oxidized paint.
7.      Better Resale Value
When you drive your baby to a dealership or sell it to a private owner, assigning a resale value is the first step.
Professional automotive estimators take into account several factors, including mileage, the shape of the interior, service records, and the body/paint condition.
If the paint is faded, chipped, or showing signs of age, it can decrease the resale value. Since most trade-ins are valued at the bottom of the bluebook scale, ensuring the vehicle is in good shape inside and outside can increase the resale value.
Adding a layer of wax on a regular basis preserves the new-vehicle look by preventing damages caused by small scratches and road debris.
8.      It Repels Water
Water is the number one enemy of the car's surface. Luckily, the hydrophobic properties of the car wax repel water, preventing potential damages resulting from environmental conditions, rainwater, etc.
How to Wax a Car Step-by-Step?
Waxing your car is important, but waxing your car properly is pivotal. If you're not sure how to conduct the waxing process from start to finish, follow the next steps to learn some detailing skills and wax like a pro.
1.      Wash Your Car Thoroughly
Before you start waxing, it's essential to wash your car with warm water to remove as much dirt and debris as possible. Apply automotive dish soap to scrub off the contaminants from the body, wheels, and tires. When the car wash is finished, dry it with drying towels or a chamois.
2.      Get Yourself Prepared
Put on the disposable gloves, layer two or three towels and apply a small amount of paint remover onto them. This product will help you remove the contaminants stuck to the paint, leaving a smooth surface behind. Be careful the paint remover does not come in contact with rubber, plastics, and other surfaces that are not painted.
3.      Apply the Car Wax
Prepare two soft pads, microfibers, and the car wax of choice. Follow the instructions on the product label for the best practices. Apply a small amount of wax onto one side of a soft pad and start pressing it down gently but firmly on the paint. Continue by moving in small, circular motions, ensuring you cover all the painted surfaces. If the wax gets onto unpainted surfaces like rubber or plastic, wipe it away immediately.
4.      Remove the Wax
Use a microfiber towel to remove the wax. You can switch cloths as you're removing the wax or use another side of the same one since the wax will build up.
Is There a Difference Between Waxing and Polishing a Car?
While car polishing can fix swirl marks, eliminate the signs of oxidation, and make the surface sleek again, waxing offers protection from contaminants, hides scratches, and enhances the surface's shine and gloss.
How Often Should I Wax My Car?
This depends on many factors, including the place where you live and your general driving habits. If you use natural carnauba wax, be prepared for a more frequent wax application because their effects do not last as long as synthetic waxes.
Is Car Wax Suitable for New Cars?
Yes! You can wax your new car like any other vehicle. In fact, it will help you develop a car care routine that extends your car's lifespan and offers enhanced protection in the long run.
How Do I Know My Car Needs Waxing?
It is recommended to have your car waxed twice a year. Still, living in harsh environments may require a more frequent application.
Is Carnauba Wax the Best Car Wax?
In essence, no. For instance, car owners who choose carnauba wax for its deep shine and protection are not quite satisfied with its longevity.