Best Engine Cleaner  – Top 10 Solutions for Toughest Jobs
Do you pay attention to the engine bay of your car? Probably not. You can't clean the engine bay with an old rag and water. You'll need to use an engine degreaser to clean the engine, particularly if you have an older vehicle. This guide listed the 10 best engine cleaners & degreasers out there for this year with the ultimate buying guide. The list is based on thousands of user reviews, and all of these are hand-picked by our auto detailing expert.
10 Best Engine Cleaners for 2022
There are plenty of various products that can help you degrease your engine, but choosing the right one can be complicated. If you're searching for the top engine cleaner degreaser for your vehicle, check our top picks right here, from least to most expensive.
10. WD-40 Specialist Machine & Engine Degreaser Foaming Spray

WD-40 Specialist Machine & Engine Degreaser Foaming Spray (18 oz.) is formulated to break down baked-on grime on the engine. The aerosol can spray up to 5 feet, enabling you to attack unreachable dirt areas, with the water-based foam eating the various engine bay crud. You simply spray this solution onto the areas of the engine with tough grime. The foam sticks to those areas and expands into small spaces, breaking down the oil, grease, dirt, and grime under it. After letting it soak, wipe away the filth. Since, it's water-based, it doesn't damage plastic or rubber, and unlike many harsh chemical degreasers, there is no strong smell. In some cases, spraying more of the foaming spray will knock out any remaining debris.
Well-known brand and available everywhere
Water-based with no smell
Extreme cleaning score
Can spay across long distances
The foaming formula gets into engine crevices easily.
Not efficient against tougher oil stains.
9. WD-40 Specialist Industrial-Strength Cleaner & Degreaser

WD-40 Specialist Industrial-Strength Cleaner & Degreaser (24 oz.) provides you with impressive cleaning power for your car's engine. This powerful degreasing product can tackle both grime and grease with its biodegradable, bio-solvent formula. This product is also non-flammable, non-corrosive, non-abrasive, and low odor. It includes a durable, shatter-resistant trigger and easy-to-refill port. You don't have to use a funnel, and you won't need to worry about making a mess. You can spray this solution right onto your engine and let it get to work. It comes in five different sizes: 24-oz refillable trigger, 32-oz trigger, 1-gallon jug, 5-gallon jug with pour spigot, and 55-gallon drum. This engine cleaner spray is a safe alternative to some of the harsh chemicals on the market designed to degrease and clean.
Spray-on formula with a trigger makes application easy
Formulated with a biodegradable degreasing formula
Non-flammable, non-corrosive, non-abrasive, and low-odor formula
Quickly breaks through tough grime and grease
Comes in 5 different sizes.
Not effective against tougher oil stains.
8. Chemical Guys Signature Series Orange Degreaser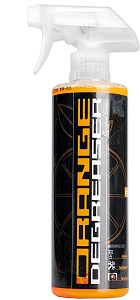 Chemical Guys Signature Series Orange Degreaser (16 oz.) is one of the most popular automotive detailing products that do a premium job. It utilizes a citrus-based formula to destroy grease, grime, dirt, and other debris accumulated in the engine bay. The product can be diluted to desired strength – at a minimum 6 parts water to 1 part product for extreme cleaning, 10-15 parts water to one part solution for medium cleaning, or 25-40 parts water to 1 part cleaner for light-duty. Using this product is simple, just spray it on the affected area and wipe it away. In areas with thicker grime, you may have to add a little elbow grease. Let it soak and rinse it away with water. While this solution is safe to use on plastic surfaces, it's not recommended to use this product full-strength in cleaning aluminum parts.
Cleans motor oil, coolant, hydraulic fluid, or diesel fuel from engines
Highly efficient heavy-duty citrus-based formula
Easy to use with a nice orange scent
Super concentrated
Extremely versatile.
7. Oil Eater Cleaner Degreaser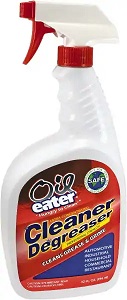 Oil Eater Cleaner Degreaser (1 gallon) is a water-based, biodegradable, and eco-friendly product that cuts grease. It's a welcome alternative to strong acids or solvents found in many other detailing products. This product is safe for both the engine parts and the environment. You can dilute the solution to the strength you need for various jobs. For tough engine oil and grease, mix it one to one with water and spray liberally over the engine bay. However, you'll still need a brush to remove thick and gummed-up grease and grime. Let this engine oil cleaner soak for a while, scrub, and rinse. For a 1-gallon bottle, this is quite an affordable product that will ensure you get great value for your money.
Powerful grease-cutting ability
Water-based and biodegradable, easy on the environment
Highly-concentrated product
Can be applied on a variety of surfaces
Non-corrosive.
Not effective with oily spots.
6. Gunk Foamy Engine Cleaner

If you're looking for a product that will take the hard work out of cleaning your car's engine, then a Gunk Foamy Engine Cleaner (17 oz.) is a great choice. It can not only be used safely on all of your engine's components, but it'll also remove grease, grime, and dirt. You can spray this product, and it'll pick up dirt and grease with fast foaming action. Rinse it off, and it'll disappear along with all the gunk from the motor. It can handle everything from oil to stubborn grease and more. This solution can get the engine clean in 10 to 15 minutes. It's specially made for engines with plastic covers, and it's safe to use on under-hood rubber, plastic, and auto paint.
Safe for use on all engine parts, including plastic engine covers
Rinses with no scrubbing
Delivers efficient cleaning in just 10 to 15 minutes
Easy to use
Cost-effective product.
Not suitable for heavy jobs or extremely filthy surfaces.
5. Griot's Garage Engine Cleaner


If your engine bay is part of your regular auto detailing, Griot's Garage Engine Cleaner (22 oz.) is the product for you. It loosens and removes dirt that collects on the engine during driving. If your hood includes heat extractors or a hood scoop, you might find that the engine becomes very dirty when driven in the rain. This cleaner is formulated to remove that dirt without harsh chemicals, shining up your powerhouse for the next car show. Just spray the solution on the dirty area and use a microfiber towel to break up any stubborn solids. Once everything is loosened up, a fast rinse removes the cleaner and the dirt, while a fast wipe-down with a dry towel will prevent any water spots.
Biodegradable and non-caustic solution
Designed for regular engine cleaning
Ideal for show car engines
Easy to apply
Performs as advertised.
Not intended for tough dirt and grime.
4. Sonax Engine Degreaser and Cleaner – Best Engine Cleaner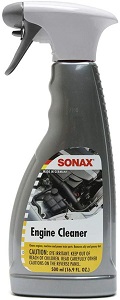 Sonax Engine Degreaser and Cleaner (16.9 oz.) is engineered to remove oil, grease, grime, and other debris from the vehicle's engine. It's phosphate-, solvent-, and acid-free, yet it's still formulated to remove engine filth on a professional level. This German product can be applied on a no-touch basis, but you may need to do a little scrubbing with the grimiest engines. You start by spraying the areas you want to remove engine grime and sit for 3 to 5 minutes. You then rinse away the dirt, debris, and oil with a strong water jet. If some grime is left behind, you may have to hit the spot with a bit more of the solution, followed by a fast once-over with a scrub brush.
Comes without harsh chemicals
Soaks into tight spots and rinses away
Formulated for the dirtiest engine bays
Safe on metal, plastic, and rubber surfaces
Easy to use.
One of the most expensive products.
3. Gunk Original Engine Degreaser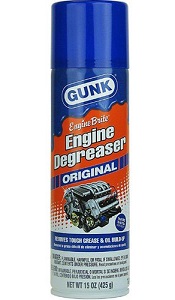 Gunk Original Engine Degreaser (15 oz.) is specifically formulated to remove oil build-up and tough grease and on older engines, especially in the case of cars that have suffered from fluid leaks. This product is designed to tackle the toughest engine bay mess, and it does so without any scrubbing. Spray the solution on the area that you want to clean and wait 10 minutes. During that time, the spray eats into the baked-on grime, lifting it off various surfaces. After 10 minutes, rinse the engine down with water, and grime washes away. This cleaner has a strong chemical smell and doesn't work well for engines with plastic covers. Anyway, both are minor concerns that shouldn't stop you from giving it a chance.
Removes oil build-up and grease
Rinses easily with water
No equipment or tool needed for use
Saves the elbow grease for other cleaning tasks
Specially formulated.
Not recommended for engine bays with plastic covers.
2. Meguiar's Super Degreaser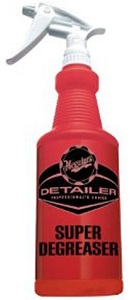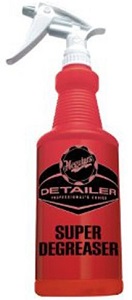 Super Degreaser (1 gallon) is a professional-strength formula that rapidly breaks down automotive grease, even baked-on grease, so you can rinse it away. The formula is high in alkalinity, so it works hard to cut through grime and grease. Unlike many cleaners, it rinses clean without any white residue stains. To use this product, dilute the formula to the desired strength: 4 parts water to 1 part solution for heavy-duty cleaning, or 10 parts water to 1 part product for medium-duty cleaning. Spray the mixture onto the cool engine. Let it soak for 45 seconds, and then rinse with clean water. Don't allow the formula to dry on the surface. In only 45 seconds, your engine will be grease-free and clean.
Strong and quick-acting for the most demanding job
Safe to use on most auto surfaces when diluted
Used by professionals detailers
Can be mixed to different strengths
Residue-free with herbal fragrance.
Must be diluted before use.
1. Meguiar's Synthetic X-Press Spray Wax – Best Engine Degreaser


Meguiar's Synthetic X-Press Spray Wax (1 gallon) is another extremely popular, strong, and quick-acting product for the toughest jobs. Also, thanks to its hydrophobic polymer technology, this product can be conveniently applied to wet surfaces, and this saves you plenty of time from drying your engine bay. You can apply this product in direct sunlight. Whether the surface is dry or wet, — you don't even need to avoid the plastic trim when spreading this solution! After removing any standing water from the surface, simply mist some product then wipe. That isn't typical in most engine degreasers. It's packaged ready-to-use in a gallon bottle. This solution is the fast way to give durable engine protection and a deep, reflective sheen.
Uses a hydrophobic polymer technology
Fast wet or dry application
Can be applied under direct sunlight
Produces a deep, dark gloss
Easy on/off formula.
Engine Degreaser Cleaner Buying Guide
When you're shopping for the best engine cleaning product, you want to be sure the product you choose can work efficiently and provide a thorough cleaning. But how can you know which degreasing solutions are the best? It all comes down to their cleaning power, ingredients, and ease of use. Degreasing the engine doesn't need to be difficult with the right option. And you can find the #1 available in today's market with our buying guide.
Types
Petroleum-based – These are the popular option for engines since they're excellent at dissolving grease left behind by oil, gasoline, and other lubricants. They are great oil degreasers. However, they aren't as good at cleaning dirt left behind by other substances and aren't versatile as some other versions.
Water-based – A degreaser with a water base is much gentler and milder than petroleum-based options. They can also be as effective as a cleaning agent. However, they will often feature a higher-tech formulation to attack grease and oil than petroleum-based solutions' raw muscle power. They will be milder to use on various surfaces, so you won't have to panic if the product comes into contact with other car surfaces – many products are designed to clean them too.
Foam – Beyond these two popular versions, you can consider another type of engine bay cleaner – a foaming engine degreaser. Foaming solutions are a bit different. They offer a different application technique and a different kind of cleaning approach. There's a wide variety of foam degreasers available, and they can be worth considering if you want an alternative solution.
Key Features
Ingredients – The most important feature to take into account when buying a car engine degreaser is the ingredients inside. What an engine cleaner is made out of greatly influences how powerful it is. A product that isn't powerful isn't going to do you much good. At the same time, one that is too powerful will require a lot of diluting and can even be dangerous without the proper equipment. Therefore, your best bet is going to be to pick something in the middle.
Fragrance – Many solutions have added fragrances built-in. All products are going to smell. If you plan to drive your car anytime soon, you should choose one with at least a tolerable fragrance. Truthfully, some cleaners have a strong scent and will require you to drive with the window down for weeks. However, others smell mildly of citrus, which can be a welcome change depending on what your vehicle smelled like before.
Size – Many products are available in bulk, but this doesn't mean that you should buy more. You're better off choosing a cleaner that is just the amount you need. Remember to consider whether the solution needs to be diluted when thinking about what size to purchase.
Benefits
Keeps engine clean – The best car degreasers are formulated to clean the toughest, roughest stains and built-up grime. Have you been putting off cleaning the engine for years? With an engine cleaner, there is no reason your auto engine can't shine again.
Prevents wear and tear – Dirty parts wear down quicker than clean ones. Grease and oil can build up on your car's engine and speed-up wear-and-tear, which can cost you down the road. A cleaner can save you the pain of costly repairs by keeping your engine sparkling.
Eliminates Grime and dirt easily – There are many ways for engine bay cleaning, but a degreaser is the safest, easiest, and gentlest one.