10 Best Motorcycle Tires for Great Stability on the Road – 2022 Edition [+Ultimate Buying Guide]
As a motorcyclist, you know all the benefits of a good motorcycle tire. Safety is the #1 reason to have the best sportbike tires because old and worn-out tires can be very dangerous. They are susceptible to failure, and the consequences can be really serious.
A good motorcycle tire dictates the bike's overall performance, so it is as important as is the motorcycle you possess. Today, modern tires have the ability to afford great lean angles, improve traction, handling, help to bolster grip, and shorter braking distances. After all, a safer riding experience is the ultimate goal. Knowing that your tires are reliable will certainly boost your confidence, making you a better motorcyclist.
The best motorcycle tires rated in 10 different categories are presented in this text. Also, our buying guide will show you what features to look for in the tire to meet all your needs, with the best place to buy motorcycle tires – Amazon, which offers a wide variety of motorcycle tire brands, but also the best prices on motorcycle tires.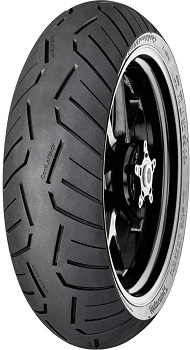 This all-around tire with the highest standards in the sport-touring segment has a consistent performance-oriented pattern design for better drainage in wet conditions. You will get plenty of mileage, as well as great stability.
A seamless transition from the harder center to the softer outer shoulders is due to the temperature-controlled curing. What is more, you do not have to scrub the waxy releasing agent from the tire – Continental's 'traction skin' finish eliminates the need for a releasing agent. This innovative motorcycle tire technology makes Continental Road Attack III a great overall tire.
WHAT WE LIKED // Excellent wet grip, High mileage
WHAT WE DIDN'T LIKE // Price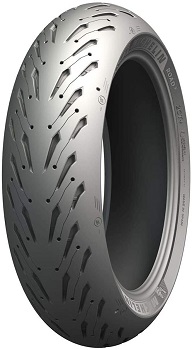 One of the best sport touring motorcycle tires is certainly MICHELIN Road 5 Touring Radial Tire. It provides maximum confidence in both dry and wet conditions. Enjoy improved stability and handling thanks to Michelin's patented ACT+ casing technology, reinforcing the shoulder areas while leaving the crown area compliant for a more comfortable ride.
WHAT WE LIKED // Excellent traction, Smooth ride, Taking corners with confidence
WHAT WE DIDN'T LIKE // Nothing we could think of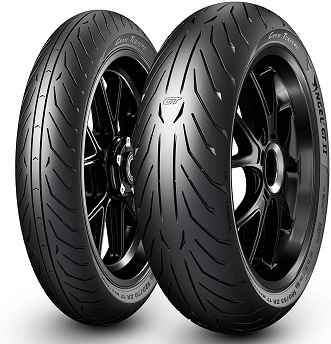 The aggressive tread pattern and the silica content in Pirelli Angel GT 2 mean that both cornering and straight-line performance are not compromised. It is providing a sporty attitude for an even higher mileage tire than the previous generation.
Pumping away water efficiently with the tire's center that displaces water with ease and an insane amount of grip on wet roads are the features that Pirelli is known for.
WHAT WE LIKED // Hold the road well, Smooth and quiet, Provide a lot of control
WHAT WE DIDN'T LIKE // Nothing we could think of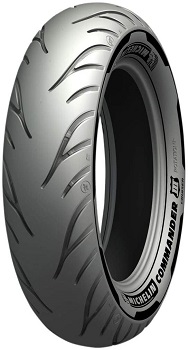 Best motorcycle tires for cruisers feature an amazing grip in wet conditions – even in the rain. Made for all types of V-twin cruisers and touring bikes, it offers the shortest stopping distance in wet conditions. A more rigid, highly dense tire casing helps deliver excellent handling and feedback.
Aramid tread plies on the rear tire resist centrifugal growth, provide excellent stability and reduce weight. In addition to that, the MICHELIN Premium Touch Laser Technology found on the sidewalls of MICHELIN Commander III tires provide improved aesthetics.
WHAT WE LIKED // Exceptional longevity, Good cornering performance, Awesome traction
WHAT WE DIDN'T LIKE // Nothing we could think of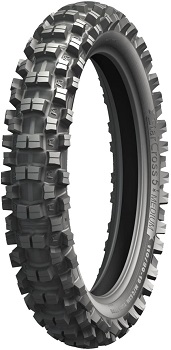 Riding in extreme conditions is always challenging, so Michelin has launched the new StarCross 5 line of off-road and motocross tires. They deliver high performance in a wide array of conditions – whether loose soil, mud, or sand, it always has a good grip.
The tire is more lightweight and maneuverable, with a considerably more flexible carcass to handle all off-road conditions. In addition, it provides your motorcycle with steadier handling around curves with improved traction, so its performance on straight curves and stretches is optimized.
WHAT WE LIKED // Easy mounting, Lightweight, Wide variety of sizes, Superior traction
WHAT WE DIDN'T LIKE // On rear knobs tend to wear fast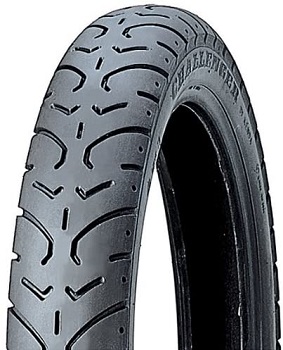 Being the best motorcycle tires for the street, Kenda K657 features a 6-ply tubeless and tube carcass design for more responsive handling and cornering. Tread design resists tracking in rain grooves; however, it is great for all weather conditions due to its unique tread pattern.
Conditions like pouring rain and hot to almost freezing temperatures could not jeopardize the grip of this street tire. It takes a little while for the tire to break in, but after that, you cannot go wrong with Kenda K657.
WHAT WE LIKED // Great price, Highly durable, Comfortable
WHAT WE DIDN'T LIKE // Tends to produce a buzzing sound, Not ideal for heavy-load carrying bikes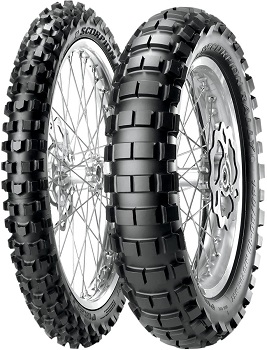 Pirelli's best adventure motorcycle tires had a 2-year development cycle, captured their first and second place in the 2009 Dakar Rally. The front knob layout of the Scorpion Rally is designed to give directional stability, even during high-speed riding. In the most demanding conditions, the rear knobs provide rotational traction.
With an advanced mixing process, the Scorpion has a long-life performance but at the same time resists fatigue. It has excellent control in bends for the maximum transfer to the ground of all power available. In addition, its innovative carcass structure can support the bike's high speeds while ensuring high resistance to punctures.
WHAT WE LIKED // High resistance to hard wear, Maximum resistance to consumption, and tearing even over long distances
WHAT WE DIDN'T LIKE // It struggles on hard-packed dirt and gravel, Wet roads require caution as the feel under braking become vague
Designed to have a great lifespan, ultra-high mileage, and more resilience, Metzeler ME888's performance, and handling are amazing. Its technology offers consistent performance throughout the tire's life with outstanding high and low-speed stability and smooth handling.
Redesigned tread pattern provides better water drainage; the compound bridges have solid tread, stability, and also even wear.
Longitudinal and crossing grooves are there for more efficient water evacuation. Those tires offer the best performance in all conditions due to their modular multi-tension steel cord winding technology – you will need this design to increase your driving skills on track.
WHAT WE LIKED // Great price, Maximum adaptability in different riding styles, High mileage capabilities
WHAT WE DIDN'T LIKE // Nothing we could think of

These tires feature legendary dual tread compound, offering a softer side compound and long-lasting center compound for superior cornering grip and traction. They provide strong traction in the mix of street and dual sport conditions – they are designed for 50% on-road and 50% off-road use.
Large tread blocks offer excellent stability for more control. It is an OEM tire for some motorcycle models, so the design and compounds will vary to suit the horsepower, weight, and handling characteristics of the model for which each tire is designed.
WHAT WE LIKED // Great grip, DOT approved
WHAT WE DIDN'T LIKE // Could be more aggressive off-road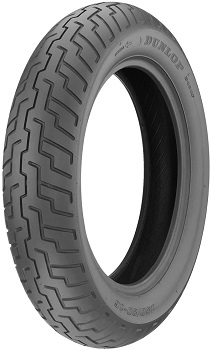 When looking for the best deal on motorcycle tires, you cannot bypass Dunlop D404. It delivers the quality you expect from one of the most experienced tire manufacturers in the street bike market at an affordable price.
It fits some models of BMW, Honda, Kawasaki, Suzuki, Triumph, and Yamaha. They come in both rear and front versions. Its bias-ply construction is designed to deliver a smooth ride as well as excellent load-carrying capacity for maximum riding comfort.
WHAT WE LIKED // Decent longevity for the price, Good tread depth, Grabs the road nicely
WHAT WE DIDN'T LIKE // Not so suitable for wet roads, Not for Harley Davidson motorcycles
How to Choose the Best Tires for Motorcycle?
Here are some key features to consider:
Tire Type
Cruiser Tires – designed for overall comfort, the most important features are traction and stability in both dry and wet roads.
Touring Tires – they usually have a flatter profile to enable stability in straight lines. With a rubber compound, they have slightly less grip, but they usually last longer. The best motorcycle touring tires are often bias-ply tires, necessary for supporting the bike's weight.
Sportbike Tires – the best sport motorcycle tires are usually radial in construction for better heat dissipation, with a wide tread pattern and low profile.
ADV Tires – or 'dual-sport', these tires are designed to provide a smooth ride on asphalt but are also good in off-roading. As a result, they need to be comfortable on long highway rides and support moderately heavy loads.
Off-road Tires – superior traction in the dirt is the most important feature in off-road tires. They have optimum grip due to the knobby design and tread wraps around the sides. Some of them are designed for soft, and others for hard terrain.  
Tire Size
The size of your tires depends on the bike type and the type of riding you do. For the best performance, it is advisable to choose tires the same size as your OEM ones. Every tire has a set of codes imprinted on the side. The most common system is a metric system, and it has five components, so you mut know the meaning of each of these codes.
Rim Diameter – normally presented in inches; this number illustrates the measure of a rim from one end to the other.
Speeding Rate – shows the speed that the tire can handle when well inflated and loaded.
Aspect Ratio – presents the ratio of the tire's width in relation to its height – the higher the number, the taller the tire will be.
Load Rating – shows the amount of weight a tire can handle – it ranges between the 20s and 80s.
Section Width – this number shows the width of the treads measured in a straight line. It has 3 digits.
Internal Construction
Bias-ply vs. Radial Construction – the difference between these two lies in the position of the fabric layers called the carcass. Radial tires have steel belts that run at the right angle to the centerline of the tread, while bias-ply have nylon belts running at a 30 – 45o angle to the tread's centerline. Consequently, radial tires are more rigid and have better traction; however, they are not so durable. Bias-ply tires are better at carrying heavier loads, and they provide a softer ride.
Tubeless vs. Tube – tube tires have an inner tube filled with air between the tire and a rim. The tubeless tire is designed in such a way that it can hold the air by itself. They are stronger, stiffer, and dissipate the heat more efficiently. Of punctured, they deflate slower and are considered much safer for motorbike control.
Tread and Pattern
Tread is the part of the tire that makes contact with the road. The pattern is all the channels, and grooves cut into the tread. The off-road tires have an aggressive tread suitable for mud and sand; street tires have grooves designed to direct the water away from the tire, so it does not lose grip. The racing tires do not have a pattern, only tread, and they have an incredibly short lifespan.
Price Range
The price depends on the tire size, brand, and type. You can spend little on tires (less than $50) but be sure that they will not last long. In the medium price range (from $75 – $125), you will find decent tires without sacrificing handling and safety. Racers and sportbikes use the most expensive tires, so be prepared to spend a little more ($125 and up) if you want any of these.
Leading Brands
Michelin – top-selling French tire brand worldwide, with over 23,000 employees in 34 factories in 2 countries. It was founded in 1889 as a rubber factory.
Dunlop – a part of the Goodyear family, their tires are known for high-quality tires for motorcycles and cars. The company was founded in 1890 in Dublin by John Boyd Dunlop.
Metzeler – manufacturing motorcycle tires in Germany since 1892, it is always at the forefront of technical development with innovative tread designs and advanced rubber compound introduction.
Pirelli – founded in Milan in 1972, it is today solely a tire manufacturing company. It primarily offers its original equipment and replacement tires to the high-end consumer segment around the world.
Continental – founded in 1871 in Hanover, manufactured soft rubber products, rubberized fabrics, and solid tires for carriages and bicycles. In 1960, it started mass production of radial tires.
Bridgestone – is a Japanese multinational auto and truck parts manufacturer founded in 1931 by Shojiro Ishibashi in Kurume, Japan. It is the largest tire manufacturer in the world, with more than 81 factories in 24 countries.