12 Best Performance Tires – Ultimate Buying Guide for 2022
Performance tires are safer, stop better, react faster, steer better, and stand less of a chance blowing out on the highway. They respond and work much better with ABS systems and sensitive steering/suspension systems.



They are designed to give owners of sports cars, and other vehicles improved handling response/traction in wet and dry conditions. They feature unique tread patterns, construction features, and rubber compounds to delivered enhanced precision, responsiveness, and friction.
Seeking for high-performance tires? Our team of auto whizzes narrowed down the 12 best performance tires on the pavement with the ultimate buying guide for 2022.
Best Performance Tires
We'll show you some of the best high-performance tires on sale today. You'll see what's good about them, what's bad about them, and the applications and car types they're best suited to.
1. Michelin Pilot Super Sport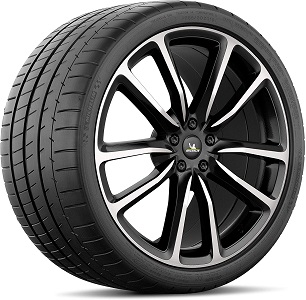 Michelin Pilot Super Sport is a low-profile tire that offers all-season traction, including wet and light snow traction. The tires are engineered with Michelin's Helio+Technology, which includes a combination of sunflower oil and extreme silica to enhance the tire's grip in light snow and on wet road conditions.
Their outboard shoulders have more rubber and rigid blocks for increased lateral grip to boost its dry cornering capabilities. Additionally, these best ultra-high performance tires involve wide circumferential grooves for hydroplaning resistance and improved wet traction. The tire is recommended for high-end sports cars, high-performance sedans, and sports coupes. Plus, it comes as a factory set on some performance vehicle models such as Porsche and BMW.

Handling and grip in the corners are simply the best in class;
Wet surface traction is terrific;
30,000-mile tread warranty;
Best in class ride comfort.

The drive is a bit stiff.
Price range – Prices on the Michelin Super Sport go from $135 and up.
2. Yokohama Advan Sport A/S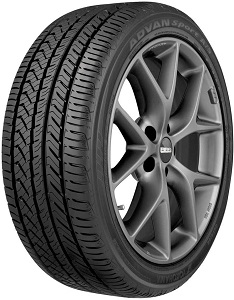 The Yokohama Advan are the best all-season performance tires that feature a specially designed tread pattern for staggering traction on all surfaces, which in turn, enables for greater handling and cornering ability. The design technology also manages to provide fabulous ride comfort all year round, making you truly enjoy your ride.
Thanks to its marvelous year-round traction and handling, it's easy to see why the Advan Sport A/S is consistently rated as one of the best high-performance AS tires today. The manufacturer has built this model to deliver more than capable cornering stability even as the tire is pushed to its limits, along with amazing acceleration and braking performance. The ride is smooth, and tread life has proven to be much better than average for the best performance all-season tires.

Outstanding 50,000-mile tread warranty;
Responsive handling;
Excellent traction in wet and dry conditions;
Durable and quiet for a high-performance tire.

A bit less comfortable over potholes.
Price range – Yokohama Advan Sport A/S prices go from $110 and up.
3. Bridgestone Potenza S-04 Pole Position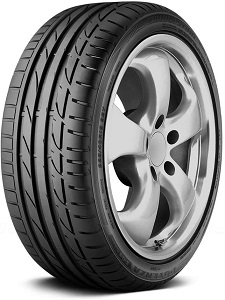 The Bridgestone Potenza S-04 Pole Position are best street tires crafted to offer top-class performance in wet and dry conditions. The tire construction has an asymmetric tread design with large outboard shoulders, circumferential ribs, and interlocking tread blocks. These attributes offer you better dry road steering response, top-speed stability, and cornering precision.
It's resistant to hydroplaning due to its wide, continuous circumferential ribs, which are also responsible for reducing road noise and enhancing the tire's wear quality. The Potenza's unique feature is that its intermediate ribs involve high-angle tread blocks to deliver longitudinal stiffness for straight-line braking forces. These tires are recommended for high-performance sports cars, sedans, and coupes.

Superior wet handling;
Smooth ride for high-performance tire;
High-speed stability;
Hydroplaning capacity.

Price range – Prices on the Potenza S-04 Pole Position range from $135 and up.
4. Continental ExtremeContact Sport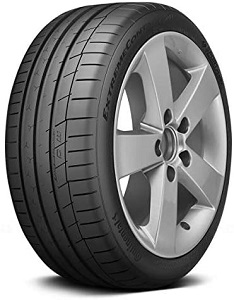 It's one of the best summer tires on the market, tailored to deliver an uncompromised driving experience. It applies a special summer-only compound, so drivers who want to use ExtremeContact Sport later in early spring or fall might be unsatisfied. It features a 5 or 6-rib design, according to the tires' width, which improves the tires' wet weather capacity and noise mitigation.
There are also wide tread blocks, which assist with handling and grip. The advanced compound is well suited for damp-warm conditions, and people love Continentals performance indicators, which are molded into the tread pattern to tell you whether the tires are too worn out to be used in the wet conditions.

Excellent wet and dry traction/braking/acceleration;
Extreme cornering grip and stability;
Steering is fast, precise, and very responsive;
Comfy ride without much noise.

Not suitable for winter or cold weather conditions.
Price range – Continental ExtremeContact Sport prices span from $110 and up.
5. Firestone Firehawk Indy 500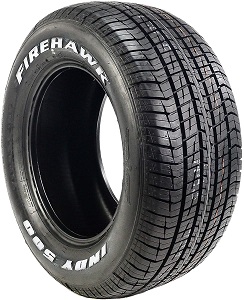 These are the best budget performance tires that bring in both value and quality. The treads are molded from a silica-enhanced Long Link Carbon compound. They involve sizeable independent shoulder blocks that deliver the treads an aggressive asymmetric appearance. This design enhances the handling and cornering abilities of the tire, particularly in dry conditions.
The internal structure has a high-turnup polyester casing concealed under twin, high-tensile steel belts. The fabric is reinforced with nylon to improve the tire's high-speed capability, stability, and responsive handling. The center circumferential grooves are made with Pulse Groove Technology for better water evacuation, and two additional circumferential grooves minimize the tires' stopping distances on wet roads.

Amazing dry and wet traction;
Great cornering grip and stability;
Comfortable drive without the harshness;
Superb performance and value for the money.

Avoid these tires during winter.
Price range – Firestone Firehawk Indy 500 prices range from approximately $110 and up.
6. Goodyear Eagle F1 Asymmetric All-Season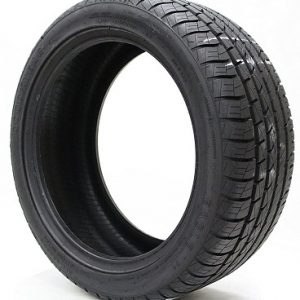 As an of the best sport tires, the Goodyear Eagle F1 Asymmetric All-Season is manufactured to offer superior traction, handling, and driving during the year. Made specifically for sports cars, coupes, along with sedans, this Goodyear tire implements a range of technology for serious high-performance driving.
As the name says, the tire uses an asymmetric tread pattern to go with a specialized tread compound that provides grip and traction in all conditions from dry to wet and snow-covered roads. The tires' outer tread blocks are also designed to deliver extra grip in dry conditions, and the inner All-Season Zone and Goodyear traction teeth get rid of snow, ice, and slush throughout the winter months.

The tires are sturdy and grip very well;
Fabulous steering response and handling even when driven pretty hard;
Decent ride comfort when encountering small bumps;
Fairly low noise on the road.

Treadlife could be a bit better.
Prince range – Goodyear Eagle F1 Asymmetric All Season prices go from $120 and up.
7. BFGoodrich G-Force Sport Comp 2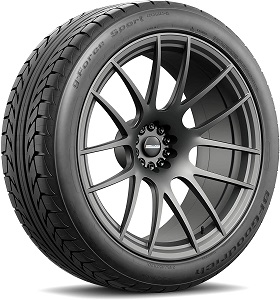 BFGoodrich G-Force Sport COMP-2 are best tires for sports cars engineered to accelerate quicker, corner harder, and brake shorter in wet and dry conditions. Still, like all summer tires, it's not intended to be driven in near-freezing temperatures, through snow or on ice.
BFGoodrich's silica-infused COMP-2 compound is extracted from racing technology that delivers sharp steering response along with dry and wet grip without sacrificing treadwear. Its compound is molded into a directional tread design with stable shoulder blocks, intermediate ribs, and twin center ribs to merge better feedback at the limit, grip at any cornering angle, and straight-line stability. The tread design's shoulder grooves, wide circumferential rain channels, and directional intermediate grooves help spread water to resist hydroplaning and improve wet traction.

Grip like glue and are built for fun in the corners even when pushed to the limit;
Handling and steering response are far above average;
Good wet pavement traction;
Improved lateral stability.

A little noise as the tread wears.
Price range – Prices on the BFG Sport Comp 2 range from $219 and up.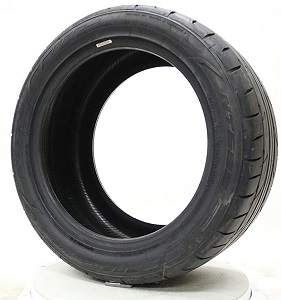 The Nitto NT555 G2 are the best street performance tires that are a revamped version of the original NT555 – a popular model for several years. Developed for all types of sport coupes and powerful sedans, the NT555 G2 was released in late 2015 and included an aggressive and attractive tread design built to bring in serious traction and handling performance on wet or dry pavement.
The ride is comfortable for the most part. It's only when hitting larger bumps or potholes that you feel a little extra harshness. Still, this's not a touring tire made for a luxurious ride. Treadlife is also a sector that Nitto spent time in attempting to improve, and early indications have shown that indeed, treadwear is quite good.

Great wet and dry traction;
Dependable acceleration and braking;
Good grippy tire;
Improved straight-line stability.

Price range – Nitto NT555 G2 prices range from approximately $128 and up.
9. Michelin Pilot Sport 4S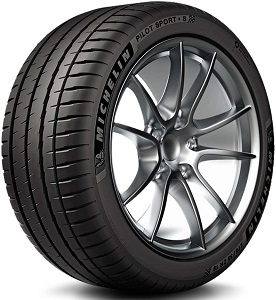 Michelin Pilot Sport 4S is the king of summer tires. It is worth all the money you'll invest in it because it takes your driving experience to new heights. These are the best summer tires that perform well even in wet weather, delivering outstanding performance and versatility, regardless of the driving conditions.
This Michelin gem possesses a racing-grade technology suitable for drivers seeking great wear resistance and longevity. You will experience a new dimension of performance even in non-ideal conditions, including grippy, loose, wet, dry, hot, and cold surfaces.

High-performance and high-quality
Excellent lifespan
Enhanced safety
Short braking distances and improved grip.

Not sharp enough on the front axle.
Price range – Prices on the Michelin Pilot Sport 4S go from $199 and up.
10. Yokohama Advan Neova AD08 R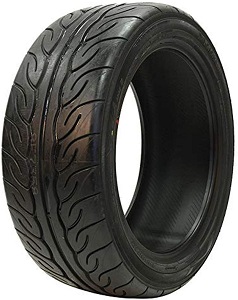 Yokohama Advan Neova AD08 R is the best summer performance tire that won't let you down whether the conditions are wet or dry. This summer tire features the aggressive tread that might produce loud road noise, but thanks to its next-level grip, it won't experience performance dips once it becomes too hot.
Despite being exceptional performance tires, these are not quite suitable for road use. However, you can rely on their top-notch everyday performance, which is quite impeccable. Furthermore, the Yokohama Advan Neova AD08 R tire set carries a hefty price tag, which is why using them on the track can extend their lifespan and save you money in the long run.

Sticky and soft compound
Consistent, high performance
Excellent for track use
Enhanced steering response.

Price range – Yokohama Advan Neova AD08 R price starts at $155.
11. Pirelli P Zero High Performance Tire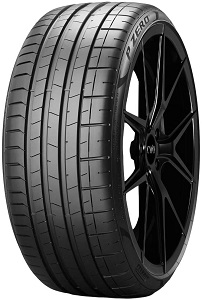 Pirelli P Zero High-Performance Tire is one of the best summer performance tires convenient for track usage. These are not the best street tires as they tend to wear quickly, but you will love their flawless dry traction and high levels of grip.
Overall, these are the best summer tires for track usage but might not be the best choice for those seeking the utmost road performance. These tires tend to be noisy when on the road and are prone to wear, but they perform very well in both wet and dry conditions.

Excellent dry and wet traction
Quick and precise steering responsive
Nice and tight cornering and handling
Top-notch performance during extreme driving conditions.

Price range – Prices on the Pirelli P Zero High-Performance Tire start at $129.
12. Achilles ATR Sport Performance Radial Tire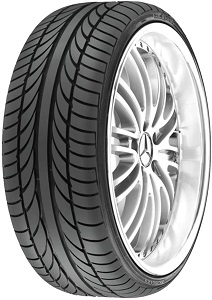 Achilles ATR Sport Performance Radial Tires are the best budget performance tires worth considering. Despite their lower price range, they still provide the utmost performance to all types of sedans, sport coupes, and other vehicles. In addition, the ATR Sport tires are packed with impressive features that will boost your overall driving experience.
You will love their advanced offset design and a directional tread pattern that transfers the energy to the road, enhancing fuel efficiency and increasing the traction and grip on wet and dry surfaces. Additionally, unique surface block technology reduces road noise, improving the ride quality.

Performs well on different road conditions
Quick steering and great cornering grip
Increased comfort and ride quality
Great value for money.

Not suitable for driving in winter conditions.
Price range – The Achilles ATR Sport Performance Radial Tires' price starts at $66.50.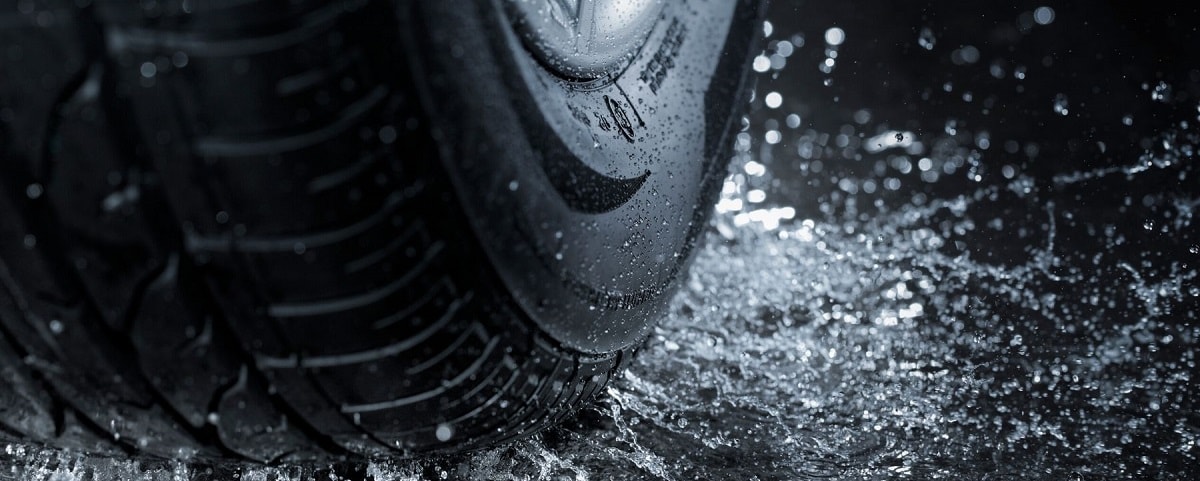 Performance Tires Buying Guide
Buying new tires can be a tricky task. You face a diverse array of sizes, types, and tire brands to pick from, so it's easy to be confused. This buying guide will equip you with the essential facts you need to make the right choice for your sporty car.
Traction – High traction helps the tire grab onto the road while making a sharp turn or a quick stop at high speeds. That's imperative for a performance tire. Anyway, high traction reduces the tread life of the tires due to the wear caused by intense road grabbing;
Design – Performance tires are designed with a sticky, low-rubber compound to enhance the level of heat resistance and stiffness. They're also elastic and include intricate sipping patterns to improve their ability to hold onto dry and wet surfaces. They also have shallow treads for handling and maximum acceleration;
Tread life – This's an important virtue for most drivers, but they have a shorter tread life than most tires, thanks to the driving conditions they endure. Most brands don't even include tread warranties for their products;
Fuel efficiency – Tires with low rolling resistance save on fuel as it doesn't take much force to start, accelerate, or stop the car. The rolling resistance is defined by the size of the contact patch, and if it's rounder and smaller in a performance tire, then it'll save gas.
Safety – Performance tires are made to improve safety, particularly when driving at high speeds. They minimize stopping distance even on wet surfaces and enhance the steering response. That's an attribute not only applicable to sports car drivers, but can also be appreciated by crossover, SUV, and sedan drivers;
Quiet performance – The good thing about driving tires is that they provide a smooth ride, and most are "silent" on the road. Their tread design is tailored to minimize tire and road noise by reducing airflow within the grooves;
Good in wet/dry weather – They have a construction similar to summer tires; most have a powerful ingredient to keep the rubber stiff but are sticky enough to maintain a maximum grip on dry surfaces. Plus, the tires maintain excellent traction in wet weather as most resist hydroplaning and the wide grooves aid with water evacuation.
Under $200 – Since these tires are designed for sports and luxury cars, it's challenging to find a right tire priced below $100. Nevertheless, most tires within this price range exhibit decent high-speed performance with regards to handling, traction, braking, and cornering capabilities;
More than $200 – Most tires within this range are extreme and ultra-high performance tires that don't go over the $400 mark unless they're sold as a set. The tires are perfect for exotics and supercars. Most provide uncompromised performance when it comes to all-season experience, fantastic grip, longevity, comfort, and improved handling.