7 Best Spark Plugs 2022 (Reviews & Buying Guide)
A spark plug is essential for the internal combustion engine to run. Why? Because it provides the spark that ignites the fuel to start combustion. So, if there is a faulty spark plug, then your car will need starting and charging services. Plugs can also make a big difference in the driving experience and the smooth operation of your vehicle. Hence choosing the right ones to upgrade or replace the existing set is quite important.



Here we provide 10 best spark plugs with reviews and accentuate what to look for when buying one.
What Are the Best Spark Plugs?



Whether you're seeking high-performance spark plugs or best spark plugs for gas mileage, there is definitely a plug that will meet your demands.
1. NGK 6619 Iridium IX – Best Performance Spark Plug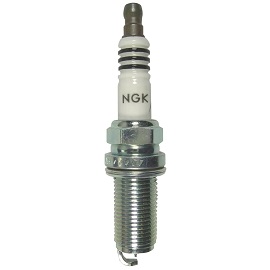 When it comes to plugs, iridium is one of the strongest materials around. The NGK Iridium IX is crafted with longevity in mind. That alone makes it far superior from its rivals, which are often made from lesser substances like copper.
The multi-pack is suitable when multiple plugs need to be replaced, and even if they don't, you can store them away for later when the others eventually need to change too. The iridium utilized for these plugs delivers up to 25% longer use compared to platinum plugs.
It's twice the cost ($9.49) of many other products, although it's still affordable compared to other car maintenance components. But considering its expected lifespan, they're a worthy investment to keep your vehicle running strong. The NGK 6619 is compatible with several popular cars, including particular models of the BMW 3 Series, Subaru WRX, and Lexus ES.
PROS// Iridium tripped and comes in a pack of 6; Last longer than platinum and copper plugs; Superfine electrode wire for increased efficiency; Only have to be changed after 100k miles.
CONS// Inconsistent gapping.
2. Bosch 4417 Platinum+4 FGR7DQP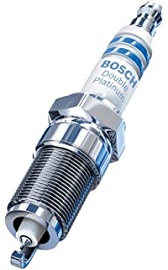 From 1902 Bosch upholds the reputation of the manufacturer that churns out over 20,000 types of plugs for every application. The Bosch 4417 is one of those designs. These plugs are produced with impressive electrode components. They're made with four yttrium improved ground electrodes while the center electrodes are designed with platinum.
The yttrium ground electrodes minimize oxidization and extend the life of the plugs. The insulator nose is corrugated, which upgrades throttle and reduces flashovers. Its electrode gaps are factory set, so there's no need for adjustments. Also, the factory set gapping ensures ease of application into OEM applications.
They lower fuel consumption and enhances the engine's idle when your car is stationary. The platinum and yttrium combination electrodes are robust, plus they retain the sharp edge for longer periods. Therefore, these plugs can be changed after every 100-150k miles.
PROS// Prevent engine fouling; Designed with premium material; Enhance engine performance; Use 4 yttrium-enhanced electrodes.
CONS// Thin terminals and small central electrode.
3. ACDelco 41-993 Professional Iridium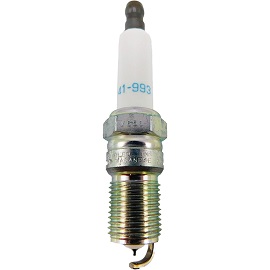 ACDelco Professional Iridium Spark Plug features the latest technology available. These plugs deliver smooth performance and maximum efficiency, good lifespan, and stable idle —all while meeting or exceeding factory specs for durability and quality.
Its iridium components enable the use of a smaller and more efficient electrode, which aids with cold engine startup. With reduced voltage draw on the ignition system, they can help keep your motor running better for a longer time.
ACDelco 41-993 Professional Iridium Spark Plug also has a built-in suppressor to help block radio frequency interference, which can hinder vehicle electronics. Plus, these plugs are easy to use as they come pre-gapped from the manufacturer, saving a step for DIYs. Many owner reviews comment positively in straightforward and fast installation.
PROS// Perfect for cold starts; Minimizes strain on other ignition system components; Up-to-date technology for smooth and efficient performance; Great idle stability.
CONS// It can be very delicate and breaks easily.
4. E3 Spark Plug E3.36 Powersports

Two attributes of this spark plug set it apart from the competition. It guarantees that whether you have a two- or four-stroke engine, the emissions will nosedive about fifty hours after its installation. The time frame is there since the plug needs that duration to come to speed.
E3 Spark Plug is designed with colder heat ranges, so it's capable of handling intense conditions. That's the main reason why it's used by professional car drivers who regularly test the limits of their engine to beat the opponents.
To complement its cold heat range, the Yttrium-enhanced alloy minimizes this plug's side wire temperature by up to 8%. That might not sound much, but the reduced temp plays a part in enhancing this model's shelf-life and lower the chances of any pre-ignition.
PROS// State-of-the-art DiamondFire electrode design; Faster burn, improved power; Improves fuel efficiency; Eco-friendly, reduction in greenhouse gases;
CONS// Require the right tools to get the car running with them.
5. Champion RC12ECC (438) Copper Plus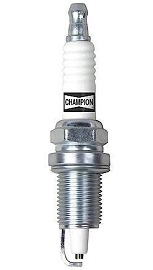 From one of the oldest players in the spark-plug industry, US-based Champion spark plugs are popular worldwide. The Copper Plus features built-in corrosion resistance for long life and a high-accuracy Copper Core Centre Electrode that allows higher control of the plug heat range for optimal performance.
They're built to OEM standards for maximum performance and maintain a stable operating temperature under all engine operating conditions. Meaning that these plugs are reliable, no matter how/or what you drive.
Also, with a patented SAC-9 semiconductor resistor, they prevent radio frequency interference, causing problems with stereo audio playback or vehicle electronics. Reviews show that many satisfied drivers, especially those who own older models, have been contented with restored engine mileage and power.
PROS// Excellent for older vehicles; Gap won't widen as the material wears away; Maximum corrosion resistance; Reach optimal temperatures quickly.
CONS// Need to be changed every 20k miles.
6. Motorcraft Spark Plugs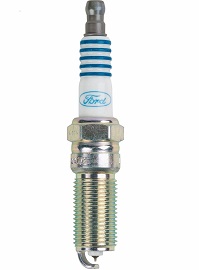 Made especially for Ford models to meet its factory requirements and specifications, Motorcraft Spark Plugs are high-quality, original equipment products. For straightforward installation and years of worry-free operation, Motorcraft plugs are the #1 option for Ford trucks or cars.
In today's engines, utilizing factory-specified replacement plugs is typically best — and that's what they provide. With foremost quality control at every step of the producing process, these top-line plugs are usually sold in application-specific kits, making them easy for buying.
People usually praise its easy installation, and many claim that the use of these plugs fixed problems with hesitation, poor performance, and fuel mileage.
PROS// Guaranteed to fit; Worry-free installation; Quality, long service life; Made with high-quality materials.
CONS// Require Lisle remover for plug removal.

Last on this lineup are these double platinum plugs from Autolite. Fram APP104 has excellent engine performance for long life and enhanced fuel economy. They're equipped with platinum tips for eliminating gap erosion and preventing misfires. Plus, the product features quick starts and smooth acceleration.
Also, they're equipped with a necked-down center electrode which fires quick and clean. With center wire platinum firing tip, you get durability and superior performing plugs. The high nickel alloy side electrode ensures maintaining a precise gap, and the full copper core electrode provides exceptional performance in all conditions.
To deliver more focused ignition for overall ignitability, they're designed with platinum side wire technology. Since they're designed with advanced technology, Fram APP104 is ideal for DIS (Distributorless Ignition System) engines.
PROS// 7 years guarantee; Easier starts and quicker acceleration; Optimized engine performance; Durable and advanced.
CONS// The gap isn't always accurate.
Spark Plugs Buying Guide
Not all plugs are designed equal. They should fit the make and model of your engine and deliver the peak performance out of the motor. Here's what to consider when assessing the options in search of the best spark plugs for your needs.
Key Features
Material – When you're choosing good spark plugs, it's crucial to consider which material meets your needs. Copper is perfect for older model vehicles that feature a low-voltage distributor-based ignition. Iridium and platinum are best suited for modern engines without distributors. Platinum delivers an excellent mix of performance, economy, and longevity. Iridium provides an even better blend but at a higher cost. However, always use the plug specified by the car's manufacturer;
Size – One important way that plugs are specified is by the size of the nut or thread. In the USA, typical thread and nut sizes are as follows: 10mm (nut: 16mm), 12mm (nut: 14mm, 16mm, or 17.5mm), 14 mm (nut: 16mm or 20.63mm), and 18mm (nut: 20.63mm);
Heat range – A plug is classified as "hot" if it's a better heat insulator, and it's specified as "cold" if it can conduct more heat out of the tip and decrease its temperature. Overall, manufacturers denote the heat range of a spark plug with a number, while some brands using ascending figures for hotter plugs and others doing the opposite for colder options;
Gap style – They're usually designed to have a spark gap which can be adjusted via a spark plug gapper tool. A single plug may be engineered for several different motors, necessitating a different gap for each. Plugs for vehicles standardly gap between 0.6 and 1.8 millimeters (0.024 and 0.071 inches).
Benefits
Increase fuel efficiency – If the engine is powered by worn-out plugs, it won't run as efficiently as intended. When you replace these tired plugs with a set of healthy plugs, the engine will run smoothly and need less effort to keep the combustion process going. This will translate into better fuel efficiency over the long term;
Improve acceleration/engine response – If you notice that your drive isn't as zippy as it usually is when you push the gas pedal, you may have to replace your plugs. Fresh plugs maximize the combustion process in an engine, providing you smooth, responsive acceleration;
Smoother engine idle – Fully functioning plugs give sufficient ignition to spur the engine's combustion process. When plugs become faulty, they cause the motor to run rougher than usual, which results in symptoms like a rough idle. Replacing bad devices with a set of new plugs will smooth out the idle;
Reduce the risk of damage to the engine and other components. Faulty products can cause weak fuel economy, lackluster acceleration, misfires, and other nuisances with the ignition system. Left unaddressed, malfunctioning plugs can damage other components like the catalytic converter, so it's critical to immediately replace worn plugs;
Enhanced reliability – If you're experiencing difficulties starting your vehicle, your spark plugs may need to be replaced. They're a crucial electrical component necessary to start your car, so check your plugs if you're having trouble getting your drive running.
Types
Iridium – Top-rated spark plugs on the market have an iridium construction. They give you even better performance, gas mileage, dependability, and longevity than double-platinum plugs. Thanks to the advanced material and innovative technology injected into iridium plugs, these devices are priced higher than platinum and copper options. It's the best type of spark plug – ideal to use on high-performance motors;
Platinum – Platinum plugs provide improved performance and fuel efficiency compared to copper plugs, but for a considerably lower price than iridium ones. Much like iridium plugs, platinum products operate at a lower temperature than copper options. These plugs can also last up to twice as long as copper plugs;
Double-platinum – They deliver even more efficiency, performance, and longevity than single-plated platinum plugs. Plus, double-platinum plugs are still typically cheaper than iridium plugs. For an affordable upgrade from single platinum, look for products that have platinum in both the cap and electrode;
Copper – Copper spark plugs are the most basic and affordable form of the plug that you can get. They're the most common plug type on the market but have recently been replaced by iridium and platinum devices due to their superior efficiency, performance, and lifespan. While many modern engines simply can't run copper plugs, many older motors roll better utilizing this metal.
Who Makes the Best Spark Plugs?
ACDelco – Established in 1916, ACDelco is a Grand Blanc, Michigan-based automotive parts brand owned by GM. Offering everything from batteries to air conditioning components, ACDelco is most known for its line of plugs. One of its best products is the ACDelco 41-993 Professional Iridium Spark Plug;
NGK – Founded in 1936, NGK Spark Plug Co., Ltd. is a publicly-traded company with headquarters in Nagoya, Japan. It's best known for its range of plugs, though NGK also produces cutting tools, fine ceramics, and more. One of this brand's top products is its NGK 6619 Iridium IX Spark Plug;
Bosch – Founded in 1886, Robert Bosch GmbH, or just Bosch, is a multinational electronics and engineering corporation with its headquarters near Stuttgart, Germany. It manufactures a vast diversity of products, from auto parts to home appliances. One of its best-selling products is 4417 Platinum+4 FGR7DQP Spark Plug.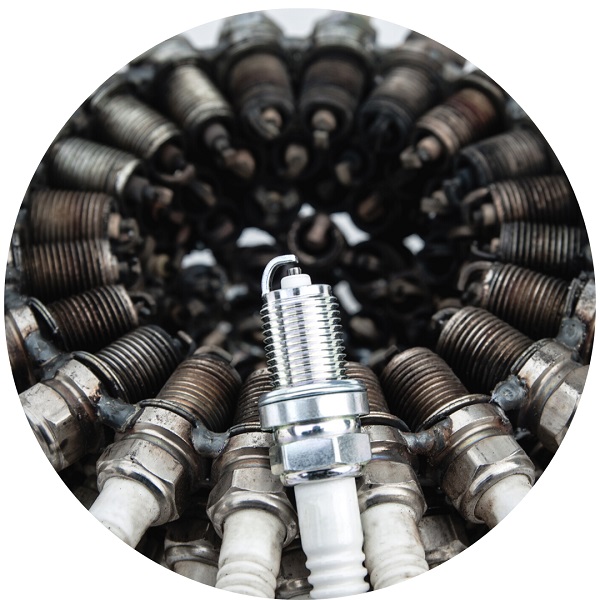 Iridium vs Platinum Spark Plugs
If you're seeking to upgrade or replace plugs, there are two common types you're most likely to end up looking at – iridium and platinum. These two materials offer their own strengths and weaknesses, which we'll discuss below.
Pricing
Under $3 – There are several plugs available in this priced segment. Buyers must do their homework before buying cheaper devices due to the vastly varying degree of quality.
$3 to $9 – The majority of spark plugs fall into this pricing range. Most drivers choose a spark plug priced in this sweep since they offer a right mix of longevity, performance, efficiency, and value;
$9 Plus – Products priced in this span tend to sport a durable construction utilizing advanced electrode designs, premium materials, along with exceptional efficiency, performance, and longevity.
Iridium
When it comes to conducting heat, iridium is the best in the industry. It has a melting point of up to 4,471 °F, which is almost 3x the melting point of copper. Since iridium is harder than platinum, it features better performance. Another benefit of having the best iridium spark plugs is that they use less voltage compared to platinum. They're easily distinguished by narrow electrode tips that look like the tip of a pen. Most iridium devices have a shaped channel on the electrode, which saves sparks from extinguishing. Plus, they're best spark plugs for horsepower gains.
Advantages  
Longer lifespan than platinum;
Changed every 80-100k miles;
Require less energy/voltage;
Excellent durability.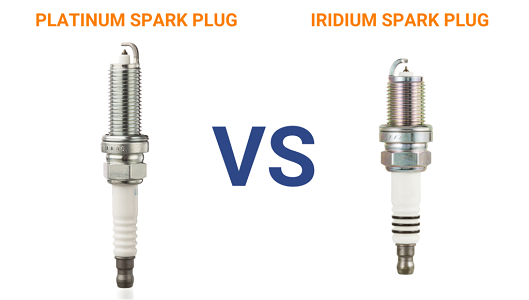 Iridium vs. Platinum
Now that you know the advantages and disadvantages of iridium and platinum, let's see which one is best for your needs. There are 3 factors to take into account when comparing iridium to platinum – reliability, efficiency, and cost.
Iridium is harder than platinum and outlasts platinum options by almost twice the mileage. The only problem with iridium is that it costs double the platinum's price with little enhancements in performance.
Platinum products are slightly cheaper but less dependable option than iridium spark plugs. It yields decent longevity but poorer performance. Platinum solutions are also recommended for vehicles with an electronic distributor ignition system, while double platinum plugs best-fit cars with a waste spark distributor ignition system.
Your choice comes down to whether you care more about price or quality. Platinum will still give you at least 20k miles before needing to replace them, and they're more affordable, too. On the other hand, iridium options give you maximum durability and a longer lifespan. If you don't mind paying more, then iridium is better for your needs.
Advantages
Replaced every 60k miles;
Prevent debris;
Decent performance;
Price.
Disadvantages
Less conductive than iridium.
Platinum
A platinum spark plug has platinum electrodes and features a melting point of up to 3,215 °F. There are two forms of platinum plugs – single and double platinum. Single platinum plugs have a platinum disc welded on the center electrode. In contrast, double platinum plugs feature platinum discs on the center and side electrodes. The only downside of platinum is that it's less conductive than iridium, so it's inferior to the latter when it comes to performance.