12 Best Tire Cleaners You Can Buy Today
A tire is the only component of the car that make contact with the road, and it shows! It collects dirt, brake dust, exhaust film, oily residues, and more within the porous rubber.



Finding the best tire cleaner isn't easy. It's either too strong, or not strong enough, or too greasy, or too smelly – the list is long.



Conducting a regular car detailing and waxing will help get rid of dust and dirt. Still, if you need the right product for everyday use or simple weekend garage projects to remove brake dust, and debris from the tires here is our catalog of 12 best tire cleaning products.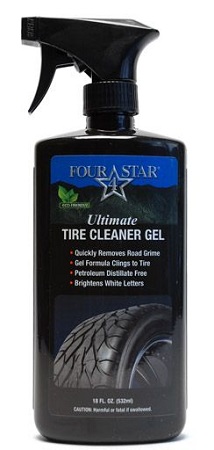 Four Star Ultimate Cleaner Gel deep cleans the rubber to eliminate road grime and old tire dressing. When you apply the fresh tire dressing, the protectant will bond better and provide a darker finish since there's nothing between it and the rubber.
This white wall tire cleaner is petroleum distillate free and completely safe on rubber. The product is a fast-acting formula that starts breaking up grime and oils on contact.
The thick gel clings to the tire to seep and dissolve heavy buildup. Agitation with a tire brush will help the solution get into the rubber's pores and dissolve layers of dirt. It also works well on the wheels. Just spray, agitate, and rinse.
This solution cleans and whitens white walls and letters, too. The clinging formula uncovers the white to restore the sharp contrast between white lettering and black rubber.
To use the product, simply spray one tire at a time and agitate with a medium bristle tire brush. Rinse using a strong jet of water.
When cleaning fender wells, spray the entire area and stir with a soft brush. Rinse well. Dress the tires with protectant.
PROS
Quickly eliminates brake dust;
Eco-friendly;
Water-based formula;
It meets all California VOC standards and has no harsh fumes.

The Diablo Gel Wheel & Rim Cleaner is a pH-neutral product design to be highly effective against stubborn brake dust and sticky road dirt.
The quick-acting formula breaks down the molecular bonds that enable grime and dirt to cling to the tires, allowing you to simply spray the solution on and wipe away dust, dirt, and other residues.
What differentiates this product from the others is the way it pulls contaminants away from the tire surface.
Its gel clings to the tire so it can seep into small crevices and cracks of the tire to lift and remove the contaminants. The product is safe for use on all wheel and tire types, including carbon and aluminum rims.
PROS
Safe for all tires and wheels;
Non-abrasive and pH-neutral;
Encapsulates dirt particles and quickly and lifts them away from the tire;
Smells good;
CONS
Leaves some water spot on the tire.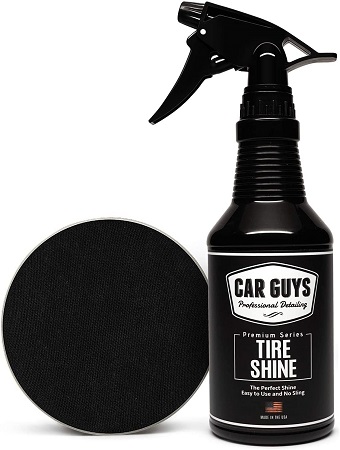 Premium Wheel & Tire Cleaner powered by CarGuys is the most sold tire cleaner on Amazon. This is the product used by serious car detailers who are wanting to restore a factory shine and color to your wheels.
The solution includes a highly concentrated, non-toxic, and pH-balanced formula that is formulated to dissolve road grease and dirt with one simple application.
The speedy-acting formula is safe for use on every kind of tire and wheel surface, biodegradable and acid-free. Therefore, you can feel confident with its impact on the wheel and feel safe that you won't hurt the environment.
The product also comes with a 100% money-back guarantee. So, should you not be delighted with the product.
PROS
Environmentally friendly;
Cleans away harmful salt;
Safe on every tire and wheel;
100% money-back guarantee.
CONS
It won't touch the brake grime.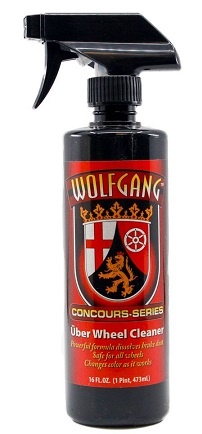 Wolfgang Tire & Wheel Cleaner is a German-engineered cleaning gel that clings to penetrate road grime on tires and wheels.
It's biodegradable, non-toxic, non-caustic, and gentle on the skin. Still, this thick, concentrated gel packs quite a punch when it comes to easily and quickly removing road grime, oil, grease, and brake dust. Once you spray it on, the solution goes to work lessening and dissolving harsh road grime.
The product contains wetting agents, emulsifiers, and environmentally safe deep cleansers to loosen and destroy all foreign particles clinging to the wheels and tires.
This wheel and tire cleaner also penetrate below the surface of the rubber to pull out deep, ground-in dirt, tire dressing buildup, and brake dust. Wheels and tires will be left completely clean.
PROS
100% biodegradable, non-toxic, and non-caustic formula;
Leaves your tires completely clean and contaminant-free;
Provides deep cleaning for the tire walls;
Nice shine.


Griot's Garage Foaming Tire Cleaner is a powerful formula that utilizes foam to cling to the surfaces of the tires.
It can easily cut through road grime, brake dust, dirt, mud, and silicone residue from old tire dressings and adequately prepare the tire's surface for a tire coating.
The foaming formula is the ideal combination of cleaning power and ease of use, putting this solution close to the top of the best tire cleaners list!
This tire foam cleaner is perfectly safe for use on both whitewall and blackwall tires, the product preps the surface for protection without compromising performance.
Just spray a thick layer of the solution directly onto the tire's surface and let it dwells for about 3-5 minutes. As soon as the foam turns to brown with contaminants, agitate if necessary and rinse or wipe away clean.
PROS
Blasts away common tire contaminants;
Safe for use on whitewall and blackwall tires;
Easy to apply;
Cleans up to 50 tires.
BLACKFIRE leverages recent breakthroughs in chemical engineering to design a new type of cleaner. The new, non-ionic surfactant in this solution rapidly and safely cleans tires and all kinds of wheels.
This tire and wheel cleaner contains no acids, no butyl, and no petroleum distillates. The product is safe for all wheel finishes, including clear coats and polished aluminum.
BLACKFIRE mixes this new, non-ionic surfactant with wetting agents and additional emulsifiers to allow it to remove quickly and safely, road oils, and brake dust from both tires and wheels.
BLACKFIRE Tire & Wheel Cleaner leaves both the tire and wheel squeaky clean.
PROS
Releases brake dust and dirt buildup from the tires;
Promptly and safely clean all tire types;
100% water-based cleaner;
A new fragrance with no nasty odors.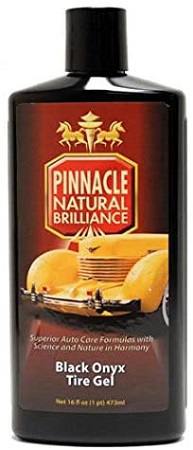 Pinnacle Advanced Tire Cleaner works quickly to remove annoying and harmful debris from the tires, returning the new finish they had when you first purchased them.
You'll be able to efficiently eliminate contamination, road grime, and old dressings or gels from your tire surfaces with this solution. Its formula won't damage or discolor the tires, no matter the type of tires you use!
If your wheels suffer from the browning that befalls most tires, the product will give you a fantastic tool to get rid of it successfully.
Unlike other tire cleaning products on the market today, this tire cleaner spray won't cause any discoloration and fading when applied to the tires.
PROS
Restores the tires' factory finish;
Eliminates debris from the rubber;
Its formula won't damage or discolor the tires;
Removes efficiently old dressings or gels from the tire surfaces.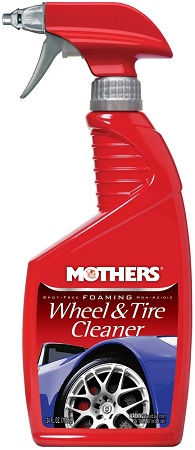 Mothers Foaming Wheel & Tire Cleaner is a car tire cleaner that goes on heavy to break through into micro-cracks and fissures of the tire surface.
This Mothers tire cleaner is designed to restore wheels to their factory finish by dissolving grime and pulling it from the tire's surface to be wiped away. The spot-free formula is applied via an easy-to-use spray bottle and needs zero hand drying.
The product isn't safe for use on motorcycles, polished or roughcast aluminum, billet or anodized wheels.
On the other hand, it'll provide an exceptional, high gloss shine on chrome, color-coated or clear-coated, steel, chrome, modular or factory-finished wheels and hubcaps.
PROS
Works on both tires and wheels;
Great for factory-coated wheels and hubcaps;
Simply spray on hose off for convenience;
Dissolves and suspends all kinds of grease, brake, dust, grime, and dirt.
CONS
Not such a deep clean as some rivals.


Meguiar's Wheel & Tire Cleaner called Hot Rims is a powerful non-acid wheel cleaning solution formulated for use on the factory painted, clear coated, and chrome wheels.
This Meguiar's tire cleaner cleans brake dust and embedded grime, deep cleaning them and making the rubber looking natural and fresh.
Road filth and brake dust dull the appearance of the wheels and turn the tires brown. Its powerful cleaning agents work on contact, losing grime's hold. It gives your wheels and tires a highly detailed, perfectly clean appearance in record time.
Spray the solution onto your cold wheel's face, between the spokes, deep into the barrels, and over the tires.
Lightly agitate with a mitt or soft wheel brush. Clean between the spokes and deep into the barrels using a soft-bristle brush. Rinse the solution of the wheels/tires and dry with a microfiber towel.
PROS
Washes away filth with ease;
Can be applied in full sunlight
Leaves clean tire sidewalls;
Easy to use.
CONS
A very strong mix of chemicals.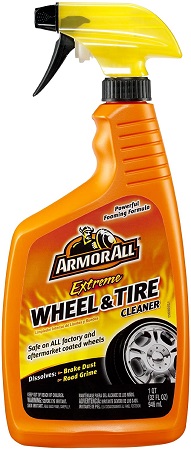 Armor All Extreme Wheel & Tire Cleaner is produced to dissolve grease and road dirt with one simple application.
The powerful cleaning agents included in the triple-action formula are engineered to cling to the tire's surface and eat away at brake dust and sticky road dirt deposits to leave a factory clean finish.
The triple-action formula rapidly foams up to lift away contaminants, blankets the tire in a thick application of cleaning agents that penetrate into the small crannies and nooks of the tire to dissolve brake dust, road grime, and dirt.
The solution is applied via a convenient spray bottle and is an affordable replacement for expensive professional cleaners.
Though the product is safe for use on most tires and wheels, our auto detailing experts recommend that you double-check with the manufacturer to be sure it won't damage your rims.
PROS
Dissolves brake dust, road grime, and grease;
Reveals brilliant luster;
Safe on all factory and aftermarket used wheels;
Works excellent on painted rims.
CONS
Take too long to get the tires clean.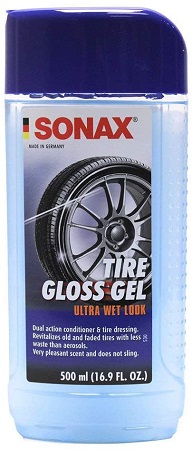 SONAX Tire Gloss Gel revitalizes rubber to bring tires a showroom semi-gloss finish that lasts. Its dual-action cleans and conditions the rubber to restore the deep black color and satin shine. Each application lasts for several weeks.
This advanced rubber enhancement technology comes straight from SONAX, Europe's leader in car care innovations.
This product isn't a tire dressing, but a rubber cleaner and conditioner that brakes through and revives the rubber particles of the tires.
Its durable protective finish repels dirt and moisture to maintain the luster through rain, washing, and day-to-day driving. So, you can count on this product to withstand the elements.
PROS
Provides deep semi-gloss, new-tire look;
Approved for use on any tire;
Each application lasts quite long;
Revitalizes old and faded tires.
CONS
Requires that you use more to obtain the best look.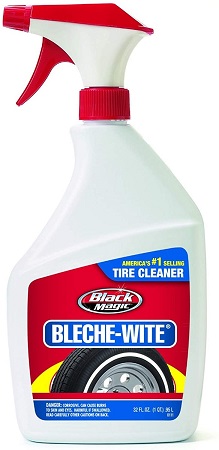 Bleche-Wite Tire Cleaner from Black Magic is the best-selling product of this type in the USA since few cleaning agents are most effective at eliminating grime and dirt deposits than its trademarked PRIMASCRUB formula.
The formula contains potent cleaning agents that dissolve contaminants on contact and eat away at the grime and dust that cling to white lettering and white walls.
This Black Magic Tire Cleaner is so powerful – all it takes is a few sprays from the easy-to-use spray to wipe away stubborn brake dust and road dirt.
The solution can be applied with tire wet and tire shine products but works well all on its own. Plus, this bleche-white tire cleaner is completely biodegradable and safe for use on all tires and wheels.
PROS
Quick-acting, easy-to-use formula dissolves brake dust, road film, and grime on contact;
Cleans black walls, white walls, and white lettering on tires;
Fortified with PRIMSCRUB formula;
Biodegradable product.
CONS
You have to make two applications for the wanted result.