10 Best Tire Shine Products for High-Gloss Appearance (Gel & Spray)
Tire shine is like the Superbowl to people that love detailing their car. Its main aim is to give tires the wanted wet appearance that makes the rim and tire look way more appealing. It needs less than a minute per wheel to apply and make a big difference.
It's a formula of different chemicals and polymers, the exact composition of which is a carefully kept secret of their respective manufacturers and companies.
But to get all these features and more you need to know how to choose the best one. Let's take a look at what these products have to offer.
Types
They can be classified as one of two types – either water-based or solvent-based.
Water-based – A more natural solution, these products are typically made from polymers and naturally occurring oils suspended in water. Therefore, they're kinder to the rubber that makes up the tire, meaning they can be applied more often. This's handy since water-based products will generally not be as long-lasting as solvent-based. They also don't make quite the same intensity of finish, so if you're seeking very high shine then solvent-based options could be best;
Solvent-based – Made of the same ingredients as water-based except that they're suspended in solutions instead of water. They can be more abrasive to the rubber of tires – though they would require a lot of applications before severe damage occurred. Solvent-based solutions are thought to "bond" with the tire better, making them longer lasting. Solvents can also create a shiner finish for high-impact, statement tires.
Applications
Most of these products come as either sprays or gels.
Spray – Usually more expensive than gel products, but also quicker to apply. So, to skip the dreaded "sling" effect – where the excess product is thrown off the tire onto the vehicle bodywork – some wiping down may be needed unless a swift drying, the non-oily spray is chosen;
Gel – Typically cheaper than spray style applications. They're more time consuming, as it needs to be directly applied. This hands-on approach, still, lets for more direct control over how much of the solution is applied.
What to Consider Before Buying?
There are several factors that you should keep in mind when picking your tire shine product, including:
Easy to apply – As we already mentioned, these products typically come as gels or sprays. Both are relatively easy to spread; however, gels may be a little slower, but they enable for ease of control;
Proper UV protection – One of the best secondary merits of these solutions is the UV protection they deliver. Most of the high-quality products provide this to some level. Just like sun cream, some products feature more protection than others. If you live in a sunny area, it's recommended you use a product with better UV protection;
Shiny finish – These products can make a range of finishes. To a particular grade, the finish of the tire can be affected by how long or how much of the solution is applied with longer exposure -producing a shinier finish;
Restoration – If you're not hunting for a very shiny, stand out tire, then select for a product with a matte or satin finish. These solutions will produce a more subtle finish, less attention-grabbing, and returning a tire to a like-new factory look.
Benefits
There are three main advantages of using tire shine products, such as:
Make tires shiny – These products are primarily used to return old looking tires back to the appearance they have when they're fresh out of the factory;
Keeps them shiny – Not only do these solutions work to add shine and gleam to a tire's surface, but many of them also arrive with built-in protection vs. dirt and grime to keep the tire looks fresh for longer;
Protection – Most of these products include protection against elements that could potentially harm the tires, especially UV light from the sunshine. Harmful rays can ruin the natural rubber compounds in the tires, so applying a tire shine product with UV protection will help extend their lifespan and stop them from cracking an unappealing brown color.
Pricing
$5 to $10 – With tire shines, you mainly pay for the bottle's size. In this price range, anything below 16 ounces standardly falls here;
$10 to $20 – This price range includes larger bottles and containers that offer more product for more applications or larger cars;
$20 to $60 – Here, you can buy anything from 64 ounces to 1+ gallon for a large supply of tire shine.
How To Apply
The application of tire shine may look easy, but perfecting it needs some steps. To get the wanted result and minimize wastage of the solution, a dressing applicator pad will make things easier and enhance the finish.
To apply tire product properly, follow these 5 steps:
Wash tires entirely – Spraying the tires with water isn't enough. Scrub all dirt from the tires to get the top finish from the product;
Drying – Excess water can blend with the tire dressing making an unexpected result. Make sure the tires are dry regardless of whether the product says it is safe;
Add product to applicator – Avoid overloading of the product since it'll end up on the floor or all over the wheel. Employ a small blob and work it into the tire;
Apply solution – Unless you're applying an aerosol, simply work the dressing into the tire. There'll be a waiting period that is different for each solution, but this's an essential phase for the best finish;
Remove excess dressing – To prevent dirt clinging to dressing that isn't drying, just touch a cloth against dressing to remove it from the tire.
What is the Best Tire Shine on the Market?
If you really want your tires to stand out and make the overall appearance of your vehicle look better, then you want to make sure you get proper solutions.
Therefore, we've compiled the list of the best tire shine products available.
1. Meguiar's G7516 Endurance Tire Gel


This Meguiar's G7516 Endurance Tire Gel will remove overspray, runs, and any drips you would usually get when applying a solution.
Interestingly enough, this gel also acts as a UV protector to keep the tires safe from any browning that generally happens when the tires get exposed to too much sun daily.
Main features: Silicone-based, Durable glossy finish, Includes UV protection, Guards against browning, No overspray, streaks or drips, 16 oz bottle.
When applying the product, always employ an applicator and small portions of the solution. Too much will be a waste, and it'll also entice more dust that will cling to the shiner. Overall, it's a great option that leverages the long-lasting formula, which brings maximum durability and shine.
2. CarGuys Tire Shine Spray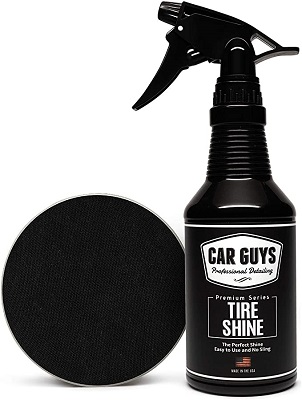 Car Guys Tire Shine Spray delivers the best tire shine spray designed with patented polymer additives to make it easy to keep the tires in excellent shape.
Also, the product gives deep wet black shine to the tires and also produces UV protective shield. The solution bonds with the tires and prevents run-offs during high revs. It arrives with tire dressing applicator for easy and quick car detailing.
Main features: Defends against UV rays, Includes polymer sealant additives for improved performance, Non-toxic and environment-friendly, Restores faded surfaces, Fast, easy, and mess-free application.
It allows you to select either a luxurious deep black shine or wet looking high gloss glaze shine. The glaze shine provides a gel gloss look and can be utilized as a trim restorer or on the wheel wells.
3. Armor All Extreme Tire Shine Gel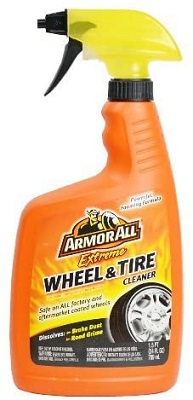 The Armor All Extreme Gel is the best tire conditioner that uses an advanced formula for the top results. The manufacturer claims that the high molecular weight silicone will save the tires shine for several weeks.
For peace of mind, the company gives a 100% satisfaction guarantee on this product or your money back.
Main features: Wet black shine that lasts multiple weeks, Silicone-based,18 oz bottle, No messy overspray, Adds applicator sponge, Protects against cracking or fading.
The Armor All Extreme is a great all-round tire gel that provides an excellent finish and durable protection. Even though it's slightly more expensive, it includes an applicator for providing full coverage.
4. TriNova Tire Shine Spray 33511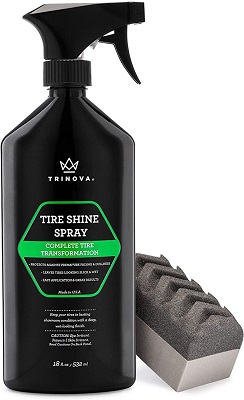 The TriNova 33511 is produced to lend a shiny dark look to improve the tires' appearance if they're dirty and faded.
Additionally, this shine spray creates a protective coating over the tires and saving them from any adverse rays and aging. One coat is enough to deliver rubber tires, the dreaming shine.
Plus, with the simple no wipe application, this's a more straightforward solution to apply that won't take a lot of your time.
Main feature: Advanced coating and protection, Repels dirt and grime, Available in an 18 oz or 1-gallon bottle, Multiple levels of shine, Easy to apply.
The product works more also a protectant. Also, with a little polishing and buffing, you can give the tires even better shine. Moreover, there's no need to use this solution multiple times a week as one spray goes a long way.
5. Chemical Guys TVD11316

Chemical Guys TVD11316 It's the best tire dressing on the market that makes used tires look new in a few seconds and to help you detail interior and exterior car surfaces.
Besides, the product gives a bright appearance when dried and doesn't attract dust or dirt. As it's a water-based dressing, it also includes extra gloss enhancers and UV blockers to prevent ultra-violet rays from ruining the tires.
You can also use it on rubber, vinyl parts, and textured plastic. And, it feels dry to the touch and doesn't drips or runs throughout the application.
Main features: Can be used on plastic mirrors, grates, and bumper parts, Doesn't attract dirt or dust, Helps prevent future fading from sunlight, Comes with UV blocker and gloss enhancers for an enhanced look, Works well on faded tires.
While this solution seems to leave some surfaces with a runny look when rained, it's not something that a simple wipe down can't fix.
6. Black Magic Tire Wet Foam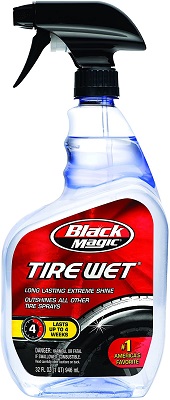 Black Magic released an aerosol that will clean, protect, and shine tires all in one product. It's a powerful formula that clings to the tire and adsorbs it. The result is a protected tire with a gleaming finish.
To apply the solution, it's as simple as spraying it and leaving it for 10 minutes. If the tire is covered in thick dirt, it's recommended to eliminate all debris, in advance for the needed result.
Main features: Can be applied to dry or wet tires, Lasts up to 14 days, Leaves no-powdery residue, Water-based formula, 18 oz bottle.
The Black Magic Tire Foam is the best tire cleaner and shine solution that provides super value for money and is an "all-in-one" application that actually works.
7. Adam's Polishes Tire Shine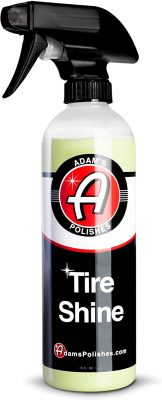 Adam's Polishes Tire Shine is a premium product that contains a small amount of silicone to produce a wet non-greasy gloss. You can also add multiple layers of this solution to enhance the wetness of the tire and improve the appearance.
When the product is adequately applied using applicator, it'll continue to work for much longer. It also provides a fantastic banana scent, and the dressing will foam up on the tires efficiently.
Main features: High-quality reifiable spray bottle, Available in 16 oz and 1 or 5-gallon bottles, Non-greasy formula, Made for large tread blocks, Deep, luxurious shine or wet look finish.
If you're seeking a long-lasting product that can be applied with ease, Adam's tire is the best choice.

Stoner Car Care delivers this top-rated tire shine to ensure that you get that appealing shine every time. This product is easy to spray over the tires, and it doesn't drip, stick, or foam.
Moreover, this solution is free from any water or soaps, which quickly evaporates, leaving the surface the way it was before application. It lasts longer on tires and also doesn't make the tires attract dirt and look brown.
After the application, it produces a soft matte finish in one coat. With heavy coating, it forms a bright shiny finish. The tires start to shine in just one minute.
The drying time seems a little longer than when using other products, but it should still take just a few minutes. Perhaps, 12 ounces might not look like much, it's still enough for several applications.
Main features: Repels dirt and water, Contains no water or surfactants, Makes faded tires look fresh, Made in the USA, Doesn't stick or trip to the tires.
Furthermore, it is being used by professional car detailers so you can expect it to give superb performance. All you have to do is spray, and that's all, no need of wiping or rubbing.
9. Griot's Garage 11044 Long Lasting Tire Dressing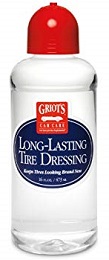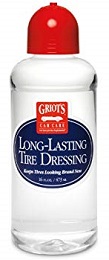 This thick rubber dressing remains on the tires through rain showers, puddles, and even car washes. The product bonds to the tire to prevent slinging. Its great bonding ability is what provides Long-Lasting Tire Dressing with longevity.
This is a wipe-on solution. It eliminates the overspray induced by spray-on tire dressings, and it offers you more control over the amount of solution you're applying.
Main features: Delivers durability, Extinguishes overspraying, Provides various qualities, Produces a black, satin finish for a natural rubber appearance, Designed to endure harsh weather conditions.
This rubber protectant is long-wearing, water-repellent, and as shiny as you want. The product gives the tire a natural satin finish or a uber-glossy finish.
10. Aero Cosmetics Tire Protectant and Dressing

A different finish from a shiny gloss is a dark matte finish, which many find desirable. The Aero Cosmetics formula is the top option for that kind of finish and even meets the Boeing Aircraft Specification.
It's a water-based formula that is made to moisturize the tire, which helps to minimize the aging effects of harmful UV rays.
Main feature: Dark mate/black satin finish, Available in a 16, 32 and 64 oz bottle, Biodegradable formula, Leaves no oily residue, Long-lasting protective fence, Convenient for other plastic components.
Its formula provides a sui generis matte finish to the tires that transforms aged or old tires. The only drawback is that it requires at least 30 minutes to soak into the tires for the wanted results completely.