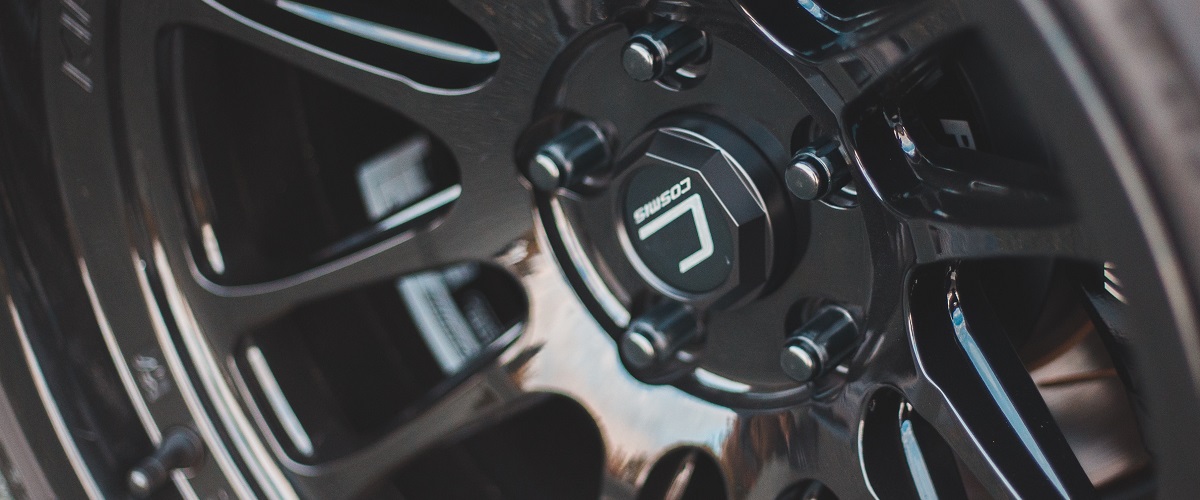 10 Best Wheel Cleaners to Get Rid of Brake Dust (2022 Update)
99% of people concentrate on the face of the wheel. But the potential damage that can happen is in the inside of the barrel, any tight edges, or the pockets of the lug nuts. Damages are often caused by dirt and grime build-up resulting from improper wheel care. But there is nothing the best wheel cleaner cannot do!
With the proper wheel cleaner solutions, wheel maintenance does not have to be much of a chore. With the best wheel cleaner, you can drive with peace of mind, knowing that your wheels are highly protected. Also, your eyes will enjoy the shiny finish on your wheels.
Did you know that only one drive down to the town streets can accumulate road mud, grime, dirt, and brake dust? Brake dust is an issue that affects all vehicles, from daily drivers to sport cars. Every time you hit the brakes, ferrous brake dust particles land on the wheels. Therefore, constant maintenance is a necessity.
Here's the list of the 10 best wheel cleaner products to help you clean with confidence, recommended by the best car detailers.
Wheel Cleaner Types
Although they come in slightly different formulations, the truth is that all-wheel cleaners work the same way. They are packed in a spray bottle and contain certain agents that eliminate brake dust, road grime, and other contaminants from the surface area. You can choose between so-called spray and rinse and spray and scrub wheel cleaners, depending on your preferences.
Spray and rinse cleaners allow you to spray the product on the surface and rinse it without much trouble.
Spray and scrub cleaners require some tools, like a brush, especially when you're addressing stubborn dirt and heavy-duty wheel grease.
How to Choose the Best Wheel Cleaner?
In order to choose the best wheel cleaner that provides the best results, it's essential to consider the following features:
Wheel Finish
Although most cleaners look the same, the truth is that they are not created equal. While some products are universal and safe to use on all wheel finishes, others are specifically designed to be used on certain materials only. It is important to check the compatibility before making a final decision to prevent potential damages due to chemical composition inappropriate for your wheels.
Ease of Use
While most wheel cleaners come in a spray bottle that doesn't require much effort to apply, what comes next is what you should keep in mind. Once you use the spray on the wheels, you'll need to wait a bit and then scrub or rinse the product off the surface. In some cases, the cleaner may leave a residue behind if you don't rinse it right away or require more work than expected. Some cleaners have better spray patterns and nozzles, providing a more precise and more straightforward application.
Chemicals
If the wheel cleaner is described as pH balanced or pH neutral, it means it is powerful enough to remove the dirt, but its formula is not too potent to cause damages or other issues. You can also find acid-free or non-toxic products. However, remember that some products may damage the wheels if you don't rinse them properly.
Color-Changing Technology
Color-changing technology is not as crucial as other factors, but you'd still like to see the product change its color once mixed with the brake dust. Still, it doesn't mean that the brands that do not have color-changing properties are less efficient.
Scent
Some manufacturers offer products with a specific scent, including bubblegum, fruit, or similar. It gives you an opportunity to choose between stronger or mild smells.
Most Notable Wheel Cleaner Brands
When looking for the best wheel cleaners, check out the following brands to receive the highest-quality results:
Average Price of Wheel Cleaners
The wheel cleaner price depends on various factors, including the product's overall efficiency and the brand. Still, you can expect to pay from $10 to $25. Less expensive products often come in smaller bottles, requiring more frequent replacements, while pricier cleaners come in larger packages and are more appropriate for professional use.
What is the Best Wheel Cleaner in 2022?
1. Best for Brake Dust: SONAX Wheel Cleaner Full Effect

SONAX Full Effect safely and efficiently eliminates the most stubborn dirt, including brake dust, oil, and rubber residue, while the color-change foam lets you know it's working.
Its acid-free, non-corrosive formula is safe on all kinds of aluminum, alloy, chrome, painted, anodized, stainless steel, and clear coated wheels.
The product is pH neutral to protect your wheel's finish, unlike many wheel cleaners, which include harsh chemical solvents. It's tough on dirt but nice on wheels. Nice doesn't mean weak!
Instead of acid cleaners, this solution is designed with more sophisticated ingredients formulated to attack what's on the wheel, not the wheel itself.
You can actually see SONAX Wheel Cleaner working! It sprays on fluorescent green and turns red as it penetrates grime and dirt. Red shows that the brake dust, oily film, and dirt are being loosened and – with no effort – they'll rinse away, leaving shining, clean wheels.
Instructions
Spray-on cleaner and let it dwell for several seconds as the cleaner turns red. If necessary, take a soft-bristled wheel brush to clean between spokes. Then, rinse with water and towel dry to prevent water spots.
PROS// Easy to use; Doesn't harm painted/bare metal wheels or brake calipers; Minimal time and effort required; Color-changing technology.
CONS// Very strong smell;
2. Best Diablo Wheel Cleaner: Chemical Guys Diablo Wheel Cleaner Gel Concentrate

Diablo Wheel Cleaner Gel Concentrate from Chemical Guys is the first product that utilizes concentrated suspension technology to elevate brake dust, dirt, and contamination away from wheels and rims without intensive rubbing and scrubbing that can scratch and damage the material.
Chemical Guys wheel cleaner is 100% neutral and safe for all wheel finishes. Its suspension technology is oxygen-rich, encapsulating dirt particles and swiftly lifting them away from the paint. It features pH-neutral gelatin that easily rinses off wheels and produces spot-free results.
Not only that, but the product also has a premium natural fragrance and 100% biodegradable composition.
It's the only pH-neutral product safe enough to use on any OEM, aftermarket wheels, chrome, painted/powder coated wheels, chrome, carbon fiber lips, decal-wrapped wheels, and lips and literally all painted surfaces.
The superb gel consistency of this solution allows it to stick to brake dust-filled wheels to quickly loosen and lift contaminants in suspension where they can be safely rinsed away from the surface.
Instructions
It can be applied with a brush or sprayed on. Always dilute according to needs. For regular cleaning, dilute the 1-part product to 6 parts water. For easy measurements in any bottle, pour 1-inch of the solution and fill the rest of the bottle with water. For heavy-duty cleaning, the product can be used more concentrated at 1:4 or 1:6.
PROS// You can easily dilute the product; Safe to use on different types of wheels; Excellent at sticking to brake dust and grime; Effectively loosens contaminants for a safe and spotless rinse.
CONS// It sometimes leaves watersports on the wheel; The smell can be overwhelming.
3. Best for Aluminum: Meguiar's Hot Rims Aluminum Wheel Cleaner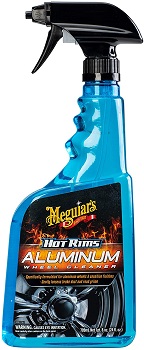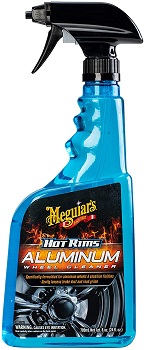 Meguiar's Hot Rims Aluminum Wheel Cleaner is specially formulated for all aluminum wheels, including uncoated, anodized, and powder-coated aluminum wheels. Xtreme Cling foam technology lingers on the wheel to provide targeted, effective cleaning.
Many products run down the wheel and therefore don't work effectively where the wheels need it most. This solution delivers foam cleaners that stick to the wheel to remove brake dust and grime more effectively.
This Aluminum Wheel Cleaner is safe on brake components, too! Brake calipers are sometimes anodized, which allows them to be dyed to match the car's exterior color. The product safely lifts brake dirt and dust without harming brake calipers.
Instructions
Spray each wheel with cold water and coat thoroughly with the cleaner. Wait 20 seconds and rinse. Towel dry to prevent water spots. On heavily soiled wheels, employ a soft wheel brush or wash mitt to agitate the wheel surface.
PROS// Quickly eliminates dirt, grime, and dust on your wheels; Designed specifically for uncoated aluminum wheels; Perfect for aftermarket wheels with sensitive and delicate surfaces; Effectively cleans alloy, anodized, and powder-coated wheels.
CONS// Goes fast; Can be a little strong.
4. Best Heavy-Duty Brake Dust Cleaner: Meguiar's Ultimate All Wheel Cleaner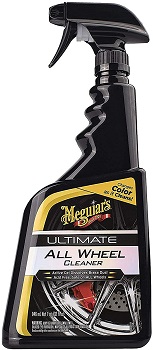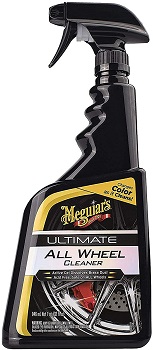 With so many different finishes on wheels, it's sometimes hard to find the right product for the job. This solution erased this concern by being safe for use on all wheels' finishes and brakes!
Meguiar's Ultimate Wheel Cleaner is tough on brake dust and road grime – but not on your wheels and painted brake components! It can help you deal with heavy-duty tasks, like stubborn dirt or grime build-up that require a lot of elbow grease. With it, you can get your wheel cleaning done in no time.
This solution changes to a purple color when it comes into contact with iron and turns brown when it comes into contact with road grime and dirt!
Not only is your wheel being cleaned adequately, but you also get to see what made the mess in the first place.
Instructions
You don't need to wet the wheels first. Instead, twist the nozzle to open and spray evenly across the wheel. Within 2 minutes, you'll see the dirt fall off, with the wheel turning a purple color which signals the product is working.
PROS// Safe and effective on all wheels and painted brake components; Deep-cleaning gel formula turns brake dust purple and road grime brown as it gently loosens stubborn contaminants; Quick-acting formula; Acid-free and pH balanced.
CONS// It doesn't smell good.
5. Best for Alloy Wheels: Eagle One A2Z 824331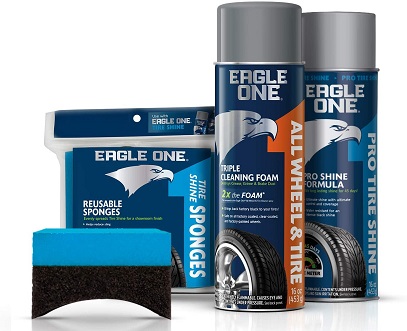 Eagle One A2Z All Wheel & Tire Cleaner is one of the most recommended products by automotive enthusiasts.
This Eagle One wheel cleaner is an acid-free combo that works on the following wheel types and finishes: steel, alloy, anodized, clear-coated, chrome, PVD, plastic, and factory-painted.
It's not recommended to use on aluminum, non-factory painted, gold-painted, and motorcycle wheels. Damage can occur to the wheels' finish if you use this product before the wheels are cool to the touch.
If they aren't, then rinse with water to help cool. The 23oz offers good value at its price, each bottle usually lasts the average consumer 3-4 uses.
This alloy wheel cleaner is also available in a 64oz jug – comes with a sprayer that offers a cheaper cost per use and even better value.
Instructions
Clean one wheel at a time. If the wheel is hot, rinse the wheel for 30 seconds to cool it before applying the product. Hold the bottle away from your body and about 6" away from the wheel. Spray cleaner evenly onto the wheel.
Let it soak for 30 seconds. For dirtier wheels, agitate with a soft brush or sponge. Rinse the wheel thoroughly for at least 1 minute and dry it with a clean towel for a spot-free result.
PROS// Acid-free; safe for all types of wheels; Easy to apply; Form action eliminates grease; Thick foaming action destroys brake dust and grime.
CONS// It's not recommended for non-factory wheels.
6. Best Non-Acid Wheel Cleaner for Rust Removal: CARPRO IronX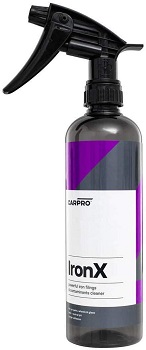 Iron X by CarPro is a pH-balanced, acid-free brake dust remover that decontaminates wheels and auto paint. It's highly recommended for all clear coated alloy wheels.
Iron X wheel cleaner removes ferrous brake dust to guard your wheels from further damage. It can save you the cost of replacing factory wheels. It is highly efficient for preventing rust spots and premature failure of the coat. Besides, it neutralizes the reactions leading to rust and paint failure. It is 100% safe to use on all surfaces.
The product is easy to use, and you can see it working! It's a clear solution in the bottle, but it turns purple when it comes into contact with iron particles.
This solution turns the iron into a water-soluble complex for easy removal. After using it, you can polish and clay your car as you usually would.
Also, Iron X Iron Remover takes off iron particles and their effects to keep the car's exterior clean and healthy.
Instructions
Wash the surfaces of the wheels, make sure the surface is at a cool temperature. Spray the product on the surface. Rub it in with a damp sponge. Wait five minutes while contaminants change their color to purple or red. Wipe off with a damp soft sponge. Don't let the Iron X dry entirely on the surface. Rinse the whole surface thoroughly
PROS// Removes ferrous metallic contamination on any type of wheels; Safe to use on clear coat paint; Acid-free and pH neutral product; Excellent rust removal.
CONS// Unpleasant smell.
7. Best Rim Cleaner: Meguiar's Hot Rims Wheel Cleaner


With Meguiar's Hot Rims Wheel Cleaner, you can enjoy the next-level foam technology that makes your wheels and tires clean again. It clings to any surface and melts away any critical brake dust, grime, and dirt.
You can use this wheel cleaning solution on a wide variety of factory-painted or clear-coated wheels. This Meguiar's non-acid wheel cleaner features a penetrative formula that allows you to spray-on and hose-off without any time-consuming and unnecessary steps.
As you can see, this wheel and tire cleaner is incredibly easy to use. Your rims will have brilliant shine, and you'll be quite satisfied with the achieved results.
Instructions
Rinse the wheel completely with cold water. Coat one wheel at a time using Meguiar's Hot Rims. Coat wheels and tires holding bottle 6-8" away. Wait 15 seconds to let foaming cleaners penetrate and dissolve dirt and grime build-up. In case of heavy build-up, agitate the surface with a brush. Rinse the wheels thoroughly with water. Use a premium microfiber or a clean towel to dry the wheel.
PROS// Clings to all surfaces; Dissolves brake dust and grime; Easy to apply; Brilliant shine and thorough wheel and rim cleaning.
CONS// Requires some elbow grease.
8. Best for Chrome Wheels: Auto Fanatic Professional Wheel Cleaning Foam

Auto Fanatic Professional Wheel Cleaning Foam works on all finishes including, clear coat, paint, chrome, billet, and anodized aluminum.
This Auto Fanatic wheel cleaner doesn't contain caustic components or color-changing iron activating ingredients that are harmful to the wheels, braking components, and your health. Besides, you can safely use them on ceramic coatings, wheel sealants, and waxes, including billet, adonized, chrome, and polished finishes.
Its proprietary formula reactivates brake dust. It rises grime/dirt from the surface of wheels, breaking up hardened deposits with no agitation.
The multi-stage corrosion inhibitor additives prevent problems with the brake system and suspension components.
The high lubricity of this dual-stage foam attacks the harshest brake dust without tackling the base surface finish. Light agitation may be needed for heavily soiled wheels.
Instructions
Mix your wanted ratio of this chrome wheel cleaner to water. Put foam evenly on all surfaces, including the brake caliper and wheel barrel. Recommended dwell time is 2 minutes and lightly agitate hard-to-reach areas. Don't let the product dry on the wheels, and rinse it for the final touch.
PROS// Solution works as advertised; No harsh chemicals included; Minimum agitation required; Multi-purpose product.
CONS// It doesn't affect the black stained areas.
9. Best Versatile Car Wheel Cleaner: Adam's Deep Wheel Cleaner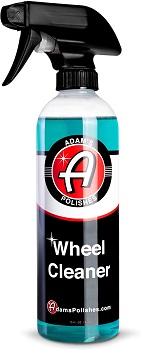 Adam's Wheel and Tire Cleaner has a strong chemical odor, so strong that it'll linger. So, make sure you don't use this inside the garage. It works great to remove metallic contamination and brake dust from the wheels.
Its formula is made to sling to the wheel's surface, helping to rift stubborn brake dust particles that are left behind by so many of today's high-performance braking setups. It features the advanced chemical technology to complete your detailing arsenal – aside from being a highly efficient cleaning agent, it is user-friendly and 100% safe for all wheel finishes.
The solution reacts with the iron/metal in the brake pad dust and dissolves and loosens it from the wheel. The formula is color-changing, so it lets you know when it's working on the deep grime since it'll turn purple.
The product is safe on most finishes, even motorcycle wheels, unlike other wheel cleaners that are not recommended for this type of wheel. It's safe to apply on factory clear coated wheels, aftermarket aluminum, and painted wheels.
Instructions
Apply the spray only after the wheel is completely cooled off. Wait for a cleaner to become purple. Then agitate using a soft wheel cleaning brush. Rinse off and wipe with a dry towel.
PROS// Liquidates brake dust and grime; Advanced chemical technology; Safe to use on many finishes; It changes color as it works.
CONS// It doesn't remove road scuffs, tar, or any sticky build-up.
10. Best Premium Wheel Cleaner Spray: Griot's Garage Heavy Duty Cleaner


Griot's Garage Heavy Duty Wheel Cleaner cleans wheels safely and effectively with a concentrated, biodegradable technology. More importantly, its premium, pH-balanced formula cleans well yet is gentler on your vehicle and the environment.
It contains unique penetrants that let for far less effort when cleaning wheels. The high concentrate enables the product to hang on the wheel longer to clean brake dust, road oils, and other deposits.
It's a superior solution with no expense spared toward the ingredients. A little mild agitation will release grime and brake dust from the wheel. It is safe to use on different wheel finishes, including chrome, painted, adonized, powder-coated, and uncoated aluminum. This is an "upgraded" Griot's version with a more pleasing scent that doesn't linger.
The Tire Rack, Dayton Wire Wheel Company, and BBS have all approved Griot's Garage Products for all of their wheels. If it's safe enough for the world's best wheels, then you can depend on this solution to be safe and efficient on your wheels.
Instructions
Use the product on cool wheels. Rinse the wheel with water. Spray the wheel thoroughly and use a wheel brush to agitate the surface gently. Rinse and towel-dry wheels to prevent water spots.
PROS// Non-acidic, non-caustic, and pH balanced; Safe for all-wheel types; It changes color as it interacts with brake dust; Pleasant smell.
CONS// It doesn't come with a spray top.
How to Apply a Wheel Cleaner?
Wheel care is an essential part of your car maintenance, and it is crucial to perform it properly. If you are not sure how to do it, follow the next steps:
Wet the whole wheel with a hose to eliminate dirt
Spray the wheel with a product of choice
Let the cleaner sit for 1-2 minutes
Use a soft-bristled detailing brush to scrub the wheel
Rinse the wheel thoroughly
Use a microfiber cloth to wipe the wheel dry.
Tips for Using the Wheel Cleaner Properly
Here are some handy tips for getting the best out of your wheel cleaner:
Test the product on a small area before spraying the entire wheel. That way, you can check whether the product is safe to use on your wheels.
Make sure your wheels are cool before applying the cleaner because the product provides the best results once applied to a cool surface.
Even though some cleaners are advertised as eco-friendly, ensure you're wearing protective gear on your nose, hands, and eyes. That way, you can prevent potential allergies or irritations.
Check whether the cleaner you've chosen is safe on your wheels. This is especially important if you have aftermarket or custom-made wheels, which are prone to damage by the chemicals in some wheel cleaners.
How to Eliminate the Dirt After Applying the Wheel Cleaner?
You can rinse the dirt off the wheels with a high-pressure water hose and let them dry completely.
Can I Use Wheel Cleaner on Engines?
While some cleaners are safe for engines, it's recommended to check the product label and ensure it won't damage the engine.
Can a Wheel Cleaner Remove Rust?
Yes, some wheel cleaners can tackle rust – CARPRO IronX Iron Remover, for example. However, you should consider a dedicated rust removal product with a slightly stronger formula for the best results.