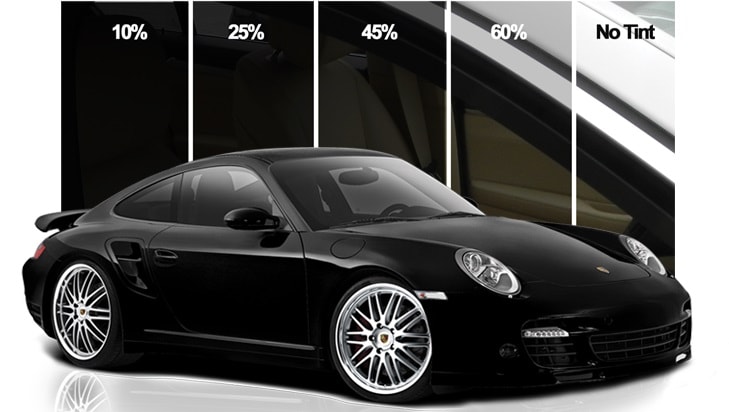 Best Tint Window in 2022: 8 Leaders on the Road
Aside from being an excellent aesthetic detail, car window tint protects your vehicle from harmful UV rays and sun exposure. These factors often fade your paint and make your leather and plastic interior surfaces colorless and cracked. Besides, your ride during summer will be very hot and uncomfortable. And you don't want that.
Window tint shades are any car owner's best friend. They come in handy whenever you're looking for enhanced comfort, more privacy, or a more appealing vehicle. Window tints are easy to apply, and you can choose a customized amount of darkness according to your preferences and state laws.
No matter if you need a car tint to keep your belongings safe from prying eyes or want to experience a darker driving environment, you can significantly benefit from the best tint for cars. Keep reading to discover more about the advantages of window tint and the features worth considering when shopping for one.
Best Car Window Tint in 2022
We have made a list of the 8 best tints for cars' windows to keep your vehicle's interior cool and safe from UV rays.
1. Lexen 2Ply Ceramic All Windows Precut Tint Kit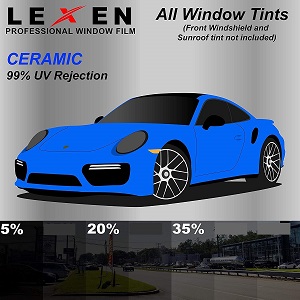 Lexen 2Ply Ceramic All Windows Precut Tint Kit is available in three tint shades – 5%, 20%, and 35%. It is a pre-cut window tint film that features high-grade nanoparticle technology for improved UV and solar protection. Since it's produced through carbon particle infusion, it delivers much better color stability.
The kit contains precise cuts for the front driver and passenger sides, cargo sides, the back windshields, as well as two small triangles. Thanks to its perfect fit, you won't have to cut it additionally. All you need to do is apply it and wait until everyone notices that you have the best window tint in the block!
PROS// Easy to use; Excellent color stability; Precut film for quicker application; Great solar protection; Various shade options.
CONS// More expensive than its counterparts; The lightest shade is 45% only.

Black Magic 5044829 really does magic. It provides superior protection from UV rays while its metalized layer reflects heat quite efficiently. This window film is fade- and scratch-resistant with 20% VLT.
Even though this requires you to cut the film to match the correct measurements of your vehicle's window, it gives you the flexibility of installing it on any. Also, applying this tint is as easy as it gets. It sticks by static, and therefore, no glue is needed throughout the installation. This makes it removable and reusable in case you wish to replace the window due to cracks.
PROS// Removable and reusable; Available in different shades and levels of darkness; Heat- and scratch-resistant coating; Excellent clarity.
CONS// Difficult to position; Most customers didn't receive what they expected.

If you're a fan of very dark films, the Gila XLB242 is probably the right choice for you. It's an ultimate limo black film that features a VLT of only 2.5%, which means it blocks 97.5% of the light from penetrating.
This provides you the benefit of reducing glares, particularly from the side windows, which would otherwise hinder your visibility. It also offers you the highest level of privacy since it's impossible for passersby to see through this film.
Additionally, the product is made using a deep-dyed scientific formulation that makes it non-fading and durable, at least for a while. In terms of size, this Gila's product measures 24 × 78 inches, which is somewhat small and could cover two side windows.
PROS// Superior darkness; Doesn't fade as quickly; Reduces glare; Delivers enhanced privacy; Easy to apply.
CONS// Available in only one shade; Several consumers claim it's not as black as expected.
4. PROTINT WINDOWS 5% Light Transmission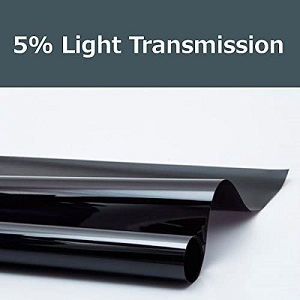 PROTINT WINDOWS 5% Light Transmission is available in 5 different dyes of tint, starting from 50% to the 5% VLT index. The manufacturer claims that the product features a 99% anti-UV rate, which makes this product as best car window tint for heat reduction.
This PROTINT's window film features carbon polyester film color with two-ply thickness for enhanced durability. Besides, carbon tints have no electronic interference but offer superb scratch resistance and heat rejection at a pretty reasonable price. For that reason, this very window tint is considered the best film for heat reduction.
PROS// Available in several tint shades; Blocks up to 99% of UV penetration; Reduces solar energy effect; Comes as a large film roll.
CONS// You must cut it before installation; Not suitable for beginners.
5. MotoShield Pro Premium Professional 2mil Ceramic Window Tint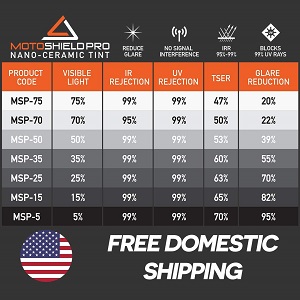 MotoShield Pro Window Tint is an excellent choice for car owners that want to take their windows' protection to the next level. Once applied, it significantly reduces infrared heat and blocks harmful UV rays by 99%. Thanks to its advanced heat-blocking nanoparticles, it keeps your vehicle cooler and more protected, even at high temperatures.
This MotoShiled's tint is easy to install, and you can choose whether you want to do it yourself or have it done by professionals. Depending on your preferences, you can choose from 5% to 75% window shades. Regardless of the shade and size you select, rest assured that this window tint won't turn purple or peel soon after you've installed it.
PROS// Superb heat protection; 99% UV and infrared light protection; Seven shade options to choose from; Easy to install; No signal interference.
CONS// Pricey; It's not scratch-resistant.
6. Mkbrother 2PLY Heat & UV Block Professional Window Tint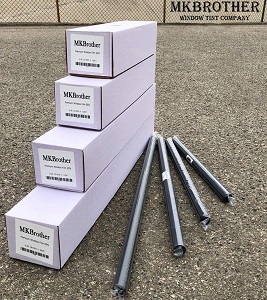 This Mkbrother's product is another auto window tint with exceptional UV protection worth considering. It features excellent scratch-resistant properties and rejects about 50% of the heat that enters your windows. Additionally, it doesn't interfere with satellite or radio signals so that you can drive in an unknown direction with peace of mind.
According to users, this window tint is very easy to install. It includes a set of tools that work great and help you do your job pretty efficiently. The only potential downside would be the difficulty to shrink the film in spaces such as a rear window. Overall, it is a convenient 20% VLT black window tint that provides sufficient protection and privacy.
PROS// 99% UV rejection; No signal interference; Heat and glare reduction; Scratch- and fade-resistant; Easy to apply.
CONS// It's not very thick; It's stickier than expected.
7. VViViD Colorful Transparent Vinyl Auto Window Tinting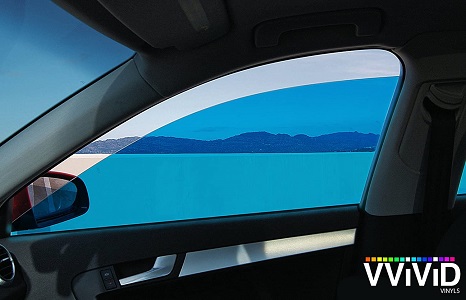 If you're a DIY enthusiast attracted by vivid colors, then VViViD Colorful Transparent Vinyl Auto Tinting may be your product of choice. It is specially designed and engineered for DIYers seeking durable window film to protect their car's interior. It comes in various bright colors, including black, blue, orange, and green.
These adhesive-backed vinyl sheets are easy to install and remove. Once applied, this window tint blocks up to 99% of UV rays. At the same time, it adds bold style and unique color to your car. It repels dirt, dust, and grime, ensuring your windows are clean and good-looking year-round.
PROS// Excellent UV and glare protection; Rich and transparent color choices; Adds style to any vehicle; Self-adhesive window film.
CONS// The color may fade over time; The application process is a bit frustrating.
8. TRUE LINE Pre-Cut Window Tint Kit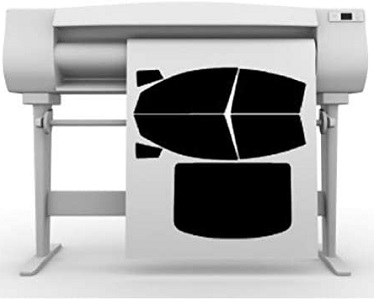 TRUE LINE Pre-Cut Window Tint Kit features a computer customized pre-cut design that allows for more convenient installation. It is available in 10 options that can cover your entire vehicle or some of its parts at the following shades – 5%, 20%, 35%, or 50%. If you purchase a full kit, you'll get the tools to help you with the installation – razors, squeegees, and a spray bottle.
You can use the fitment option to get the right fit for your vehicle or choose the cut the sheet yourself. If you choose the customized option, you can select the tint for a specific car and the exact shade you'd like.
PROS// Computer customized pre-cut design; Tools for installation included; Several tint percentage solutions to choose from; Nice tint color; Various customization options.
CONS// Hard to remove; Some users found it challenging to install the tint.
Essential Benefits of Window Tints
As we already mentioned, tints are packed with benefits car owners will appreciate. For instance:
Cool Car Interior
Window tint film will keep your car's inside cool, fresh, and safe from direct sun exposure. The enhanced amount of darkness helps keep your car a few degrees cooler and blocks a certain amount of UV light from getting inside.
Enhanced Protection from UV Lighting
Car tints reduce the number of UV rays that get inside your vehicle. That said, your car is protected not only from the heat but also from damaging UV light. With window tint, you won't have to worry about fading, cracking, and interior damage.
Less Glare
Direct sunlight and brightness create glare, making it more difficult to drive. Ensure you go for light-to-medium tints to decrease the glare since too dark tints may affect your visibility.
More Privacy
One of the most prominent advantages of window tints is enhanced privacy. Once applied, this product darkens the windows, making it more difficult for curious passersby to peek into your car interior. Besides, it stops potential thieves from finding something attractive inside your vehicle's backseat.
Improved Fuel Efficiency
Although it sounds unbelievable, it is true. By adding an extra layer of darkness to your windows, you're making the interior cooler. This decreases the need for the AC, allowing you to drive your car with improved fuel efficiency.
Appealing Car Exterior
Aside from protecting your car and enhancing the overall privacy, tint for cars makes your vehicle stand out from the crowd, even when it's parked outside. Tinted windows look aesthetically appealing, and you can apply them in various thicknesses and darkness levels as long as it's approved by the state laws.
Most Common Types of Window Tints
There are several types of window tints:
Dyed Film
The dyed film has a layer of dye between a polyester top coating and an adhesive layer. It is non-reflective, budget-friendly, and blocks glare quite efficiently. It provides great visibility while driving, but it's not the best option if you seek long-lasting UV protection. Namely, the dyed film often deteriorates in high temperatures, and UV rays turn its black shade into purple.
Metallic/Metalized Film
Metallic or metalized films have multiple layers – an adhesive layer, a UV-blocking layer, a protective outer layer, and a metallic layer that reflects light. This tint type won't fade, it's pretty durable and reduces heat and UV rays quite efficiently. However, its downside is the potential obstruction of electronic signals and radio waves, including GPS, TPMS, and a cell phone signal.
Carbon Film
Carbon tint blocks UV rays and prevents interior fading. Thanks to its dark, matte finish, this film can reflect up to 40% of infrared light. It will keep your vehicle cool and reduce fuel consumption as you won't need the AC that much.
Ceramic Film
Ceramic window tints contain non-conductive ceramic particles, which is why they perform very well. It is one of the newest window tints on the market, and it's a popular choice among car owners because it doesn't fade, offers enhanced UV protection and glare-reducing properties. It is a more expensive option than its counterparts since it won't interfere with your signals or get damaged by high temperatures.
Factory Tint
Certain car manufacturers offer a factory tint solution. In this case, windows go through a process called "deep dipping," which makes them permanently tinted. Factory tint provides decent protection from UV rays and sun, but it doesn't deliver a lot of privacy.
Most Notable Window Tint Brands
The most popular window tint brands are:
SunTek
MotoShield Pro
3M
LEXEN
GILA
Car Tint Price
Less than $25: Products within this price range often cover a couple of windows and not the entire car.
$25 – $50: You can find some of the best window tints in this specific category. These products often deliver decent-quality features and cover all the windows.
$50 and up: If you seek high-quality window tints, you can always check more expensive products that are easier to use and more pliable.
Features to Consider Before Buying Tint for Cars
Not all the window tints are equal in terms of quality, durability, and percentage of shade they offer. Consider the following features to get the best window tint that matches your preferences and budget in order to make the right decision:
Pre-Cut Window Tint vs. Rolled
While pre-cut window tint is cut according to your windows' dimensions, you must cut rolled tints to match your windows. Pre-cut options are often more expensive than rolled tints, but the latter solution is excellent for those enjoying DIY projects and are good at measuring.
VLT Percentage
The percentage of visible light transmission (VLT) refers to the amount of light that can pass through a tint. Tints that feature a lower VLT are darker, and tints with higher VLT levels are much lighter; for instance, a 50% VLT means that 50% of the light comes into the vehicle. The best car tint percentage depends on you and your needs.
Color Stability
Color stability is the factor that determines the film's durability. Since both your windows and tint will be directly exposed to UV exposure almost every day, you may expect the signs of fading and coloring changes. To ensure long-lasting color stability and enhanced protection, it's essential to pick high-quality products with a color stability rating of less than 1.
Clarity
It's quintessential to choose a window tint that doesn't affect your visibility while driving. The clearer a tint is, the better you'll see whether you're driving during the daylight or night.
UV Protection
Different window tints come with different UV protection levels. Ceramic films are considered the most efficient, while other materials don't come with the best UV blocking capabilities. Enhanced UV protection is of vital importance to prevent your car's interior from fading.
Ease of Use
If you plan on applying the window tint yourself, it's important to find a product that's easy to use. If you're not sure how to apply the product, let the professionals do it.
Heat Dispersion
When your car is exposed to hot temperatures, the heat can easily spread inside the vehicle, making the entire atmosphere quite unpleasant. However, the best window tint won't absorb the heat but disperse it instead, keeping your car's interior cool and fresh.
Window Tint Colors
Window tints come in different colors, including black, blue, amber, green, and gray. You can choose the shade you like and customize it the way you want while enjoying next-level protection from UV rays and other elements.
How to Apply Window Tint in 3 Easy Steps?
You can apply window tint in 3 easy steps:
1.      Prepare the Windows
Before you apply the tint, make sure you remove any detail from your windows. Then, apply the soapy water, scrape out any mess left with the blade, and dry the glass with the microfiber cloth. Finally, use the squeegee to check for wet areas.
2.      Cut the Window Tint Film
Cut a template for the car window on the cardboard to ensure you've got the right window shape. Next, place the template with the film on a hard surface and use the knife to cut the edges of the film to get the same shape.
3.      Fix the Film on the Glass
Use a spray bottle or a squeegee to apply the fluid. Remove the outer layer of the tint film and place the liquid on the sticky end.