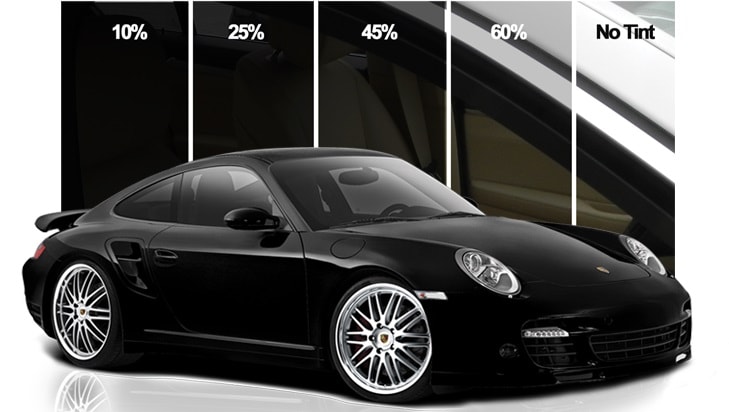 Best Window Tint  – 6 Leaders on the Road
Window tinting is a standard way of customizing your car by applying various color and style polyester foils or film on glass surfaces such as windshield, side windows, and rear glass.
It's not just aesthetics thing since it also protects the interior of your vehicle from sunlight, decreasing the temperature inside and provides you a higher level of privacy. Besides the available aftermarket kits, most manufacturers include a factory window tints. That's a different operation but serves the same purpose and usability.
Follow out guide to the world of window tinting and product reviews and find the best offer for you.
Types of Window Tint



There are 5 main types of window tints available for installation, such as:
Dyed film – This kind of tint has a film of color between an adhesive layer and a polyester top coating. It looks flat and mat from the outside and gives the driver/passenger proper visibility. This film is non-reflective, less expensive, and blocks glare. Still, it features the least amount of heat and UV protection. It can also deteriorate in high temperatures. Eventually, UV rays will turn the color from black to a purple shade;
Metallic film – Metallic tint features a metallic look and includes an adhesive layer, a layer that blocks UV rays, a metallic coating that reflects light, and a protective outer layer. This kind of tint doesn't fade, it's quite durable and great at reducing heat/UV reduction. But, it can hinder radio waves and other electronic signals, like a cell phone signal, TPMS, or GPS;
Carbon film – It blocks UV rays and interior fading. Carbon tint reflects as much as 40% of infrared light with it's dark, matte finish. Carbon film doesn't fade over time, and it reduces overall fuel consumption since carbon film cools your car enough to minimize the amount of air conditioning you need;
Ceramic film – This is the best type of window that features non-conductive ceramic particles. It performs terrific and is the newest style of shade on the market. The ceramic product blocks up to 99% of UV rays, reduces glare more than other kinds of dye, and doesn't fade. It keeps the vehicle at the preferred temperature and doesn't obstruct electronic signals. However, it's more expensive than other tints;
Factory – Several car brands offer you the option of having a factory tint. Windows are permanently tinted through "deep dipping" process. While this darkens the glass, it's not the best auto window tint for UV protection or heat reduction. Factory-tinted windows feature a VLT index of 15% to 26%. This can cool your vehicle's interior but won't give you a lot of privacy or complete protection from the sun.
Key Features



There are several features of automobile window tint products, including:
VLT levels – The shade measures how much light can pass through a tint. Tints typically come in various dyes of black and are rated by the percentage of VLT that enters the car. Products with a lower visible light transmission percentage are darker, while tints with a higher VLT percentage are lighter. For instance, a VLT with 35% means that 35% of the light will come into the vehicle;
UV blocking capability – Each type of automotive window tint has some level of UV-blocking capability. For example, ceramic films are 99% effective, while dyed, carbon, and metalized films don't offer as much protection. The higher the car tint percentage of UV blocking power, the better it is for protecting your car interior from fading;
Ease of use– If you decide to install it by yourself, it's important that you buy a product that's easy to use. This's especially important if you've never done it before. That's why many people prefer to have a tinted window professional carry out the task;
Durability – Another important factor is the longevity of a particular brand. You have to know how long the tint will last on your vehicle after it's exposed to various elements, including the bright sun. The longer it lasts, the less expensive it'll be for you;
Heat dispersion – In very hot weather, temperatures can increase rapidly inside your car, especially if it's sitting for an extended period. It'll disperse heat instead of absorbing it. This will produce a cooler atmosphere inside the vehicle;
Colors – Windows tints come in a variety of colors, including blue, green, gray, and amber. You can customize the appearance while simultaneously keeping cool and protected from harmful sunlight rays. Colored tints, like their black tint peer, should also provide UV protection, heat dispersion, and VLT.

Benefits
As we said, window film isn't only an aesthetic enhancement, but it also provides long-lasting functional merits to protect you and your car.
Keep car cooler – During the summer or in hot climates, the interior of your car can become very hot. The car tint will keep the interior cooler;
Block UV rays – Ultraviolet radiation from the sun can be unhealthy for the human body. It can cause several health issues, including skin cancer (melanoma), premature skin aging, and cataracts. Window tint will protect you adequately from these harmful rays;
Decrease glare – When you're driving, the sun can be very bright, which can produce eye fatigue. This's particularly useful if you're making a long-distance on a sunny day;
More privacy – It'll conceal items inside your vehicle, especially things in the back seat. It's also more challenging to notice folks inside a car with a window tint;
Reduce fuel consumption – Since these products keep the car interior cooler, you're less likely to crank up the air conditioner. This cuts down the amount of fuel you use, saving you money;
Protect interior against fading – This will prevent the hot sun from breaking through the glass and fading the front and back seats, dashboard, and other interior surfaces;
Improve glass protection – It has an adhesive layer that prevents the glass from shattering if it's struck in an impact.
Pricing
The price of its montage depends on many factors, such as the type of film, brand, and the car shop to get the tint installation service from.
Under $25 – There are several options on the market in this price scope, but they sometimes cover only a couple of windows and not the whole vehicle. A few may be installed with static cling instead of adhesive;
$25-50 – Some of the great products fall into this class. You can get a fine-quality product for this price, and they usually come in larger square footage;
Over $50 – Best window tint brand may cost upwards of several hundred dollars. More expensive products tend to be more flexible and easier to use with bent surfaces. They're more resistant to peeling and bubbling, too.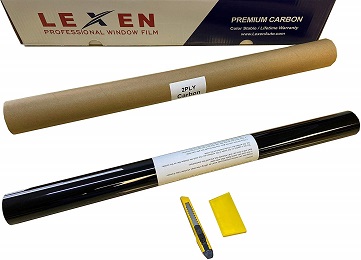 This scratch-resistant tint blocks 99% of UV rays and is non-reflective. It features the following tint shades: 50%, 35%, 20%, 15%, and 5%. Carbon pigments deliver superior heat rejection and color stability. LEXEN supplies thousands of tint patterns for 1990-2020 vehicles.
The company recommends using a professional tint squeegee application tool kit, which can be bought separately.
It's the best pre-cut window tint that makes it easier to montage than rolled tints. The kit is cut to match your model vehicle and is much less expensive than a rolled counterpart. Once installed, it provides crystal clear visibility without blurring. Plus, it's easy to remove the tint in case you don't like it, or you want to revamp it.
Eventually, you'll have a heat gun to shrink the tint to match curved windows. Shrinking the tint may be difficult, and if performed incorrectly, it'll create a "finger" effect on the glass.
PROS//
Easier to install than rolled tints;
Has a nice color and is durable;
Once installed, it provides crystal-clear visibility without blurring;
Blocks 99% of UV rays, plus non-reflective.
CONS//
Very thin, creases easily, and fades over time.

You don't need to be exposed to the UV rays when Black Magic 5044827 is here to help. It comes as a roll measuring 26 × 78 inches.
Even though this requires the task of cutting the film to the correct measurements of your vehicle's window, it gives you the flexibility of installing it on any car after buying.
Also, applying this tint is as easy as it gets. It sticks by static, and therefore, no glue is needed throughout the installation. This makes it removable and reusable, just in case you wish to replace the window due to cracks.
When it comes to window tint shades, this product is available in 5%, 20%, and 35% VLT, which are fewer than the other choices but still enough for most tinting tasks. Anyway, one film roll can have a single VLT percentage, meaning that you need to purchase multiple rolls if you opt for different shades.
PROS//
Doesn't require glue during the application;
Provides you the flexibility of using it on any car window;
Roll size can be used on at least two windows;
Recyclable and can be taken off if necessary.
CONS//
Doesn't come with a spray solution, razor cutter, or a squeegee.

If you're a fan of very dark films, this's probably the right choice for you. It's an ultimate limo black film that features a VLT of only 2.5%, which means that it blocks 97.5% of the light from penetrating.
This provides you the benefit of reducing glares, particularly from the side windows, which would otherwise hinder your visibility. It also offers you the highest level of privacy since it's impossible to see through these dark light paths.
Additionally, the product is made using a deep-dyed scientific formulation that makes it non-fading and durable, at least for a while. In terms of size, Gila XLB242 measures 24 × 78 inches, which is somewhat small and could at most cover two side windows.
PROS//
Superb darkness (2.5 VLT);
Doesn't fade as quickly as other dyed tints;
Reduces glares while providing the highest level of privacy;
Easy to apply.
CONS//
Available only in one tint shade.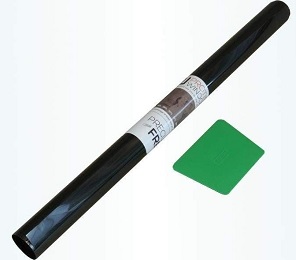 This product is available with 5 different dyes of tint, starting from 50% to the 5% VLT index. The manufacturer claims that the product features a 99% anti-UV rate, which makes this product as best car window tint for heat reduction.
This isn't a metalized window film style of tint, so it doesn't reflect light, and it is a regular foil for vehicles. Still, there's a slight mirror effect. The quality of the material is decent, and it doesn't turn purple after a while. The primary color is dark gray, almost black, which is ideal for most car owners.
It's a perfect fit for flat glass surfaces, but on some more difficult glass parts, there could be some issues with the adhesion of the foil. It isn't pre-cut, so you need to cut it yourself, and it's best to use an application kit which is available from the PROTINT.
PROS//
Available in a variety of tint shades;
Blocks up to 99% of UV penetration;
Minimizes solar energy effect;
Includes as a large film roll.
CONS//
Needs cutting before installation.
5. OxGord Car Window Tinting Black Reflective Window Tint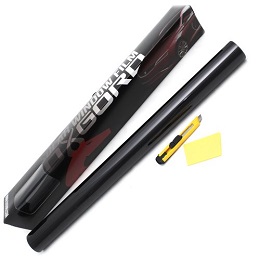 The OxGord foil comes with 3 regular VLT index sizes (20%,35%, and 50% VLT), and it's not pre-cut, like some products on this list.
It's also slightly shorter than other foils but still long enough to tint average size side glass on a vehicle. It employs the same type of installation routine and comes in a pack with a scalpel and piece of hard plastic for squeezing the water/air beneath the foil.
It's highly recommended to hire professionals for the best results and excellent fit. Although it isn't a metalized window film kind, it has a slight metallic appearance, which is great to UV and heat rejection and can look classy.
Its foil is peel-proof and won't turn purple after some time, and you can use it on car windows as well as on home glass and other surfaces.
PROS//
Solid quality;
Three index sizes;
Peel-proof;
Aesthetically-pleasing appearance.
CONS//
You need two packages for covering all your side windows or bigger surfaces.
6. Huper Optik Ceramic Window Tint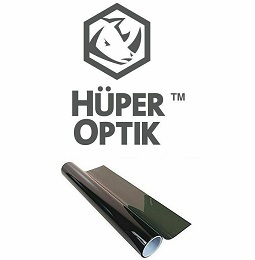 Huper Optik is a German brand specializing in high-quality products for all applications and their Ceramic line, one of the best ceramic window tint products available. It's capable of heat rejection levels that only a darker non-ceramic film can match, and doesn't obstruct electronics operations.
It's features dark shade on the window, so there are none of the shiny reflective appearances like on a metallic film. Unlike typical tints, ceramic products enable clear visibility even at darker levels due to the advanced technologies involved.
This is easily among the best models you can get today, and the high price tag will reward you with performance ahead of its category.
PROS//
Reduces energy consumption;
Long-term investment;
Made from high-quality material;
Use nano-ceramic technology.