Ceramic Window Tint – 6 Best Performers in 2022
Ceramic window tint is a relatively new development in the world of window tinting. Using neither metal nor dyed film, this new generation of window tints rely on nanotechnology to attain its effects.
It blocks out more (UV) ultraviolet and (IR) infrared rays than any other technology currently available. Due to the ceramic-based nano-particles, this product also lets less heat into your car, truck, SUV, or boat while also boosting the durability of any window.
Read the following rows and discover what ceramic window tint really is, the benefits of using it, why it's better than other types, and what are the top products in 2022.
What is Ceramic Window Tint?
It's the highest quality car window tint product, and also the most expensive. This type doesn't contain metal, dye, carbon, but instead a sort of ceramic particle that's both nonmetallic and nonconductive.
It has recently stepped on the market but already proven its worth in terms of reliability and performance. Ceramic tint cuts from 45% to 50% of solar heat that enters through the windows in the form of the infrared light, while enabling maximum visibility both day and night.
Plus, it allows the great efficacy in the functioning of cell phones, radios, GPS systems, and other devices being operated from inside the protected space. It outclasses other types of window tint in its resistance to glare/fading and renders windows extremely shatter-proof. Plus, it's most efficient in blocking UV light up to 99% of entering the interior.
How Much Ceramic Window Tint Costs?
When it comes to window tinting prices, range rather drastically. Non-ceramic tinting can cost $50 to $500 for using standard, nonreflective film. On the other hand, ceramic window tinting pricing varies from $100 to $900, depending on client requirements.
Benefits
While the advantages are similar to the other benefits of convention window tint, there are added advantages that come with the installation of ceramic tint.
Durability – Since other types of tint tend to fade during the time, they look less appealing with long-term wear. This is eliminated with this product;
UV blocking – It blocks (as we said) 99% of the UV rays that penetrate windows. These light rays are harmful to the skin and can cause wrinkling, sun damage, and the development of skin cancer. This's one of the most pivotal health benefits of ceramic tint;
Infrared light prevention – This form of electromagnetic radiations isn't visible to the human eye, but is perceived as the ray that produces the feeling of heat. This product blocks up to 90 percent of the IR rays that enter windows. It causes a reduction in solar heat, making the interior experience cooler;
Glare resistance – Thanks to the technology by which this tint is made, there's a high reduction in the amount of glare and reflection created by this product. The key is in the ability of the ceramic particles to absorb light rays, blocking penetration, and minimizing glare;
Shatter-proof – It means that in case of an accident or damage to the window, the glass shards will break but stay fixed in place, making this a safer option to the available alternatives;
Metal-free – Many metal-based tints interfere with the functioning of electronic devices including, smartphones, radios, GPS systems, by obstructing and blocking the electronic and radio waves that help these devices to work. Since ceramic tint is 100% metal-free, it enables the normal functioning of electronic devices.
Ceramic Tint vs Regular Tint
Ceramic tints are made of millions of microscopic particles of titanium nitride impregnated into thin layers of films. Unlike dyed products that often discolor and fade over time, this product will never alter colors or fade after years of exposure to direct sunlight. It's 100% resilient and color stable.
Metalized tints are mostly color stable too, but their appearance is unappealing to many people. These products tend to be shiny and reflective and create a mirrored look that can detract from the presence of a car, while the ceramic tints are nonreflective. They're also inert and don't block or interfere with the signals from the radios, GPS devices, and phones – a typical problem with metalized window tinting.
Another great benefit of ceramic window tint vs regular tint is that many ceramic options are almost entirely invisible. Certain ceramic tints let for the reduction of solar heat and the rejection of UV light without the noticeable darkening of the windows or any visible alteration of the vehicle's appearance.
Ceramic Window Tint vs Carbon
Carbon film tint is one of the modern types of vehicle window film, and it offers many of the benefits of nano-ceramic tints. It doesn't interfere with phone, satellite, or radio transmissions, and it's not reflective or shiny like metallic tints. But carbon films do tend to be quite dark in appearance, adding more shading than many drivers prefer. These products are also slightly less effective than ceramic ones at blocking solar heat.
The carbon content of the tint blocks about 40% of the IR light that enters through the windows. Ceramic product cuts from 45% to 50% of the solar heat that "goes" through the windows in the form of infrared light, while enabling maximum visibility both by day and night.
What Is the Best Ceramic Window Tint?
It's hard to give a straight answer to this question since these products have different performance, appearance, price tag, and so on. In order to help in making the right choice for your car, we made a list of the top 6 best ceramic window tint products available on the market.
1. 3M Automotive Window Film Ceramic Series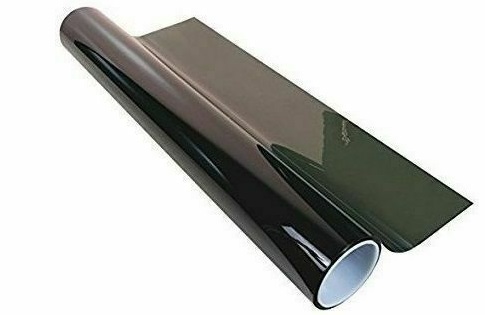 The Ceramic Series delivers fantastic heat reduction and clarity you can depend on for many years. Advanced ceramics in the tint reject up to 59% of total solar energy and up to 80% of IR rays – all while retaining superb visibility. Its non-metalized property lets you stay connected with mobile devices, GPS, or satellite radio reception without interference.
This product blocks up to 99% of ultraviolet light to provides a total SPF (sun protection factor) of up to 810 for you and your occupants.
Utilizing nanotechnology, this film produces ceramics so fine they aren't only invisible to the human eye, they're imperceptible with an ordinary microscope. The result is a tough product, won't corrode, and improves your view with higher clarity.
Unlike other high-performance tints that can corrode and often change colors on the edges, the Ceramic Series preserves its freshness and presence and will continue to look good during the time. Boosting comfort, protecting car interiors, and blocking UV rays are trademarks of 3M Automotive Window Films.
Key features
Provides outstanding heat reduction and clarity;
Offers great visibility;
Allows you to stay connected with mobile devices, GPS or satellite radio reception without interference;
Blocks up to 99% of UV light;
Reduces up to 60 percent of the glare from blinding sunlight, letting you see better and concentrate more on driving;
Durable, maintenance-free, and backed by a limited lifetime warranty.
2. Hyper Optik Ceramic Tint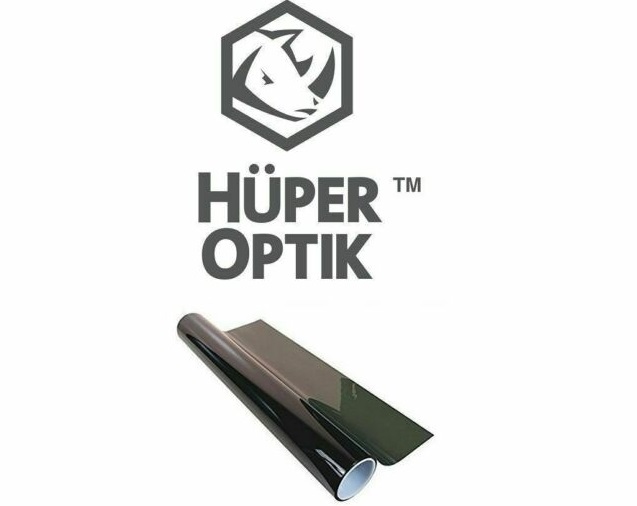 As pioneers in ceramic window tinting planet, the patented nano-ceramic line by Hyper Optik is one of the top performers in the industry. Their patents give them exclusive access to the top-grade ceramic available on the market, resulting in high-performance, atomic-fine, durable film, which is 100% metal-free and dye-free.
Huper Optik ceramic window tint exceeds your expectations with its marvelous performance. In order to improve the overall comfort of driving in your car, this film offers fade control and prolongs the life of the vehicle's interior.
By cutting out excessive glare to the eyes and cancer-causing rays to the skin, passengers are guarded against the harmful effects of the sun. And by cutting down unbearable heat, this high-performance tint cools the car more efficiently and minimizes fuel consumption.
Key features
Prevents up to 70 percent of total solar energy;
Reduces the effects of fading by blocking 99% of UV rays;
No discoloration during the life of the product;
Powerful heat and skin protection;
Provides a neutral, soft tone that doesn't appear metallic or shiny;
Due to the spectrally selective technology, visibility isn't compromised.
3. Motoshield Pro Nano Ceramic Tint Film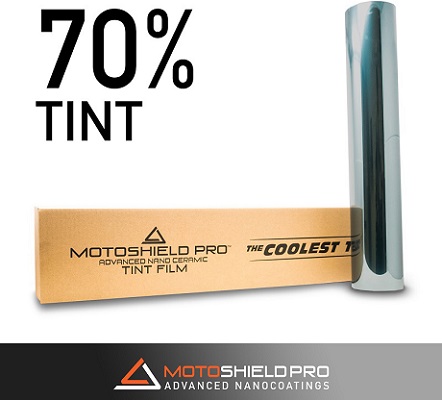 This reviewed Motoshield's nano-ceramic window tint features a VLT (visible light transmission), and it's rated with a glare reduction of 95%.
It blocks 99 percent of both UV and IR light passing through the vehicle's windows, which means that it'll keep your vehicle cool in the summer months, and you'll use the air condition a lot less while it's sweltering out.
The roll is 20" x 100' (other sizes also available); therefore, a single roll should cover all that you want for the car. It's also easy to set up, so you can apply it to other areas, including windows, sliding glass doors, or anywhere that you might need a little bit of tinting and some blocking of solar heating.
Key features
Nano-ceramic tint film;
Blocks up to 99% UV, 99% IR,70% TSER (total solar energy rejected), and 95% glare;
2 Mils in thickness, minimizes interior temperature up to 25F, and environmentally friendly;
Maintains signal;
Available in 7 shades;
Won't fade or turn purple.
4. Solar Gard Ultra Performance Automotive Window Tint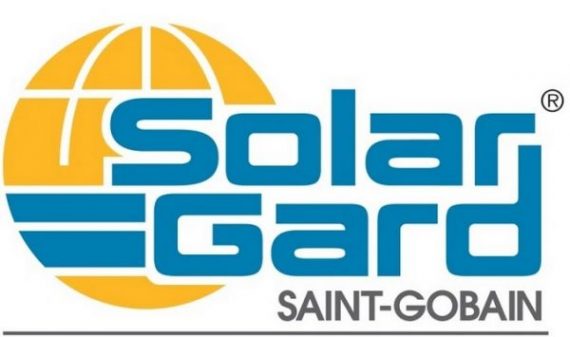 The Solar Gard Ultra Performance Tint is a ceramic product constructed for high levels of solar rejection and glare reduction without restricting visibility or producing electronics interference. This's possible thanks to the superior ceramic material, which uses nanotechnology that stops harmful rays from passing through.
Ultraviolet light penetration is minimized to near-zero levels, and the interior will remain much cooler due to solar energy rejection. Since there's no dyes or metal content in the film, there are none of the drawbacks associated with either, so the electronics will work freely without interference, and the tint will never discolor or bubble even after prolonged use.
Since it blocks over 99% of damaging and harmful UV light, it'll protect the vehicle's interior from fading and yourself/occupants from premature skin aging.
Key features
The unique combination of high heat rejection and high VLT;
Protects from fading or color change;
GPS, satellite, radio, tire pressure monitoring system and cellular friendly;
Blocks more than 99 percent of the harmful UVA and UVB rays;
Available in 7 shades;
Limited lifetime warranty.
5. LLumar CTX Window Tinting Film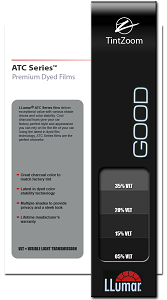 LLumar's CTX lineup of great-quality ceramic window tint features durable, scratch-resistant construction while resisting fade and discoloration often seen with cheaper tinting solutions. Ultimately high levels of heat/glare rejection protect the interior of your car successfully.
This makes a more comfortable driving environment for occupants, while UV penetration is reduced to almost nothing. This ceramic window film also removes the risk of electronic interference, providing you full and unobstructed device functionality.
So, choose this limo-inspired look tint for maximum privacy, wrap the windows in a sophisticated medium tone, or pick a more subtle shade. Whichever option you select, with the CTX series, you'll do more than just enhance the look of the vehicle.
Key features
Outstanding heat rejection;
Great UV rejection;
Clear and easy connectivity;
Custom style capability;
Reduces fading;
Increases privacy.
6. Alpine PreCut Kit Auto Window Tinting

This precut ceramic window tint from Alpine uses the latest nano-ceramic technology with IR reduction, delivering long-lasting durability and unmatched heat rejection for superb comfier on every hot sunny day.
This ceramic window film is available in a wide variety of tint shades – from a terrific 3% super limo for maximum privacy to an almost virtually clear 70% for stunning visibility and sun protection. It blocks nearly the entire amount of UVA (ultraviolet A-rays) and UVB (ultraviolet B-rays) rays, which are the primary source of interior fading and skin damage.
The product doesn't contain metal, meaning it won't obstruct your cellular signals, GPS, radar detector, toll pass, and garage door opener, plus your satellite and radio will be uninterrupted.
Key features
Excellent heat rejection;
Infrared reduction;
Crystal clear clarity;
Strong and durable;
Doesn't contain metal;
Zero interference with device signals;
Lasts after years of extreme weather.