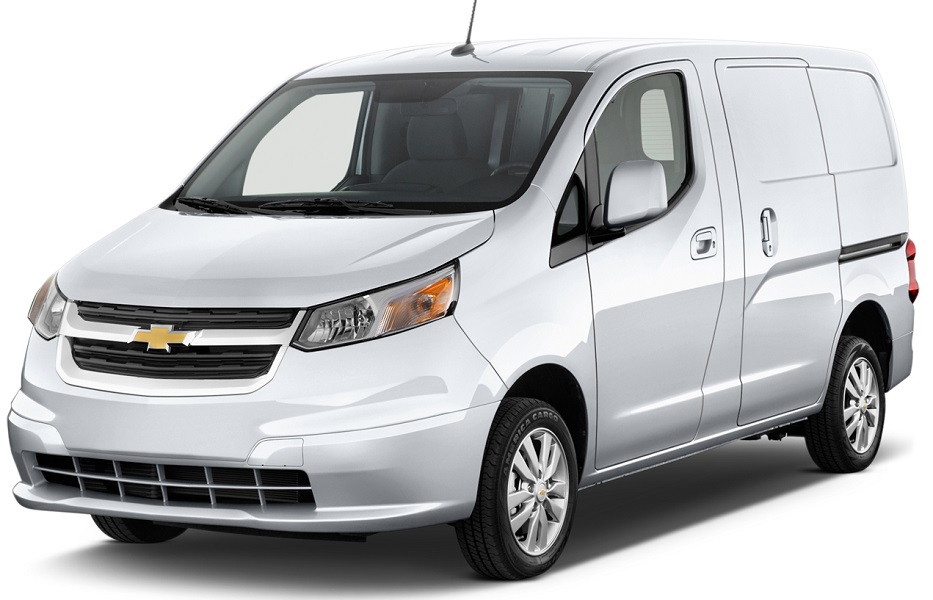 Chevy City Express - Ultimate Compact Work Van
Fundamentally a rebadged version of the Nissan NV200, the Chevy City Express is the bow-tie brand's entry into the compact commercial van niche. The City Express has its premiere as 2015 model, 2 years after the Nissan NV200. Main competitors are the Ram ProMaster City, Ford Transit Connect, and a degree slightly bigger Mercedes Metris. While the U.S. market hasn't given compact vans a warm welcome, they've received in Europe, this segment is still alluring to businesses who don't require the large footprint and higher fuel expenses of a full-size van. Therefore, the Chevy Express is the perfect choice for those needing to deliver on confined city streets and narrow back streets. City Express isn't so technologically equipped like its opponents Ram ProMaster City and Ford Transit Connect, but it does offer a lower price excellent fuel economy, and a substantial dealer network.
2015 Chevrolet City Express

Year: 2015
Mark: Chevrolet
Model: City Express
Engine: inline-4
Transmission: CVT Automatic
Horsepower @ RPM: 131 @ 520
MPG(Cty): 24
MPG(Hwy): 26
Torque @ RPM: 139 @ 4800
Displacement: 2.0 L
0-60 time: 9.8 sec. (Est.)
Top Speed: 108 mph (Est.)
Layout: Front-engine, Front-drive
Price: 22950
Car segment: utility veh
body style: minivans
Trim Levels
The Chevrolet City Express is offered in 2 trim levels: the base-level LS and the upscale LT. The City Express LS includes only the basics. That is anti-lock brakes, traction control, keyless entry, and power locks, but you won't get power mirrors. Other standard features are Bluetooth, air conditioning, power windows, a rearview monitor, side airbags, 6 D-ring cargo hooks in back, a 2-speaker sound system, and vinyl floor covering. Considering the small price jump to the LT, you won't find too many extra features in the higher trim level. Still, it does add a few more Chevy City Express accessories, such as rear park assist, cruise control, and power adjustable heated side mirrors.)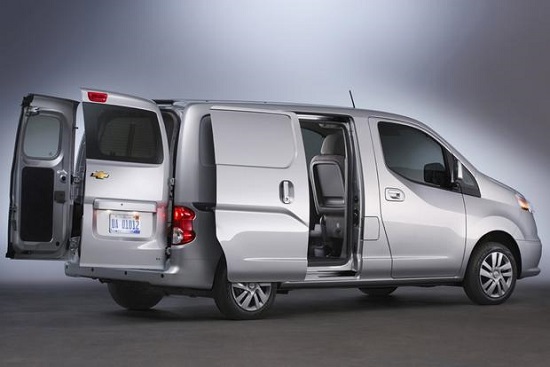 Driving
The FWD front-wheel-drive City Express has just one engine: a 2.0-liter 4-cylinder, with CVT (continuously variable transmission) that makes 131 horsepower. The high profile, boxlike of this small Chevy van makes it "vulnerable" to crosswinds. Initial steering turn-in is tight, helpful when performing low-speed parking lot maneuvers. The turning radius is 36.7- foot, which is excellent for a utility van. Steering weight is lighter at lower speeds and increases appropriately as speed picks up. Generally, the steering works well, especially considering its purpose as a work van. The 131-hp engine is excellent for city driving. More power would be preferably for carrying larger loads. The rear-drum brake combo and front disc functions stable in regular driving conditions.
Comfort
The modest design of the City Express negatively affects comfort. The ride quality is average for a work van. The ride will also be affected if you load the van to its maximum payload rating. The sloping door panel design provides poor armrest. Only the driver has a center armrest, while the seats have proper support. A lack of steering wheel adjustment signifies that certain drivers will never find their ideal driving position. For example, the Chevy City Express cargo van is a 2-seater, with no back seats. But there's a big storage area that becomes quite noisy when empty. Just, load the van full of gear, so the noise gets lower noticeably.
Interior
Air conditioning and fan controls are standard equipment, radio functions are a combination of knobs and small buttons. The fuel filler neck is positioned quite low since 6-footers will need to bend down to refuel. The rear cargo area space is 4.7' wide by 3.9' tall by 6.7' deep, measured by way of the rear cargo doors. Sliding doors allow access from both sides of the vehicle. There are also cargo mounting points inside the storage space. Front doors open to almost 90 degrees for terrific access to the seats. Sliding cargo doors on either side open completely load area access. Rear cargo doors can open near to 180 degrees. Large front windows with optional lower hide-and-seek windows enhance forward/side views, as do the large side blind spot mirrors.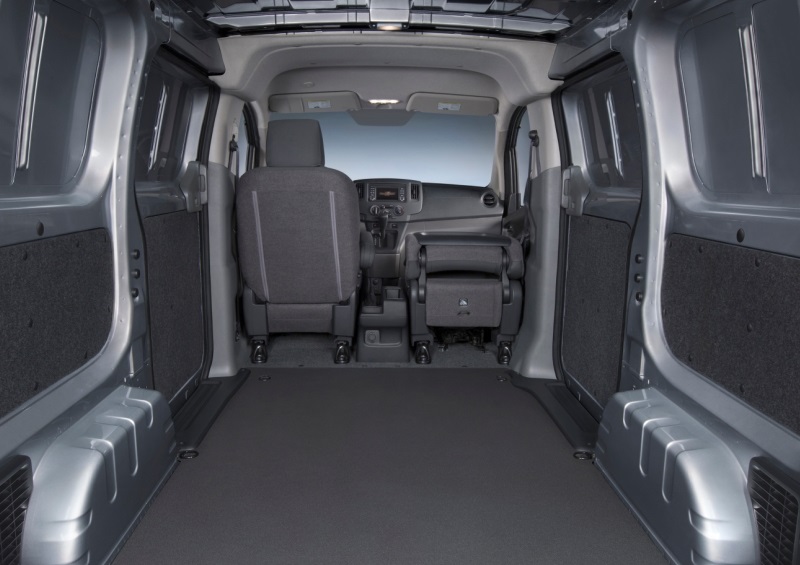 Safety
This cargo van comes standard with, front-side airbags, traction control, and anti-lock brakes. LT versions also include rear-park assist. While a backup camera is optional, the Chevrolet mini van doesn't offer any high-tech safety equipment such as rear cross-traffic alert or a forward-collision alert system. The Chevrolet City Express hasn't been crash-tested by the
NHTSA
(national highway traffic safety administration) or the nonprofit
IIHS
(insurance institute for highway safety).
Chevy City Express Payload Capacity
Center console storage includes 2 medium-depth trays and a large, laptop-size bin. None are covered. Door pockets are too narrow for cupholders. Behind the front seats is 122.7 cubic feet of cargo space. Max payload is 1,500 lbs, while the towing capacity info isn't provided by GM.
Chevy City Express MPG
Chevrolet claims its City Express van is rated 24 miles per gallon in town and 26 miles per gallon on the highway, like the Ford Transit Connect that pioneered the small city van segment in the USA.
2018 Chevrolet City Express

LS FWD

Powertrain
Continuously Variable Transmission
Continuously Variable Transmission
Drivetrain

FWD

FWD

Fuel Economy, City

24 MPG

24 MPG

Fuel Economy, Highway

26 MPG

26 MPG

Fuel Tank Volume
14.5 gal
14.5 gal
Engine
Fuel Type

Gasoline

Gasoline

Power

131 hp @ 5,200 RPM

131 hp @ 5,200 RPM

Torque

139 lb-ft @ 4,800 RPM

139 lb-ft @ 4,900 RPM

Cylinders

4 cylinders

4 cylinders

Compression Ratio

9.7:1

9.7:1

Displacement

2,000 cc

2,000 cc

Bore x Stroke

3.31 in x 3.55 in

3.31 in x 3.55 in

Safety
ABS Brakes
Standard
Standard
Driver Airbag
Standard
Standard
Passenger Airbag
Standard
Standard
Front Side Airbags
Standard
Standard
Curtain Airbags
Standard
Standard
NHTSA Crash Test Results
Comfort and Convenience
Air Conditioning
Standard
Standard
CD Player
Standard
Standard
Radio
Standard
Standard
Power Windows
Standard
Standard
Power Door Locks
Standard
Standard
Interior
Maximum Seating
2 seats
2 seats
Front Legroom
42.6 in
42.6 in
Back Legroom
--
--
Payload and Towing
Cargo Volume
122.7 cu ft
122.7 cu ft
Maximum Payload
1,502 lbs
1,500 lbs
Exterior
Length
186.3 in
186.3 in
Width
68.1 in
68.1 in
Height
73.7 in
73.7 in
Wheelbase
115.2 in
115.2 in
At first sight, it might be challenging to distinguish between the two, aside from differing front end treatments. That's because the powertrain, body shell, and engineering of the City Express have been all adopted from the Nissan NV200. Power Both vans have the identical powertrain, a 2.0L four-cylinder engine with 131 horsepower and 139 lb-ft of torque, with the same 24 mpg city/26 mpg highway fuel economy rating, and the identic 122.7 cubic feet of cargo room. While these numbers are fantastic for a cargo van, it's the warranty and standard features that push the NV200 ahead of the City Express. Safety & Security NV200 and the City Express have front-wheel drive, traction control, standard driver and passenger frontal airbags, side-impact head airbags, front side-impact airbags, front seatbelt pretensioners, height-adjustable front shoulder belts, four-wheel antilock brakes, daytime running lights, plastic fuel tanks, rearview cameras, available rear parking sensors, and electronic stability systems to prevent skidding. Warranty The Nissan NV200 comes with a full 5-year/100,000-mile basic warranty, which covers the entire van and offers free 24-hour roadside assistance. The City Express' 3-year base warranty expires 2 years and 64000 miles sooner. The NV200's corrosion warranty is unlimited miles longer than the City Express' 100,000 miles. Price Despite the resemblances of chassis and the higher-level features of the NV200, the Nissan comes at a lower MSRP (manufacturer's suggested retail price) of $22,945. The Chevrolet City Express starts at $23,850 MSRP.
Chevrolet Express Cargo Van Pros & Cons
Fleet operators will like what the Chevrolet City Express brings to the table. The compact cargo van offers strong fuel economy and affordability. You can rely on it to get the job done with no stress. While behind the wheel, you'll undoubtedly appreciate its easy-to-drive style. Additionally, there are some useful features and disadvantages on the van's list of options.

Easy to handle: Unlike a larger cargo van, the small Chevy van is easy to maneuver on the road. Its light steering and compact design will deliver you a better sense of control. So, you'll be able to navigate the van in confined areas easily. The van's narrow style also comes in handy when attempting to park in a tight lot;
Excellent gas mileage: The combination of a 4-cylinder engine and a CVT transmission helps the Chevrolet City Express to return up to 26 mpg. Plus, you can avoid the extra expense on the premium gas;
Easy loading: When loading stuff into the van's cargo area, you'll value its dual sliding doors highly. The van's floor is also rather low, which allows you to load and unload items quickly. With a maximum cargo capacity of 122.7 ft3, the Chevy mini cargo van is about the right size for plenty of businesses;
Versatility: A folding passenger seat makes this van an even more versatile vehicle. You can actually use the passenger seat as a worktable, and it can comfortably accommodate a laptop. By folding down the passenger seat, you'll be able to make a space for longer items. There's also an extra storage compartment underneath the passenger seat.
---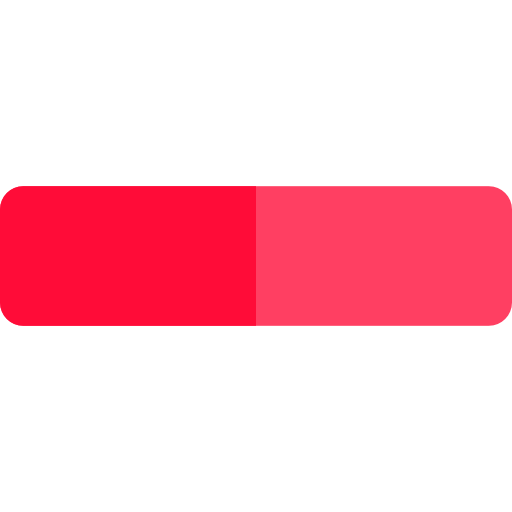 Poor acceleration: When you're behind the wheel of the City Express, don't expect fast acceleration. It needs more than ten seconds to reach 60mph. And, Chevy only offer a single engine choice, which develops 131 horsepower;
The absence of a telescoping steering wheel: Unluckily, Chevy doesn't have a telescoping steering wheel. It may cause some problems for drivers. A telescoping steering wheel makes it easier to get a relaxing driving position. You must rely on the 6-way adjustable seat to gain more comfort.