Best Hail Car Covers 2022 Reviews [Ultimate Buying Guide]



Before you rush out to get the first hail protector you come across, take a few moments to consider some key facts about car covers for hail protection. The information you learn here can help ensure you purchase the right one and get the best possible experience with using it. We have also included a buying guide to help you find the exact model for your car preferences.



Hail Car Protector Reviews



If you are looking to protect your car from hail, you came to the right place. We have researched and compiled a list of the 8 best car covers on the market and stock.
8. Leader Accessories Platinum Guard Car Cover – Best for Budget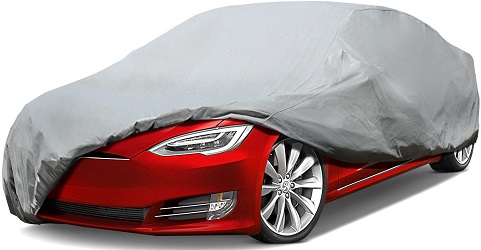 The Platinum Guard Car Cover for hail features four layers of unique material made of polypropylene, two UV layers, and a one-layer of cotton for thick protection that will stand up in all weather. It's windproof, which means you can leave your car outside without worries. This model boasts an elastic hem for the tightest fit, but do be aware that it doesn't stop moisture build-up, so you have to remove it to ensure no mildew growth regularly. It includes a storage bag and antenna patches. While it likely won't prevent large hail damage, it's decent inexpensive protection from small hail.

Easy for storing and handling;
Has 7-layer construction for maximum durability
The fabric is water-repellent and breathable ;
Elastic hems and tie-down system keep the product in place;
Fantastic price.

7. OxGord Executive Strom-Proof Car Cover – Best for Stormy Weather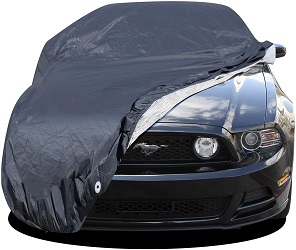 As its name suggests, OxGord Executive Strom-Proof Car Cover is touted as the ideal option for stormy weather. It fits tightly and provides 7 layers of protection against hail, wind, and water. The soft inner fleece protects your car's paint when putting it on or taking it off. This model has reinforced seams for complete durability yet is also breathable to prevent troubles with moisture trapped underneath it. The hems have elastic and sport a drawstring for a tight fit to stand up to the wind. This model helps prevent theft with security grommets and comes with a storage bag and antenna patch.

Durable 7-layer construction for all-weather protection
The microporous film provides breathability
The cotton lining guards the finish;
Semi-snug fit with elastic seams;
Comes with additional tie-down grommets for windy conditions.

Oversized for small vehicles.
6. Autsop Car Cover – Best Mirror Pockets
The 6 layers of the Autsop Car Cover provide your vehicle with all the protection it needs against hail. Choose from 13 different size options for the right fit on almost any car. This padded car product is made of premium materials that provide adequate hail protection. It's 100% waterproof and includes UV protection materials. The super thick feature means it can withstand a fair amount of impact from hail and shake off anything the sky may throw at it. Its unique design features a zipper on the driver's side so you can quickly get into your car without removing the whole construction.

13 different size options;
Mirror pockets for easy managing;
100% waterproof;
Super thick material against hail;
Made from premium materials.

5. KAKIT 210D Truck Cover – Best for Trucks
KAKIT 210D Truck Cover comes with a strap to hold down the cover and keep the wind from ripping it off your car. The strap boasts a buckle to ensure no amount of wind will loosen or remove it. Its special design allows rain to filter and runoff, so you'll never see a standing pool of water on the truck bed. The construction is a 3-ply fabric blended with 6-ply top material for added protection. The double-stitched seams ensure it remains hermetic. It offers a universal fit for most trucks' sizes but may not protect larger vehicles' complete back end.

Two-year warranty;
Easy to install and best hail cover for truck;
100% waterproof;
Made of heavy-duty material;
Comes with a windproof ribbon.

Doesn't include side mirror pockets.
4. HP Hail Protection Cover – Best Nighttime Visibility
Car hail protection from HP provides a universal fit that is strong enough to stop hail, falling acorns, and even small branches. Although 100% protection isn't guaranteed with this product, the design includes a 4mm layer of hard-pressed foam around the roof, trunk, and engine compartment to cushion the weather's impacts. This product comes with reflective seams for easy recognition at night, while built-in elastic attachments in the front and back provide a tight fit. The interior is laminated with varnish-protecting tile fabric that is soft and supportive as well.

4-millimeter thick hard-pressed foam padding
Water-repellent coating;
Soft interior lining protects the paint finish;
Reflective stitching for enhanced nighttime visibility;
Elastic bands.

Requires a tie-down system for extreme wind.
3. Reliancer Car Tent and Umbrella – Best Umbrella Tent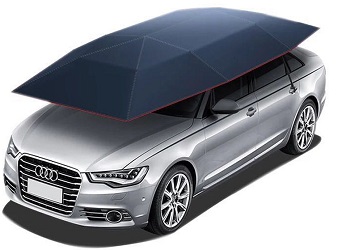 The Reliancer Car Tent and Umbrella is unique car protection with a silver-coated material that will keep interior temperatures up to 45F cooler during a hot summer day. It is also 100% waterproof, providing your vehicle with an extra layer of protection. It's made more for light rainfall instead of hail, but you will receive some hail protection in the event of an emergency. The steel wire works as an anti-theft rope. At the same time, the TPU (thermoplastic polyurethane) rubber soft suction cups deliver stability in most conditions. It needs about 30 seconds to install this item fully.

The semi-automatic tent takes 8 seconds to open;
Can be applied as emergency hail protection car cover;
Waterproof polyester material with fiberglass frame;
Anti-theft ropes and windproof ropes with hooks;

Doesn't handle high wind.
2. CoverMaster Gold Shield Car Cover – Best Value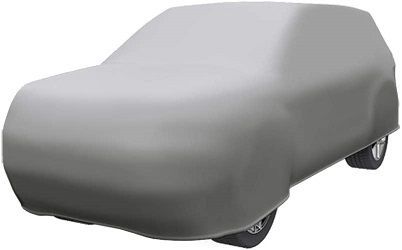 CoverMaster Gold Shield Car Cover consists of three layers of material to ensure a watertight fit. The inner layer is a soft fleece fabric to protect the car paint. The middle layer is breathable to prevent oxidation. This item is hail proof and can withstand extended sun exposure. It features an excellent fit that ensures a seal over your car for the ultimate in protection. With the purchase, you get a free lock and cable for adequate basic security if you park in an unfamiliar area or have other concerns about the vehicle. You'll also get an antenna patch and storage bag. Plus, the manufacturer offers a lifetime warranty.

100% waterproof with a lifetime warranty;
Extreme weather protection guaranteed;
Comes with antenna patch, storage bag, free lock, and cable;
Prevents oxidation and water build-up;
Cotton fleece coating protects the car's finish.

Not recommended for sunny climates.
1. Platinum Shield Car Cover – Editor's Choice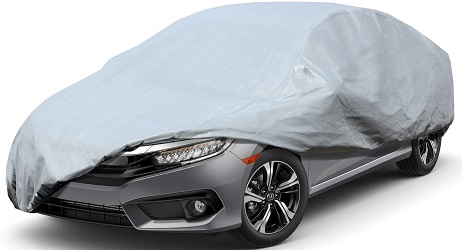 You will want to go with the Platinum Shield Car Cover from Car Covers for the best car cover for hail protection. It features an inner fleece lining while providing a strong, weather-proof exterior shell that reduces the risk of hail damage. Elastic seams on the front and the back work to ensure you receive the fit you need. High-wind straps arrive with the cover in the box, along with a cable and lock to prevent theft. Its reflective material sports a polyurethane coating to let rain to roll right off. It includes ultrasonically welded seams for tight protection and reinforced grommets for durability.

Limited lifetime warranty;
Durable synthetic fabric with soft fleece underlining;
Durable stitched hems for leak protection;
Comes with a storage bag, cable/lock set and antenna patch;
Ideal for hot and sunny climates.

Buying Guide
Realizing the disparity of the hail proof car cover models should be a priority before you get one. This is the only way possible to find one that will fit your car ideally. To help you in the search, we have put together this buying guide.
Things to Consider Before Purchasing
Here are some things to consider before acquiring a hail car cover.
Car and hail cover size – The size of a car covers differs from model to model. Therefore, it's imperative to ensure that you know your vehicle's size when looking for the best option. You'll find some which are elastic and can fit most cars. You'll also notice some that are designed exclusively to fit a certain type of vehicle. Take note of this when buying an auto hail protector;
Manufacturer – Be sure that the hail protector car cover comes from a reputable manufacturer, and it's proven to have worked before. If you purchase a model with a low impact absorption level, it might not adequately protect in case of a hail storm;
Durability – Durability is another critical component to consider. You have to deliberate on the cover's rate of disintegration, fading, and peeling. Ask questions like what level of a hail storm can it withstand? With such information, you'll be able to choose a best-fit hail cover for your vehicle;
Material – Car blankets typically are heavy materials with specific preferences that help make them resistant to impact and water. The outside fabrics may also have UV protection so that the protector won't break down when sitting in the sun for a long time. The outer materials generally have waterproofing too. The inner fabric of a hail car protector is most often a soft fleece. This protects against scratches on the vehicle's paint. The inner fabric may also have unique features that help it to breathe to prevent moisture build-up.
Types
Hail protectors for a car can appear in the five following styles.
Generic fit – Those covers are made large enough to fit on a range of vehicles. These are best for basic coverage and won't work well in heavy storms and wind. They also aren't perfect for smaller cars due to their size;
Custom-fit – These are probably the best of the bunch since they allow you to order a model designed specifically for your vehicle make and model. A tight fit that sits correctly on your car with no overhang or exposed areas will deliver the highest level of protection from the elements;
Portable – They are often light in weight and meant to be something you take off and on regularly. Since they are light, you may not get complete protection against harsher weather, like hail. These products work well for dust protection and can protect from sun and water;
Inflatable – As the name suggests, these versions blow up to fit your vehicle. They can provide great coverage, but these need a constant flow of air and electricity for set up. You couldn't use this type away from a garage, thanks to this.
Umbrella – They are like a tent that goes over the vehicle. They usually have durable material and offer excellent protection from wind. The drawback is these don't protect your whole car, so they only offer basic protection.
Why Should You Invest in a Hail Car Cover?
It's a good investment to protect your car from hail. During the hailstorms, your vehicle gets hurt by the hair damage. You can lessen some of the damage via a hail blanket for cars. You can find the right model at a local shop or Amazon. You can also take a look at reviewed products from our list. Ultimately, a good car cover brings you peace of mind and prevents hail damage.