Ultimate Guide to the 5 Most Reliable BMW Models and Engines (2022 Update)
BMW stands for one of the most popular luxury cars ever made. It comes with a hefty price tag due to its cutting-edge technology and sleek evergreen design that steals the hearts of car enthusiasts. However, are BMW reliable?
Despite its high price and overall popularity, you need to be careful when choosing a BMW as luxury and expensiveness do not automatically interpret as dependable. Picking a reliable BMW means years of hassle-free driving experience and lower maintenance costs.
When it comes to BMW reliability, German manufacturer has that infamous reputation of being one of the most expensive and least reliable cars on the automotive market. However, it does not change the fact that BMW is one of the best-selling luxury cars in the US. What does a BMW have that drivers love so much?
How Reliable are BMWs?
The BMW reliability ranking is 2.5/5.0, which is pretty low. Many factors contribute to a car's reliability, including the maintenance cost, the frequency of unscheduled repairs, and the repair's severity level.
An average BMW owner may expect to spend about $970 for annual maintenance costs, both scheduled and unscheduled. In essence, the lower your out-of-pocket costs are, the more reliable your vehicle is.
Another significant factor that impacts the reliability of BMW is the number of times your car is brought to the shop for urgent repair. According to RepairPal , the average BMW owner visits a repair shop 0.9 times a year. Routine visits, such as for oil change, are excluded from the metrics.
Lastly, you should consider the severity of a repair. A problem is severe when a repair costs three times the average yearly cost. When it comes to BMW, statistics say that 15% of repairs are actually serious.
Mercedes-Benz vs. Audi vs. BMW Reliability
In terms of dependability, Audi scored higher than BMW. However, Mercedes-Benz ranks lower. However, they all rated the same in terms of overall performance and design. Still, BMW excels in overall quality, overshadowing both Mercedes and Audi with the highest ranking.
When it comes to Audi vs. Mercedes vs. BMW reliability, the truth is that all of them are poorly ranked. If reliability is your top priority when choosing a vehicle, stay away from these luxury brands. On the other hand, if you seek the utmost performance and cutting-edge technology, neither Audi, Mercedes-Benz, nor BMW will disappoint you. They all offer a quiet driving experience, smooth ride, and intelligent interface for safer on-road travel.
However, luxury brands come with expensive maintenance costs and a frequency of unscheduled repairs per year. Since most BMW owners have reported significant issues with the software, cooling, and brake system, which are costly to repair, BMW is considered one of the least reliable luxury cars.
How to Pick the Most Reliable BMW Model?
A rule of thumb for ensuring the reliability of a vehicle is – avoid cars with a complex mechanism. The more sophisticated the mechanism and advanced the technologies, the faster they're likely to fail than their simpler counterparts. On the other hand, complex components break easily, and we all know how high BMW repair costs can be.
The simple rule for getting the most reliable BMW is to stick with the basic versions. The maintenance costs will be lower, repairs won't be expensive, parts will be available, and you'll get a good resale value.
New vs. Used BMW Models
BMW has evolved, just like any other car brand. They have changed so much that people sometimes think of newer model vehicles as a different auto brand ultimately. The older model 3 Series E36 and E46 were far more dependable in terms of annual maintenance cost. They were made to be driver-oriented, even though a common complaint has always been that BMW puts plastic parts in its coolant system, including the older 3 Series.
It's clear that BMWs certainly don't make the most reliable cars, especially when considering more recent models. However, they do make top-notch performance vehicles, and most people that have owned them for a few years are satisfied.
Should I Buy Used BMW?
Used or not, BMWs are top-notch performers on the road. Whether you're buying a second-hand vehicle, you'll still enjoy excellent performance. It'll surprise you that your old Bimmer will be superior in performance to other new cars. Depending on your requirements, purchasing a used BMW is a great idea to acquire the best driving experience for years. Besides, the powerful internal machinery ensures that you may tackle any kind of road without any problem.
What is the Best Used BMW to Buy?
The vehicles listed below will last for years, with proper car maintenance. They have all modern, plushy features for creating comfort. Still, the repair and upkeep will be minimal since they have fewer electronic components and sensors compared to modern, sophisticated cars.
Below is the list of the 5 most reliable used BMW models and engines.
1. Best BMW 3 Series Reliability: 2006-2011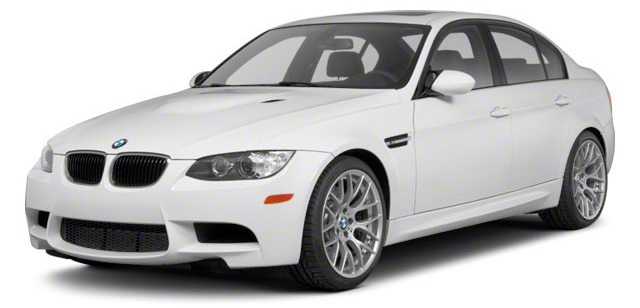 After going through a redesign in 2006, the 3-Series was offered as sedan (E90), wagon (E91), coupe (E92), and convertible (E93). All could be purchased as either all-wheel drive or rear-wheel models.
Drivers who prefer a naturally aspirated 3.0L inline-6 engine can opt for the 325i, 330i, or 328i. The 335i uses a 3.0L twin-turbo engine, more powerful than the other configurations but also more prone to issues. The brand offered a diesel model, these days hard to find, with the 265-hp 3.0L turbodiesel in 2009. It scores 23/36 mpg, according to the EPA. But the 3.0L 328i automatic using premium gasoline scores 18/28 mpg. On the U.S. used car market for BMWs, the model easiest to find is a 4-door sedan with automatic transmission and rear-wheel drive, using gas.
The 3-Series is known for its fancy interior and great styling. The seats are rated quite good for comfort, and the materials get excellent marks for quality. The one con is the slightly cramped quarters. The same goes for the trunk in these BMWs.
Also, 3-Series did well in crash tests. It got 4 stars in front crash testing, and 5 stars for side crashes in 2006 – 2010. Reliability was more varied, but 328i for 2009 – 2011 achieves better than average ratings.
PROS// Breathtaking design; Comfortable ride; Potent engine; Remarkable interior.
COMMON ISSUES// Expensive to maintain; Costly parts; Frequent engine and cooling system issues.
RELIABILITY// ⭐⭐⭐✩✩

2. Best BMW 5 Series Reliability: 2004 to 2010 (E60 and E61)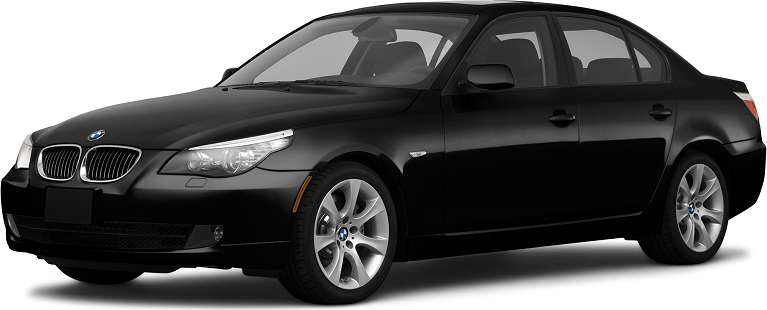 BMWs 5-Series line of vehicles is known for its high performance and unmatched luxury. The cars went through a significant redesign in 2004. The 525i, 530i, and 535 came with an inline-6 engine. Much less common, the 545i and 550i were offered with a V8 engine. The wagon had an all-wheel-drive added as an option in 2006. A manual transmission, which isn't typical among luxury vehicles, was offered with this series.
The 5-Series for 2008 – 2010, the only time the government ran tests on these versions, did poorly with frontal crash tests, getting only 3 stars. Still, they rated 5 stars for side crashes. The 2010 535i GT achieved 19/28 mpg, placing it second in good fuel economy behind the Lexus GS 450 hybrid. But otherwise, the cars in this series aren't inexpensive to operate.
When it comes to dependability, the series is average or below-average ratings for 2004 – 2010. The 2009 models got the lowest ratings. The basic issues were found in engines, power devices, and electrical systems. The most common problems are leaks and electrical and engine problems. Main rivals to the 5-Series are the Mercedes E-class, which features a softer ride, and the Infiniti M-class and the Lexus LS, both with better reliability.
PROS// High-standard equipment; First-class amenities; Sport suspension; Automatic climate control.
COMMON ISSUES// Faulty thermostats; Poor engine performance; Brake booster failure.
RELIABILITY// ⭐⭐⭐✩✩
3. Best BMW 7 Series Reliability: 2002 to 2008
If you're looking for the biggest of BMWs luxury sedans, pick one of the models from the 7-Series. This still doesn't keep them from depreciating quickly, though. Your best deal will come by selecting a model that is 6 to 8 years old, not 3 years old. The basic configuration will be the same, but the cost will drop greatly.
The BMW 7-Series models are rated below average. None of them went through NHTSA crash tests. Also, gas mileage is not high. For instance, the 20008 8-cylinder 750i receives 15/23 mpg, while the 2008 V12 760L1 gets 13/20 mpg.
PROS// Six-speed automatic transmission; Electronic parking brake; Adaptive xenon headlamps; Leather seating.
COMMON ISSUES// Brake booster leaks; Engine stalling; Software issues.
RELIABILITY// ⭐⭐⭐✩✩
4. Best BMW 1 Series Reliability: 2008-2011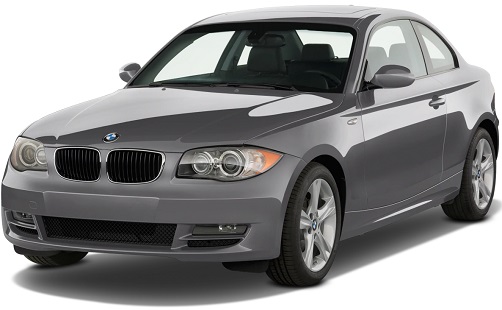 The 2008 – 2011 BMW 1 comes in two types – the E82 (two-door coupe) and the E88 (convertible). They use both the 128i and 135i names. The 1 Series features rear-wheel drive, and four seats, though two people must be ready for the minimal rear seating arrangement.
The 128i carries 230-hp 3.0L inline-6 engine. The 135i is very similar but runs a 300-hp twin-turbo 3.0L inline-6. Both weigh above 3,000 pounds, meaning the 300-hp can make high speeds. For example, the 135i can go from 0 to 60 in 4.7 seconds.
Available with either a manual or an automatic transmission, the vehicle gets reasonable gas mileage. For instance, the 2009 128i coupe, both manual and automatic, has 18/28 mpg using premium gas, while the 135i scores 17/25 mpg.
PROS// iDrive-controlled navigation; Leather seating; Heated front seats; Sport suspension.
COMMON ISSUES// Electrical defects in the side airbag; Fuel pump failure.
RELIABILITY// ⭐⭐✩✩✩
5. Best BMW X3 Reliability: 2006-2010
If you're seeking a reliable BMW SUV, the 2006-2010 X3 is probably your best option. It's comfortable, rides very good, and feels a lot faster than it actually is. At the same time, the great car suspension absorbs most of the road. You're even looking at more than 22 mpg on average, which is quite good for a BMW SUV. Due to the infamous BMW depreciation, you can find a 2006 X3 for $7,000.
No vehicle is utterly reliable to the point where nothing ever goes wrong or breaks – It's simply not possible. Still, you can research and find a model that is less likely to break. Thankfully its N52 has been around for a long time now, so a lot is known about it, and there won't be many mysteries left, which is always a useful thing when it comes to repairing engines.
PROS// Great visibility; Enhanced safety; Advanced technology; Pleasant interior design.
COMMON ISSUES// Expensive repairs; Poor fuel economy.
RELIABILITY// ⭐⭐⭐✩✩
What is the Most Reliable BMW Engine Today?
BMW has a long history of building marvelous cars and a long history of powering those vehicles with mighty engines. There isn't just one route to a dependable engine, and the engineers at BMW have proven that they're adept at trying new things and experimenting with the technology.
Let's take a look at the 5 best BMW engines on the market.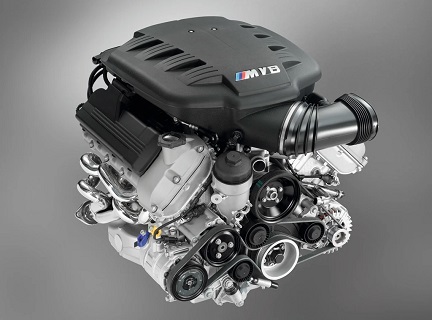 When BMW decided the M3 got a V8, people were worried since the V6 engine was super dependable. However, the S65 V8 was an impressive engine. With 414hp and 8,450 redline, it became the #1 BMW engine among all auto enthusiasts. Its 414hp is a great number, but it isn't the crucial one because the V8 that revs at nearly 9,000 rpm is a fantastic feature that every race car enthusiast will appreciate.
BMW S65 ENGINE SPECIFICATIONS

Engine block material
Aluminum
Configuration
V8
Valvetrain
DOHC; 4 valves per cylinder
Bore x stroke
3.62" x 2.96"
Compression ratio
12.0:1
Power output
420 HP at 8,300 rpm
Torque output
295 lb./ft at 3,900 rpm
Fuel type
Gasoline
Weight
445 lbs.
Engine oil capacity
9.3 qt.
Oil change interval
3,000-6,000 miles
Reliability
⭐⭐✩✩✩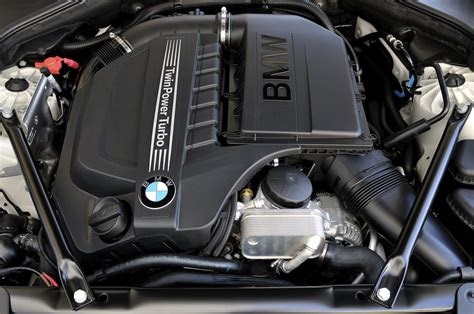 The original M88 engine didn't seem so special with four-valve heads, fuel injection, individual throttle bodies, and a single row timing chain. On the streets, this pretty conventional architecture was extraordinary. Smooth, powerful, and rev-laded, it made the first M5 a famous classic.
The M88 was one of the most used and enjoyable engines ever engineered. According to the car it was in, it made from 215 to 282hp and had a 6,500 rpm redline. The M88 underwent several versions, including being heavily modified to power the BMW M1.
BMW S65 ENGINE SPECIFICATIONS

Engine block material
Cast iron
Configuration
Straight-6
Valvetrain
DOHC
Bore x stroke
3.7" x 3.3"
Compression ratio
10.5:1
Power output
273 HP at 6,500 rpm
Torque output
243 lb./ft at 5,000 rpm
Fuel type
Gasoline
Weight
467 lbs.
Engine oil capacity
3.65 qt.
Oil change interval
5,000 miles
Reliability
⭐⭐✩✩✩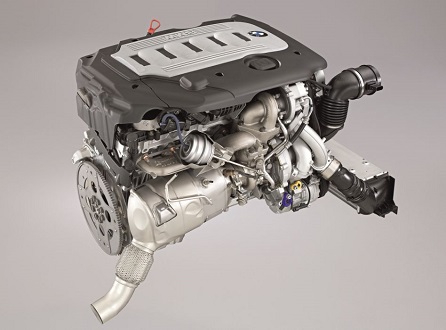 The M57 is a turbocharged inline and water-cooled 6-cylinder diesel engine with common-rail injection. Together with the 4-cylinder M47, the M57 six is the engine that changed diesel power's image. Torque-loaded, smooth-revving, and gasoline are equaling performance. High-pressure fuel injection and variable incidence turbos delivered great torque and economy with a smoothness and refinement never before experienced in diesel engines.
BMW M57 ENGINE SPECIFICATIONS

Engine block material
Cast iron/Aluminum
Configuration
Inline-6
Valvetrain
DOHC
Bore x stroke
3.15" x 2.96"
Compression ratio
10.2:1
Power output
306 – 326 HP at 5,800 rpm/340 HP at 5,900
Torque output
332 lb./ft at 1,500-4,500 rpm
Fuel type
Diesel fuel
Weight
463 lbs.
Engine oil capacity
6.5 qt.
Oil change interval
13,000 miles
Reliability
⭐⭐⭐✩✩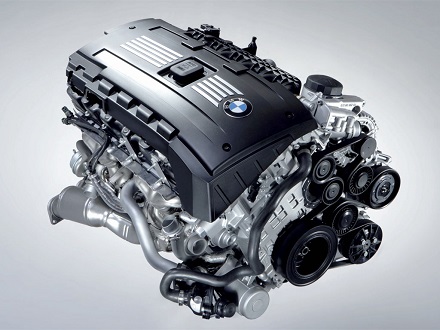 For more than three decades, BMW refused to fit turbochargers to its production models (apart from a European version of the first 7 Series – 745i). Then, in the mid-'00s, the twin-turbocharged N54 engine (first packaged in the BMW 335i) came – and it revolutionized the automotive world with its mix of economy and performance. While both the 335i and M3 made an equal torque and gave it the ability to run head-to-head and sometimes even out-accelerate its muscled 4.0-liter V8 cousin.
BMW N54 ENGINE SPECIFICATIONS

Engine block material
Aluminum
Configuration
Straight-6
Valvetrain
DOHC
Bore x stroke
3.3" x 3.53"
Compression ratio
16.5-18.0:1
Power output
161 – 282 HP at 4,000 rpm
Torque output
258 – 428 lb./ft at 2000-2250 rpm
Fuel type
Gasoline
Weight
320 lbs.
Engine oil capacity
6.9 qt.
Oil change interval
4,500-6,000 miles
Reliability
⭐⭐⭐✩✩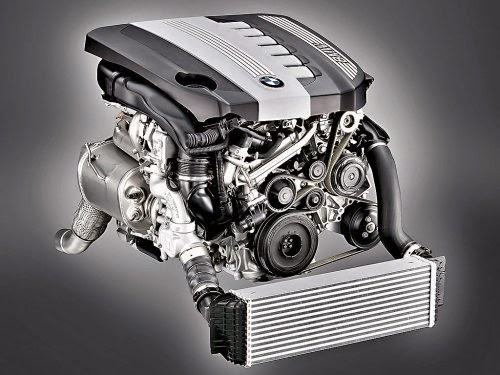 Initially made to power the all-wheel-drive M550d derivative of the previous-generation F10 5 Series, the audacious 3.0-liter straight-6 turbodiesel made its local appearance beneath the pumped-up bonnets of the previous-generation X5 (and current X6). The best way to describe it is a masterpiece in the diesel engine world.
BMW N57 ENGINE SPECIFICATIONS

Engine block material
Aluminum
Configuration
Straight-6
Valvetrain
DOHC
Bore x stroke
3.3" x 3.54"
Compression ratio
16.5:1
Power output
201-375HP at 4,000 rpm
Torque output
332 lb./ft at 1,750-2,500 rpm
Fuel type
Diesel fuel
Weight
290 lbs.
Engine oil capacity
6.9 qt.
Oil change interval
10,000-15,000 miles
Reliability
⭐⭐⭐⭐✩