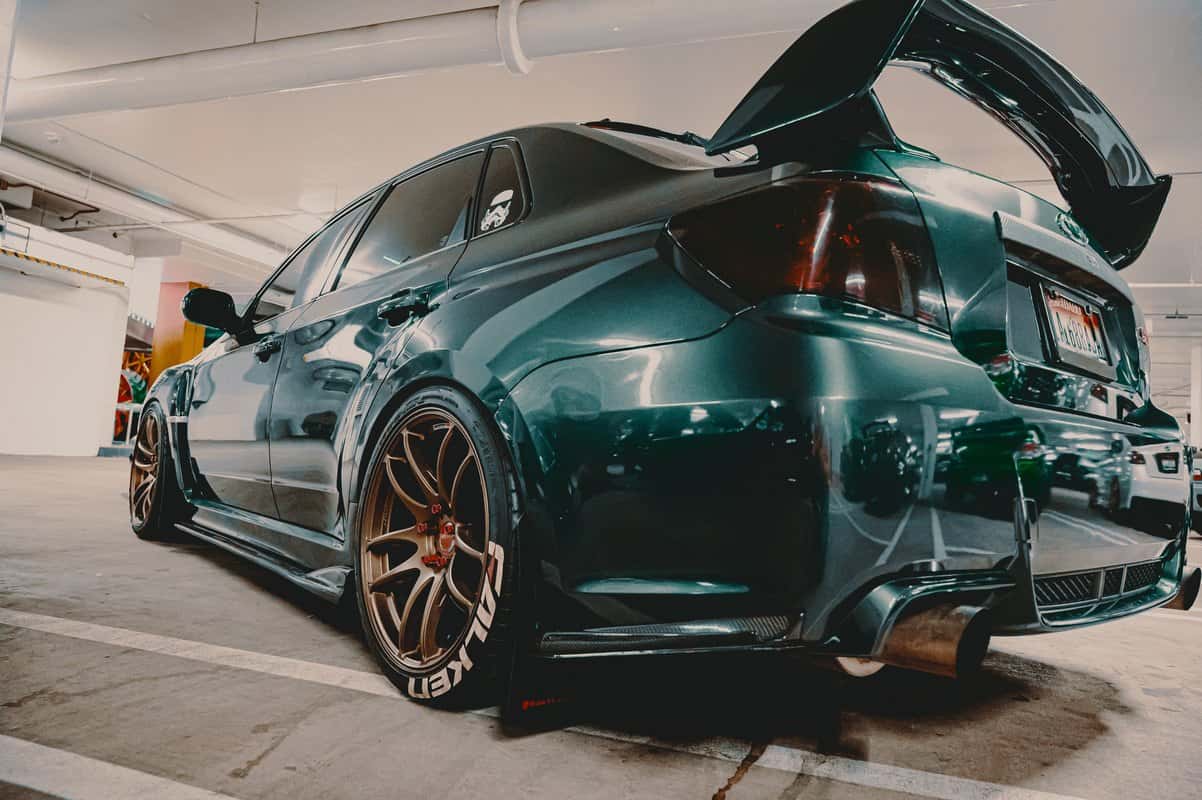 Everything You Need to Know About Paint Sealant
Paint sealant is relatively new on the detailing stage, but it has promptly become a favorite among detailers who want quick and lasting results.
The appeal of these fabricated paint protectants is two-fold: they're easy to apply, and they last a long time.
It's made from synthetic ingredients as opposed to natural waxes and plant extracts, their durability is enhanced to upwards of six months to one year.
Overall protection provided by sealant from UV damage, acid rain, and industrial fallout is higher than offered by a conventional car wax.
This product features a different level of gloss, more a glass-like a reflectivity than the deep warm glow provided by a car wax.
However, car paint sealant does excel in bringing out the flake in modern metallic/pearlescent finishes, leading them to be the first choice for many car owners.
This guide will explain everything about this solution, and how to choose the best one for your car.
What is Paint Sealant?



It's a fully synthetic product designed to protect a vehicle's surface while providing a mirror-like shine. Modern sealants represent many benefits in surface chemistry and usually involve proprietary polymers that improve performance.
Since a sealant is chemically engineered to bond to the surface, it'll last much longer than a conventional wax while offering stronger protection versus paint-attackers including sap, acid rain, and ultraviolet rays.
Why Is It Important?



There're a few reasons why this product is rapidly becoming a top seller in the automobile paint protection market.
Offers a deeper depth of paint– It typically makes a deeper or high gloss finish on when used on paint in good shape. So, not only does it shield, but it improves the natural shine;
Protects paint longer than wax– Car wax, usually the natural carnauba one could last about 6 weeks. Some synthetic waxes can last up to 3 months. A sealant which is made from polymer technology and artificial ingredients will last from 6 to 12 months;
Provides stronger protection– Some contaminants such as acid rain, bug splatters, and bird droppings contain intense acidic levels. These things can break through the basic car wax and cause damage to the clear coating. Car sealant is stronger, long-lasting, and guards the paint against these harmful contaminants;
Improves the vehicles resale value– When you use high-quality products like Wolfgang, Meguiar, or Chemical Guys, and maintains their finish by reapplying when recommended, it helps to protect the clear coating, which saves the paint quality – and also the resale value when you trade in the car;
Helps in washing/drying the car– This solution has excellent hydrophobic properties. As a ceramic coating, it resists the collection of debris, dirt, and standing water, which makes it easier to wash and dry the vehicle.
When Should You Use It?



Some of the situations where a paint sealant is your best solution to protect your paint finish include:
Ideal for daily drivers on a budget: If you've recently bought a newer vehicle, and spend a lot of time driving on highways, a car sealant is the right solution;
Perfect for winter or extremely hot weather area: If you don't want to put the effort or make the investment for a ceramic coating, a sealant that protects the paint from exposure is a suitable choice;
In case the car paint is in excellent condition: We mentioned above that paint sealants will highlight visible paint damage. So, if the paint is in superb condition, and you don't have to complete paint correction, an auto paint protector is a great option.
Benefits
The polymer technology applied in sealants enables it to bond extremely well with paints, gel coats, and other finishes. It dramatically improves the durability and longevity of the sealant.
It's fantastic for drivers who don't want to apply wax very often or who have cars that operate in harsh environments.
It also very easy to apply, often skipping the requirement to dry before removal letting for a real wipe experience. It saves you a lot of time.
Employ sealants to help protect your clear coat, since they'll ensure the paint below lasts for years. Sealants block contaminants from sticking to your paint. It keeps your paint cleaner and makes it easier to wash, reducing the risk of scratches or damaging.
They also prevent water and other liquid fallout from etching your paint. Lastly, a high-quality sealant helps shed water after rinsing, reducing the amount of drying you need to do.
The less you need to touch your paint with a drying cloth, the less of a chance there is of accidentally scratching it.
Types
There're two categories of car paint sealants: acrylic and polymer. Nearly all are comprised of polymers.
Acrylic – A great number of detailers believe that acrylic one tends to last longer than polymer sealant car wax. Therefore, you won't have to reapply it as regularly, saving you time and money. The reason they're more durable is that acrylic sealants have fewer fillers. Another advantage is they're easier to apply.
Polymer – The car polymer sealant is a mix of different compounds, and many car enthusiasts believe it produces a superior shine. Some products involve substances, like car wax, in their mixture, so polymer paint sealer not only protects your car—it also produces a beautiful, deep shine.
How to Use Paint Sealant for Cars
Follow these steps on how to use a sealant:
Wash your vehicle using preferred soap, and then dry it to avoid water spots;
If you're a daily driver, consider to use a clay bar to remove any contaminants from the surface of the paint. It'll help you escape any swirl marks from applying the sealant;
Use car sealant to an applicator pad;
Work in sections applying the sealant in an overlapping pattern. Spread it as thin as possible, so it'll cure evenly and quickly;
Once you have worked your way around the entire vehicle, grab a clean microfiber towel and start to buff the surface to remove any excess sealant;
If desired – after one hour, apply a second coat for more protection. It's a necessary step if you live in the harshest of environments.
Paint Sealant vs Wax
When it comes to deciding whether the sealant is better than car wax, it really breaks down to what's vital for you. An auto paint sealant is going to last longer (already mentioned) and protect the car about 5-times longer than even the best wax.
Wax contains mostly natural wax products such as carnauba, beeswax, montan, and other substances. The sealant is composed mainly of synthetic compounds.
Still, car wax isn't going to point up paint damage as much as a sealant, so it might actually make your older vehicle look better.
Sealants create a mirror-like shine, but some find that it appears "cold" or "hard." Many enthusiasts layer a natural wax, which they feel delivers a deeper, smoother finish, on top of a sealant to get the best of both products.
Best Car Paint Sealant for 2021
We reviewed some of the top solutions on the market, detailing all their features/specs, and pros & cons, in a roundup of 5 mini-reviews.
1. Wolfgang WG-5500 Deep Gloss 3.0 (16 fl. oz)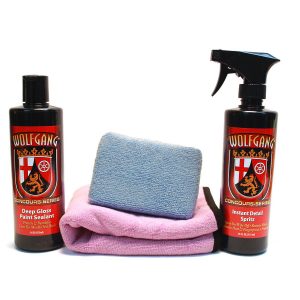 Wolfgang Deep 3.0 will change your perceptions of paint sealants forever. The glossy, liquid-like shimmer improves all types and colors of paint.
No other product or synthetic wax gives your car the gloss, the depth, and the protection like Wolfgang Deep Gloss 3.0.
Now with up-to-date polymer technology, it'll meet the demand for a paint protectant that features the wet appearance of a carnauba wax but lasts longer.
With the addition of a new breed of polymers, this product offers more protection, gloss, and depth than ever before.
PROS//
Great protection;
Provides shiny look to your car;
Needs only to be reapplied every six months.
CONS//
It takes 12 hours to set in.
2. Meguiar's M21 Mirror Glaze (16 fl. oz)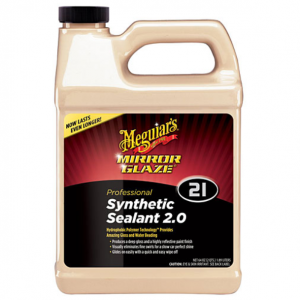 Meguiar's M21, part of the Mirror Glaze professional line, is upgraded with the latest breakthroughs in synthetic polymer paint protection.
Now your car will be noticeably deeper, darker, and more reflective. Hydrophobic polymer tech repels water while making an outstanding gloss.
Unlike most solutions, this one visually eliminates fine swirls and scratches to render a flawless finish. Your paint will look darker, glossier, and smoother than ever before.
It's made to go on by hand or with the aid of a machine polisher, which makes it suitable for use by a professional detailer or a DIY.
PROS//
Conceals scratches;
Deepens and darkens paint colors;
Easy to apply.
CONS//
Doesn't last as long as the Wolfgang;
3. Chemical Guys JetSeal (16 fl. oz)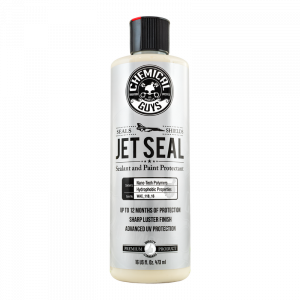 Jetseal 109 is an anti-corrosion sealant developed to offer the finest finish/protection available for paint, chrome, aluminum, alloy metals, fiberglass, and other substrates.
Made exclusively for the aerospace industry, it was engineered to deliver the ultimate slick, durable finish and multi-layerable protection from the harshest environmental conditions.
Jetseal 109 is now available for cars in the same nano-tech ultra-durable consistency. It's a product that bonds with the exterior of your vehicle giving it a mirror-like wet finish that's virtually impenetrable.
Also, it's an organically modified product bonded with an acrylic crystalline at a nano-tech scale, enabling it to bond to paint molecularly.
PROS//
Nice finish.
Ultra-durable consistency;
High-gloss protection.
CONS//
Pricey;
Doesn't last long.
4. Klasse High Gloss Sealant Glaze (16.9 fl. oz)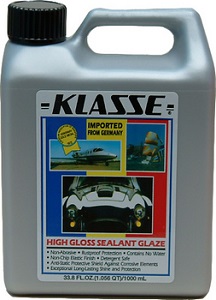 It's a highly concentrated acrylic formula glaze for new cars and oxidation-free surfaces. This sealant also provides an extra protective layer of the All-In-One with a brilliant mirror-like shine.
It creates an elastic, non-chip, shrink-proof, heat/scratch resistant – protective seal against acid rain, salt, water, UV rays, and industrial pollutants for up to one year.
Use this glaze on all paints or without clear coats, glass, fiberglass, Plexiglas, plastics, metal surfaces, enamel, tiles, Formica, and all mon-porous surfaces.
Klasse High Gloss Sealant Glaze is anti-static, non-abrasive and has no ingredients harmful to paint, metal, or plastic.
Unlike many sealants, this one is 100% acrylic-based and highly concentrated for long shelf life. This formula will transform your car into a work of art that reflects upon how much you nurse your vehicle.
PROS//
Creates a mirror-like shine;
Great protector;
Last up to 12 months;
CONS//
Difficult to apply and remove;
5. CarGuys Hybrid Wax Automotive Sealant (18 fl. oz)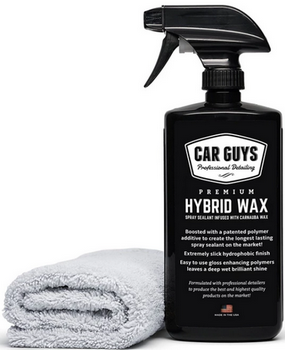 CarGuys Hybrid Wax Sealant is a high-quality hybrid sealant mixed with carnauba wax. It's produced with the freshly patented polymer additive, so that the surface of your car can be successfully protected.
With protection spanning an average of six months, depending on the frequency at which you're detailing your car along with other factors, this's a product that can help you to accomplish an exceptionally glossy finish.
Unlike other sealants that need serious effort before they can be sufficiently applied, you only need a small rubbing effort during the application of this solution.
PROS//
You can apply it instantly after washing the car;
Eliminates white residue and streaks;
Provides additional protection for preceding wax application.
CONS//
Can be sticky if the vehicle isn't 100% cool before application.