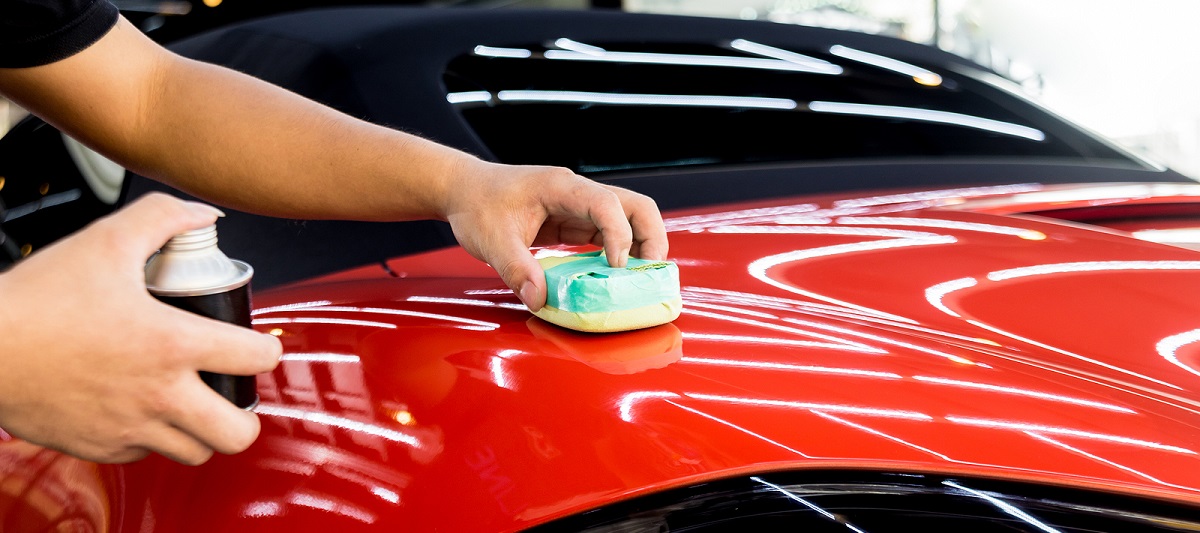 Everything You Need to Know About Paint Sealant + 10 Best Picks for 2022
Paint sealant has quickly become a favorite among detailers seeking quick and long-lasting results. The best paint sealants deliver a deep, high-gloss finish, protecting the car's surface much longer than car wax. It is incredibly convenient for new cars and trucks, especially when you want to enhance their natural shine.
Car paint sealant is made from synthetic components, unlike natural waxes and plant extracts. For that reason, its results may remain from six months to one year. It keeps your paint safe from UV damage, industrial fallout, acid rain, and other contaminants that affect its sleek surface.
Paint sealant is the number one choice for car owners who want to keep their cars pristine and glossy. If you're looking for the best paint sealants on the market, keep reading to discover the features worth considering when choosing one.
What is Paint Sealant?
Paint sealant is a fully synthetic product that protects a vehicle's surface and delivers a mirror-like shine. It creates a strong barrier against UV rays, acid rain, and other environmental factors that could damage its surface. It usually lasts more than car waxes in general, offering stronger protection and deeper shine.
Key Features to Consider When Shopping for a Paint Sealant
To get the best out of a car sealant, it is vital to consider the following aspects when choosing one:
Finish
Not all brands deliver the same finish. While some provide a wet, glossy look, others make your truck's paint vibrant and shiny. On the other hand, you may find products designed for a particular color, especially black or white. Overall, it's recommended to go for a finish you'd like to see on your car.
apibus leo.
Protection Level
Some sealants provide decent protection from dirt, dust, and debris. Still, you can benefit from more heavy-duty products that repel UV rays, acid rain, and similar factors. Some can even remove scratches and swirls, and some are more long-lasting than others. In essence, you'll choose the level of protection based on the climate and treatments you often use on your vehicles.
Ease of Use
The best paint sealant should be easy to apply. Ensure the product of your choice goes smoothly as you wipe it on the car's surface, requiring minimal buffing. It should also leave an even coat to make the entire task more effortless.
Value
Before you go for a particular paint sealant, it is important to check how many ounces the bottle contains. If the package is too small, you might need to buy a couple of them to cover your entire car. Additionally, you should consider how frequently you plan on applying the product.
Car Paint Sealant Types
There are two types of auto paint sealants:
Acrylic paint sealant: Acrylic paint sealant tends to deliver more long-lasting results than their polymer counterpart, and that's because they have fewer fillers. They are quite easy to apply, and they will save you time and money.
Polymer paint sealant: Since it's a blend of various compounds, a polymer paint sealant provides deep, superior shine. Most polymer sealants include car wax in their mixture, which is why they not only protect your car but produce a nice shine.
Best Car Paint Sealant for 2022
We have reviewed some of the best paint sealants on the market, their features, strengths and weaknesses. Let's begin.
1. Best Overall: Wolfgang WG-5500 Deep Gloss 3.0 (16 fl. oz)
Wolfgang WG-5500 Deep 3.0 will change your perceptions of paint sealants forever. The glossy, liquid-like shimmer improves all types and colors of paint while producing deep gloss and the utmost protection.
The Wolfgang 3.0 is a unique blend of up-to-date polymer technology that protects the paint and delivers the appearance of carnauba wax. However, it lasts much longer than any wax. With the addition of a new breed of polymers, this product offers more protection, gloss, and depth than ever before.
According to customers, the Wolfgang paint sealant protects the vehicle's surface for months, delivering a great value. It is easy to apply and wipe off, but it takes 12 hours to set in.
PROS// Great protection; Deep shine; Requires reapplication every six months; Efficient against UV rays, saltwater, and environmental pollutants; Water-based, polymer formula.
CONS// A bit expensive; May attract dust.
2. Runner-Up: Meguiar's M21 Mirror Glaze (16 fl. oz)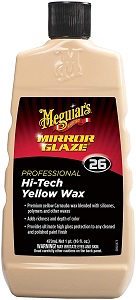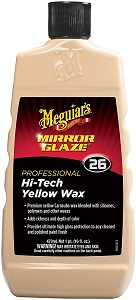 Meguiar's M21 is a part of the Mirror Glaze professional line. It is upgraded with the latest breakthroughs in synthetic polymer paint protection, making the car surface noticeably deeper, darker, and more reflective. In addition, hydrophobic polymer technology repels water while producing an outstanding gloss. Unlike most solutions, this one visually eliminates fine swirls and scratches to render a flawless finish.
The Meguiar's M21 is a go-to choice if you want your paint to look darker, glossier, and smoother than ever before. It's made to go on by hand or with the aid of a machine polisher, which makes it suitable for use by a professional detailer or a DIY.
It is safe to use on all glossy paint finishes, as well as clear coats. Thanks to its professional-grade formula, you can expect durable paint protection, deep color and shine, and a vehicle that looks like it has just left a car detailer.
PROS// Conceals scratches; Deepens and darkens paint colors; Easy to apply; A unique blend of carnauba wax and polymer for enhanced paint protection; Versatile.
CONS// It doesn't come off easily; Not as durable as expected.
3. Honorable Mention: Chemical Guys JetSeal (16 fl. oz)
The JetSeal 109 is an anti-corrosion sealant developed to offer the finest finish for paint, chrome, aluminum, alloy metals, fiberglass, and other substrates. Although it was made exclusively for the aerospace industry, it was engineered to deliver the ultimate slick, durable finish and multi-layered protection from the harshest environmental conditions.
Jetseal 109 is now available for cars in the same nano-tech ultra-durable consistency. It's a product that bonds with the exterior of your vehicle, giving it a show-stealing wet finish that's virtually impenetrable.
It's an organically modified product bonded with an acrylic crystalline at a nano-tech scale, enabling it to bond to paint molecularly. What's best, it can last up to one year with only one application.
PROS// Nice finish on various surfaces; Durable consistency; High-gloss protection; Repels solar rays and pollutants with a high-efficiency level; Next-level synthetic formula.
CONS// Expensive; It doesn't last long.
4. Best Acrylic Automotive Paint Sealant: Klasse High Gloss Sealant Glaze (16.9 fl. oz)
Klasse High Gloss Sealant Glaze is a highly concentrated acrylic formula glaze for new cars and oxidation-free surfaces. This sealant also provides an extra protective layer of the All-In-One with a brilliant mirror-like shine.
This paint sealant creates an elastic, non-chip, shrink-proof, heat and scratch-resistant barrier against acid rain, salt, water, UV rays, and industrial pollutants for up to one year. You can use it on all paints, including clear coats, glass, fiberglass, Plexiglas, plastics, metal surfaces, enamel, tiles, Formica, and all non-porous surfaces.
Klasse High Gloss Sealant Glaze is anti-static, non-abrasive and free from ingredients harmful to paint, metal, or plastic. Unlike many sealants, this one is 100% acrylic-based and highly concentrated for long shelf life. This formula will transform your car into a work of art that reflects how much you nurse your vehicle.
PROS// Exceptional, mirror-like shine; Enhanced paint protection; Lasts up to a year; Excellent protection against bugs; Slick and soft paint.
CONS// Difficult to remove; It may leave your black car cloudy.
5. Best Paint Sealant for White Car: CarGuys Hybrid Wax Automotive Sealant (18 fl. oz)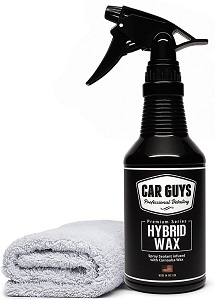 CarGuys Hybrid Wax Sealant is a high-quality hybrid sealant mixed with carnauba wax, and it's considered the best paint sealant for white cars. It's produced with the freshly patented polymer additive so that the surface of your vehicle can be protected with the highest levels of efficiency.
This product offers an exceptionally glossy finish that can last up to 6 months, depending on how frequently you detail your car and other factors. You can use it on various surfaces with peace of mind as CarGuys is safe for different applications.
Unlike other sealants that need serious effort before they can be sufficiently applied, you only need a small rubbing effort during the application of this solution. This is a high-quality product made with advanced science. That being said, you can expect exceptional protection from UV and pollutants and deep shine that makes your vehicle stand out.
PROS// You can apply it right after washing the car; Removes residue and streaks; Adds an extra level of protection to the previously waxed vehicle; Reputable brand; Deep shine of carnauba wax and long-lasting protection of a paint sealant.
CONS// The surface may become sticky if the car isn't 100% cool before application; It leaves water spots.
6. Best Ceramic Coating Sealant: CARPRO Reload Spray Sealant (16 fl. oz)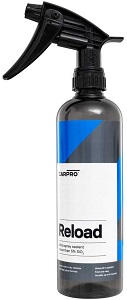 CarPro is another reputable name in the detailing industry, and the Reload Spray Sealant is one of its best products. While it is an excellent product overall, it excels in protecting your vehicle's paint from harmful UV rays.
This is a ceramic coating sealant, which creates an atomic bond with your car's paint. The ceramic coating may last up to a year or more, depending on where you live. Due to their special technology and advanced protection features, ceramic coating products tend to be pricier than standard paint sealants.
While Reload has excellent properties suitable for different surfaces, customers complain about the poor quality of the spray bottle, which often leaks during application.
PROS// Easy to apply; You can use it on rubber, glass, and plastic; Exceptional protection from UV rays; Professional-grade product; Ceramic coating for more long-lasting results.
CONS// Expensive; Poor quality of the nozzle.
7. Best Paint Sealant for Black Cars: Meguiar's Ultimate Fast Finish (8.5 fl. oz)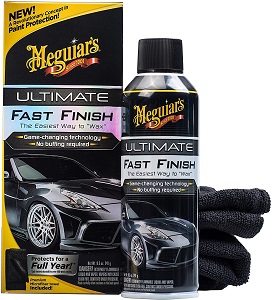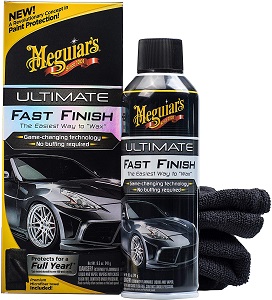 Meguiar's Ultimate Fast Finish is an excellent product for the price, and car owners often choose it to embellish their black or dark-colored car paint. It is a fully synthetic polymer paint sealant that provides next-level protection from contaminants, delivering a slick and shiny finish that may last up to a year.
Meguiar's Ultimate Fast Finish features an advanced formula that protects and beautifies your car's surface. It is easy to apply and wipe off, requiring minimal elbow grease. Besides, no buffing is required.
Many customers recommend using it after a full car cleaning and clay treatment. While you won't need to apply it too frequently, you can do it every once in a while to keep your car shiny. Since it dries clear, you won't have to worry about residue or marks on your paint.
PROS// Revolutionary aerosol formula; Long-lasting protection and shine; No buffing required; Quick dry; Excellent for black cars.
CONS// Not very good for bugs; Some customers complain about receiving a faulty product.
8. The Longest-Lasting Paint Sealant: Adam's Paint Sealant (8 fl. oz)


Adam's Paint Sealant is a product worth considering, especially if you're looking for durable protection and unparalleled shine. Besides, its unique formula allows it to withstand even the harshest conditions.
Another reason why customers love Adam's Paint Sealant is its pleasant grape smell, giving a dose of fun to the whole process. It is very simple to apply, especially since it spreads out evenly and pretty quickly. Leave it for an hour or two, and your car will be nice and shiny.
You can use this sealant regardless of the weather as it won't alter its consistency even when exposed to direct sunlight. It successfully repels dirt and grime, is safe to use on glass surfaces, and is an excellent choice for those living in areas with frequent rainfalls.
PROS// Quick and easy application; Very durable; Withstands harsh conditions; Deep shine; Pleasant smell.
CONS// It might leave water spots; Difficult to remove the product from the paint finish.
9. Most Practical Car Paint Sealant: Griot's Garage One-Step Sealant (16 fl. oz)


Griot's Garage One-Step Sealant features one of the gentlest yet most potent formulas that remove scratches and swirl marks from your paint surface. Additionally, it comes in handy when dealing with oxidations or other imperfections on your paint.
This sealant contains polymers, which create a chemical bond once they come into contact with the paint. Once made, a strong chemical bond repels bugs, water, industrial fallout, and other contaminants that might affect your spotless surface.
The One-Step Sealant is incredibly durable and easy to apply. As its name suggests, this product doesn't require buffing. Instead, you can use a soft cloth to polish your car and achieve maximum shine. Additionally, it smells much better than other sealants out there.
PROS// Easy to apply; Successfully removes scratches; Long-lasting; Pleasant scent; Highlights the paint's vivid color, depth, and clarity.
CONS// It might leave residue on black plastics; Difficult to remove.
10. Best Hybrid Paint Sealant: Chemical Guys Hybrid V7 Quick Detailer (16 fl. oz)

Although Chemical Guys Hybrid V7 Quick Detailer is not designed with the paint sealant in mind, it has some properties that make it a great choice for paint protection and shine. You can use it to refresh the paint and maintain the effects of the sealant or wax coating.
The Quick Detailer features a fast bond technology that helps you get rid of dust and grime. As a result, it leaves a smooth, glossy finish on any surface. The Quick Detailer has many uses. Aside from being efficient on paint surfaces, it works well on glass, rubber, plastic, and vinyl.
It will take you 10 minutes to apply the product. All you need to do is spray it over a surface, wipe it off with a towel or a cloth, and then wipe the surface with a dry side of the fabric to prevent residue or streaks.
PROS// Suitable for various applications; Easy to use; Powerful protection from UV rays, water spots, road debris, and rain; Nice, glossy finish; The highest level of optical clarity.
CONS// Cannot withstand high temperatures; A bit expensive compared to other sealants.
Benefits of Paint Sealant
You and your truck can benefit from a paint sealant on various levels, including:
Protect your car's paint: The best paint sealant protects your car paint, ensuring it remains in excellent condition in the long run. It is a great choice against debris, scratches, and insects.
Money saver: Paint sealants are available at different prices, and you can find some great picks without breaking the bank. Besides, it is a much more cost-effective solution than bringing your car to a dealership.
Advanced protection against UV rays: UV rays can significantly affect your truck's surface, making it fade or oxidize. Still, a synthetic paint sealant can prevent a washed-out look, protecting from acid rain at the same time.
Glossy shine: Aside from delivering exceptional protection, a paint sealant makes your car look nice and shiny.
Better vehicle resale value: High-quality products like Wolfgang, Meguiar's, or Chemical Guys help maintain the paint quality, which increases the car's resale value.
Makes it easier to wash/dry the car: Thanks to its outstanding hydrophobic properties, a paint sealant prevents the accumulation of debris, dirt, and standing water. Therefore, it is easier to wash and dry the vehicle.
How to Apply Paint Sealant?
Follow the next steps to apply the sealant properly:
Prepare: Wash your car, use isopropyl alcohol (IPA) on the surface to eliminate debris and contaminants, and wipe it away with a microfiber buffing cloth.
Apply: Apply one or two dime-sized drops of sealant on an applicator sponge and rub it across the car's painted surface in a crisscross pattern. Make sure you complete one section at a time.
Buff: Once you've applied the sealant on the entire vehicle, grab a clean microfiber towel and buff the surface to remove any excess product.
Pro tip: Make sure you don't apply the sealant in a circular motion to prevent swirl marks.
Paint Sealant vs. Wax
Paint sealant and car wax are unique in their own ways. While car wax, especially carnauba wax, provides much deeper gloss than any automotive product on the market, paint sealants deliver more long-lasting protection.
Your final choice will depend on your unique needs. Besides, you can always layer a natural wax on top of a sealant for the best results and enjoy a deep, smooth finish provided by a car wax.
Paint Sealant vs. Ceramic Coating
Paint sealant is a synthetic product that protects the paint surface and provides a deep, mirror-like shine. It is chemically engineered to bond to the paint surface, it tends to last much longer than a car wax.
On the other hand, ceramic coating uses nanotechnology to deliver an invisible layer of protection. When nanoparticles stick to the surface, they seal all the pores, making the surface entirely hydrophobic and UV resistant.
Car Paint Sealant Cost
The average paint sealant pricing is about $20. However, you can always find cheaper or more expensive products on the market:
About $20: It's possible to find decent paint sealants at $20. However, they tend to be less durable and with fewer features than their costlier counterparts.
Over $20: There are many products that cost $40 or more. These sealants are advertised as premium products, and they deliver more long-lasting protection and shine that goes beyond your expectations.
Top Paint Sealant Brands
The most notable names in the car detailing industry are:
Chemical Guys: Based in California, Chemical Guys produce high-quality coatings, waxes, polishes, and sealants for cars and trucks.
Meguiar's: Meguiar's offers products for different automotive surfaces, from wheels and tires to paint and interiors.
Wolfgang Car Care: Wolfgang paint sealant products are among the best detailing solutions out there. Besides, Wolfgang relies on American and German car enhancement technology to create top-quality products like polish, swirl removers, tire dressing, wheel and tire cleaners, carpet cleaners, and more.