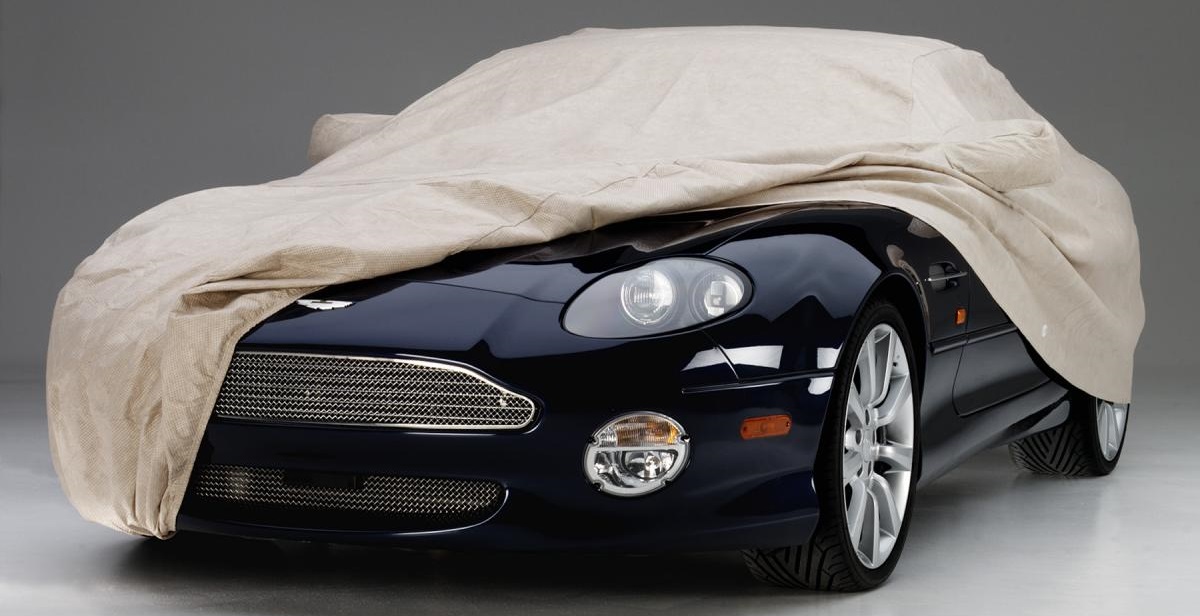 8 Best Car Covers for Maximum Protection
Even keeping your vehicle in a garage doesn't save it from humidity, dust, and problems that can occur inside the garage. There's a solution though – get yourself the car cover. It can make your life much easier and make your car, bike, or SUV much more enjoyable.



However, deciding whether you need it or not, and picking the right one can be overwhelming. Therefore, our team of experts created the guide with 8 best car cover reviews and what to look for when buying.
Best Car Covers in 2021



We reviewed tons of products to identify the #1 on the list, based on specs, features, cost, and other considerations.



1. OxGord Executive Storm-Proof Cover ($69.97)
This quality rainproof product features 7 layers of protection – 5 layers of polypropylene, one layer of soft cotton, and another layer of microporous film. The top 3 coats are 100% waterproof to keep your vehicle protected against stormy weather. The inner soft cotton stratum "stops" the cover from scratching car paint.
Another great quality is the front and rear elastic hems, which means the product stays intact even during strong winds. It's constructed from breathable material to prevent the formation of mildew and mold. The cover also comes with a heavy-duty storage bag and an antenna patch.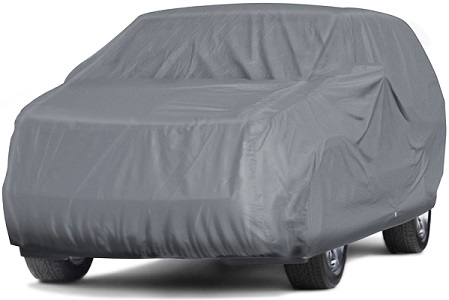 100% waterproof;
7-layer product;
Suitable for both indoor and outdoor use;
Includes its antenna patch and its own storage bag;
Soft fleece inner layer saves paint from scratching.

Too big for smaller cars.
2. Classic Accessories OverDrive PolyPro 1 Compact Sedan Car Cover ($41.70)
This's a great cover to save money and one of the best car covers for outdoor usage. It's manufactured from polypropylene fabric that provides superior protection. It has a soft inner fabric that won't make scratches. Its elastic hem at the bottom makes it easy to fit onto the car.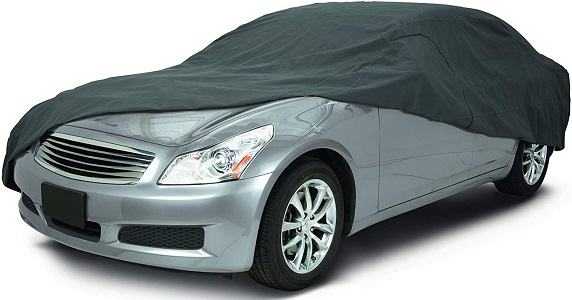 Another notable feature is that the fabric works well in direct sunlight, as it offers impressive protection against UV rays for outdoor storage. The car paint will be protected, even when the vehicle is left in the sun for a long time. There are also no cumbersome ties and strings; the product is sewn together for an easy and quick fit when you're in a hurry.
It's made from breathable material and will prevent any moisture buildup inside the car. It comes with a 2-year warranty and a storage bag.

Fits compact sedans (158-170 inches) in length;
Two-year limited warranty;
Water-repellent;
Indoor and outdoor protection;
Comes with antenna reinforcement patch, non-scratch tie-down grommets, and rope.

3. Kayme Four Layers Waterproof All Weather Cover ($54.96)
Kayme Cover offers four levels of protection, including an internal cotton layer that protects the car paint. On the outside, the aluminum guards your vehicle against harmful UV rays. It's available in various sizes, so it should be an easy one that fits your ride. The product is also water-resistant and doesn't let water through. Therefore, you can keep your car out when it's raining and be sure that it's dry when you need to dry away.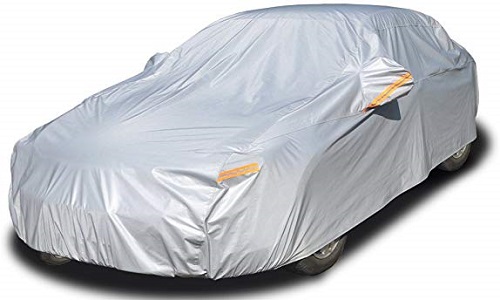 It doesn't scratch the vehicle's surface (inner liner is soft);
Quick and easy to put on/off;
Zipper for door access is quite convenient;
Mirror notches make the cover secure and close-fitting;
Constructed with aluminum fibers to protect and reflect the sun's heat and keeps the vehicle cool in hot weather.

It's prone to leaks around the seams/stitching in severe rain.
4. Budge Duro Car Cover ($56.65)
If you're seeking for more heavy-duty car protection, Budge Car Cover offers the Duro model. Comprised of 3 layers of polypropylene material, this cover breathes and has ultra-sonically welded seams. This cover is water-resistant but is not considered waterproof. It's perfect for use in a garage carport or for short-term outdoor use. It's made from a soft, non-abrasive material engineered not to harm the surface of your car.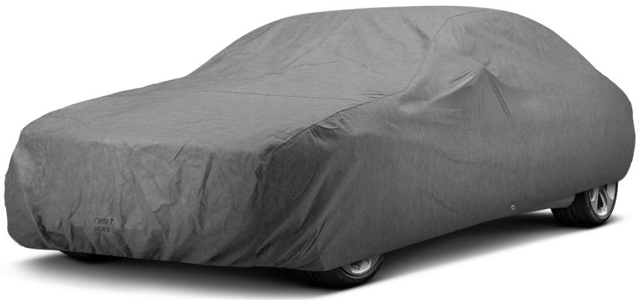 Available for vehicles up to 264-inches long, it guarantees an excellent fit with a full elastic hem and built-in grommets. The product comes in a gray color and includes a storage bag, antenna patch, and a 5-year warranty.

One of the best indoor car covers on the market;
Tree layers of lightweight protection;
Non-abrasive and water-resistant;
Full elasticized hem;
5-year warranty.

5. Covercraft Sunbrella Car Cover ($117.54)
Due to its unique construction process, Covercraft Sunbrella Car Cover provides protection and years of service in intense sun areas, like California and other areas of the sun-belt, where ultraviolet rays will quickly degrade the interior and paint. Thanks to the acrylic fibers, which are naturally UV resistant, this brand has long been the recognized leader in long-wearing fabrics for car covers.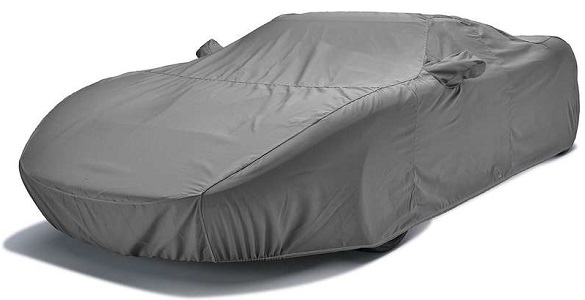 Its acrylic fibers are solution dyed, before the material is woven, to ensure the color goes all the way through the fabric. Applying a special finish operation, the material is then softened for use as a vehicle cover fabric. The fabric is super strong and, matched with its UV resistance – makes one the best custom cover for vehicles that spend extended time outside.

Long-lasting strength;
Fade and water-resistant;
Neoprene elastic hems;
Reinforce, non-scratch grommets;
Double-stitched overlapped seams.

6. Audew Car Cover ($37.59)
It's a water-resistant cover made of high-density 190T polyester fabric, which means that it's able to protect your vehicle during light to medium rain showers. The silver reflecting outer surface assures that this product is capable to deflect most of the sun rays, especially the UV rays that can cause deterioration of certain materials on the vehicle.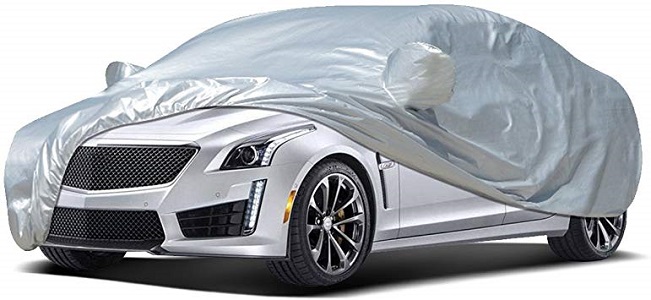 The product is also quite tough, which makes it great for keeping dust and dirt off the car. It also prevents the vehicle from being scratched while the cover is on it. There are two ways of securing this cover. The first is the elasticized hem, which is quite ruched, making sure that the cover tightly gathers up under the car's body. Second method applies windproof buckles and heavy-duty straps.

Provides protection from various elements;
Good securing features;
Manufactured from heavy-duty materials;
Easy to clean;
Durability.

7. XCAR Car Cover ($39.99)
The cover consists of water-repellent material, so you can keep your car outside during the rainy weather and still come back to find it completely dry. The cover is just as good at guarding your vehicle against the UV and sun rays. This is mostly thanks to the reflective properties of the product. They reflect the UV and sunlight rays, ensuring that the paint isn't degraded or harmed in any way while keeping it in excellent condition.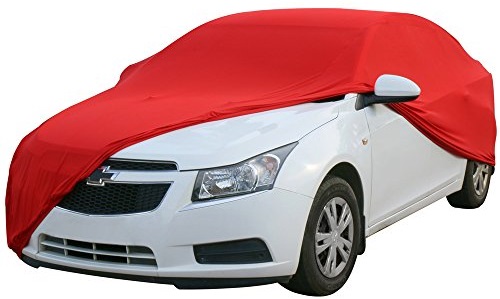 The material is quite thick, which is what makes it a highly protective layer against leaves, dust, and other forms of debris. Not only does this keep your vehicle clean, but it also ensures that it's safe from scratches. The elastic hem means that it's able to fit snugly around the car. There are also cable locks, grommets, clips, and bungee cords to let you secure the cover tightly.

Protection from rain, sun, wind, and debris;
Can be secured tightly;
Adequate number of sizes;
Breathable fabric;
Safe from scratches.

The interior fabric is somehow rough.
8. Motor Trend All-Season ($32.90)
This product from Motor Trend is a UV-proof, snow proof, water-resistant, single-layer polyester car cover that offers protection from damaging UV rays, rain, dust, birds, and so on. It delivers 100% waterproof protection and features a heavy-duty, reinforced design for improved durability. Furthermore, it has an elastic hem around the outside that guarantees a snug and protective fitting.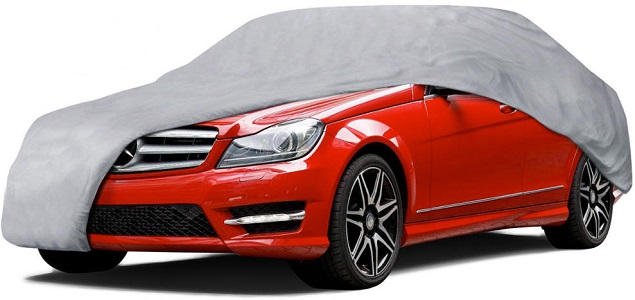 It has a non-absorbing solar reflective layer that keeps the car interior cool on sunny days and prevents sun damage. Included in the package are lock and free storage bag. The manufacturer gives a 2-year warranty period.

The cover fits well;
Dustproof and waterproof car cover;
Easy to put on/off;
Features non-absorbing solar reflective layer;
Strong material.

Buying Guide
Again, knowing what to look for in a vehicle cover can be tough, so we've put together this guide to car cover purchasing.
Benefits
Protection – Harmful UV rays can cause the paintwork to look dull and crack the dashboard. A cover protects your car from dust, sun damage, bird droppings, snow, and other pollutants;
Save money on car repairs – Protecting a car extends its shelf life. It saves you the money you would spend on costly repairs or maintenance;
Keep your vehicle looking new – A quality vehicle cover has a breathable fabric that protects it from mold, dew, and dust. It also prevents the windshield from freezing during the snow.
Core features
Size compatibility – It's better to acquire a universal-fit product that adequately covers both sedans and SUVs. A cover with long dimensions is the right choice since it can work with vehicles of a variety of sizes, heights, and shapes;
Waterproof material – Rainwater can leave your car prone to rust and eventually damage the paintwork. A rainproof cover guards your vehicle against rain and water. Most feature ultrasonic seam technology, which means the fabric is held together with tight double stitching. It prevents water from seeping in;
Breathable fabric – A cover needs to have breathable material to ensure the car doesn't get rust or mold while parked. It also ensures underneath moisture doesn't get trapped beneath the vehicle;
Securing mechanism – Some covers come with an elastic hem at the bottom and non-scratch grommets to make sure the lid isn't blown away when strong gusts of wind hit. A good-quality one should be equipped with cable clips and locks to help you secure the vehicle tightly.
Types
Outdoor – They're designed for cars stored outside. Best outdoor covers are made of durable materials that are able to withstand snow and strong winds. A canvas cover can fit in this type, as it can withstand sun, wind, debris, and tree sap. They're UV resistant, too;
Indoor – These are made for vehicles parked in a garage or a similar indoor facility. They provide the lowest level of protection since they'll shield your car against dust and water but may not withstand adverse weather.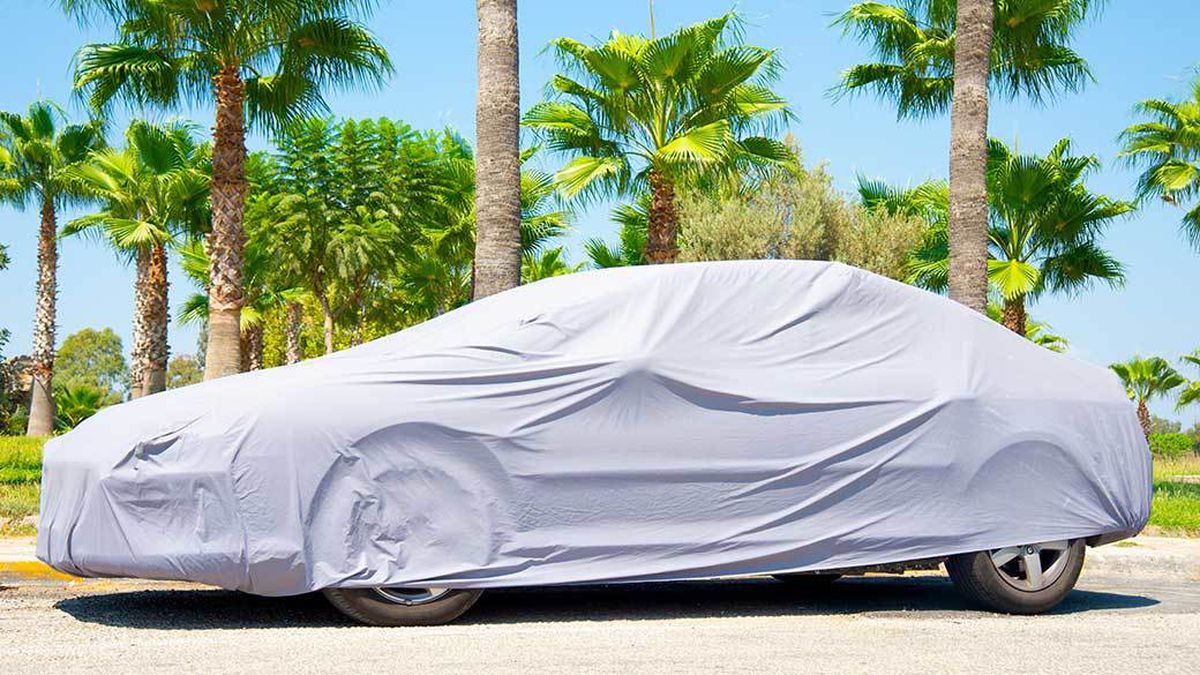 What is the Best Car Cover Brand?
There are several reputable brands available in the market, but choosing the right one is very important. The following are 4 brands that are considered to be the best today.
Budge – This enterprise has expertise in protective materials for automotive use. Located in Pennsylvania, Budge manufactures and distributes protective covers for cars, terrain vehicles, motorcycles, boats, and more. One of its finest products is the Budge Duro Car Cover, which utilizes breathable cover fabric;
Classic accessories – It was founded in 1983 in Seattle, Washington. Originally, it manufactured automotive accessories such as steering wheel covers and seat belt pads. Later, the brand specialized in car covers and covers for snowmobiles, motorcycles, boats, and golf cars. One of its top offers is the Classic Accessories OverDrive PolyPro Car Cover;
OxGord – OxGord has been in the industry for over 15 years, producing automotive parts, interior accessories, wheels, and replacement parts. One of its popular products is the OxGord Executive Storm-Proof Car Cover;
Kayme – Kayme was established in 1998 and headquartered in western Paris, France. This brand specializes in automotive, aerospace, and nuclear products. A great option from this brand is the Kayme Four Layers Waterproof All Weather Car Cover.