10 Best Car Covers for the Utmost Vehicle Indoor and Outdoor Protection in 2022
Keeping your vehicle in a garage doesn't protect it from humidity, dust, and problems that might occur inside. Luckily, there is a solution – get yourself the car cover. Such a useful item can make your life much easier and expand the lifespan of your car, bike, or SUV.
Essentially, the main things to consider when looking for the best car cover are the material, indoor or outdoor type, whether it is dust-resistant and waterproof, its size, securing mechanism and how easy it is to put the cover on the truck or a car. Finally, don't neglect the prices and best car cover brands – that way, you're less likely to be disappointed by the quality received.
With so many products on the market today, picking the best car cover can be overwhelming. Therefore, our team of experts created a comprehensive buying guide to lead you through the car cover key features, benefits, and how to choose the best cover for your vehicle.
10 Best Rated Car Covers in 2022
We reviewed dozens of covers to identify the #1 on the list. We considered their specs, features, cost, materials, protection, and other aspects that impact their overall quality. If you are in the market for the best car covers on Amazon, you arrived just in time to see the latest and best-recommended products for winter 2021/22.
1. Best Outdoor Car Cover – OxGord Executive Storm-Proof Cover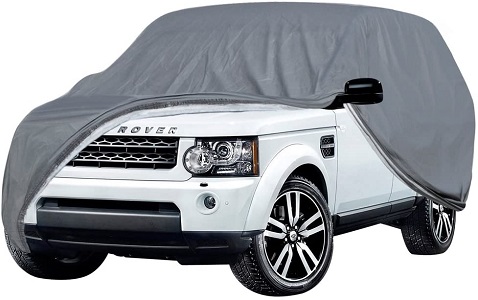 OxGord Executive Storm-Proof is one of the best car covers for the outdoors. This quality rainproof product features 7 layers of protection – 5 layers of polypropylene, a layer of soft cotton, and another layer of microporous film. The top 3 coats are 100% waterproof to keep your vehicle protected against stormy weather. The inner soft cotton stratum "stops" the cover from scratching car paint.
The front and rear elastic hems ensure the item stays intact even during strong winds. It's made of breathable material to prevent the formation and buildup of mildew and mold. The cover also comes with a heavy-duty storage bag and an antenna patch.
The OxGord Executive Storm-Proof Cover is available in 2 different sizes, so you can find one that fits your car. The reinforced seams guarantee durability and long-lasting performance.
PROS// 100% waterproof; 7-layered design for enhanced protection; Suitable for both indoor and outdoor use; Antenna patch and storage bag included; Soft fleece inner layer to protect the paint from scratching.
CONS// Too big for smaller cars; Too heavy.
2. Best Indoor Car Cover: Classic Accessories OverDrive PolyPro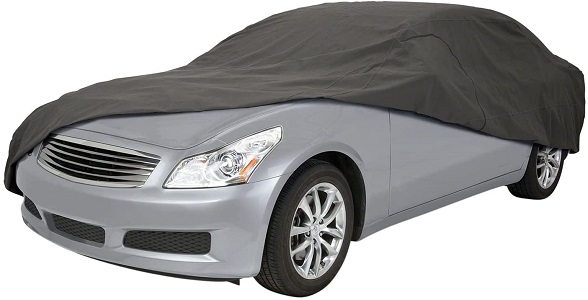 Classic Accessories OverDrive PolyPro offers a great value for money, and it's one of the best indoor car covers. It's made from polypropylene fabric that provides superior protection and has a soft inner fabric that won't cause scratches. Its elastic hem at the bottom makes it easy to fit onto the car.
The fabric works well in direct sunlight, as it offers exceptional protection against UV rays. That said, you can use it when it's sunny outside and rest assured that your paint will be protected, even when the vehicle is left in the sun for a long time. There are no cumbersome ties and strings; the product is sewn together for an easy and quick fit when you're in a hurry.
This car cover is made from breathable material and will prevent any moisture buildup inside the car, which makes it a go-to choice for garages. It comes with a 2-year warranty and a storage bag.
PROS// Suitable for compact sedans; 2-year warranty; Water-repellent; Excellent indoor protection; Antenna reinforcement patch, non-scratch tie-down grommets, and rope included.
CONS// Not waterproof; Not enough wind protection.
3. Best Car Covers for Sun: Kayme 6 Layers Car Cover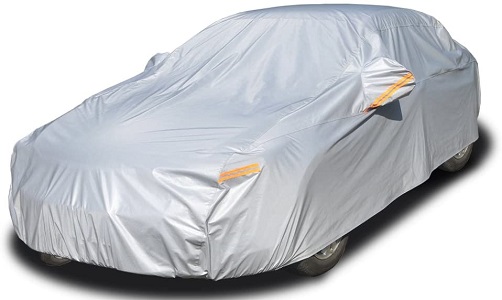 Kayme Cover offers six levels of protection, including an internal cotton layer that protects the paintwork. On the outside, the aluminum guards your vehicle against harmful UV rays. It's available in various sizes, allowing you to find a perfect fit for your vehicle.
This 6-layered cover is suitable for winter weather conditions and summer temperatures, meaning that you can leave your car outside with peace of mind. In addition, it keeps your vehicle safe from sand, dust, branches, leaves, frost, and bird droppings.
Kayme 6 Layers Car Cover is made of heavy-duty materials that offer enhanced protection even in the harshest conditions. However, it is easy to put on and off.
PROS// Soft inner liner to protect the surface from scratches; Quick and easy to put on and off; Zipper for easier access to doors; Mirror notches; Aluminum fibers to reflect the sun heat and keep the car cool in hot weather.
CONS// Potential leaks around the seams in severe rain; Durability is questionable.
4. Best Budget Car Cover: Budge Lite Car Cover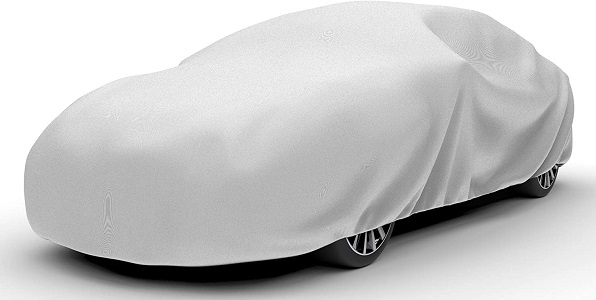 Budge Lite Car Cover is often described as an entry-level model because, unlike most of its counterparts, it doesn't offer multiple layers of protection. However, it is a good choice for occasional outdoor use and keeping vehicles indoors. Besides, it is offered at a great price.
This Budge's model is made of polypropylene that ensures moisture that accumulates underneath can evaporate without the risk of mold and mildew buildup. It is pretty lightweight and comes with an elasticized hem at the bottom. This small addition provides adequate protection, even when you're not using a cable.
Although this cover is more affordable than others on this list, don't underestimate its efficiency. It provides decent performance and is used by more than 5,000 customers.
PROS// Budget-friendly; Great protection against moderate UV exposure; Non-abrasive materials to prevent scratching; Available in 9 sizes; Works well in windy conditions.
CONS// Not as efficient in repelling dust; It's not water-resistant.
5. Best Winter Car Cover: Leader Accessories Platinum Guard Car Cover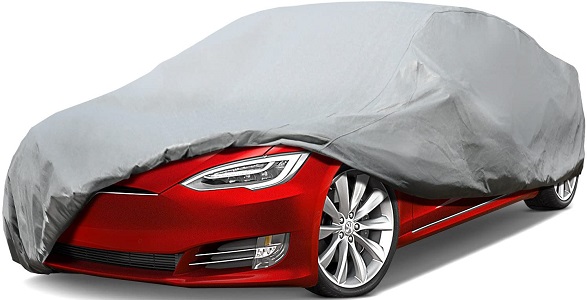 Winter conditions are a challenge for any car owner. Snow, freezing, and extremely low temperatures can affect the vehicle's exterior and damage the paintwork, especially if you tend to park your car outside the garage. Luckily, the Leader Accessories Platinum Guard Car Cover is here to protect your baby!
The Leader Accessories Platinum Guard consists of seven layers of different materials – four of which are polypropylene, two ultraviolet coatings, and one cotton. Therefore, this item provides exceptional protection against snow and freezing rain. Each layer of fabrics is breathable, ensuring no moisture could damage your car paint.
This cover is available in three sizes (sedans from 185" to 288"). You can choose the size that fits your vehicle, and the elastic hem around the bottoms will provide a snug fit.
PROS// Soft, breathable materials; Suitable for indoor and outdoor use; Windproof design; Elastic hem for better fitment; Antenna patches, storage bag, and buckle included.
CONS// Very heavy; Users find it either too short or too big.
6. Best Hail Car Cover: iCarCover 30-Layers Custom-Fit Protector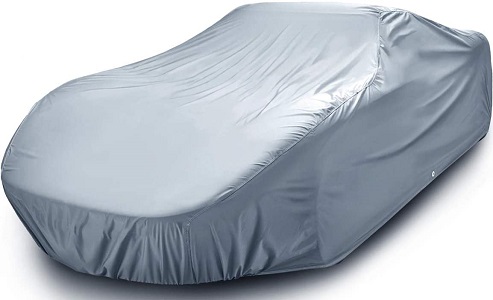 Although there is no 100% hail-proof car cover, you can still find excellent solutions to protect your car from light hail, heavy rain, and snow. In that case, the iCarCover 30-Layers Custom-Fit Protector is the right choice for you.
It's a waterproof, 18-layer car cover that offers the ultimate protection from rain, snow, light hail, and harmful UV rays. Its chemical-free UV technology shields your paintwork and prevents fading by keeping your car cool even when exposed to the sun. Its bottom layer is made from non-abrasive, soft, thick cotton, which leaves the surface fresh and glossy. In addition, it has three heavy-duty nylon straps with buckles to make sure the vehicle is fully covered, even during windy days.
You can count on iCarCover if your car's size varies from 155" to 235," whether it's a coupe, convertible, sedan, wagon, SUV, or pickup truck.
PROS// Weatherproof and waterproof; Excellent UV and heat protection; Anti-theft properties; Great fit; 7-year warranty.
CONS// Not suitable for areas prone to high temperatures; Runs small.
7. Best Car Dust Cover: XCAR Breathable Dust Prevention Car Cover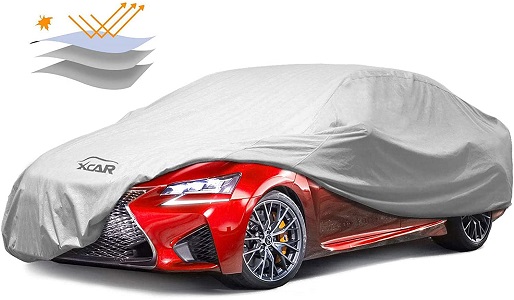 If you live in a windy area where the dust could damage your car's finish, look no further than XCAR Breathable Dust Prevention Car Cover. It features elastic hems and double stitch for a snug fit on your vehicle and is equipped with a cable and lock to make sure the cover won't blow off in the heavy wind.
This cover offers basic protection, which is why it's more suitable for indoor use with a limited time outside. It features breathable, water-repellent materials that provide excellent UV protection.
The XCAR cover comes with the cable and lock, a storage bag, an antenna patch. However, the manufacturer offers a one-year warranty, which is below average compared to similar products in the market.
PROS// Double stitch seams; Cable and lock included; Windproof; Decent UV protection; Snug fit.
CONS// 1-year warranty; Not the best choice for outdoor use.
8. Best All-Weather Car Covers: Motor Trend All Season WeatherWear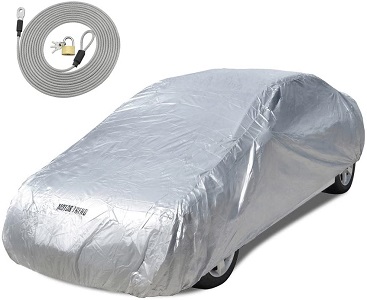 The Motor Trend All Season WeatherWear is a UV-proof, snowproof, water-resistant, single-layer polyester car cover that offers protection from damaging UV rays, rain, dust, bird droppings, and pollutants.
This car cover delivers 100% waterproof protection and features a heavy-duty, reinforced design for improved durability. Furthermore, it has an elastic hem around the outside that guarantees a snug and protective fitting.
It has a non-absorbing solar reflective layer that keeps the car interior cool on sunny days and prevents sun damage. The lock and the storage bag are included in the package, and you won't have to buy them separately. The manufacturer offers a 2-year warranty period.
PROS// Lightweight; Dustproof and waterproof; Easy to put on and off; Non-absorbing solar reflective layer; Durable material.
CONS// The fabric is a bit thin; Sluggish fit.
9. Best Waterproof Car Cover: MORNYRAY Waterproof Car Cover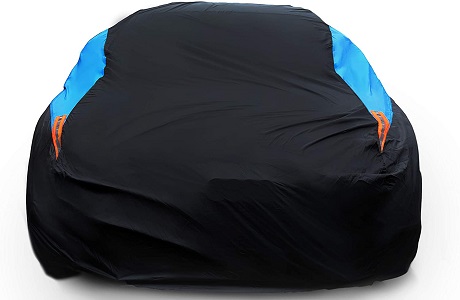 MORNRAY Waterproof Car Cover is made of premium-quality materials that make it resistant to wear and tear. It is an excellent choice against dirt, tree sap, bird droppings, and other environmental factors that could damage your paintwork. Additionally, it has top-notch waterproof properties that ensure no rain or snow can get into contact with your car's surface.
This cover is available in 13 different sizes, allowing you to choose one according to your specific needs. It also protects from UV rays and sun exposure, which makes it a great pick for outdoor use. Besides, its windproof design ensures the wind does not blow the cover off your car.
This waterproof car cover is pretty affordable compared to other products with similar features. You won't go wrong with choosing it to safeguard your vehicle from extreme weather conditions and leave it outside with peace of mind.
PROS// High-quality waterproof material; Windproof design; Excellent UV protection; Protection from fading; 13 different sizing options.
CONS// It doesn't have a protective interior lining; A bit thin.
10. Best SUV Car Cover: Bliifuu Car Cover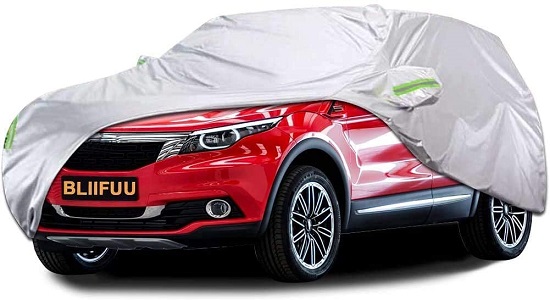 Bliifuu Car Cover features high-quality materials that are more resistant to wear and tear. The polyester fabric ensures high performance both indoors and outdoors when it's not raining. Thanks to its high-temperature resistance, your paintwork won't be affected by direct sunlight.
This car cover protects against rain and UV rays, while smooth inner fabric ensures the car paint remains intact. Besides, it is highly functional and easy to take on and off due to its ergonomic design that allows you to get the most out of the cover. Additionally, the 6 fluorescent light strips ensure the utmost protection while parking your car at night.
In general, this car cover is excellent for SUV owners who want to protect their car paint from snow, corrosion, pollutants, bird droppings, and other potentially harmful contaminants. It can also shield your mid-sized SUV from the wind.
PROS// High-density polyester fabric for enhanced protection; Ergonomic design; Windproof; Resistant to high temperatures; Excellent UV protection.
CONS// Not waterproof; Not good for snow.
Best Car Cover Buying Guide
Before you make a final decision, it's important to consider the following features to get the best car coverings that match your unique needs.
Indoor vs. Outdoor Car Cover
You will choose between indoor and outdoor car cover based on where you park your car. If you tend to leave it in the garage, then opt for an indoor one, while those whose cars are mostly parked outside should consider an outdoor model. Still, some car coverings are designed to protect your car both inside and outside, which is convenient for those who park their car outdoors while they are at work.
Lightweight vs. Heavyweight Covers
While car covers made of thick materials provide extra protection from dents and scratches, lightweight models are easier to take on and off. Choosing between these two types depends on where you live and your specific needs. That being said, if you live in an area with harsh climate conditions, we recommend you pick a heavyweight cover to protect your vehicle from hail, rain, snow, pollen, sap, and winter weather.
Lightweight car coverings are easier to manage, but it doesn't mean they're less efficient. Many lightweight car covers are made of woven fabrics and deliver exceptional protection from most outdoor elements. They tend to be more expensive than bulkier models, but they can protect your vehicle from UV rays and sun exposure as efficiently.
Car Cover Size
It's always better to choose a universal-fit product that entirely covers sedans and SUVs. A cover with longer dimensions is the right choice because it works with vehicles of different sizes, heights, and shapes and comes in handy when you're not sure about your car or truck's exact dimensions.
Styles, Fabrics, and Colors
Car covers come in a wide variety of styles, fabrics, and colors. Still, it's essential to check the cover's quality before making a final decision since some attractive items may not be as durable as expected.
Waterproof Material
When rainwater comes into contact with your vehicle, it may lead to rust and other problems that might damage your paintwork. For that reason, it's vital to choose a waterproof car cover that features ultrasonic seam technology characterized by tight double stitching. That way, water won't be able to seep in.
Breathability
A cover should be made of breathable materials to make sure the car doesn't get rust or mold while parked. Besides, it ensures underneath moisture doesn't get trapped beneath the vehicle.
Securing Mechanism
Some covers have an elastic hem at the bottom and non-scratch grommets to ensure the lid isn't blown away when it gets windy outside. A high-quality car cover is equipped with cable clips, and you can lock it to secure the vehicle tightly.
Cost
The price of a car cover may vary depending on factors like fabrics, style, protection levels, and brand. Amazon offers a broad range of car cover models to choose from according to your protection requirements and budget.
Car Cover Benefits
You can benefit from the best car cover on various levels, including:
Enhanced protection: A car tarp protects your paintwork from harmful UV rays, dust, sun damage, bird droppings, snow, and other pollutants that could make your vehicle paint look dull. Besides, thick and weatherproof covers may prevent damages to the windshield and other vital car components.
Money-saver: If you take good care of your car, you're more likely to avoid frequent repairs that could cost you a fortune.
Your vehicle looks new: Pick a breathable car cover and protect your car or truck from mold, dew, dust, and other factors that make it look old and worn out. Additionally, a car cover safeguards your windshield from freezing during winter.
Theft prevention: Although a car cover may seem like a piece of fabric, it does a great job at repelling thieves since most of them won't bother with covered cars but will choose easier prey instead. You can add a lock and cable to your cover to provide an extra level of protection.