8 Best Motorcycle Oil Filter Options for Optimum Engine Protection – Reviews + Buying Guide
A motorcycle oil filter is usually a neatly folded cellulose barrier with microscopic pores small enough to prevent most pollutants from entering engine oil. However, the improvement of the material technologies imposed the usage of synthetic materials like plastic or glass fibers.
The usage of synthetic materials makes the pores even smaller. In addition, it adds rigidity to the barrier, making it harder to get damaged over time. The main purpose of the oil filter for motorcycles is to keep your quality motorcycle oil clean.
Whether you have a brand new motorcycle or want to renovate your old one, the right motorcycle filter and its regular change is of the utmost importance for a healthy engine.
It is not easy to find the right motorcycle oil filter because so many of them are on the market. So we have come up with the list of the 10 best motorcycle oil filters to make this task easier for you. Later, we will dive deeper into the features that define a good motorcycle oil filer in our buying guide.
Another important question arises – Where to buy motorcycle oil filter? Well, the answer is quite simple – Amazon has the best offer, the best prices, and the fastest shipping across the US. It even has an option for you to enter the model and year of your motorbike to find the compatible oil filter in just a few clicks.
1. K&N Motorcycle Oil Filter KN-171B
This K&N motorcycle filter is designed to operate with all conventional, synthetic, and blended motor oils. It is made to provide exceptional flow rates and a consistent flow of oil to your engine. They utilize an innovative, highly efficient synthetic-blend filtration media with the heavy-duty canister that is engineered to be exceptionally durable and a 17mm welded hex nut made to be used for quick and easy filter removal.
Engineered to support exceptionally high flow rates while providing outstanding protection from harmful engine contaminants, each filter is specifically designed to withstand the service intervals recommended by vehicle manufacturers. As a result, motorcycle oil filter comparison cannot go without K&N.
WHAT WE LIKED // Better flow than OE filter, Excellent build quality, Easy on & off
WHAT WE DIDN'T LIKE // Only for Harleys
2. HIFLO FILTRO HF204 Black Premium Oil Filter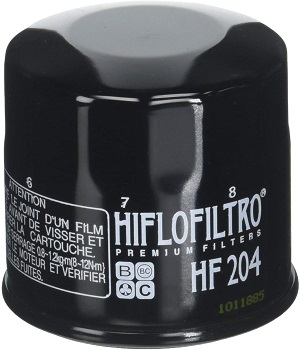 Hiflofiltro oil filters provide the highest quality in filtering with a longer life than comparable OEM filters; test results prove 28% longer service life than OE brands. The steel comes from Toyota Tsusho and NKK Japan; glue comes from Henkel Germany; filter paper comes from Ahlstrom Filtration Finland, Hollingsworth, Vose USA, and Awa Paper Japan.
It goes through 16 different quality control checks so you can have the best quality motorcycle oil filter in the world – it should be your choice when it comes to efficiency, durability, longevity, and high-quality filtering.
WHAT WE LIKED // Affordable, Does not require special tools, Great quality, Compatible with a lot of motorbikes
WHAT WE DIDN'T LIKE // Not the standard size, short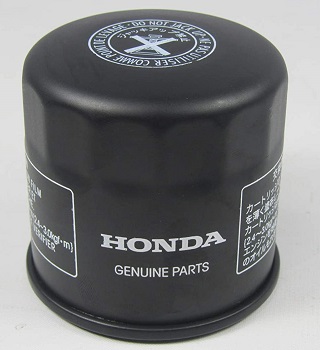 The Honda OEM Oil Filter is unlike any other filter – they are designed to give your machine maximum protection and help improve its life. The Honda OEM Oil Filter is a high-performance filter that will help keep your machine running great.
With OEM parts, you can have peace of mind because they are made of high-quality materials, and you can rely on them even if you want to work on your bike at home.
WHAT WE LIKED // Anti-drain back valve, Amazing quality, Longer than most oil filters
WHAT WE DIDN'T LIKE // Relatively pricey, Lacks gasket
4. Fram Extra Guard PH6017A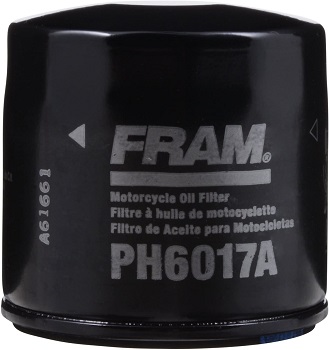 Fram Motorcycle Oil Filter is designed for everyday drivers who perform frequent maintenance on their bikes. A special blend of fibers and resin creates a proprietary filter media that captures 95% of dirt particles that can cause harmful engine wear. It has proven protection for up to 10,000 miles.
Extra Guard has cellulose and glass blended media that provides advanced engine protection for your vehicle. Engineered with a silicone anti-drain back valve, FRAM Extra Guard Oil Filters meet all manufacturer's recommended change intervals.
WHAT WE LIKED // Easy installation and removal, Reasonable price, High-efficiency
WHAT WE DIDN'T LIKE // It is designed only for conventional oil
5. WIX Filters – 51358 Spin-On Lube Filter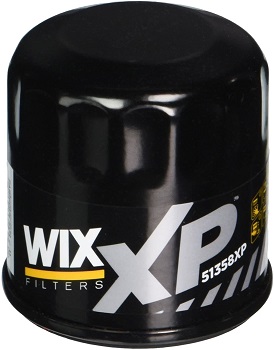 The entire construction of the WIX 51358 is quite resistant and durable – it offers low flow restriction and high particle size retention. These two features improve the overall efficiency and enhance performance. The filter includes an inner element tube, center tube, mounting plate, and gasket.
This type of filter allows you to go for longer periods without changing the filter due to its increased dirt-holding capacity. But follow the manufacturer's instructions about the right oil because the overall performance of the filter depends on the kind of lubrication you use.
WHAT WE LIKED // Oil never looks dirty, Reliable and durable filters, Great capacity
WHAT WE DIDN'T LIKE // Nothing we could think of
6. Maxima ProFilter Maxflow Oil Filter
Maxima ProFilter Maxflow exceeds OEM specifications with its consistent flow rates. It is designed for usage with synthetic and petroleum-based oils. It will certainly keep your engine properly lubricated. Try it, and you will not be disappointed.
WHAT WE LIKED // Great price, Amazing fitment
WHAT WE DIDN'T LIKE // Nothing we could think of
7. MAHLE Original OC 575 Oil Filter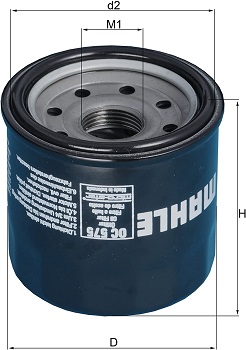 Mahle Original features superior embossed and pleated filter media for high dirt holding capacity and low pressure drop – each filter is designed to OEM specifications and high safety standards. Exceptional structural integrity is achieved through high-quality seaming, endplates, and sheet metal.
It features a pressure relief valve that ensures lubrication at all times.
WHAT WE LIKED // Excellent build quality, construction, and fit
WHAT WE DIDN'T LIKE // Some filters may have glue dribbled everywhere on the inside
8. BMW Genuine Motorcycle Oil Filter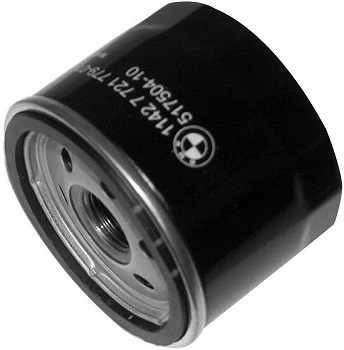 This original filter recommended by BMW, with promising durability and engine protection, offers a 2-year or at least 24,000 miles warranty. You will enjoy a great and safe ride for a long time, making sure your engine is completely protected.
BMW Motorcycle Oil Filter comes with a convenient crushable seal/washer on top of the well-built seal making removal without oil leakage more convenient.
WHAT WE LIKED // Extremely durable, Great warranty
WHAT WE DIDN'T LIKE // You need to have a specific filter wrench, Dry starts are inevitable
How to Choose the Best Oil Filters for Motorcycle?
Keeping your engine running smoothly, protecting it from various contaminants that can threaten its integrity is the main purpose of any good oil filter. Airborne fungus, bacteria, dirt, dust, and even metal particles scraped off cylinder walls may get into the engine and damage it over time.
Finding the best motorcycle oil filters can sometimes be such a daunting task because so many of them are available on the market. It requires you to do proper research, but not everyone has the time to do it on their own, so we did it instead. First, take a look at some technical aspects and features so that you can make a well-informed decision.
You may ask yourself, What is the best motorcycle oil filter? The best is one that fits your bike because each product has different characteristics – oil filters are engine specific. The only way to be absolutely sure the filter will fit is to check the owner's manual  – it will help you narrow down the choices.
Types
A spin-on filter is a type of full-flow filter with a steel canister paired with a paper medium. Its installation is simple and requires minimal tools.
Cartridge oil filter usually does not have metal parts. Therefore, if it is mounted upright, it can be inspected without needing to remove the oil. In addition, they are far easier to recycle than other choices on the market.
Filter Media
Filter media traps the debris and dirt. You have the choice between paper and plastic filter media. The paper is actually microscopic cellulose fibers folded into pleats to create a greater surface area. It is a traditional material, a lot cheaper, but does not last long.
On the other hand, plastic lasts a lot longer – it has a service life of 7,000 to 25,000 miles. The filters with plastic media usually have a larger and longer body and can handle the worst road conditions. It is capable of better trapping smaller contaminants over more extended periods.
Anti-Drain Back Valve
This valve prevents oil from draining out of the filter when the engine is turned off. This allows the engine to receive oil immediately upon starting up and helps eliminate dry starts, which can damage the engine due to the lack of lubrication.
Safety Release Valve
Otherwise known as a bypass valve, it is designed to open when the oil filter becomes clogged or when the oil filter becomes clogged, or when the oil is too thick. This allows the oil to bypass the filter through a center tube. The oil then goes straight to the engine to prevent starvation and damage.
The average relief valve on a motorcycle will pop open at pressures as low as 8 to 11 psi. If you have a more robust system, you should get a model that will open between 11 to 17 psi.
If the bypass valve does not open when needed, the filter can swell and eventually burst. When this happens, the engine loses all oil pressure. The result is either extensive engine damage or complete engine failure. Choosing a high-quality oil filter for your vehicle helps to prevent this from happening.
Price Range
You can have aftermarket, OEM, and premium filters for a reasonable price (between $5 and $15). With auto parts, size does matter – more rubber, steel, and filter media add to the cost. However, for over $15, you can have high-performance, extended life, premium, and giant oil filters that are simply more expensive to manufacture.
Best Motorcycle Oil Filter Brands
Bosch – is an OE supplier with its extensive line of aftermarket parts that meets or exceeds original equipment performance standards and quality.
Fram – Founded in 1932 by Frederick Franklin and T. Edward Aldham when they invented an easily replaceable oil filtering element in their first filter, F1. Since then, the company continues to manufacture a variety of quality oils, air, fuel, oil filters, and many other automotive accessories.
K&N – For over 50 years, K&N has been an industry leader in automotive filtration and technology, offering products to increase protection, performance, and longevity in thousands of vehicle applications for consumers worldwide.
Mahle – The Mahle Group is an international company founded in 1920 by brothers Hermann and Ernst Mahle. The company's core business was pistons, predominantly the ring carrier piston.
Maxima – was founded in 1979 in Southern California. It is a race-inspired, product-driven company whose products are used in over 50 countries around the globe. The brand essence is unsurpassed performance in high-stress conditions without fail.