13 Best Electric Cars for High and Low Budget Buyers



Car shopping is evolving, so choosing from among the all-electric cars out there can be quite challenging. This's practically true for first-time EV (electric vehicle) purchasers. There're a lot of terms to learn and information to review. Sure, there's a level of social conscience, and many EV acquisitions are motivated by environmental or fossil-fuel concerns.
Anyway, EVs aren't cheap and often cost much more than a gasoline-powered vehicle of the same size. The main things to remember about fully electric cars are that, for the most part, they're more rewarding to drive and need less maintenance than a conventional automobile.



To simplify your buying process, we compiled a list of the best electric cars on the market today. This niche keeps growing, and buyers have more options than ever.
Our checklist of the 13 best electric vehicles will help you discover the model that's right for you.
1. Tesla Model X ($81,000) – Best Electric Car
Model X is currently the only electric vehicle you can get with 3-rows of seating. It also has the more personality of any Tesla, which is a mixed bag. Plus, this model comes standard with all-wheel drive, delivers furious acceleration, and features marvelous handling.
As the best all-electric car, it features 328 miles range – the longest range of any SUV on the road. The Model X recharges up to 115 miles in 15 minutes at any Supercharger location.
The Model X includes a 17-inch touchscreen, a 17-speaker stereo, voice command activation, navigation, a Wi-Fi hotspot, an air filtration system, heated seats, a heated steering wheel, synthetic leather upholstery, a panoramic windshield, a built-in dashcam, and Sentry Mode security system, which keeps track of events on multiple cameras around the vehicle.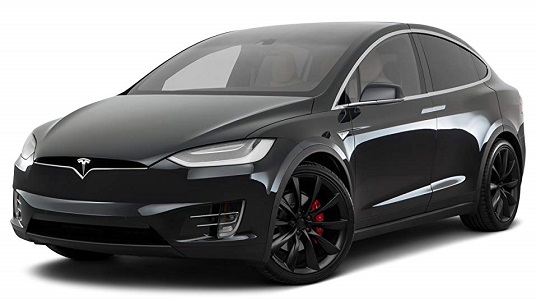 Additionally, it features Autopilot, which allows semi-autonomous driving and will steer, speed up, and brake the car automatically. The X also benefits from access to Tesla's Supercharger network and free over-the-air software updates.
The panoramic windshield and falcon-wing doors set it apart. Still, these attributes could also be viewed as highlights that don't bring functionality.



The Tesla Model X is available in most areas of the USA. If your state forbids the sale of T cars, you can order one from a neighboring state.
2. Tesla Model S ($79,990)
The Model S might be the oldest Tesla in production, but it's still our favorite of the company's three offerings. It mixes a spacious, attractive cabin with great driving dynamics and exceptional range (373 miles). Model S also boasts an upscale interior with loads of space for cargo and passengers.
This Tesla car comes standard with a 17-in touch screen, navigation, voice-activated controls, a Wi-Fi hot spot, synthetic leather upholstery, heated front/rear seats, a dashcam, Autopilot, and Sentry Mode.
Like the Model 3 and the Model X, the S profits from Supercharger access and free over-the-air update capability.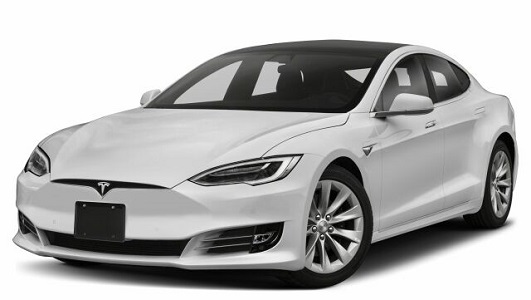 Depending on how it's armed, it can also be tremendously fast in a straight line. The price tag, still, is equally frightening. And compared to similarly priced vehicles, it feels a bit unpolished.
However, it lacks some of their luxury niceties, like massaging seats. But if you're chasing an EV with a Tesla emblem, the S is the oldest of the crew and one of the best used electric cars on the market.
You can buy a Model S in most states.
3. Tesla Model 3 ($39,900) – Best Selling Electric Car
The Model 3 powered by Tesla is the best-selling EV in the USA. In fact, it has outsold many gas-powered competitors. This's due in part to its breathtaking performance, first-class range, excellent crash test ratings, and cutting-edge tech features.
The least expensive Model 3 available on the market offers 240 miles of range. But higher trims can last up to 310 miles on a single charge.
Where the Model 3 truly impresses is its forward-looking convenience and safety functions (including some of the industry's best semi-autonomous driving aids) and innovative technology.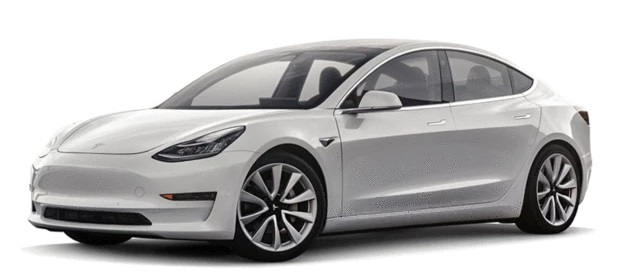 It has a minimalistic cabin, with a 15-inch center-mounted touch screen display that controls everything in the car. Other standard functionalities in this Tesla include a dash cam, Sentry Mode, and Autopilot.
Model 3, like other Tesla vehicles, also prosperities from access to the company's Supercharger network and free over-the-air software updates.
Due to Tesla's over-the-air updates, Model 3 is always upgrading and can be reconfigured according to your wants and needs — even after you buy the vehicle.
Model 3 is available for purchase in most areas of the country.
4. Audi E-Tron ($74,800)
The E-Tron is recognized as a member of the Audi lineage due to its sharp headlights and its hexagonal grille. The main idea was to produce an excellent luxury SUV that's electric, not one whose only selling highlight is its battery.
Inside, it shares its dual-screen MMI Touch Response with other members of the Audi family, including the A6, A7, and the Q8. This EV is highly intuitive to use, looks good, and it responds to touch inputs.
It channels its charge to two electric motors (one over each axle). This system delivers 360 horsepower and 413 pound-feet of torque in regular driving conditions.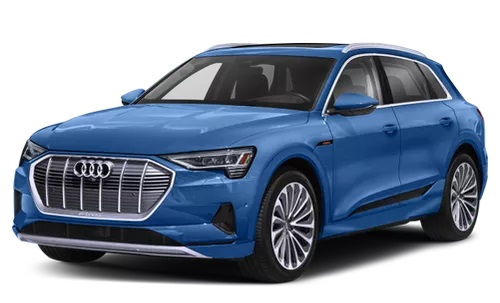 These figures go up to 408 and 489, respectively, when a boost mode kicks in. The E-Tron isn't light, it tips the scale at about 5,500 pounds, but it achieves the zero-to-60-mph galop in 5.7 seconds with the boost mode engaged.
That's a great statistic considering its size, segment, and purpose. Range checks in at 204 miles, and fast-charging technology tanks up the battery pack with 54 miles of range in 10 minutes.
The Audi E-Tron is available nationwide.
5. Jaguar I-Pace ($69,850)
The Jaguar I-Pace is cool to drive, and one of the most capable battery EVs available today with the range of 234 miles.
Arrives standard with all-wheel drive and adaptive air suspension platform. These both run together to make it a reliable performer on and off the road. It features a high-end interior, ample cargo hold, and two rows of generous and supportive seats.
This electric car comes with an admirable lineup of safety features, along with a 12.3-inch driver display, a dual-screen infotainment system, smartphone integration, a Wi-Fi hot spot, a Meridian sound system synthetic leather seats, and a panoramic sunroof.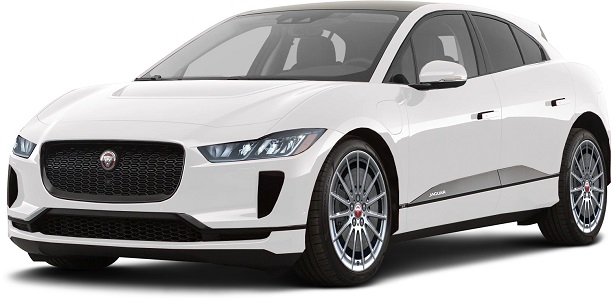 Sad to say, its infotainment platform is too complex and doesn't always work smoothly.
Sitting at the top end of most people's pockets, the I-Pace probably won't be the car that brings all-electric motoring to the crowd. Still, it's proof that ditching fossil fuel doesn't necessarily need compromise, especially when it comes to offering a speedy, comfy, quiet, and outstandingly refined drive.
Jaguar sells the I-Pace nationwide.
6. Chevrolet Bolt EV ($37,495) – Best Value Electric Car
Before the Hyundai Kona came along, Chevrolet Bolt was the only non-Tesla to deliver an electric driving range of 250 miles.
The Bolt's claimed cargo space isn't impressive, but in the real world, we've found it more helpful than the figures indicate. The electric engine produces 200 horsepower and 266 lb-ft of torque.
Something that sets this model apart is that it feels a bit faster than other small models like the Nissan Leaf, and it has a bunch of stellar tech attributes accessible from the king-sized touch screen.
Unluckily, the fronts seats are a bit rigid and won't be to everyone's liking. The interior is quite soft, and the Bolt's unique infotainment system is slightly outdated than Chevy's norm.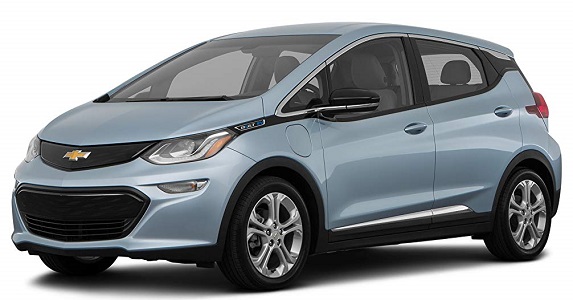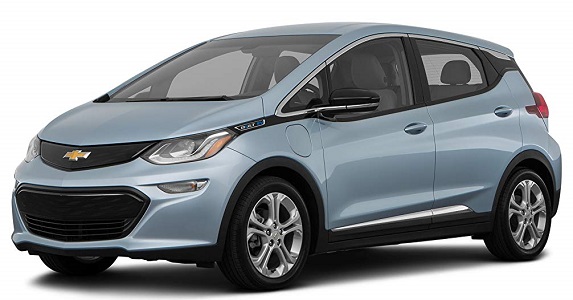 The Bolt earns respectable crash test scores and above-average predicted reliability ratings. It's bundled with standard features, such as a Wi-Fi hot spot, GM's Teen Driver Safety system, and an easy-to-use 10.2-inch touch screen with the latest smartphone app integration.
For 2020, this model gets a 21-mile increase in range. There are also the new color choices Oasis Blue and Orange Metallic (additional cost option).
The bottom line, though, is that this electric car delivers a fantastic range and performance for the price. The Chevrolet Bolt EV  Bolt is available nationwide.
7. Hyundai Kona Electric ($36,950)
The Hyundai Kona Electric excels due to its stellar range, powerful acceleration, and pleasant ride. It has an astonishing cabin with spacious front seats.
It's slick little SUV with a range like Tesla and Audi but with a price tag that isn't much higher a run-of-the-mill family SUV.
Admittedly, it isn't anywhere near as the performance capabilities as those opponents mentioned above, but up to 279-miles of range for $36,950 is a great offer.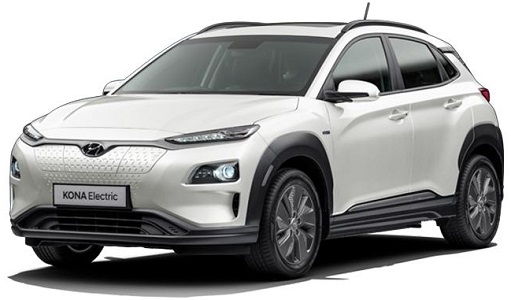 Its second row can accommodate two adults, but taller passengers may feel a bit cramped. This subcompact crossover also offers substantial cargo capacity.
It features a nifty set of standard niceties, including a 7-inch touch screen, Android Auto, Apple CarPlay, and multiple advanced driver assistance techs.
The Kona Electric is available in limited quantities. Plus, it's protected by one of the longest warranties in this segment.
8. Hyundai Ioniq Electric ($31,225)
Compared to the Kona, the Ioniq Electric has a much lower cost of entry, but it offers all the user-friendly technology you expect from a Hyundai.
Its hatchback configuration makes it a good option for those who transport lots of cargo, but it won't get very far (124 miles range) with a single charge.
It also has the most efficient electric drive train in the business, per the EPA's miles per gallon equivalent (mpge) metric. It means you'll pay less to keep it charged.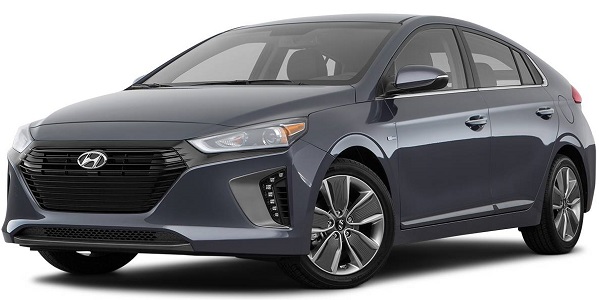 It performs exceptionally well in crash tests and gets an above-average predicted reliability rating. Ioniq comes standard with a 7-inch touchscreen, smartphone connectivity, and heated seats.
Yes, it's not the best EV for driving, and the rear seat isn't comfortable or roomy. Still, Ioniq Electric offers a lot of features at an affordable price.
Hyundai sells the Ioniq Electric in 13 states.
9. Nissan Leaf ($29,990) – Best Affordable Electric Car
The Nissan Leaf was redesigned last year, and it's significantly better EV than the 2018 generation model.
It's the least expensive electric vehicle on the market, and it delivers a praiseworthy amount of range (150 miles) in its main configuration.
The Leaf's steering wheel doesn't telescope, making the vehicle less comfortable for taller drivers, and the steering feels artificial.
An intuitive touch screen infotainment platform, smartphone app integration, and Nissan's ProPilot assist semi-autonomous driving technology are available.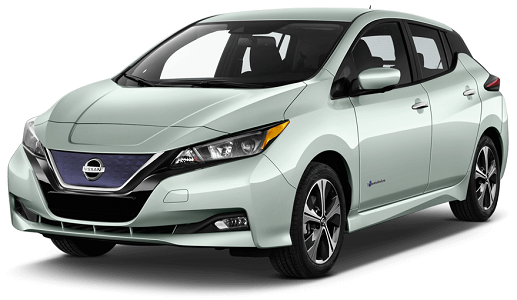 But, overall, the Leaf has more highs than lows, especially if you don't need the chart-topping range by the Bolt and the Kona. And if you do, consider that the Leaf Plus model cranks up the range to a competitive 226 miles.
The Nissan Leaf is one of the non-luxury fully-electric cars that's available nationwide.
10. Fiat 500e ($33,460)
The 500e is one of the tiniest and least expensive EVs available, as well as one of the sweetest. Only available for sale in Oregon and California, the 500e is moved by a 111-hp electric motor and utilizes a small 24.0-kWh battery pack.
It seats four passengers, while its cabin is cramped, and its second-row seats are only suitable for kids. This EV features a retro-inspired exterior that turns heads and a unique Italian-designed interior. Still, its cabin is filled with cheap plastics.
The Fiat 500e is one of the best all-electric cars for urban driving thanks to its tiny footprint, agile handling, and instant torque.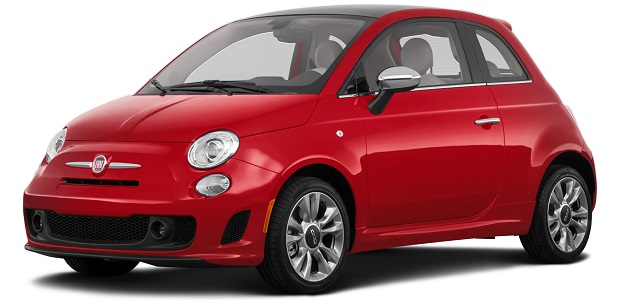 500e's minimal range (84 miles) means it's not a good option for road trips or long commutes. This model is also short on cargo space and gets mediocre crash test ratings.
11. Honda Clarity EV
Like the Fiat 500e, the Honda Clarity EV is only available in Oregon and California. Plus, it's only available for lease, as in you can't actually buy one. The lease involves $1,799 due at singing and monthly payments of $199 (before tax) for 3 years.
It features a top-notch cabin, an agreeable ride, and space for adults in both rows. It comes standard with an array of advanced driver assistance aids, along with a touch-screen interface with Apple CarPlay and Android Auto. The infotainment system tends to lag and is challenging to operate thanks to a lack of physical controls.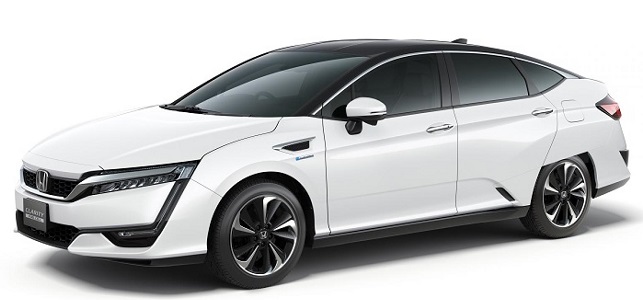 Clarity's driving range of 89 miles ranks close to the bottom of the class due to its small, 25.5-kWh battery pack, while its electric engine produces 161 horsepower and 221 lb-ft of torque.
12. Kia Niro EV ($38,500)
The Niro EV provides more range (239 miles) than most EVs on the market today. Also, it has a roomy cabin and a high amount of cargo space for a subcompact crossover.
The Kia Niro isn't as fun to drive as some competing vehicles. Still, it provides lively acceleration, nimble handling, and a comfy ride. To top it off, Kia Niro receives good crash test scores and an excellent rating for predicted reliability.
The Niro EV comes with standard features, such as a 7-inch touch screen, smartphone connectivity, a wireless phone charger, heated front seats, partial leather upholstery, and a broad selection of modern active safety technologies.
The Niro EV is available in 13 states.
13. Volkswagen e-Golf ($31,895)
The e-Golf is one of the least EVs available today, but it doesn't offer as much range (125 miles) as most rivals.
Aside from its all-electric powertrain, the e-Golf is almost identical to the gas-powered model. It boasts a cute cabin, roomy seats, ample cargo volume, nifty handling, and a cool ride.
The e-Golf features a responsive 8-inch touch screen, a panoramic sunroof, synthetic leather upholstery, heated front seats, smartphone app integration, and multiple advanced driver assistance systems.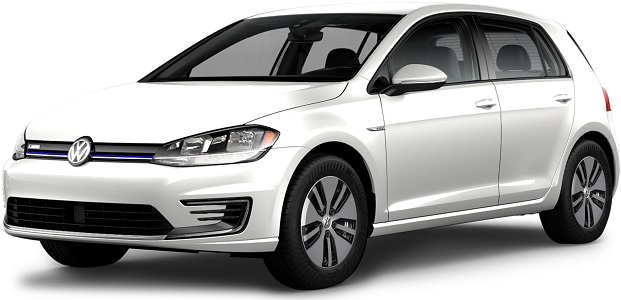 It involves automated emergency braking with pedestrian detection, forward-collision warning, adaptive cruise control, and blind-spot monitoring with rear cross-traffic alert.
The e-Golf is available in car markets throughout the USA.
Conclusion
Since the first electric cars took to the roads in the 2000s, critics have been quick to question the 'clean' tag glued to them. From manufacturing concerns to battery power sources along with overall autonomy, they have been under scrutiny from doubters.
However, EVs offer a clean commuting alternative, requiring less maintenance and zero trips to the gas station. The point is to figure out where and when you can charge and how many miles you can drive between charges.