12 Best Luxury SUV



There's no limit when it comes to the popularity of SUVs, along with how much future owners are willing to pay for the most potent, desirable, and customizable models available today. Luxury SUVs offer a mix of performance, comfy and roomy interior, high towing capability, along with cutting-edge technology.
These vehicles deliver far more than size and raw strength. They're versatile enough to haul passengers and equipment up the mountain for a camping trip, as easily as they're able to cruise down the hood after a night on the town.
Luxury SUV has become a staple of premium automakers' lineups, with at least one from every big name, and each is accounting for a healthy chunk of their manufacturers' global profit margins.



Here is the list of 12 SUV kings that rule on the road.
1. Mercedes-Benz GLE – Best Luxury SUV
The new Mercedes-Benz GLE is the best overall lux sport utility vehicle, while its build quality is marvelous. It arrives with the most advanced onboard technology (the MBUX infotainment system). And its all-around look and design are exceptional.
It's in a large SUV category and can fit third-row seats if you need it. Still, it's not too big to be uncomfy to drive through the city. Step into the GLE cabin, and you'll instantly be transported to a planet of delight and luxury.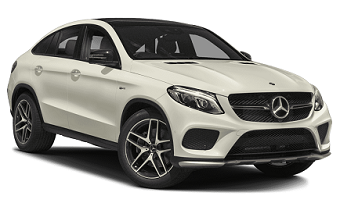 The GLE 350 is driven by a turbocharged 4-cylinder, while the GLE 450 uses a deliciously smooth turbocharged inline-six augmented by a high-voltage battery.



It's the top luxury SUV on the market that brings style, comfort, and performance with the most advanced onboard tech for a reasonable price.
2. BMW X1 – Best Small Luxury SUV
Even in the luxury segment, the subcompact class is rich with vehicles built to a price, not a standard. The BMW X1 ($35,200) throws off that trend, highlighting top-quality interior materials, dynamic handling, and robust yet fuel-efficient engine.
Unlike many rivals, the X1 easily accommodates four adults, and its cargo space is class-leading. Also, X1 boasts with its sharp handling and nicely weighted steering wheel.
Firm seats and bumpy ride prevent it from being perfect, but the X1's many virtues give it the edge over most other subcompact luxury sport utility vehicles.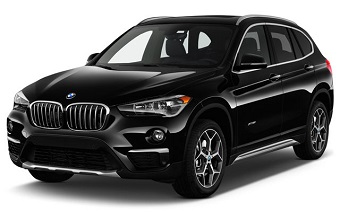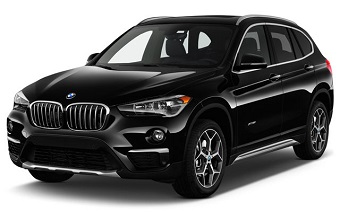 The X1 is one of the least expensive luxury SUVs on our list and gives excellent value as an entry to the lux crossover category. It's just slightly smaller than X3 but provides some driving pleasure and enough backseat for a small SUV.
3. Jeep Renegade Trailhawk – Best Luxury Compact SUV
The Renegade ($27,795) came onto the stage in 2014 and brought a sweet face to Jeep's off-road-oriented lineup. Don't let its compact size fool you since the Trailhawk brings a fantastic blend of luxury and sport.
All 2017-2019 Renegade Trailhawk versions come with a standard with 4-wheel drive for the best off-road experience.
It also handles well on the highway, delivering a smooth ride. Inside, the cabin has some attractive materials, the front seats are comfy, and the infotainment system is intuitive.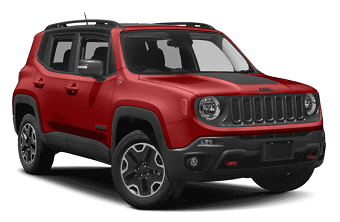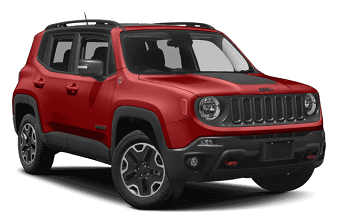 Also, expect a standard 2.4-liter 4-cylinder with 180 horsepower and a 9-speed automatic (2017-2018). For 2019, Jeep jumped to a 1.3-cylinder turbocharged engine with 177 horsepower and retained the 9-speed automatic.
4. Infiniti QX60 – Best Midsize Luxury SUV
The Infiniti QX60 ($44,350) is the best luxury midsize SUV that offers exceptional safety, a sleek interior with seating for 7 passengers, and razor-edged styling.
Available smart All-Wheel Drive and a fuel-efficient hybrid powertrain highlight the outstanding capability of the QX60.
Standard power on the QX60 comes in the form of a 3.5L V6 direct-injection engine with 295 horsepower.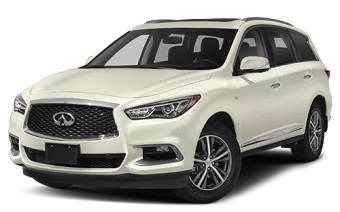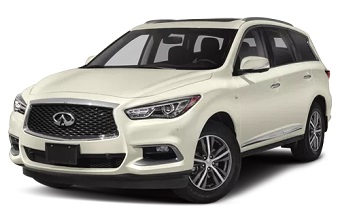 The QX60 has DCA (distance control assist), which maintains an appropriate distance between the vehicles during bumper-to-bumper traffic jams and assists to mitigate collisions.
The interior is loaded with comfort benefits such as heated seats, steering wheel, hands-free entry, and all-new Motion Activated Liftgate, along with ambient interior Welcome Lighting.
With seating for 7 passengers, available Tri-Zone Automatic Temperature Control keeps every passenger comfortable.
5. Cadillac Escalade – Best 3 Row Luxury SUV
The Cadillac Escalade ($75,195) takes the three-row SUV in a totally different direction than the car-based crossovers that are emerged from the luxury import brands.
The Escalade is based on GM full-size truck platform, and it uses body-on-frame construction that dates back to the heyday of the United States auto industry.
The Cadillac Escalade is worth looking at if you want a road-trip-ready camper with a lot of standard features and a sturdy engine.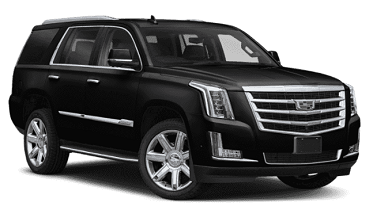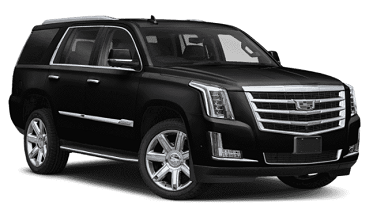 And the big, torquey V8 engine can tow up a hefty 8,300 pounds. With an 8-speed transmission contributing to the cause, fuel economy is actually pretty good. If you're needing to tow a serious load, the Escalade can fill the bill, too.
6. Lincoln Navigator – Best Full-Size Luxury SUV
Navigator ($75,825) powered by Lincoln is a relaxing highway land yacht with a broad array of luxury amenities along with comfortable seating and a quiet cabin.
Its turbocharged V6 makes 380 horsepower and 460 ft-lbs of torque. A 6-speed automatic and rear-wheel drive are standard, while a four-wheel drive is optional.
The Navigator can still leverage its truck-based roots to tow up to 8,700 pounds, but it surpasses expectations when it comes to occupants' comfort.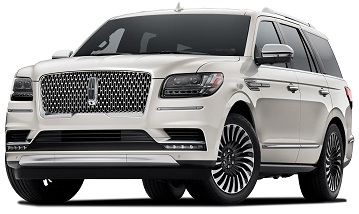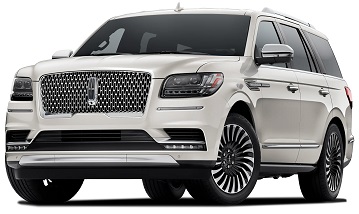 You'll also find plenty of space out back to store gear, especially if you choose the Navigator L, a longer version with extra cargo space.
In addition to the comfort you would expect from one of the best luxury large SUVs, the Navigator delivers excellent fuel economy (18-19 mpg combined) too.
7. Volvo XC90 – Best Used Luxury SUV
The XC90 ($20,000 – $45,000) from Volvo has been frozen in time for few years in anticipation of a new generation for the full-size SUV, but that has helped to keep prices on used models of the vehicle at a reasonable level.
Known for being a safe and comfortable ride with a surprisingly eye-catching interior (although one that features a somewhat dated navigation system), the Volvo XC90 is an often-forgotten used SUV jewel.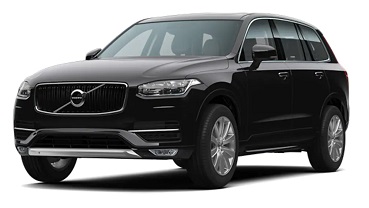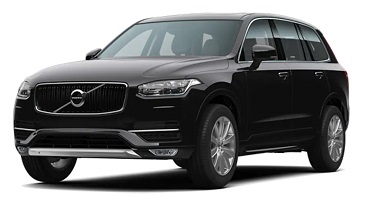 A 3.2-liter 6-cylinder paired to 240 horsepower and 236 lb-ft of torque is the only engine option available, and all-wheel drive is optional. Fuel efficiency numbers for the XC90 shows as 16 mpg in the city and 23 mpg on the highway.
With Volvo's extensive safety gear list, the XC90 is the safest vehicle on the road.
8. GMC Yukon Denali – Most Reliable Luxury SUV
Get more SUV authority with the Yukon Denali's ($67,700) trademark grille flanked by high-intensity discharge headlamps and attractive signature lights.
With this model, you'll get power-deployable running boards to access a cabin with heated/ventilated front seats, heated outboard second-row seats, sophisticated real wood accents, high-level perforated leather upholstery.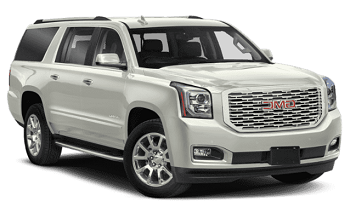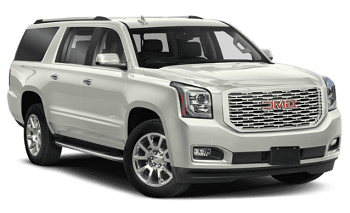 The Yukon XL Denali rolls on a longer wheelbase for up to 121.1 cubic feet of cargo space. No luxury competitor has more.
As a bonus, the ten-speed automatic transmission that comes with the bigger engine can match the highway mileage of the smaller V8.
9. Lexus RX 450h – Best Luxury Hybrid SUV
Quiet, smooth, and elegant – these are the standard attributes of Lexus vehicles. The RX 450h ($46,750) crossover SUV also boasts exceptional fuel economy and a generous batch of standard features.
Among them are heated mirrors, automatic headlights, dual-zone automatic climate control, and a power liftgate.
A 3.5-liter V6, electric engines, and a continuously variable transmission turn on the powertrains, while the front-drive versions get two engines.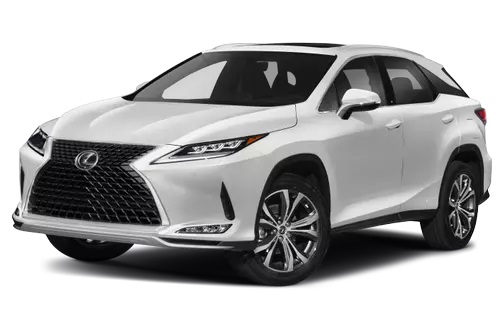 One motor actively drives the front wheels, while the other engine runs as a starter/generator. AWD variants get a third motor for the rear wheels, with a total system output of 295 horsepower.
Fuel economy is rated at 32 mpg/city, 28 mph/highway, and 30 mpg combined with front-drive. The AWD system is rated at 30 mpg/city, 28 mpg/highway, and 29 mpg combined.
10. Buick Encore – Most Affordable SUV
Don't think you can find a new luxury SUV for about $25,000? The pint-sized Buick Encore ($23,200) says you should think again.
Yes, the Encore is the cheapest luxury SUV on the list but includes all the opulence features, like the rivals.
There's a lot of stuff, for example, including a 7″ touchscreen with its IntelliLink infotainment system, Bluetooth, a rearview camera, a power driver's seat, and satellite radio.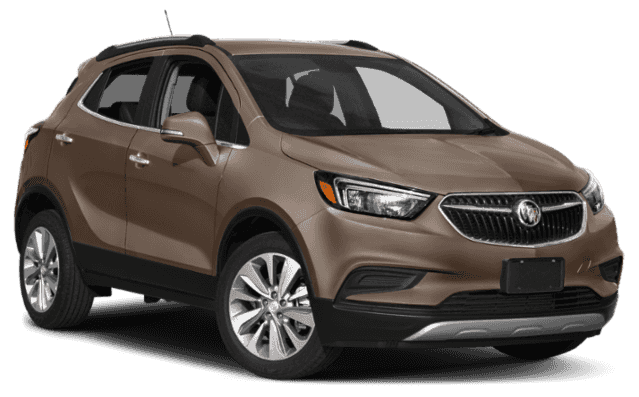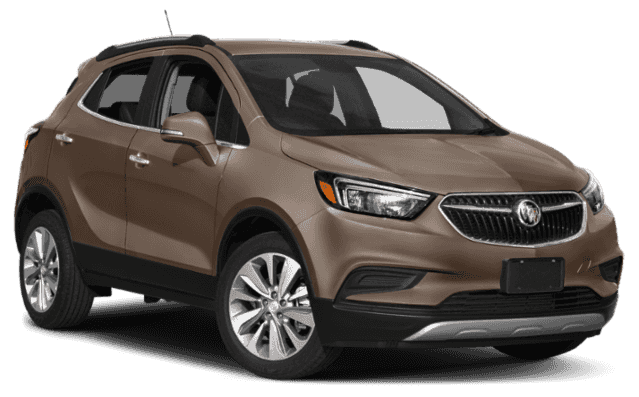 There's an impressive exterior, which has chrome trim and 18-inch alloy wheels, and there is a long list of top-line options, ranging from leather upholstery to heated seats, and a navigation system.
Don't forget Buick Encore's excellent fuel economy rating of 25 mpg city/33 mpg hwy.
11. Rolls Royce Cullinan – Most Expensive
The Rolls-Royce Cullinan starts with a price of $325,000, which officially makes it the most expensive SUV available today. Cullinan is named after the diamond in Britain's crown jewels.
Rolls Royce offers a blinding array of customization for its entire lineup. What makes the Cullinan unique?
Power indeed, and there is plenty available due to the almost 100 % silent 6.7L V-12 under the stately hood. The engine brings 563 horsepower and can propel this monster from 0-60 mph in 5 seconds.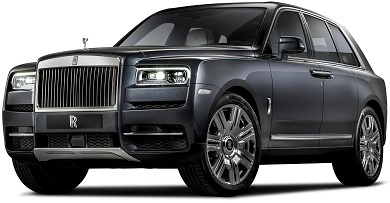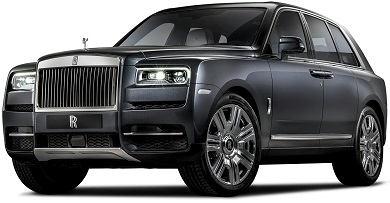 Buyers can order special touches, like the brand's Starlight headliner, which can be customized to directly over the driver's seat.
It's quite common to end up with end price upwards of $500,000. With this number, you can virtually customize this beast, however you want.
12. Bentley Bentayga – The Fastest
The Bentayga mixes power and prestige into a broad-shouldered form designed by Bentley.
With starting price at around $165,000, this vehicle is an SUV with presence, especially when viewed from the front, where the illustrious Bentley grille takes center stage.
The starting point is a twin-turbocharged V8 that delivers 542 horsepower and 568 pound-feet of torque at only 1,960 rpm.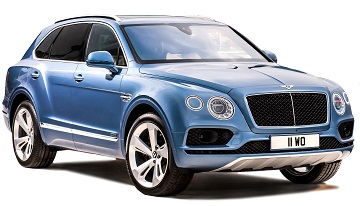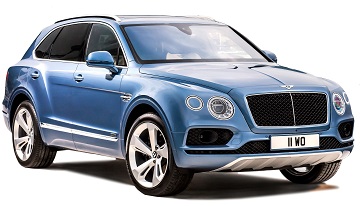 This is enough to impose the Bentayga from 0-60 mph in 4.5 seconds and make a top speed of 180 mph. It represents only the icing on the Bentley SUV cake.
That's because an available twin-turbo W-12 engine brings even more power. This motor produces a total of 600 horsepower and pushes the top speed to 187 mph.
You get speed and prestige in this SUV racehorse, not to mention a cargo hold with 17 cubic feet of space. If you have plenty of luggage to carry, the Bentayga could be the right choice for you.