Mercedes Metris Passenger Van - Ideal for Family and Small Business
The Metris Passenger Van is spacious people mover, seating almost a whole a little league team in the three rows behind the driver. This mid-size van delivers some of the capabilities of the large van, but it has better maneuvering. The Mercedes people carrier is designed with space for eight passengers, space for cargo, and surprisingly nimble drive. Mix with several top-line comfort and convenience technologies and one of the most advanced powertrains in the class to understand just how ably the Metris drives ahead of its competitors. The Metris Passenger is designed to carry folks plus their luggage, gear, tools, or whatever else comes along. The Metris is perfectly equipped for its targeted markets like airport parking services or hotel shuttles. The small gas powertrain has got plenty of power to carry a load of people and their luggage between the terminals.
Driving
The Metris is easily the best-in-class "player," with a powerful engine, a smooth-shifting transmission, and great brakes. It handles well, also. The engine is responsive, and the transmission downshifts quickly and slows the van smoothly to a stop. The 7-speed automatic G-Tronic Plus offers Comfort, Eco, and Manual shift modes. The optional auto stop-start system runs "according to the plan" in the background. Crosswinds are inevitable regardless of load-adaptive stability control with crosswind assist. The precise steering equips this van with some great features. It feels agile around town and stable on the highway. Throughout everyday driving, its brake pedal is progressive and easy to modulate.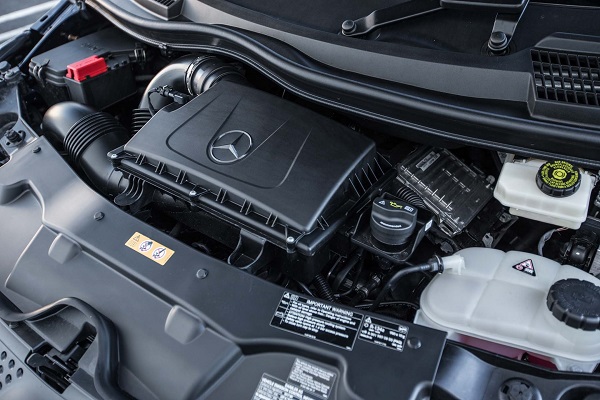 The Metris Passenger features a first-in-class turning radius so you can maneuver through even the tightest and most crowded streets without a problem.
Engine
The only engine available for the Metris is a turbocharged 2.0-liter 4-cylinder gasoline engine that produces 208 horsepower and a 258 lb-ft of torque. Unlike the Sprinter, there's no available diesel, nor is all-wheel drive available.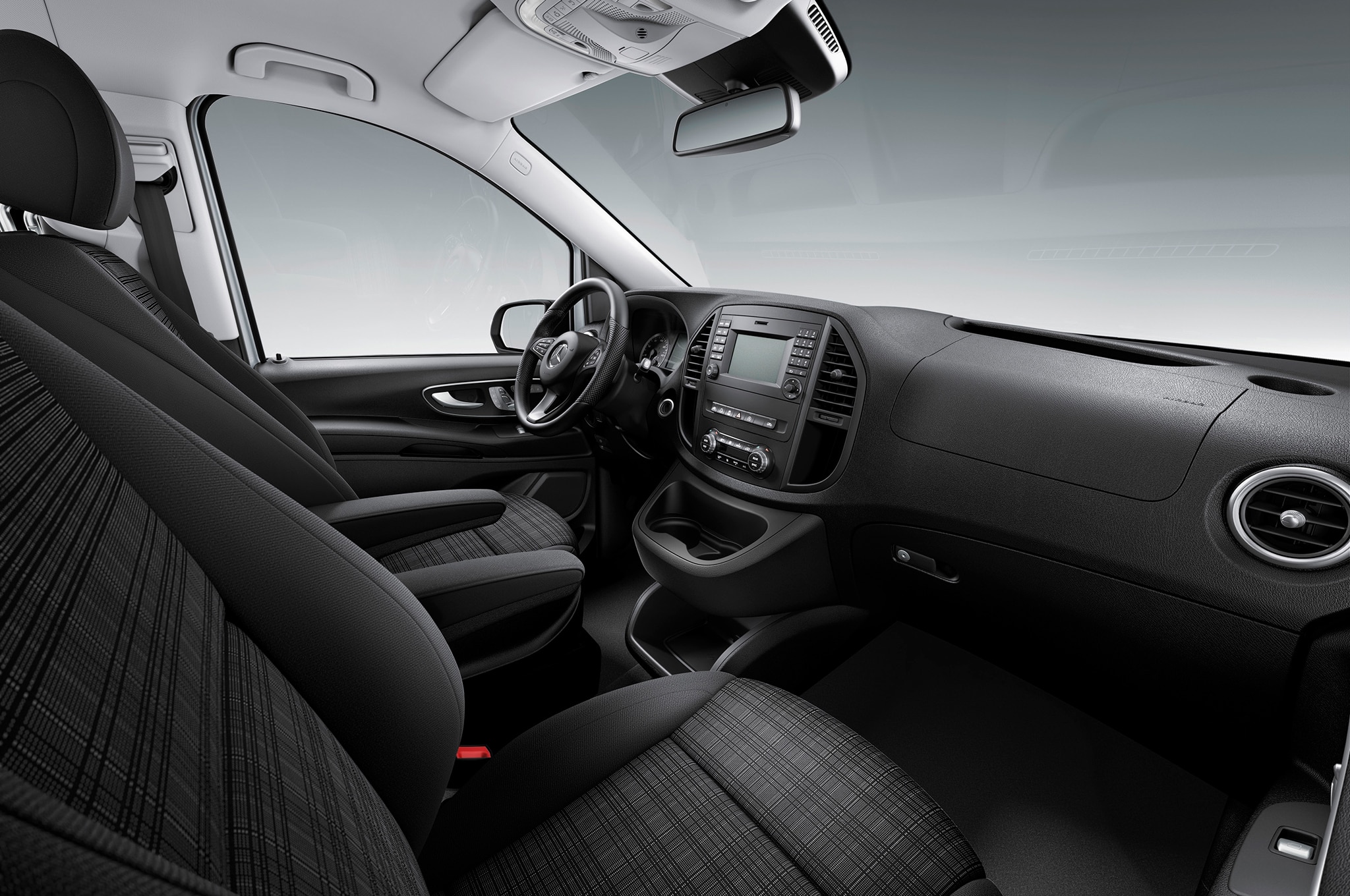 Interior
Most people find it easy to get in and out of this van. Still, there're sitting limitations once behind the wheel. Headroom and elbow room are generous. Most Metris' controls are straightforward and easy to use. The dials streamline functions where possible, though there are too many buttons alongside the navigation screen. All controls are easy to reach. The step-in height for this van is 18.5 inches, which means that's as high as you need to lift foot to climb in. It puts the seat bottom at just the right height to slide in and out easily. The flat seat cushions assist even more.
Comfort
This Mercedes minivan is a quite comfortable vehicle and handles road imperfections successfully. Tire noise is higher on the highway than around town. Comfort is otherwise respectable. The manually adjustable seats are comfy enough for longer trips, the ride is agreeable, and the climate controls are easy to operate. There's ample room for occupants in both second and third row and getting all the way back is relatively easy with the standard two-seat second-row bench. With a full bench, you need to flip a seat up to access the third row.

The seats aren't adjustable in any way and are relatively upright, making them less comfy on long journeys. There aren't many places to place a beverage in the Metris, but rear-seat passengers have removable plastic cupholders placed in the armrest. There's ample amount of breathing room, so the cabin feels open and pleasant, even with 8 passengers along for the ride. Plus, there're 38 cubic feet of dedicated storage room, leaving plenty of space for belongings as well. There're also several innovative design choices such as folding doors, optional rear flip-up tailgate door, and optional electric sliding side doors that make your drive much easier.
Utility
The Metris has a 5,000-pound towing capacity, with a cargo volume of 38.0/97.3 cu ft. There isn't another van in this segment that comes close. It is also prewired for trailer use and has a 3.46 axle ratio. The Metris has 1,896-pound payload capacity while its rivals have 1,800-pound capacity or less. It also has a best-in-class GVWR (gross vehicle weight rating) of 6,614 pounds.
Standard Equipment
The Metris Passenger comes with the 2.0-liter turbocharged 4-cylinder engine and 7-speed automatic transmission driving the rear wheels. The tilt steering wheel also has shift paddles to control the transmission manually. There are 17-inch steel wheels, 3.5-inch monochrome screen, power accessories, air conditioning, and audio with Bluetooth, USB, and auxiliary inputs.
Optional Equipment
The optional equipment list is long and includes things such as a rearview camera, black Leatherette seating material, body-colored bumpers, cruise control, heated front seats, and active safety systems like blind-spot monitoring, collision-prevention assist, and lane-keeping assist. An Active Parking Assist feature assists in parallel parking, helpful in tight lots. Its navigation system is on the basic side, and it's not the COMAND system you'll get in Mercedes cars. Metris 8-passenger van features eight seating with a two-row bench, and dual power sliding door as well. Idle-stop and automatic climate control are on the options menu.
Technology
The Metris Passenger Van delivers efficient performance and generous interior space, but it also goes beyond in terms of onboard technology. Here're just a few of its available benefits such as navigation system, PARKTRONIC with Active Parking Assist, and blind spot assist.
Safety
Van has been at the frontline of this new wave in safety technology, with most of the standard and a few available as options on select models. Here are few ways to keep you, your family or occupants safe: multiple airbags, rear view camera, blind spot assist, attention assist, electronic stability program, crosswind assist, and collision preventions assist.
Fuel Economy
The Metris numbers on the EPA scale are 19 mpg city, 23 mpg highway, and 21 mpg combined in passenger configuration.
Warranty
Basic coverage includes 3 years or 36,000 miles, whichever occurs first. It Excludes regular maintenance and wear items. Coverage for the outer, finish-painted, metal panels against corrosion and perforation last 5 years or 100,000 miles, whichever occurs first. All panels are under warranty for 3 years regardless of mileage.
2018 Mercedes-Benz Metris Passenger Van vs. 2018 Metris Worker Passenger Van
Mercedes-Benz Metris Passenger Van is available in 5,7, and 8-seat configurations and offer two rear door options: 180-degree rear doors or a rear liftgate. Metris Passenger Van offers 15 available packages including the Driver Comfort Package, the Driver Efficiency Package, and the Premium Interior Package, among others.

There're plenty of available stand-alone options in multiple categories, including interior, exterior, comfort, safety, and others. Metris Passenger features a 4-cylinder gasoline engine that is capable of towing up to 5,000 pounds and a maximum payload capacity of 1,896 pounds. Mercedes-Benz Metris Worker Passenger Van includes the option between 180-degree rear doors and a rear liftgate, three exterior color options, two interior fabric options, and three available packages: the Convenience Package, the Appearance Package, and the Comfort Package. Metris Worker Passenger Van features a 4-cylinder turbocharged gasoline engine that is capable of towing up to 5,000 pounds and has a max payload of 6,724 pounds.
2017 Mercedes-Benz Metris Passenger Van vs. 2017 Chrysler Pacifica
These vans are similar in size, but they have many differences. The first and main difference between these two vehicles is their available features. Mercedes comes with a Lane Departure Warning system. It can detect if you're straying from your lane to prevent accidents. The Pacifica doesn't include this feature.
Verdict
The Metris is a right-sized van that is larger than small vans and smaller than large vans. With sheer size, payload, and towing capacity, as well as agile handling, the Mercedes-Benz Metris Passenger Van is far more versatile than its peers. The give-and-take comes in price and fuel economy, though as the Metris is the most expensive model in class, with starting MSRP at $35,050.