The Best 12 Passenger Van for Business and Family
At the end of this year, my future fiancée and I had to find a used 12-passenger van for sale. It wasn't something we were planning on or thinking about when we started dating, but that's how it worked out. Because my and her family together have 12 members. We're fast approaching our engagement party in Miami at New Year's Eve. I know, it's a challenge to drive from Houston to Miami. It's almost 1200 miles of cruising with 11 different people. So, I must find the best 12 passenger van for that road trip. Therefore, I made the list of the best 12-passenger vans which are currently on the market.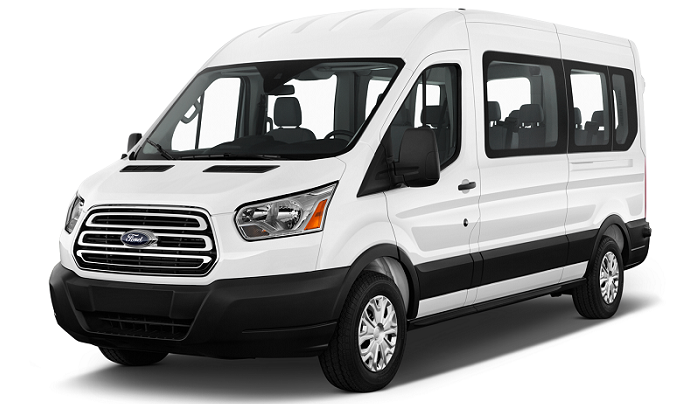 This Ford 12 passenger van comes in XL or XLT trims, both of which start with 16-inch wheels. A long-wheelbase model can accommodate 12 people, and an extended-length model boosts seating for 15. This van is available in 3 engine configurations. The standard 3.7-liter V6 model is available with 275 hp and 260 lb-ft of torque with an available CNG/propane gaseous engine prep package for power conversion to work on compressed natural gas. The turbo diesel option is more potent with 350 lb-ft of torque on tap, which is excellent for the 3.2-liter capacity. This 185 hp engine also comes in biodiesel variant if you're an environment-friendly person. The stronger solution in the gasoline-supply engines is the double-turbocharged 3.5-liter V6 that wears the EcoBoost sign. It's a lot stronger at 310 hp and 400 lb-ft of torque, which corresponds to more significant loads and more folks being on board. All 3 engines apply a 6-speed automatic transmission. A great option is an available selection of rear axle proportions for different hauling loads. On medium and high-roof designed vans, the backup camera is positioned higher up for an improved viewpoint. Front and rear air conditioning are standard in both trims. XL variants have a 4-speaker AM/FM stereo, while XLT adds a CD player, and feature also includes a multi-function display, lane keeping alert, and Sync 3 infotainment. 6 and 8-speaker sound systems are available, as well. Other XLT options include cruise control, full-length carpeted floor, rain-sensing wipers, and automatic headlights.

The 2018 Nissan 12-passenger van is perfect for both fleet and personal use. It includes adaptable seating arrangement, roof-installed curtain, additional airbags, overturning sensors for side-impact and rollover head aid for all passengers. The key to the Nissan Passenger design is superb seating flexibility that providing 12-person carrying capacity with up to 324 possible seat arrangements. Available technology includes NissanConnectSM with navigation and mobile applications, SiriusXM Satellite Radio, regular bluetooth hands-free phone configuration, streaming audio through bluetooth, 5.0-inch color display audio and rearview display. The Nissan Passenger vans are equipped with a choice of 2 dependable engines. The advanced 5.6-liter Endurance V8 gasoline engine is paired with a heavy-duty 7-speed automatic transmission, which includes adaptive shift control and downshift rev matching. The Endurance V8 engine features 4-valves by cylinder, variable valve event & lift, and direct injection. For use in the Nissan Passenger, the Endurance V8 is rated at 375 horsepower and 387 lb-ft of s which made this model as first in the class of power and torque.
Mercedes-Benz Sprinter Passenger Van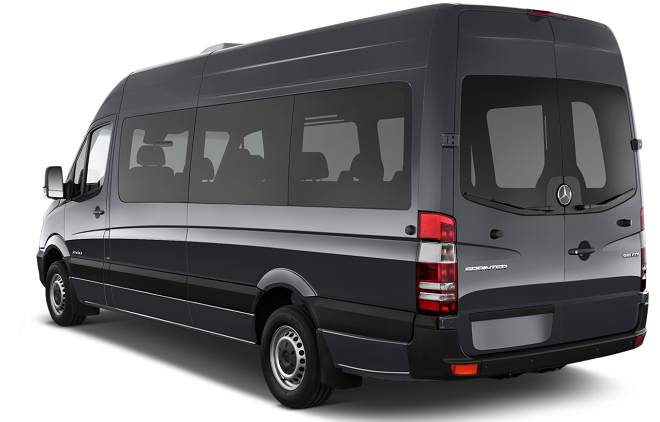 The Mercedes Sprinter is built from the ground up to be a people or cargo carrier. It comes in a wide variety of models to satisfy virtually any consumer or commercial demand, including a 9 seat or more passenger trim that is the most ostentatious and comfy full-size passenger van available nowadays. Mercedes concentrated on functionality when manufacturing the 2018 Sprinter, designing a strong plow horse that's mere/safe to ride and comfortable for both passengers and drivers. Two engines are offered, an outstandingly tuned 2.1L turbodiesel 4-cylinder and a 3.0L turbodiesel V-6. The 4-cylinder is best solution more for most family daily travel needs, but consumers who intend to load the Sprinter fully or who prefer faster highway acceleration will rather choose the larger V-6. There is a fantastic list of customization solutions even inside each picked trim. Focusing on the 12-passenger model, the Sprinter will fully accommodate 12 grown-ups with plentiful space for legroom. Driverwill benefit from great options such as a 5.8-inch touchscreen display, Bluetooth phone connections, USB, and auxiliary inputs.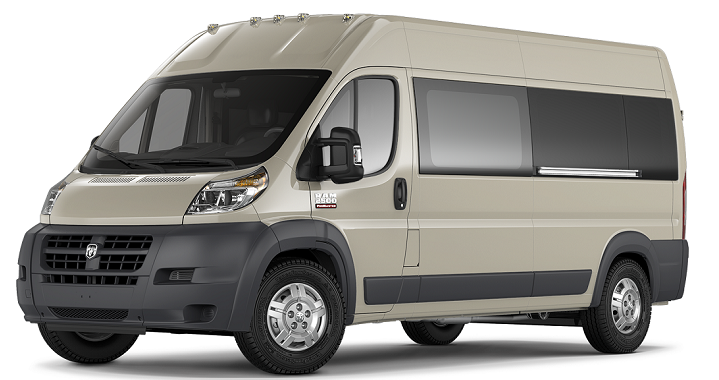 The 2018 Ram ProMaster is the people-carrying model of the ProMaster Cargo Van. The 2018 Ram ProMaster comes in 2500 and 3500 versions. Both have a high roof, allowing people to stand up inside the van, and a 159-inch wheelbase. The 3500 version, however, also has an extended-length body. Only front seats are provided since Ram expects that owners will outfit the van to their needs. Features and engine choices are available equally on both the 2500 and the 3500. Ram ProMaster Window is a 3.6-liter V6 engine that generates 280 horsepower and 260 pound-feet of torque. Power is transfer to the front wheels through a 6-speed automatic transmission. Other standard options feature 16-inch steel wheels, air conditioning, passenger-side sliding side door, power front windows, cloth bucket seats keyless entry, power locks, rearview camera, 4 -speaker audio system with USB or auxiliary audio inputs, and a 5-inch touchscreen. Available features include alloy wheels, daytime running lights, fog lights, a driver-side sliding door, power-folding and heated side view mirrors, windows for the side and rear doors, cruise control, rear parking sensors, heated seats, a cargo partition, suspension driver's seat, swivel seats, adjustable lumbar support, a leather-wrapped steering wheel, and interior wall paneling. Standard safety options for the Ram ProMaster feature front, side and side curtain airbags, hill start assist, traction control, antilock disc brakes, and stability control with trailer sway control and rollover mitigation.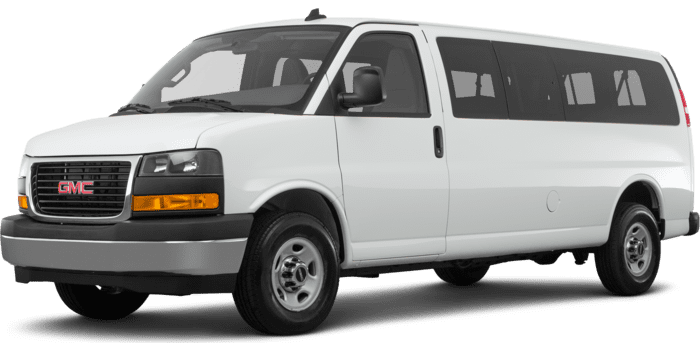 Chevrolet Passenger Express variants are now rolling in 2500 extended, and 3500 in standard and extended wheelbase. LT and LS trims are available. LS includes vinyl seats and the V6. The diesel is available as a choice, as the 6.0L V8. Cloth seats are optional also, and carpeted floor and auxiliary rear heat and AC are optional too. LT trim has keyless entry, cloth front bucket seat, full carpeting, rear AC, and tilt steering as standard. 3500 variants are equipped the same way but can tow and tow more weight. The identical 4.8L V-8 and 6.0L V-8 feature in the GMC Savana, delivers 285-hp and 342-hp, in that order. The clear-cut winner is the 6.0L V-8, getting only a marginal reduction in gas mileage but benefiting from a considerable and much-needed increase in power. For improved hauling, whether cargo or passenger, the larger V-8 is a better solution. The 12-seat passenger system presents in the Savana has a bunch of interior space that provides a comfy seat to all passengers. The seats have the similar experience as its Express brother, like the rest of the Savana's vast interior. Savana 3500 Passenger comes standard with a host of safety features such as StabiliTrak, 4-wheel anti-lock disc brakes, front, side, and curtain airbags on all variants. The 2018 Savana 3500 Passenger van arrives with the new 4.3-liter V6 engine paired to the 8-speed automatic transmission. New standard equipment includes dual composite headlights, hill start assist solution, LCD screen in the rear-view mirror, rear camera, and OnStar.
Chevrolet Express Passenger Van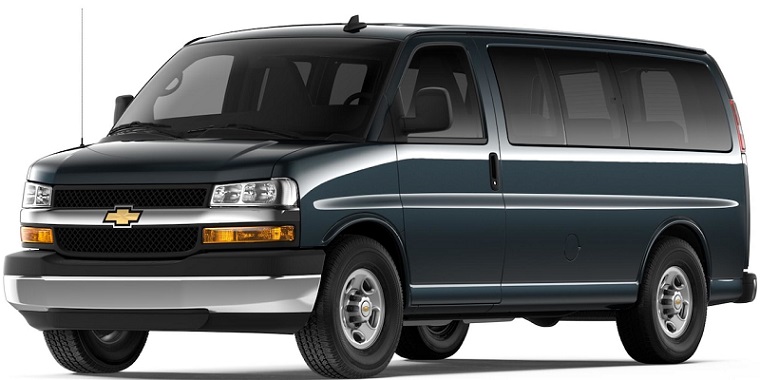 While every other van makers upgraded their passenger or cargo vans every single year, the 2018 Chevrolet Express van players are in the same jersey for the last 15 years. Unlike the Ram ProMaster Nissan NV, and Ford Transit the Express Passenger van doesn't bring up an extended roof for example. But it still offers many desirable features such as the ability to carry 12 or 15 passengers. Available in 2 wheelbases and configured as the 2500 or 3500, the Express van's performances are marvelous. In contrast to the Mercedes Sprinter, there is no all-wheel-drive feature, but the Chevy van offers a potent 6.0-liter V8. It's also well-known to up-fitters and fleet managers nationwide. Two gasoline-powered V-8's are available, the base model engine being a 4.8L V-8 with 285-hp and 295 lb-ft of torque. The better solution then base model, with similar gas mileage, is the larger 6.0L V-8. Producing 342-hp and 373lb-ft of torque, the 6.0L is much better equipped to handle highway acceleration and heavy cargo. There's enough room for the passengers in this Chevy passenger van, but the seats are providing pure comfort compared to the more comfortable Ford Transit 12 passenger van. Seats never seem like they lack in room, but long trips with a full cabin can begin to effect on passenger comfort. Standard safety features include 6 airbags, blind spot mirrors, and the conventional ABS and stability control systems.