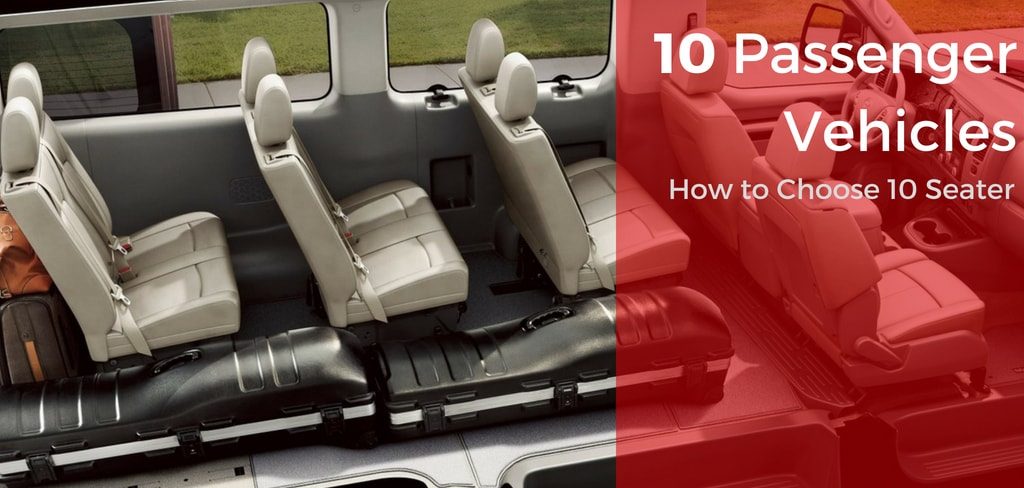 10 Passenger Vehicles for Personal and Commercial Use (2022 Update)
A 10-passenger van is a go-to choice for families and businessowners looking for vehicles suitable for transporting a crew of 10 or more people. A van for 10 passengers is an excellent option if you seek more space and a more comfortable ride, whether you go on road trips with your family or traveling to an important meeting with your teammates.
Although most people stay away from vans because of their hefty price tag, the truth is that not all solutions are bank breakers. You can always go for a used passenger van to save more money and enjoy peak performance and a good handful of cargo.
We have prepared a short yet comprehensive list of the best 10 passenger vehicles worth considering in 2021. You'll learn more about their core features, pros, and cons, which will help you pick the best 10-seater van for your personal or commercial use.
How to Choose the Best 10-Seater Vehicle?
The first thing you'll need to do is ask yourself this: why does our company or family need a vehicle with 10 or more seats?
Airports, for example, need a 10-passenger van, but they don't need expensive and fancy van equipment. Why? Because passengers will spend 10 minutes in the van and board the plane. All they need from a van is air conditioning and a place to sit.
On the other hand, tourist guides will need a van with a lot of legroom between the seats, seats need to offer maximum comfort, while a TV, DVD, and Wi-Fi connection is a must.
C-level management members from enterprise companies like to take short trips outside the town for team building in a van equipped with Sony PlayStation, leather seats, espresso machine and LTE connection. Construction firms don't need any of that. All that matters to them is to safely transport workers to a job site and return to the base.
When it comes to 10-passenger vehicles for families, comfort, safety, and reliability are a must. Like companies, families also have different needs and expectations. While some look for fully equipped 10-seater with advanced infotainment systems and tech amenities, others just want to enjoy a quiet ride and spaciousness. And guess what – there is an option for everyone!
However, it's not all about the leather seats, alloy wheels or tinted windows. Before that, you'll need to check the hauling and towing capacity, safety features, engine, handling, price, and maintenance costs.
Below are the best 10-passenger vehicles capable of handling heavy business use and meeting the needs of large families.
Best Vehicles That Seat 10 Passengers
Mixed-blood – 2021 Dodge RAM ProMaster Passenger Van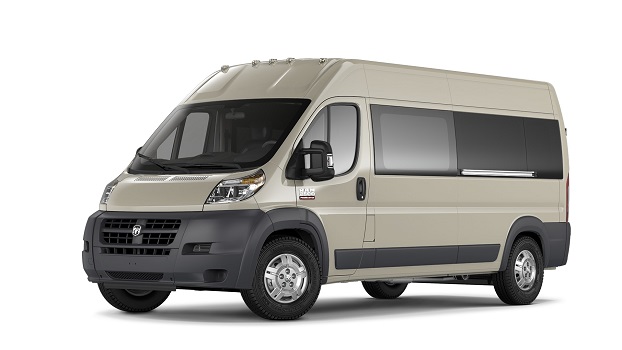 From $33,360| 3.6L Pentastar V6 gas engine | 6-Speed Automatic | 280 HP | Front-Wheel Drive | 20MPG
The 2021 Dodge RAM ProMaster is a very popular cargo van. Its passenger sibling can carry from 7 to 14 passengers depending on the seat configuration. ProMaster is a full-size van, but you don't need CDL for it. RAM is the only passenger van in its class that has front-wheel drive. Although you can't find it on the official website (only the cargo version is available to configure online), it is possible to purchase this van in many dealerships and fleet inventories across the country.
Many companies who do van conversions underestimate the quality and the unique European design. Depending on the level of customization and conversion, this van can be the right choice for contraction firms, vehicle rental companies, or camping.
Exterior
The Dodge 10-seater van is designed in the Fiat designing department in Italy. There are several color options to pick from – black, red, blue, and yellow. Still, white is the most popular shade. The van is equipped with large panoramic windows. It has side steps for easy entrance for both the driver and the passengers, including manual sliding side doors. The opening is 50 inches wide. Because of the low floor (21 inches from the ground), it is very easy to step into the van.
Some say that ProMaster is not such a good-looking vehicle. We disagree. It's interesting that the front bumper is divided into three portions, two on the corners and one central portion. Why? In case of a collision, the van usually damages just one corner of the bumper. This way, you can replace the damaged portion only, not the whole bumper. The same goes for the front lights. They are positioned high above the front bumper to stay un-touched if you get hit by another vehicle. Clever Italians!
Factory backup camera is located on the top of the dead center, meaning that the driver won't have any problems when driving in reverse. When it comes to driving, there are also factory pre-installed bumper sensors. They will make a sound alert when you come too close to the object behind the van.
Interior
Depending on the conversion, the Dodge Ram ProMaster passenger van can be transformed into a mobile office or a top-notch family sedan. Seats can be easily removed, and you can make whatever seat configuration you like. This is a very good feature to have in situations when you need more space for passenger luggage. Simply remove the rear seat row and make space for bags and suitcases. The cockpit is pretty much the same as in the cargo version. There is a 5-inch LCD touch screen, radio and backup camera, USB and AUX ports, power windows switchers, front and rear air condition, a lot of storage compartments, and cup holders. Some conversions feature a power-folding LCD TV and a high-end sound system.
Engine and Handling
This van is made on the same unibody chassis as the cargo van. Front-wheel drive gives the van outstanding maneuverability and a small turning radius of 36 feet. The visibility is great, which makes driving very pleasant.
The engine is quiet and delivers power immediately after pressing the gas pedal. In the cab, you have the feeling of driving a big car. Along with the petrol engine, there is a diesel motor that offers better fuel economy.
Who Should Choose ProMaster?
Dodge ProMaster passenger van, in every seat configuration, is capable of fulfilling all requirements of rental agencies, airport transportation departments, sports teams, churches, tour guides, large families, and all who are looking for a maneuverable and practical 10-passenger van.
Ride and Style for Your Large Family – 2021 Mercedes Sprinter Passenger Van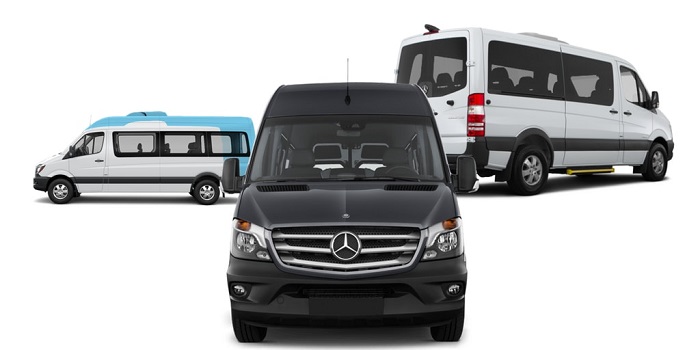 From $49,345 | 2L Diesel Engine | 7-speed shiftable automatic | 161HP | Rear-Wheel Drive | 24.5 MPG
The next on our list of best ten-passenger vehicles for families is the 2021 Mercedes Sprinter. In 1995 Sprinter replaced the TN model and instantly became the most desirable cargo and passenger van in Europe and North America. In the same year, Sprinter received an award for the best international van of the year.
This German trendsetter is available in two wheelbase lengths: 144 inches and 170 inches. Besides the wheelbase, you can also choose the roof heights. Standard and high roof models are available.
The standard version has rear-wheel drive, but you can choose a 4×4 version. The longest Mercedes Sprinter van can carry up to 12 passengers. This makes it a perfect choice for large families. Busy parents choose the Sprinter for its price, excellent fuel economy, and useful additions like heated seats.
Exterior
The 2021 Mercedes comes in various color options: arctic white, steel blue, velvet red, Jupiter red, pebble grey, blue-grey, aqua green, jet black, and many more. However, choosing a color like Obsidian Black Metallic will increase the price of the van by $1,060.
The new 2021 version has a slightly different grille and front lights. For tour operators, Mercedes prepared roof rails and trailer hitch plugs that will help when passengers carry a lot of cargo.
Interior
The 2021 Sprinter passenger van offers unique features that cannot be found in competitors' models. One that stands out is the new MBUX (Mercedes Benz User Experience) infotainment system. This system debuted in the new E class, but it found its way to the Sprinter. The large display offers all important information about the vehicle; it is very responsive with very accurate pinch-to-zoom, convenient for checking satellite navigation and live traffic information. The MBUX supports voice commands, as well. That isn't new to the auto industry but certainly is new to the passenger van segment.
The van's interior is huge. Passenger seats can recline. The position of the seats can be adjusted depending on whether you need more space for passengers or luggage. There are large and small storage compartments, and some of them are lockable. The overall quality of the cockpit is good.
Mercedes offers numerous packages that can enhance safety, driver efficiency, and comfort.
Engine and Handling
The long-wheelbase model with a high roof is equipped with the 6-cylinder 3L diesel engine. The maximum payload capacity is 2289 lbs. Towing capacity is 5,000 lbs. This engine gives a solid performance for a van that needs to carry 10 passengers. Ride quality is outstanding for both wheel versions. Models with 4×4 are a fantastic option on slippery surfaces. Ski centers definitely need one of those with all-wheel drive.
Safety
Mercedes is a pioneer when it comes to developments in the safety field. To remind you, the first vehicle equipped with ABS came from Mercedes. Today it's the same story. Passenger vans from Mercedes are packed with incredibly useful features like Crosswind Assist, Attention Assist, Lane Keeping Assist, Blind Spot Assist and many more.
Who Should Choose Mercedes Sprinter?
Mercedes Sprinter is a more sophisticated passenger van compared to competitors, especially if it is equipped with one of the high-end packages and accessories. The Sprinter is a good choice for the executive fleet, wedding organizers, or anyone who deals with a clientele that demands ride and style. However, this is the most recommended 10-seater car for large families and parents whose kids often travel to sports games, campsites, and family events that take place away from home.
A True Van Icon – 2021 Ford Transit Passenger Wagon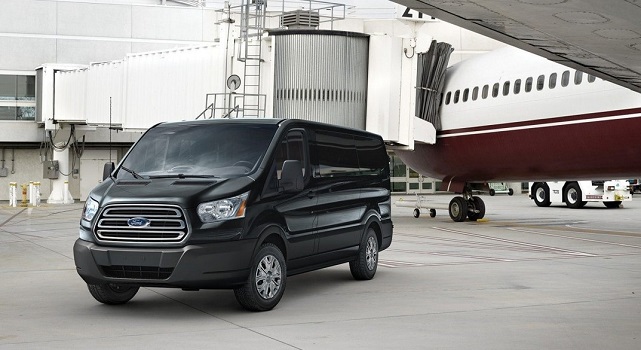 From $41,695 | 3.5L V6 Flex Fuel | 10-Speed Shiftable Automatic | Rear-Wheel Drive | 275HP | 25MPG
Ford Transit is the leader in the passenger van market in the US for a reason. This van can be called the King of Versatility.
The Transit Passenger Wagon is available in three roof configurations; standard roof, medium roof, and high roof. There are also three wheelbase variations – standard wheelbase, long and extended wheelbase length.
There are two trim levels as well – XL and XLT. Now you get why the Transit is so popular. Along with cargo-style side doors, there are 60/40 sliding side doors, as well.
Dimensions
Depending on the roof and wheelbase configuration, the Transit has six exterior lengths.
Regular with Low Roof: 219.9 inches
Regular with Medium Roof: 217.8 inches
Long with Low Roof: 237.6 inches
Long with Medium Roof: 235.5 inches
Long with High Roof: 235.5 inches
Extended with High Roof: 263.9 inches
Extended wheelbase models can carry up to 15 passengers. This capacity is decent, even for a minibus.
Engines and Transmission
Ford offers three engines for the Transit Passenger Wagon – two petrol engines and one diesel with a turbocharger. Gas engines have 3.5L and 3.7L capacity. Turbo diesel has a capacity of 3.2L. All engines use 6-speed automatic transmission. All three engines are state-of-the-art products developed by Ford.
Payload and Towing Capacity
Payload and towing capacity depend on the engine, wheelbase and roof height. But the engine will play the most important role in hauling and towing a trailer with the passenger's bags.
The Transit, with a low roof, standard wheelbase, equipped with the 3.7L engine, has a payload capacity of 2,900lbs and a towing capacity of 4,600lbs. On the other side, the Transit, with a high roof, extended wheelbase, and 3.5L EcoBoost engine, can tow 3,800lbs and has a payload capacity of 3,480lb.
Exterior
Ford Transit is designed in Europe. It is considered the best-looking van by most automotive journalists. We share this opinion. There are nine colors available. Six metallic colors add $150 to the base price. Tinted side windows come as standard.
The package for ten-passenger rear seating adds $1,195 to the base price. 10-Passenger seating is optional on Transit XL and XLT with regular wheelbase.
Interior
The interior features a futuristic design that's not formal and "sterile" like Mercedes Sprinter or Dodge ProMaster. The dashboard is well designed; the used materials are quite good. Seats are heated, while powered windows and locks come as standard. The central console has a small but handy LCD that shows the important info like fuel economy, trip and overall mileage, radio station, etc.
The steering wheel has all the buttons necessary to change the radio station, change track on the CD player, or connect with a smartphone. It would be better if the display had a larger diagonal, though.
For connection with phones, the Transit Passenger Wagon uses USB and AUX for wired connection and Bluetooth for wireless connection.
Driving Experience
The driving position is outstanding. The Transit is very intuitive and easy to drive. It handles very well, almost like a big car. It is stable in every situation and has so much grip. Even though it can carry 10 passengers (in some configurations even more), it is very stable. Traction control, ESP and ABS work as expected, and the driver has full control over the vehicle even if driven over the speed limit.
Who Should Choose Ford Transit Passenger Wagon?
Due to its versatility, the Ford Transit is a perfect fleet vehicle for airports, luxurious van rental agencies, bands on tour, camping, and small businesses who want to transport their workers and tow their tools with ease and confidence.
The main benefit is balanced price and maintenance cost, which is something that Mercedes-Benz is still not capable of offering.
Retro and Boxy – 2021 Chevrolet Express Passenger Van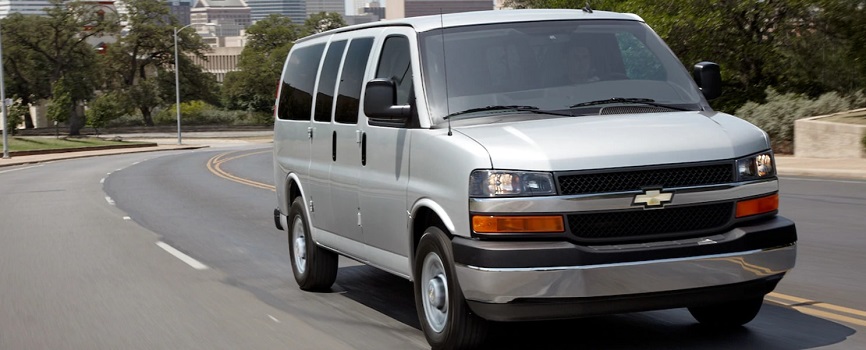 From $34,400 | 4.3L V6 | 276HP | Rear-Wheel Drive | 8-Speed Shiftable Automatic | 298 lbs./ft of Torque
Chevrolet vans are a part of American history. Before the arrival of the European competition, Chevy Express and its GMC brother Savana were the best-selling passenger vehicles in the US. They are still doing well, but it is obvious that they need re-designing.
If Chevy Express passenger van does need exterior re-designing, it surely doesn't require changes in the passenger area. The standard seating version can accommodate 12 passengers, while an extended wheelbase model can carry even 15 passengers. This van for transporting a small group of people is available as 2500 and 3500 model and as regular and extended version. Passenger van carries LS and LT trims.
Powertrain
Engines in the 2021 Chevy Express van are proven to be exceptional by many years of running in different conditions. There are two gas engines and one turbo diesel. Standard is 4.3L V6, next is big and muscular 6L V8 Vortec, and finally 4-Cylinder Duramax diesel. Engines in Chevy Express are one of the most powerful in the segment. The diesel engine with 8-speed automatic transmission is especially interesting is for towing purposes. It has 181 horsepower and offers a torque of 369 lb.-ft and maximum towing power of 6,200 lbs.
Exterior
There is nothing new to say for a vehicle that has looked the same since 2003. To keep up with the competition, Chevrolet and GMC will need to do much more, and the new design is the first thing to consider. Despite a decade or more of old design, no one can deny the practicality of Chevy Express. This van is simple, sturdy and offers space for 10 passengers and their bags. So, it's the perfect vehicle to get the job done.
Interior
Plastic pieces are made to last. There are certainly better-designed dashboards in the segment, but in Chevy, everything seems in place. If you think you won't find cool features like LTE Wi-Fi connection (for up to 7 devices), USB connectivity, a built-in 6.5-inch navigation panel, or a trip computer, you are wrong.
If there is no need to transport 15 passengers, you can remove seats, and that way have extra cargo space. Three passengers can sit per row, except in the back seat, designed for four passengers.
Technology
To improve user experience, Chevy developed a very handy mobile app. This application allows the driver or a fleet manager to track all important information about the vehicle, like fuel economy, average speed, location, maintenance intervals and much more. Plus, the driver can turn on/off the engine or unlock the vehicle using a smartphone.
Safety features like ABS, traction control, electronic stability and rearview camera come as standard.
On the Road
Chevy uses the body on frame construction – the same one used in trucks. This means that handling and performances on the road are not quite like in the Ford Transit or Mercedes Sprinter.
Who Should Choose Chevy Express?
Chevy Express is a full-size passenger vehicle that will find a way for those who are looking for a reliable, simple, strong and durable van. Many businesses are looking for the exact van capabilities.
Fortress on Wheels – 2021 Nissan NV 3500 HD Passenger Van
$68,998 | 4.0L V6 | 261HP | 5-Speed Automatic | Rear-Wheel Drive | 281 lb./ft of torque @ 4,000 rpm
The 2021 Nissan NV 3500 passenger van is similar to Chevy Express in few things. The first one is that Nissan also uses truck chassis for their cargo and passenger vehicles, and the second thing is exterior design. Nissan's design is also two decades old. Too conventional for 2021, we would say. If we put the design of the Nissan NV3500 aside, we'd find a very reliable vehicle that can carry more than 10 passengers. Nissan is so convinced in its build quality and reliability that it offers 5 years bumper to bumper or 100,000 miles warranty (depending on what occurs first). The NV Passenger comes in three trim variations: S, SV, and SL.
Interior
Another thing Nissan is proud of is the 324 seating configurations. How did they manage this? All seats can be easily removed and re-arranged the way you want. Seats are organized in three rows. Every row has two or three seats. The seats are spacious and very comfortable. All have headrests and seatbelts attached to the seat itself. Front seats have warmers as a standard.
The dashboard has all the information a driver needs. The steering wheel has radio commands, a trip computer, and phone commands.
There is a lot of storage area. A big compartment between front seats offers storage even for big accessories like a tablet or laptop. The front passenger seat is foldable and, in a few steps, can be transformed into a small working area.
To make driving more pleasant, the passenger space has adjustable A/C vents and two-floor heating vents. It is an excellent choice for large families and busy parents, who can use this van to work from home, go on road trips, and spend valuable time with their kids.
Exterior
There are five colors you can choose from. Only the pearl white adds $400 to the base price of the vehicle. NV3500 is a full-size passenger van, and it looks more like a truck with seats. As a matter of fact, the NV Passenger is made on the truck boxed frame. All trim levels have sliding side doors. NV passenger carries 17-inch wheels.
Engine and Transmission
NV Passenger is offered only with two petrol engines. Unfortunately, there is no diesel motor. 4.0L V6 (with 5-speed automatic gearbox) and 5.6 V8 (with 7-speed automatic gearbox) can easily haul and tow 10 passengers and their cargo or a trailer on long destinations. A stronger 5.6 V8 has a maximum towing capacity of 8,600 pounds. A real heavy-duty passenger van, don't you think.
Road Test
NV passenger van has nice handling despite its dimensions and stiff springs. The driving position is a little bit higher compared to other vans in the segment. The V8 engine sounds remarkable. A van with a V8 engine comes 0-60 mph in under 10 seconds. Accelerations are good, but the fuel economy of 13 MPG is below the average.
Who Should Choose Nissan NV3500?
Strong engine, great towing capacity, and passenger comfort are the main pros of the NV Passenger van. It can be a passenger van of choice for businesses who demand a reliable vehicle and don't care about its outdated design.
Conclusion
Whether you need a 10 passenger for your personal or commercial use, any model from the list can be your go-to choice. While some vehicles, like Dodge RAM ProMaster, are more convenient for construction firms and other businesses seeking a spacious and functional environment for their employees and cargo, Mercedes-Benz Sprinter is an excellent option for large families. Aside from being roomy and well-designed, the 2021 Mercedes is equipped with top-notch safety features every parent finds quintessential.