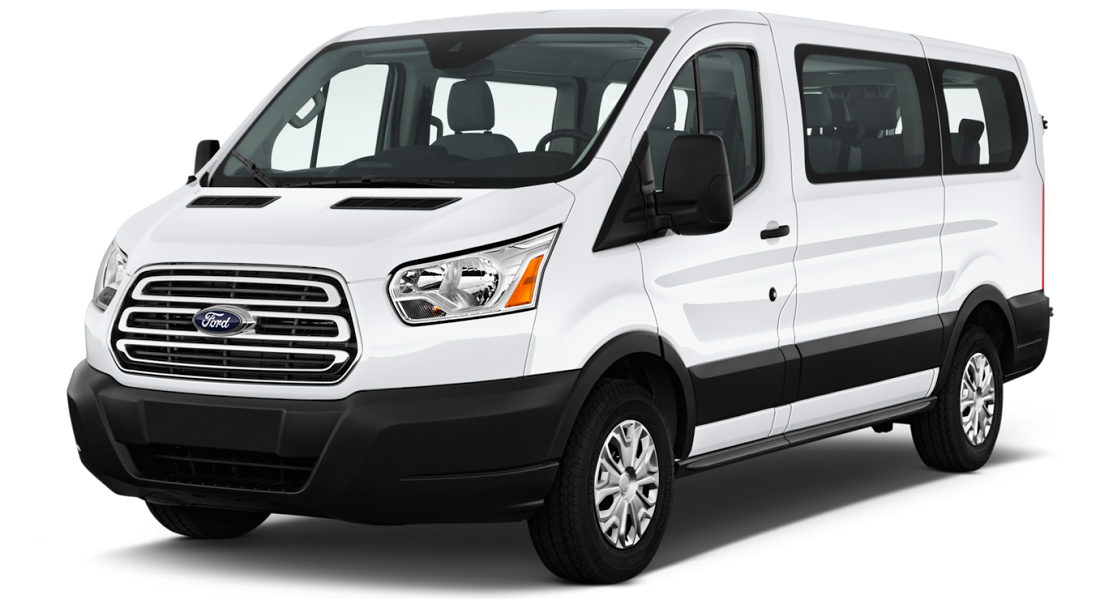 Ford Transit Passenger Van - Best Balance Between Price and Functionality
The Ford Transit offers value and versatility for everyone from skilled contractor to large families. Due to its car-like road features and a broad spectrum of body style, seating and equipment options, the Transit is comfy and capable of various needs. With three available lengths and three options of roof heights and engines, the Transit is quite flexible when it comes to buyers' demands. The Passenger Van is built to hold anywhere from 5 to 15 passengers, which enables the van for road trips who need to 'drag' a few people and a lot of equipment. With the Transit Passenger, versatility is the name of the game. It's available in different combinations of wheelbases, roof heights, payload ratings, and body lengths, letting customers meet their personal needs. Passenger is available in the three roof configurations: standard roof, medium roof, and high roof. There're also three wheelbase types: standard wheelbase, long and extended wheelbase length. Seating for eight is standard, but various configurations allow you receive 10, 12, or even 15 passengers, with extra room for their luggage.
Trim Levels
The Ford Transit Passenger Van is a full-size passenger van offered XL and XLT trims that are quite different by some standard convenience features. There're standard and long wheelbase versions as well as low, medium, and high-roof body models. An extended-length body can be placed on the long-wheelbase chassis. The base Transit Passenger Van is the 150, but there is also a heavy-duty Transit 350 with better payload capacities. Standard gear on the XL trim includes 16-inch steel wheels, a rearview camera, a sliding passenger door, 60/40-split hinged passenger doors on the low-roof body design, full power accessories, audio system with input jack and front speakers, vinyl front seats, and a-tilt-and-telescoping steering wheel.

Dimensions
According to the roof and wheelbase configuration, Ford Transit has 6 exterior lengths. • Regular with low roof: 219.9 inches; • Regular with medium roof: 217.8 inches; • Long with low roof: 237.6 inches; • Long with medium roof: 235.5 inches; • Long with high Roof: 235.5 inches; • Extended with high roof: 263.9 inches; • Extended wheelbase versions can accommodate up to 15 passengers.
Performance
The Transit's base engine is a 3.7-liter V6 rated at 275 hp and 260 lb-ft of torque. For more power, the Transit can be fitted with a turbocharged EcoBoost 3.5-liter V6 that triggers 310 hp and 400 lb-ft of torque. Also available is a turbocharged 3.2-liter diesel-powered inline 5-cylinder good for 185 horsepower and 350 pound-feet of torque. A CNG/Propane engine prep package is also available for the 3.7-liter V6. All Transits 'arrive' with a 6-speed automatic transmission that transfers power to the rear wheels.
Driving
Driving a van like the Transit isn't just going to be swift with excellent maneuvering, but this van is reliable and stable with enough power and torque to for a smooth ride. The body also identifies movement when hit a side wind, as expected from such a large slab flat surface, so you need to drive carefully on the highway, and especially after passing a bigger van or truck. Depending on which length is taken, for example, Ford Transit 12 Passenger Van or Ford 15 Passenger Van, this van can sometimes be changeling to park, thankfully a rearview camera is an option.
Interior
Inside the Ford Transit, things can be comfy and sleek, or rather bare and ready to take a load or whatever it's your business deals in. If you're moving people, it can carry 8, 10, 12 or 15 passengers and even at the max number stuff won't be too cramped. Thanks to the rubble or foot traffic, there's a durable vinyl floor that's not difficult to clean. Anyway, there's a tremendous ergonomic dashboard with the infotainment at center stage, a multifunction steering wheel in front of a gauge cluster that has a driver info display. With a completely adjustable seat and telescopic steering, big mirrors and driver aids, a proper driving position is available. The configurable rear setting is comfy with durable materials, even though the front two provide a lot more, and the all-inclusive combination is the first-in-class interior.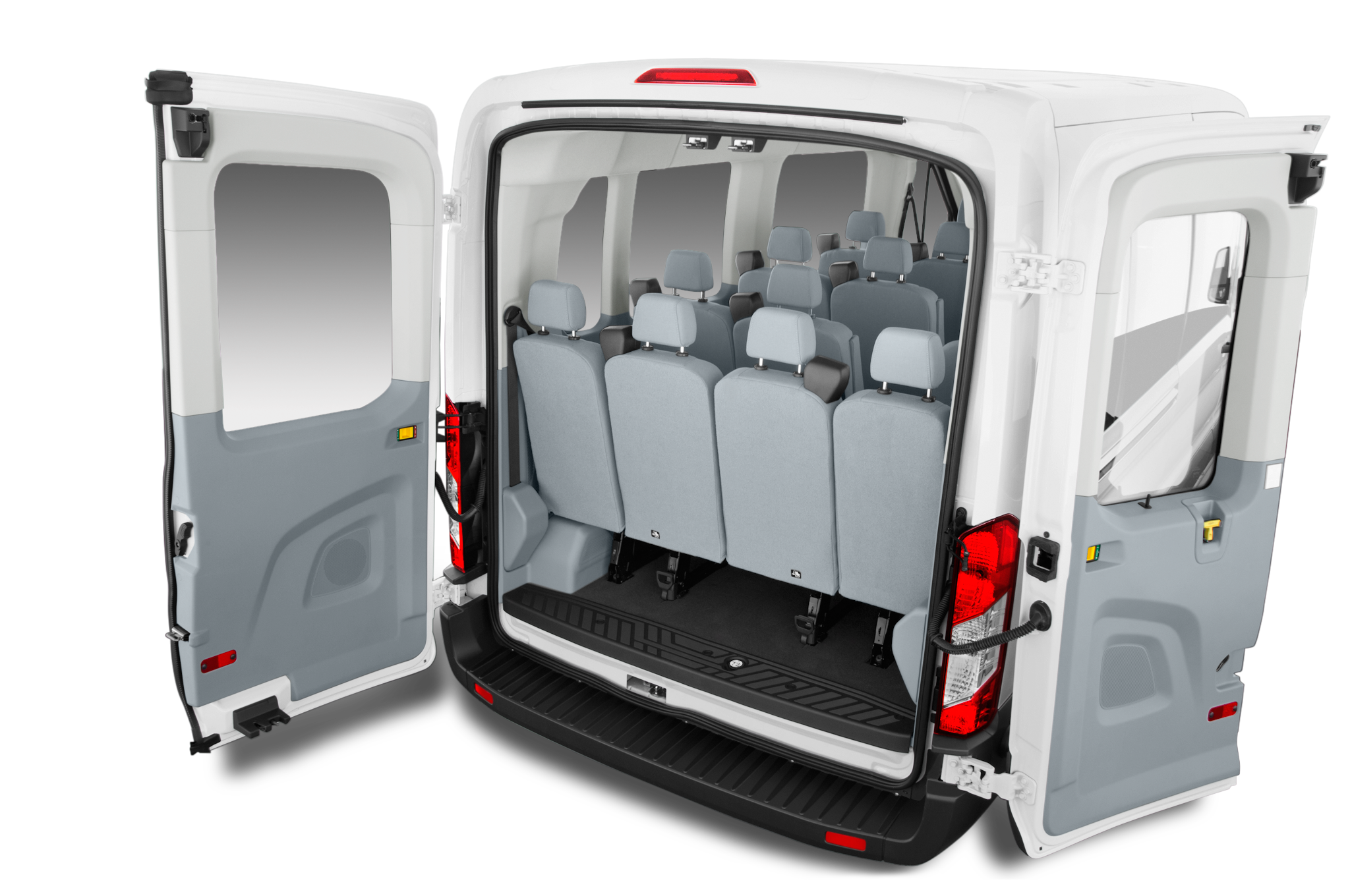 Utility
Maximum cargo capacity behind the first row goes from 212.1 cubic feet to 414.1 cubic feet, depending on length and roof height. And due to a low floor, there's no need to climb over wide doorsteps to enter the cabin and no need to use the rear bumper as a stair when going inside the cargo area.
Safety
When any passenger van transports people, safety becomes extra important. On the seats, you'll find 3-point safety belts on for all passengers. The drivers are treated to airbags in standard positions, but for the rear passengers, there's a safety canopy system, which is a full-length, while the side-curtain airbag will do a great job of protecting from side impact. There's also lane keep assist along with a side-wind stabilization to minimize the effect of a sudden side gust while driving. The Ford Transit received a five-star side crash and four-star frontal crash rating in the NHTSA's (National Highway Traffic Safety Administration) crash test.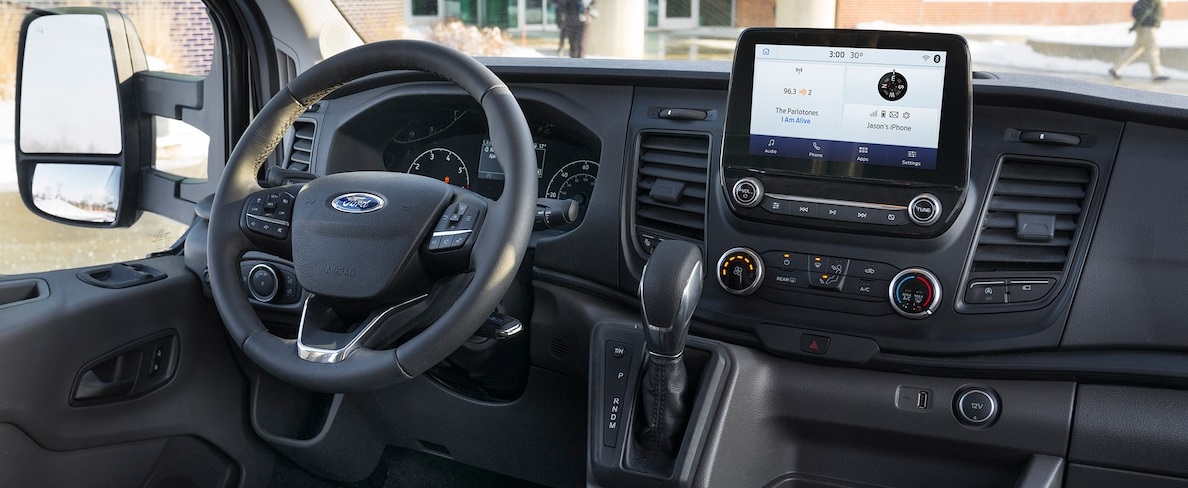 Equipment
Using the available Sync 3 interface seems like using a smartphone. Big virtual buttons are easy to press, and the navigation system applies familiar pinch-to-zoom and swiping gestures. Options can be ordered in packages or alone. They include different axle ratios, extended-length running boards, various windows configurations, power-folding heated mirrors with turn signals, rear parking sensors. Other options include upgraded instrumentation, navigation, satellite radio, 6.5-inch touchscreen display, and lane departure warning.
MPG
The Ford Transit 150 Passenger with the standard 3.7- liter engine has EPA-estimated fuel economy ratings of 14 mpg in the city, 18 mpg on the highway, and 15 mpg combined. When geared with the 3.5-liter EcoBoost engine, the Passenger's EPA-estimated fuel economy ratings are 15 mpg in city driving, 19 mpg on the highway and 16 mpg combined.
Ford Transit Passenger Van vs. Chevrolet Express
With an almost same origin from the full-size vans from the 1990s, the Express brings a classic van experience with either a V6 or an optional V8 engine. And while it's noticeably less expensive than the Transit, it also drives like a van from the '90s.
Ford Transit Passenger vs. Mercedes Sprinter Passenger Van
The Mercedes Sprinter Passenger Van is the closest rival for the Transit Passenger Van. Aside from their similar form and look, they provide similar wheelbase and passenger capacities. The Sprinter offers exceptionally high levels of fit and finish and a lot of customization with an optional four-wheel drive. Still, it's more expensive than Transit.
Ford Transit Passenger Van vs. Nissan NV Passenger
The Nissan NV Passenger is available with a brawny V8 engine, which is something the Transit lacks, but it doesn't have near the range of passenger accommodations or body configurations like the Ford. Its high cargo capacity isn't a priority in passenger niche, but the lower price of a well-equipped NV is an excellent feature for future buyers.
Ford Transit Passenger Van Interior vs. Ford Transit Cargo Van Interior
Flexibility is a middle name of Ford vans, that becomes immediately obvious when comparing the Passenger interior with Cargo interior. Ford Transit Cargo Van interior is available with an 83-inch low roof height, 100-inch medium height roof, and a high roof that stands over 100 inches, so it's perfect from anything from basic packing and unpacking to trade upfitting for those who need space to stand and work during the day. The Passenger clearly caters more people than cargo, and there's certainly no lack of space for everyone to stretch and relax. Available passage means no more leapfrogging to get seats at the back, and a best-in-class interior height of 77 inches with the high-roof version allows even taller people moved around without feeling cramped.
What's new for Ford Transit Passenger Van in 2019?
New for 2019 is the option of 2, 4, and 14-passenger seating. The regular-wheelbase Transit Passenger Van now comes in a standard 8-passenger version. From new storage, seating, and windows, Transit has put a lot of effort into making driving more suitable. Mid-side models with the 148-inch wheelbase include new door hinges that open wider. There's standard rear tow hook. Some trims can be optioned with high-strength laminated side glass, and all of three roof heights can have D-pillar grab handles to simplify entry and exit.
Verdict
The Ford Passenger Van is a sound choice for anyone looking an affordable and functional people carrier. What the Transit lacks concerning passenger-focused characteristics, it compensates with its powerful engine and first-rate handling features. It's not workhorse and stiff like the Chevrolet Express, but provides enough room and comfort for passengers on the long trips. It doesn't matter if you want a Ford Transit Van 12 passenger to drive your big family on Aspen, or Ford Transit Wagon 15 Passenger transfers mini league to the field, it will do the job perfectly. Pricing for new vehicle starts at $35,000, which is affordable for a small business startup or a full fleet. That is why you may need to consider buying used Transit Wagon.