Mercedes Sprinter Passenger Van - Reliable, Fast, and Unique
The new redesigned Mercedes Sprinter represents the third generation of a van that's been on sale in the United States for almost 20 years. For that time, the Sprinter has helped shift U.S. shoppers from conventional truck-like vans toward European-style models. The Mercedes Sprinter Passenger Van serves transportation with unique style, safety, and innovation. The German carmaker transfers tech from luxury cars into vans, starting with new Sprinter. First-class features include space for 15 people, an interior standing height of up to 6 ft. 3 in., a generous rear storage area, integrated 3-point seat belts per each seating position, and well-designed durable rear passenger seating with individual headrests. With the available features like adaptive cruise control, autonomous emergency braking, and a 10.25-inch touchscreen infotainment system, the Sprinter could make rivals such as Ram Promaster, Nissan NV2500/3500, and Ford Transit like old-timers.
Configurations
Choose 12 seater van or 15 seater van, 144-inch or 170-inch wheelbases, and 1500 or 2500 series trim levels. The standard engine on passenger models is a turbocharged 2.0-liter 188 hp and 258 lb-ft of torque coupled with a 9-speed automatic transmission. Optional on 2500 models is a 3.0-liter turbodiesel V6 188hp, and 325 lb-ft of torque clocked up with a 7-speed automatic transmission. Standard equipment on the passenger van includes 16-inch steel, air conditioning, a passenger-side sliding door, a rearview camera, three rows or rear seats, rear interior trim, tinted rear windows, and a sound system with two USB ports.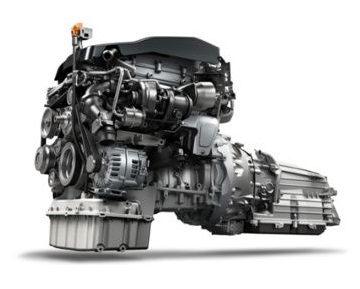 The option list is lengthy, it includes things such as a driver-side sliding rear door, front/rear parking sensors, crosswind assist, hill start assist, brake assist, lane keeping assist, 360-degree parking camera, rear air conditioning, heated seats, forward collision warning with automatic braking, and blind-spot monitoring with rear cross-traffic alert.
On the Road
The Sprinter is easy to drive since the throttle response is fantastic. The transmission works smoothly by dropping gears quickly when you need to run a passing maneuver. Still, the high roof version is too tall for most parking garages. The steering is well-weighted and fast enough that the Sprinter is easy to maneuver in parking lots. And the steering wheel feels good in driver's hands and quickly returns to center. And it's easy to drive up a mountain road with a big family or on bumpy roads. Changing direction swiftly isn't a van's best attribute, but it's good for this class.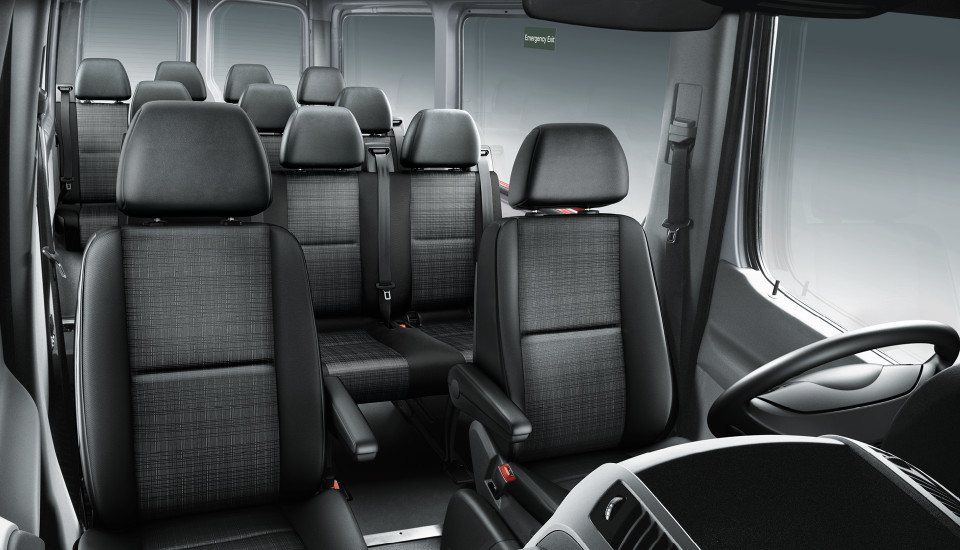 Passenger comfort is a top priority for Sprinter. Passengers will find plenty of space to spread out. The seats are quite comfortable, especially during long journeys. The ride quality improves as the occupant headcount increases. Long road trips or 8-hour days spent in the driver's seat are no problem in this van. If you're a shorter driver, the front of the seat bottoms may dig into the back of your legs a bit, but there's lots of lateral support and comfy seat padding. The climate control is user-friendly, with three large knobs and new buttons. The icons on these buttons are a bit small, but their commonsense arrangement makes them easy to get used to.
Cooling such a large 'box' might be challenging on a hot day, but even in 100-degree heat, the Mercedes remains relatively cool.
Interior
Excellent build quality is one of the main reasons you'll consider Mercedes as your first passenger van choice. The materials are best-in-class, and this van feels very well put-together with no significant faults. It also features a great abundance of front passenger space, and easy-to-use control layout and better-than-expected visibility. The driving position is quite high. It provides you a commanding view of the road, but shorter drivers will have trouble with the seat's height relative to the floor and the distance of the pedals. The Sprinter offers ample amounts of headroom, shoulder room, and hiproom. With the Mercedes Benz Sprinter, you'll get a lot of extra luggage space. This fact can be important for the many reasons, and it'll help passengers to carry any luggage.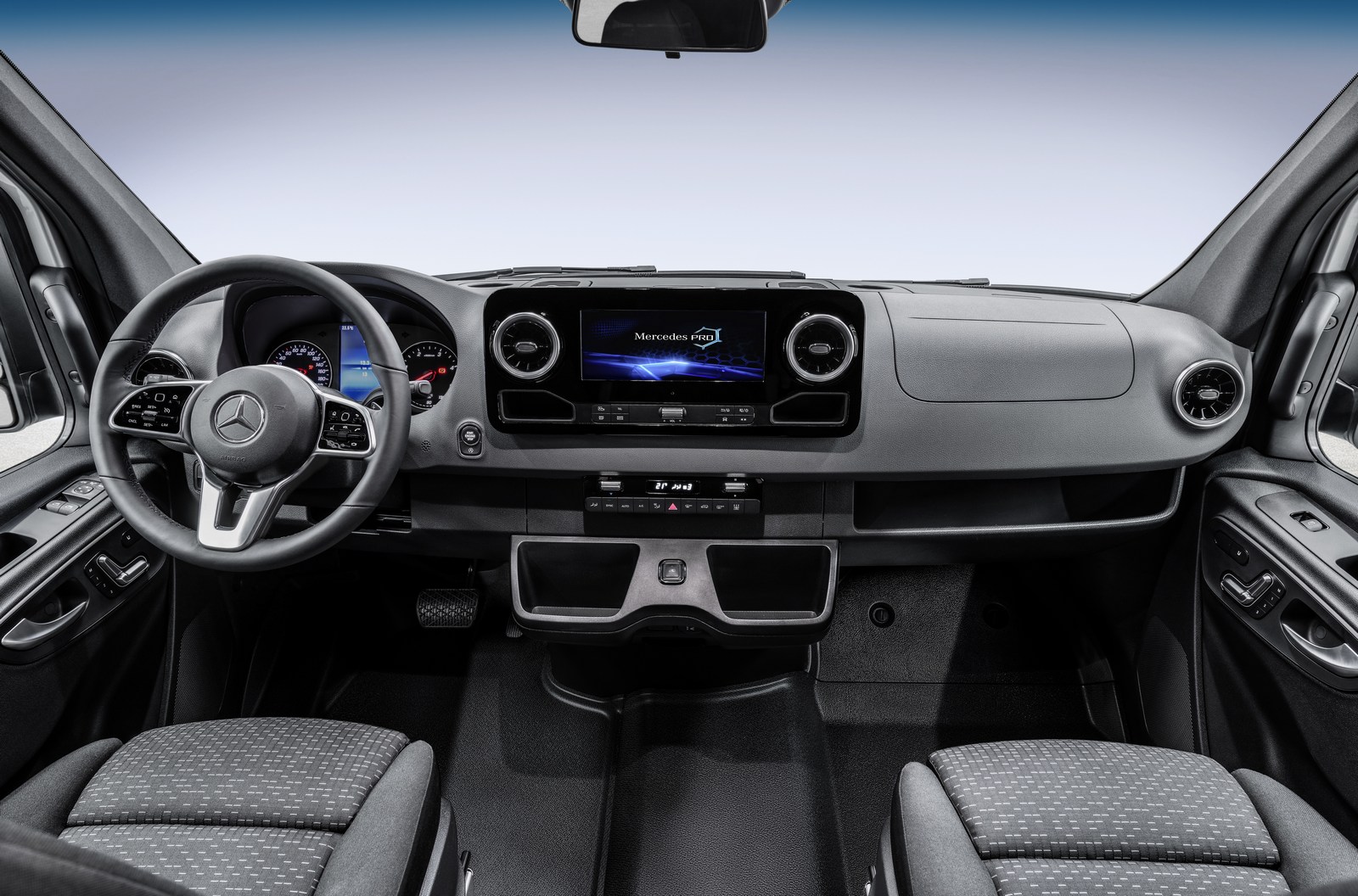 Visibility is better from the high seating position. While you don't get a great view of the bumpers, you can see everything on the road out of the massive windows. The large outside mirrors are helpful but only manually adjustable.
Safety
Adaptive cruise control keeps a set distance behind the vehicle in front of you and brakes automatically when it slows down, adapting to traffic conditions. Lane keeping assist scans lane markings and transmits visual and audible warnings in case you drift from the lane. Load-adaptive stability control factors in van load and center of gravity and can brake individual wheels and minimize engine power to stabilize the vehicle if wheelspin is detected.
Technology
The new third-generation Sprinter features one of the most popular infotainment systems on the market today MBUX (Mercedes-Benz User Experience). The system is optional, but it's worth the cost of the upgrade since it has excellent voice controls, easy-to-use steering-wheel and center-console buttons, and a choice of two 7.0-inch and 10.25-inch touchscreens. The 10.25-inch HD screen includes 3D mapping supported by the Nvidia graphics chip.
Utility
The Mercedes-Benz Passenger Van has a payload of 2,672 lbs and a towing capacity of 5,000 lbs. Total cargo volume of 80.8 cubic feet.
Warranty
Mercedes gives a five-year/100,000-mile powertrain warranty and three-year/36,000-mile new vehicle warranty.
Extra Features
While the Sprinter's rivals depend only on two wheels for driving force, when it comes to winter driving, the power to all four wheels is always better. Be in winter roads or off-road trails, the Sprinter is just better equipped to drive you there, even with the optional low-range-gear configuration. With its high roof configuration, this van can reach heights of 10 feet, making it related to a large rolling sail. Therefore, Mercedes-Benz adds Crosswind Assist to every model. The system works in combination with the vehicle's stability control, preventing unwanted course changes initiated by strong wind gusts.

Mercedes-Benz Sprinter Passenger Van vs. Ford Transit Passenger Van
Passenger vans are highly popular and incredibly useful for various businesses and pleasure also, including occupants' transfers, traveling-crew services, mini-league teams transports, big family, and more. To highlight how the famous Mercedes-Benz passenger van stacks up against the rivals, below is a comparison of the Mercedes-Benz Sprinter Passenger Van and the Ford Transit Passenger Van. Vans start out with different prices, making Sprinter as an option for business owners with a higher budget, while Transit is a more budget-friendly option. They both provide seating for the whole crew, with 12- and 15-passenger capacities. The Transit has four engine options, as opposed to the Sprinter's two options, but the Sprinter still enables drivers to do more.

Mercedes-Benz Sprinter Passenger van vs. Mercedes Sprinter Cargo Van
Both passenger and cargo Sprinter models come equipped with a 188-hp, 3.0-liter 6-cylinder turbodiesel engine. Additionally, all Sprinter models offer an available 4x4 turbo diesel engine. Passenger Sprinter Van offers a max towing capacity of 5,000 pounds, a maximum payload capacity of 2,762 pounds, two wheelbase configuration 144 or 170-inch, and a cargo volume of 80.8 cubic feet. The 2018 Sprinter Passenger Van starting MSRP is $47,185. Mercedes Benz-Sprinter Cargo Van offers a maximum towing capacity of 7,500 pounds, a max payload capacity of 4,519 pounds, three wheelbase options 144, 170, or 170-inch extended, the choice between two roof configurations standard or high, and a cargo volume of 319,1 cubic feet. The 2018 Sprinter cargo van has a starting MSRP of $38,420.
What's new for 2022
Everything behind the driver's seat of the 2022 Mercedes-Benz Sprinter is pretty much the same as last year. Yes, LED taillights are now available, and the Mercedes badge has moved from the back windows down onto the doors. It's a bit easier up front, thanks to a new dashboard and grille. The character line along the side of the new model is now flat rather than curved. So, it looks a bit different than previous year model.
Verdict
The Mercedes Sprinter transcend the limits of passenger vans with an advanced infotainment system and more driver-assist tech than rivals. While it still very much a van, the Sprinter should be more approachable to an individual or business buyer looking for a more affordable passenger van.