Ford Transit Connect Passenger Van - Top Offer in Compact People Carrier Segment
During the years, people asked for more features, more space, and better-equipped minivans. The Transit Connect is Ford's attempt to put the 'mini' back in the van. A decade ago, Ford saw some clear space opening up in the USA for personal-use vans and small business owners. Revealed at the 2009 Chicago Auto Show, Ford's Transit Connect rewrote the commercial van manuscript for tradesmen and small urban delivery operations. Acceptance was a little slow at begin, but the savvy aspects of the design, handy urban size, plentiful cargo capacity, respectable fuel economy, affordable pricing, low operating cost, upfits for various business. And the 2011 advent of a passenger model added showroom momentum. Officials say the wagon account for about the 15% of Transit Connect volume, but Ford hopes to grow to 20 to 25%. Ford makes a variety of vans, but perhaps its most interesting variant is the Transit Connect Passenger Van, a type of minivan that doesn't shy away from its cargo-van roots.
Trim Levels
XL, XLT, and Titanium trims, the Ford Connect Wagon will continue to be offered in both 5-passenger short-wheelbase and 6-passenger or 7-passenger long-wheelbase variants. The passenger comes with more stuff than a Ford Transit Connect Cargo Van, including rear power windows, rear seats, and everything else that makes it convenient for carrying people around, so expect to pay more for the XL passenger van than you would for the XLT cargo van. Both cargo and passenger van are similarly equipped, but because of the seating package expect the XLT passenger to command a bit more than the cargo model. The XL Wagon model comes with same standard equipment as XL cargo van but adds second and third-row seats, rear parking sensors, rear climate controls, power second-row windows, two rear speakers, and lumbar driver adjustment. The XLT Wagon comes in short and long wheelbase models and exceeds the XLT's cargo equipment. It also includes a rearview camera, an auto-dimming rearview mirror, automatic wipers, automatic headlights with configurable daytime running lamps, a power-adjustable driver seat, a thicker acoustic windshield, four front speakers for the sound system/voice control, a leather-wrapped steering wheel, and Ford's MyKey system. The Titanium trim is where the passenger version separates itself from the cargo vans, and it makes a strong case for itself being someone's daily driver as it comes with the same tech and safety features, you'll find in any other well-equipped crossover. You get LED foglights, HID headlights, aluminum wheels and a lot of body-colored trim that basically eliminates the Transit Connect's cargo van appearance. Of course, this trim level is more expensive, but you get a lot of extra features.
Performance
All Ford Transit Connect models utilize a 2.5-liter naturally aspirated 4-cylinder with 169 hp. The engine is paired with a 6-speed automatic transmission, and all Transit Connects are front-wheel drive. The 2.5-liter is clocked up for CNG (compressed natural gas) or LPG (liquefied petroleum gas aka propane).
Driving
Even though the Ford Transit Connect Passenger Van lacks the capacity of many V6-powered competitors, it seems much lighter and a lot nimbler around the city. These features are equally useful for big families and for delivery drivers needing to get in and out of tight areas. The Transit Connect is probably the best-in-class driving vehicle in the minivan segment due to responsive steering and adequate body control.
Comfort
The Transit Connect's ride can be rugged over bumpy roads, and suspension-transmitted noises find the way to get into the cabin. Therefore, buyers transitioning from a traditional minivan may discover that the suspension doesn't ultimately deliver the flexibility and isolation they expect. The Transit Connect wagon makes a great family vehicle, with plentiful room for up to seven passengers. And both short- and long-wheelbase cargo vans can meet your needs. The quality of the interior materials is below of many Ford vehicles but is still quite good for its class.

Interior
Getting in and out of the Transit Connect is an easy task both for front and rear passengers. Third-row access is a bit tight, but people can fit there. The cabin controls are all within reach and easy to figure out. Ford Sync 3 infotainment layout is intuitive. Scrolling through the instrument panel screen is also a breeze due to proper steering wheel controls. A high driving position serves a good view of the road by the giant windshield, though some may find too high. The steering wheel and the front seat provide a proper amount of adjustment range for drivers of different sizes. Visibility is great. The big tall windows, huge windshield, and tiny blind spots "tell" you can spot almost everything in nearly any direction. Rear headrests 'don't block seeing out back either. With door panels and a dashboard similar to 'Ford's Escape SUV, the interior of the Transit Connect is more carlike than you could suppose. SWB (short-wheelbase) wagon models of the Transit Connect hold five passengers across two rows, while LWB (long-wheelbase) models accommodate seven across three rows. Second-row captain's chairs are typical in the top-notch Titanium Wagon and optional on the XLT but bring down passenger number to six.
Utility
Cargo room in the short-wheelbase wagons offers a maximum of 77.1 cubic feet, and the long-wheelbase models provide 104.2 cubic feet.
Technology
The Transit Connect Passenger gets a lot of new safety and convenience equipment, including standard automated emergency breaking and newly available features such as adaptive cruise control, blind-spot monitoring with rear cross-traffic alert, lane-keeping assist, and high-intensity-discharge headlamps. Plus, a standard 4G LTE connection enables the Transit Connect to serve as a Wi-Fi hotspot for up to 10 devices.
Safety
The IIHS and NHTSA haven't crash tested the 2019 Ford Transit Connect Wagon. Pedestrian detection, forward collision warning, and the automatic emergency braking are standard on all new Transit Connect vans. Rear cross-traffic alert, blind-spot monitoring, adaptive cruise control, and lane keeping assist are optional.
Functionality
Some great and useful features are offered, depending on how much you're willing to spend. The Wagon can be upfitted with overhead bins like those found in a panoramic glass roof or an airplane. The highest Wagon trim levels provide leather seats, dual zone climate control with separate rear climate controls, and a touchscreen infotainment system with navigation. And the cabin offers a comfortable environment, with decently supportive seats and an updated, good organized dashboard.
Fuel Economy
Ford has heralded fuel economy figures for its updated 2019 model with the naturally aspirated 2.0-liter 4-cylinder gasoline engine. In the city, it gets 24 mpg, while on the highway it gets 29 mpg. Combined fuel economy is 26 mpg.
Warranty
Warranty for XL, XLT, and Titanium Wagons is the same and includes : • Basic coverage: 3 years / 36,000 miles; • Powertrain: 5 years / 60,000 miles; • Safety restraint system: 5 years / 60,000 miles; • Corrosion: 5 years / unlimited miles; • Roadside assistance program: 5 years / 60,000 miles.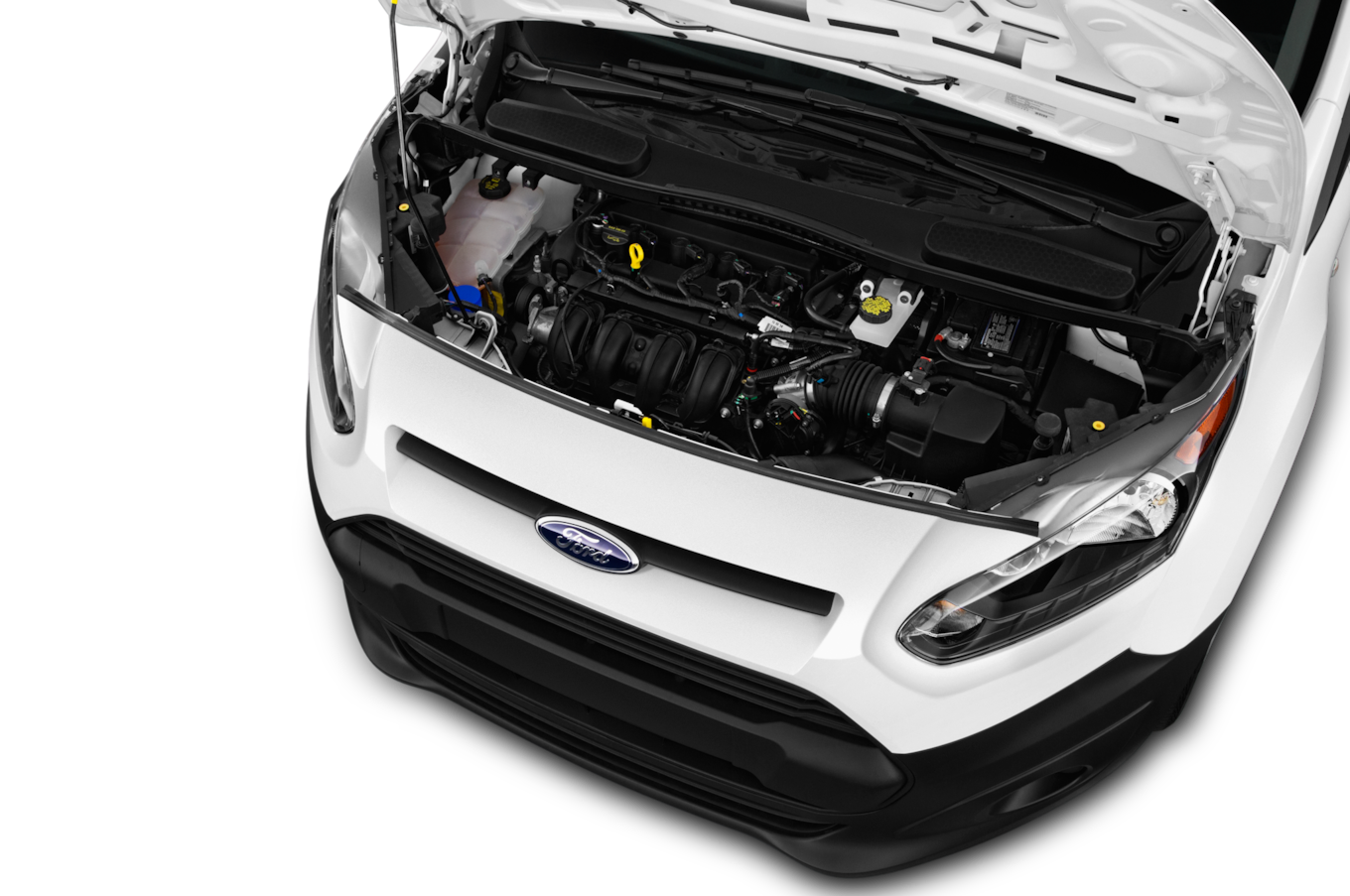 Ford Transit Connect vs. Mercedes Metris
Larger in almost every segment but still quite smaller than a full-size van, the Metris got the measure of the Transit Connect except when it comes to price. When optioned comparably to the Transit Connect's Titanium trim level, the Metris is reaching $40,000, while the Connect Titanium's trim is almost $10,000 less expensive.
Ford Transit Connect vs. Ram Promaster City
The ProMaster City is probably the Ford's toughest opponent since it can be optioned for either passengers or cargo while being a compact city van. The Ram lacks the optional diesel engine of the Ford but triggers a quite big punch from its 2.4-liter 4-cylinder engine, which delivers it a great payload capacity for this segment.
What's New for 2019?
The 2019 Transit Connect features a turbocharged 1.5-liter diesel engine. A 2.0-liter 4-cylinder standard gasoline engine is also new. Both are coupled with a new 8-speed automatic transmission. The front seats have been upgraded, forward-collision mitigation becomes standard, along with crosswind stabilization and a rearview camera. The front end receives minor styling alternations with the optional LED fog lights, fresh wheel designs, and new paint colors.
Pricing
2019 Transit Connect XLT Passenger starts at $28,480, which is a few thousand bellows than classic minivans such as Honda Odyssey and Toyota Sienna. The 2019 Transit Connect XL Passenger Wagon begins at $26,485, while the Titanium's starting price is $31,995. Therefore, if this is too much expensive option for your needs, you can buy used Ford Transit Passenger Van for a much better price.
Bottom Line
If you need a small van that can carry seven people or one that is specifically designed for commercial or big family purposes, you'll like this small Ford Transit. Thanks to its maneuverability, fuel efficiency, affordability, and garageability, it's a great alternative to a large, cumbersome van. Specification levels are standard, with smoothness and performance compatible with other minivan offerings, the Wagon exceeds rivals with a more affordable price and a roomy interior.