10 Best 3 Row SUVs for City and Freeway



There're plenty SUVs on the market, so it can be challenging to figure out where to begin. Compact and compact crossovers provide a good value statement to city residents, empty nester, and those who just want something that stands out from a standard 3 row SUV.
But, if you're seeking for 3rd SUV that is roomy enough for adults or teens, the list gets much shorter. The proper one don't need just to be spacious – it also need to be comfortable and easy to access.
Here are the 10 best 3rd row SUVs you can get this season on the road.



1. Dodge Durango
Dodge builds into a Durango a degree of capability simply not available in other 3rd row vehicles. Its towing capacity, when appropriately geared, is impressive.
If the fuel economy and price don't turn you off, the SRT model with its 475-horsepower HEMI V8 propels from 0-to-60 mph in less than 5 seconds.
Trims
Dodge Durango is available in 5 trim levels: SXT, GT, Citadel, R/T, and SRT. All models except the SRT use the rear-wheel drive and offer optional all-wheel drive.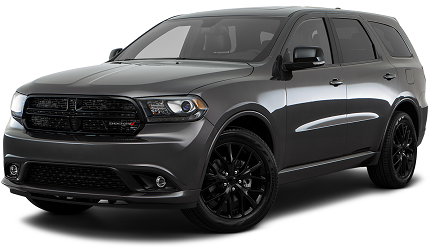 Performance



The Durango's optional 360-hp V-8 brings big improvement in towing capacity, while the 8-speed automatic transmission and the 293-hp V-6 engine is a more efficient couple.
The Durango's fuel economy doesn't beat that of its four-cylinder rivals, of course, but the trade-off for the more entertaining V-8 and its brawny towing capacity might be worth it for some shoppers.
The Dodge's suspension is somewhere between comfort and sport, while the braking performance and steering feel remind you that you're driving an SUV.
It still manages to deliver a comfy ride, making it a family-friendly SUV that's both fun to drive and easy to live with.
Interior
Durango's designers highlighted ergonomics, material quality, and overall comfort, but less second- and third-row passenger space. Plus, a set of gauges featuring white and red on a black background faces the driver.
The font is playful without being illegible, and a standard 7.0″ reconfigurable digital speedometer is front and center – it offers access to car status, fuel economy, navigation, and audio information. The steering wheel has a thick, leather-wrapped rim and attractive metal-look trim.
Safety
Forward collision warning – Prevents an impact by sounding an alert when the Durango detects an imminent collision;
Lane departure warning – Sounds a warning if the vehicle starts to drift from its lane without a turn signal being activated;
Blind-spot monitoring – Illuminates a light on either of the SUV's side mirrors when a Durango enters its blind spot.
Fuel Economy
Fuel economy with RWD is 19 miles per gallon in the city, 26 mpg on the highway, and 21 mpg in combined driving. It's basically the same with AWD.
Warranty
The limited warranty covers 36,000 miles or 3 years;
Powertrain warranty covers 60,000 miles or 5 years.
Pros
More towing capability than most crossovers;
Secure ride;
Adult-friendly 3rd row SUV easily accessed by huge rear doors and flip-folding second row;
Unique SRT model.
Cons
Subpar fuel economy with V8;
Most safety tech is only available on top trims.
2. Ford Explorer
Ford Explorer is a midsize 7 passenger SUV or 6-seater if you opt for the second-row captain chairs. The new model presents a bunch of improvements compared to the outgoing generation.
It transforms from a front-wheel-drive to a rear-wheel-drive platform, which boosts its towing capacity and handling abilities.
Trims
There're 5 different ways to configure Ford Explorer: Base, XLT, Limited, Sport, and Platinum trim levels.
The base, XLT, and Limited trims are available in front-wheel or all-wheel drive, while the Platinum and ST (Sport) are offered solely with all-wheel drive. Regardless of the trim, every model is equipped with a 6-speed automatic transmission.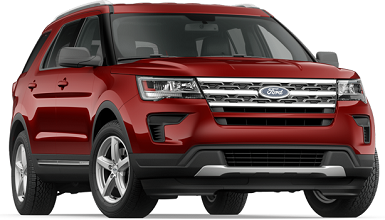 XLT: $36,765;
Limited: $48,130;
ST: $54,470;
Platinum: $58,250.
Performance
Base, XLT, and Limited trims arrive with a 300-hp turbocharged 2.3-liter 4-cylinder engine, and it motivates the Explorer along with authority. When adequately equipped, the Explorer can tow up to 5,600 pounds.
This SUV rides on an all-new rear-wheel-drive platform, but all-wheel drive is still optional – 10-speed automatic transmission is a standard across the board.
The ST model is far more athletic than base, and its extra power and stiffer suspension make it a real performance SUV.
Interior
The Explorer's cabin is practical and comfy – at least for those in the first two rows. Getting into this 3rd row SUV is now simpler due to a new system that moves the second-row seat at the touch of a button. Also, passengers will find that the seat is too close to the floor to be comfortable for adults or older kids.
An 8.0″ touchscreen infotainment is standard and includes both Apple CarPlay and Android Auto capability, but to get the optional 10.1″ vertically oriented screen, you'll need to upgrade to either the ST or the Platinum models.
Safety
Blind-spot information system – Detects vehicles in adjacent lanes and lights a warning in the side mirrors;
Lane-keeping system – Vibrates the steering wheel and reduces steering effort if the SUV veers toward the edge of its lane;
Collision warning with brake support – Alerts an impending forward collision and pre-charges brakes to shorten the stopping distance.
Fuel Economy
The rear-wheel-drive model needs 21 mpg in the city and 28 mpg on the highway. Fuel economy for the twin-turbo V6 engine is estimated at 18 mpg in the city and 24 mpg on the highway.
Warranty
The limited warranty covers 36,000 miles or 3 years;
Powertrain warranty covers 60,000 miles or 5 years.
Strengths
Increased cargo room and passenger space;
The rear-wheel-drive platform improves towing and handling;
Additional tech and driver assistance features.
Spacious cabin;
Weaknesses
Poor interior in lower trims;
3. Chevrolet Tahoe
5 years from the last refresh, the Tahoe 7 seater SUV hangs on for its final year before the new fifth-gen 2021 arrives at its place.
Available with either rear- or all-wheel drive, the Tahoe is based on the strong support from the Chevy Silverado pickup truck.
Trims
The Chevrolet Tahoe comes in 3 trim levels: LS, LT, and Premier. Moving up through the three trim levels brings more standard features and available option packages, ranging from appearance to powertrain options.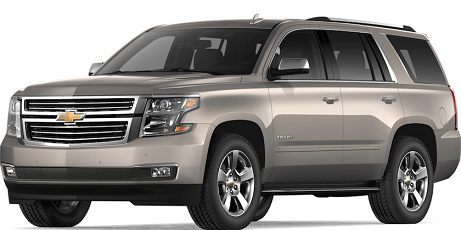 Due to the vast array of available upgrades, this SUV can be tailored for a variety of needs, from something more work-centric to reasonably luxurious.
LS: $49,295;
LT: $54,295;
Premier: $63,995.
Performance
The Tahoe is powered by one of two V-8 engines, one of which is a mighty 420-hp version paired with a 10-speed automatic transmission.
While the standard 355-hp 5.3-liter engine and 6-speed automatic bring sufficient push and seamless shifts, the quicker and more powerful couple is dynamic.
The rear-drive 5.3-liter model can tow up to 8,600 pounds, while all-wheel-drive models have a max tow rating of 8,400 pounds.
Its steering is smooth, which imparts a feeling of agility, and its relatively tight turning circle gives it excellent maneuverability.
Interior
It has a quiet, comfortable cabin that can be fitted with a features gallery. Most surfaces above the waistline are covered in soft-touch plastics, and the large buttons and knobs made the controls easy to use.
Every version provides plenty of space for passengers in the first two rows, but its tight third row is basically reserved for those of short height.
It has a full-featured touchscreen infotainment system. Not only does it include Android Auto, Apple CarPlay, and a Wi-Fi hotspot, it also has a catchy menu and responsive feedback.
Safety
Safety alert driver seat – Vibrates the driver's seat cushion when a safety alert occurs;
Lane keep assist – Alerts the driver when the SUV drifts out of its lane and delivers steering input to keep the Tahoe in its lane;
Forward collision alert – Warns the driver to take action to escape colliding with a vehicle or other object in front of the SUV.
Warranty
The limited warranty covers 3 years or 36,000 miles;
Powertrain warranty covers 5 years or 60,000 miles.
Fuel Economy
The 5.3-liter engine and 6-speed automatic needs 19 mpg on the highway. The more powerful 6.2-liter engine exceeded the smaller engine's figure on the interstate by 3 mpg, for 22 mpg.
Advantages
Seating for up to 9 people;
Standard V8 offers impressive towing capability;
Interior is quiet and well-trimmed;
Optional 6.2-liter V8 adds capability and performance.
Disadvantages
High trunk floor makes loading difficult and minimizes cargo space;
Handling in tight spaces is a challenge.
4. Buick Enclave
The Buick Enclave includes ample cargo space, user-friendly technology, and cozy seating. It trades on comfort with a smooth, luxurious ride, gliding over pockmarked asphalt and barely registering harsher impacts.
Trims
The 2020 Buick Enclave is available in four trims: Preferred, Essence, Premium, and Avenir. The Preferred is only available with front-wheel drive. The remaining trims are available in front- or all-wheel drive.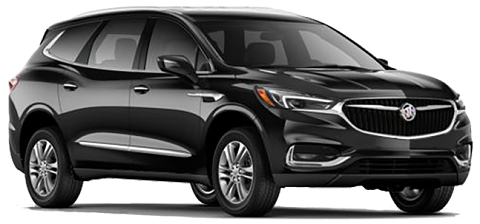 Preferred: $41,495;
Essence: $43,195;
Premium: $49,595;
Avenir: $54,995.
Performance
Under the hood of every model is a 3.6-liter V-6 making 310 horsepower driving both the front of all four wheels by a smooth-shifting 9-speed automatic transmission.
It's not the fastest crossover, but the Enclave is quick enough when driving around town or merging onto the freeway while leaving the passenger cabin undisturbed.
For those who need burly towing capacity, Buick offers a Trailering package that ups the Enclave's capacity to 5,000 pounds.
Safety
Safety alert seat – Warns driver of an imminent collision or a lane departure by vibrating the seat in the direction of the danger;
Lane change/blind zone alert – Alerts you of quick-approaching vehicles in adjacent lanes. Also warns you if there's a vehicle in a blind spot;
Following distance indicator – Uses the radar cruise control system to let you know if the Enclave is following the vehicle ahead too closely.
Fuel Economy
According to the EPA, the Enclave earns 18 mpg in the city and 26 mpg on the highway. This fuel economy rating is within the normal range for a 7 passenger SUVs. With all-wheel drive, each score falls by 1 mpg.
Warranty
The limited warranty covers 50,000 miles or 4 years;
Powertrain warranty covers 70,000 miles or 6 years.
Highs
Plentiful cargo and passenger room;
Smooth and quiet ride quality;
A plethora of standard features;
Several device-charging solutions.
Lows
Several safety features are only available on the Avenir trim;
5. Nissan Pathfinder
The Pathfinder traded in its off-road equipment years ago to shuttle families and complete road trips. Its V-6 powertrain and optional all-wheel drive are sweet but passive and not so fuel efficient on the freeway.
Still, it can tow more than most 7 passenger vehicles in the class and offers a swath of driver assists and user-friendly infotainment system.
Trims
Nissan offers the Pathfinder in 4 trim levels: S, SV, SL, and Platinum. A V6 engine, a CVT (continuously variable transmission), and front-wheel drive are standard across the lineup.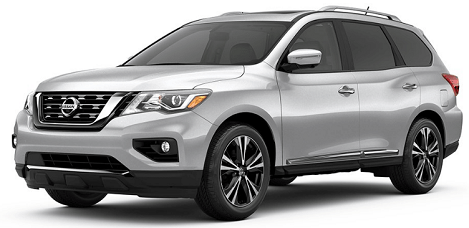 The midlevel SV is a good choice. It includes a few more safety features than the base S, and it's available with some comfort and tech upgrades that come standard on higher trims.
S: $32,725;
SV: $35,515;
SL: $39,135;
Platinum: $43,965.
Performance
It's far from the fastest in its class, but not the slowest, either. The 284-hp 3.5L engine is about average in the class, and it's mostly unobtrusive and smooth in everyday driving.
Pathfinder can tow up to 6,000 pounds, which is 1,000 more than most rivals. The upside is mostly plush with the quiet ride that makes highway trips a breeze.
Interior
The front seats are spacious, airy, and provide excellent cushioning. The legroom in the second row is roomy, and the seats flip and slide easily to provide easy access to the third row.
The bottom cushions are quite near to the floor, while the legroom is weak, making it a place for short drives only—at least for adults.
Folding the second- and third-row seats is a simple process, making it easy to expand the cargo area when necessary.
Safety
Automatic emergency braking – Front radar monitors proximity to the vehicle ahead. In an imminent collision, the Pathfinder can apply brakes to avoid or mitigate the impact.
Blind-spot monitoring – Helps compensate for reduced side and rear visibility caused by the Pathfinder's stylish exterior. It's standard on SL and Platinum.
Around-view monitor – Four cameras display a 360-degree image of the vehicle. The selectable curbside view is great for parking. It's standard on SL and Platinum.
Fuel Economy
The EPA awards the two-wheel-drive Pathfinder a combined rating of 23 mpg. Add all-wheel drive and optional 20-inch wheels, and it drops to 21 mpg combined.
Warranty
The limited warranty covers 3 years or 36,000 miles;
Powertrain warranty covers 5 years or 60,000 miles.
What we like
The V6 engine offers strong acceleration with good fuel economy;
3-row seating is easy to access;
Features robust towing capacity;
Rear parking sensors and the automatic emergency braking are standard on every model.
What we don't
Small-item storage and cargo capacity are below average;
Less roomy third-row space.
6. Kia Sorento
The Kia Sorento is a fantastic solution for family-focused shoppers, and it's the right choice due to its low base price.
It has one of the most delightful interiors among 7 passenger crossovers, several available driver assistance features, a user-friendly infotainment system, and a cushioned ride.
Trims
The Sorento is available with all-wheel drive in 5 trim levels: L, LX, EX, SX, and SX Limited.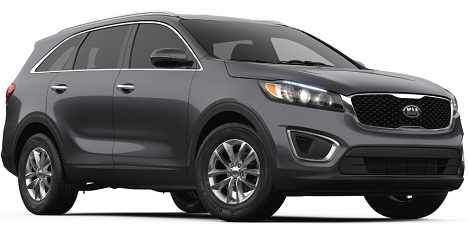 The L and the LX come standard with a 2.4-liter four-cylinder engine (185 horsepower, 178 lb-ft of torque) and a 6-speed automatic. A 3.3-liter V6 (290 hp, 252 lb-ft) with an 8-speed automatic is optional on the LX and standard on the and EX, SX and SX Limited.
L: $26,980;
LX: $28,480;
EX: $36,580;
SX: $40,980;
SX Limited: $45,68.
Performance
The Sorento's V-6 acquits itself well against rivals in 3-row SUV class. Overall, comfort and composure are superb, and the Sorento never feels like a bloated land yacht.
Three driving modes Normal, Eco, and Sport adjust throttle response, steering effort, and the transmission's shift points, but nothing much changes the Sorento's relaxed ride.
Interior
Interior material quality is decent, with harder, cheaper plastics generally kept out of direct view. All of the controls are logically labeled and located, including knobs and buttons for the climate-control system, and an optional 7.0″ information display in the gauge cluster.
All models come with a 40/20/40 split-folding second-row seat. The third row has a 50/50 split-folding arrangement and, along with the middle row, packs flat into the cargo floor to create a level load surface.
Safety
Uvo eServices – Features automatic 911 calling when an airbag deploys, along with speed and location alerts for secondary drivers;
Lane departure warning – Warns you when the system detects that you're drifting out of your lane. Standard on the EX and above;
Forward collision avoidance -Alerts you when an imminent front collision is detected. It can automatically brake if needed – standard on the EX and upper trims.
Fuel Economy
Few 7 seater cars on this list can match the gas mileage the Sorento's base engine delivers – 29 mpg on the freeway and 22 mpg/city. The V6 gets about 3 mpg fewer, which is also a great result.
Warranty
The limited warranty covers 60,000 miles or 5 years;
Powertrain warranty covers 100,000 miles years or 10 years.
Pros
Convenient size should fit many families;
Ample feature content;
Classy and quiet interior;
Extra-long warranty coverage.
Cons
Less cargo space than other three-row alternatives;
The third-row seat is only for kids.
7. Mitsubishi Outlander
It's one of the most affordable picks in this 7 passenger SUV list on the market. It's also available as a plug-in hybrid. If your budget is limited, the Outlander may be worth a second look.
Trims
The 2019 Mitsubishi Outlander comes in 5 different trim levels: ES, SE, LE, SEL, and GT.
All models have a 2.4-liter 4-cylinder engine that produces 166 horsepower. The GT features a 3.0-liter V6 that makes 224 horsepower. There's also a plug-in hybrid model with a lithium-ion battery pack. It produces a combined 197 horsepower and is only available in the SEL and GT variants.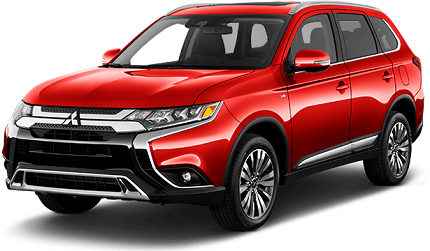 The GT comes standard with all-wheel drive. AWD is available for $1,500 in the base ES and $2,000 in the other trims.
ES: $22,040;
LE: $24,240;
SP: $24,640;
SE: $24,640;
GT: $26,140.
Performance
Engines is paired with an unrefined CVT except for the stripped-out base model, which comes standard with a five-speed manual transmission.
It maneuvers well for a small crossover, with great steering and a firm ride. There's a good amount of body roll in corners, but not so much that it feels tippy or unstable.
Its braking distances are average for this segment. After some starting softness, when you press the pedal, it firms up under harder braking.
Interior
Vast expanses of black plastic mixed with an uninspired dashboard design to create a basement atmosphere inside the vehicle.
Some versions feature red stitching in an attempt to spice up things, and the most expensive trims include leather upholstery.
Mitsubishi's infotainment offerings are still in the Radio Shack time, with out-of-date graphics and limited functionality.
Still, Apple CarPlay and Android Auto are available on all except the base ES trim. Still, a 7.0" touchscreen is standard on every model.
A deep center console is a plus, but the Outlander doesn't offer many places to stash your stuff. There're no door pockets for rear-seat passengers, and the spare tire takes all underfloor storage in the cargo area.
Safety
360-degree camera – Makes a simulated bird's-eye view of the vehicle for tight parking situations, enabling you to see the SUV from all angles;
Blind-spot monitoring – Alerts you of a vehicle hidden in a blind spot (or an approaching one) to protect against dangerous lane changing;
Forward collision mitigation – Assists mitigate an accident by monitoring ahead, warning you of an impending collision, and applying the brake in certain situations.
Fuel Economy
The base Outlander gets an EPA-estimated 30 mpg on the highway and 25 mpg in the city. The GT version and its V6 engine use premium gasoline and get fuel estimates of 27 mpg/highway and 22 mpg/city.
Warranty
The limited warranty covers 5 years or 60,000 miles;
Powertrain warranty covers 10 years or 100,000 miles.
Strengths
Affordable for a 3-row SUV;
Good fuel economy;
Refreshed exterior styling;
Class-leading warranty;
8. Acura MDX
This three-row Acura MDX has refined handling, comfy seats, and a wide array of safety features. It also has a better-than-average fuel economy for a vehicle this size.
Trims
It's offered in four trim levels (also referred to as packages): Standard, Technology, Advance, and A-Spec. The Standard and Technology MDXs are nicely equipped, and the Advance includes all the features you'll likely want in this class.
All of the above use a 3.5-liter V6 engine (290 horsepower, 267 lb-ft) that's paired to a 9-speed automatic transmission with both front- or all-wheel drive.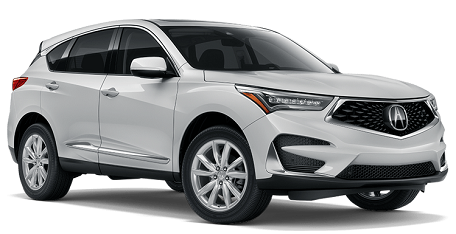 The Sport Hybrid has a smaller 3.0-liter V6 in conjunction with 3 electric motors (combined 321 hp, 289 lb-ft) and a 7-speed automatic transmission.
MDX: $45,395;
MDX Sport Hybrid: $53,895.
Performance
The 9-speed transmission is mostly smooth and sure-footed, but it can be slow to downshift when you need acceleration.
The hybrid MDX is surprisingly fast, and the transitions between the electric motors and gasoline engines are seamless. The hybrid model stopped in 188 feet, exactly the same distance as the standard MDX.
While the gasoline version can tow up to 5,000 pounds, Acura doesn't recommend towing with the hybrid model. Plus, the Acura's optional all-wheel-drive system helps it to be more agile and engaging on the road.
Interior
Second-row passengers will appreciate that the bench seat can slide back and recline slightly, but that's poor comfort for passengers in the stiffed third row.
It looks good inside, and soft-touch materials cover most surfaces. Still, there are several cheaper-looking plastic pieces scattered in less accessible areas.
With all seats in use, this SUV gives you about 15 cubic feet of cargo space . Fold the second & third row down to get more than 65 cubic feet of space.
Safety
Lane-keeping assist – Detects lane markings and works to keep the SUV within its lane if it starts to drift due to your inattention.
Adaptive cruise control – Allows you to set a speed and maintain the desired distance from the vehicle ahead and bring you to a stop if needed.
Surround-view camera system – 4 exterior cameras create a 360-degree view of the vehicle's immediate surroundings.
Fuel economy
Just few 7 passenger cars in this class can match this SUV when it comes to fuel consumption. It uses 27 mpg on the highway and the 20 mpg in the city.
Warranty
The limited warranty covers 50,000 miles or 4 years;
Powertrain warranty covers 70,000 miles or 6 years .
Advantages
Confident and smooth acceleration from the V6 engine;
Optional SH-AWD system improves handling and all-season traction;
Good gas mileage;
Nice handling.
Disadvantages
Towing limited to 5,000 pounds.
9. Lexus GX 460
If you need best 7 seater SUV with genuine off-road and towing ability, the Lexus GX 460 is your first pick.
Thanks to its rugged suspension and four-wheel-drive system, it's a fantastic off-road solution. It also boasts a powerful 6,500-pound towing capacity.
Trims
There're Base and Luxury trim levels available. Each model has a V8 engine, a 6-speed automatic transmission, 4-wheel drive, and third-row seating.
The Base trim is decently equipped and available with a few options, making it a good option. But, shoppers that seeking more safety features or an auto-leveling air suspension for better off-road capability would need to the Luxury trim.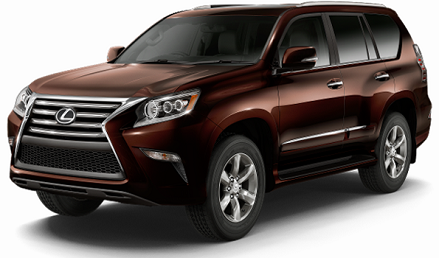 Base model: $52,505;
Luxury model: $63,905.
Performance
The GX's 4.6-liter V-8 makes 301 horsepower mated to a 6-speed automatic transmission. An all-wheel-drive platform with a locking center differential brings the GX its off-road credentials.
Outward visibility is excellent, and the GX's high seating position offers the commanding view of the road that SUV buyers want.
Interior
Inside, plush seats, an 8.0" touchscreen infotainment system, dual-zone automatic climate control, and a power-adjustable steering wheel are standard.
Lexus provides plenty of optional equipment to luxe-out the GX's cabin, including, a power-folding third row, and heated/ventilated front seats, leather upholstery, a dual-screen rear-seat entertainment system, and a 17-speaker Mark Levinson audio system.
Safety
Lane departure alert – Alerts you when you begin drifting out of your lane;
Pre-collision system – Warns you about stopped or suddenly slowing vehicles ahead, and apply full braking force;
Driver attention monitor – Studies your actions behind the wheel to identify whether you're acting sleepy or distracted, then alerts you accordingly.
Fuel economy
The GX 460 gets an EPA-estimated 18 mpg on the highway and 15 mpg in the city. Those are some of the lowest figures in this class.
Warranty
The limited warranty covers 50,000 miles 4 years;
Powertrain warranty covers 70,000 miles or 6 years.
Highs
Impressive off-road capability;
The high seating position provides a good view of the road;
Easy-to-use interior controls;
High maximum towing capacity.
Lows
Stiff ride;
Dated cabin design.
10. Mazda CX-9
The CX-9 is an alluring choice for driving enthusiasts and families alike. Every model comes standard with safety technology such as forward automatic emergency braking and blind-spot monitoring, and most models offer an ample supply of entertainment functionalities, including Android Auto and Apple CarPlay.
Trims
It's available in Sport, Touring, Grand Touring, and Signature trims. Every CX-9 comes with a turbocharged 4-cylinder engine and a 6-speed automatic transmission.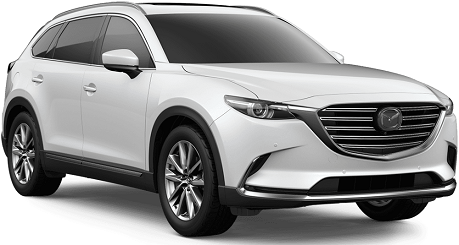 Front-wheel drive is standard in all except the Signature AWD, and you can upgrade the lower 3 trims to all-wheel drive for $1,800.
Sport: $33,275;
Touring: $36,325;
Grand Touring: $41,835;
Signature: $46,360.
Performance
In a class where V-6 power is fundamental, Mazda "risks" by offering a turbocharged 4-cylinder engine as the CX-9's sole powertrain to achieve a fuel-economy advantage.
The suspension is firm, but it's still subtle enough riding over rough stretches of road. While not as communicative as other Mazda vehicles, its steering still imparts "energy" that's missing from other crossovers.
Interior
The CX-9's cabin impresses with upscale materials and detailed styling, but it's short on passenger and cargo space.
Interior features soft-touch plastic with handsome graining, and brushed aluminum. The dashboard is attractive and has heavily contoured areas with either a 7.0" or 8.0" touchscreen sprouting from the top.
Cx-9's software is simply to navigate, and the graphics are crisp, especially on the larger screen. Also, its second and third rows fold easily for fast configuration changes.
Safety
Smart city brake support – Automatically uses emergency braking if a low-speed collision seems imminent;
Smart brake support – Automatically employs emergency braking if a collision seems imminent;
Lane keep assist – Prevents unintentional drifting from the lane by automatically steering the vehicle back to the center of the lane.
Fuel Economy
Fuel economy is the advantage the CX-9's four-cylinder engine has over competitors' V6 engines. Front-wheel-drive versions earn 22 mpg in the city and 28 mpg on the highway, which are some of the highest ratings in this segment. Ratings fall to 20 mpg city/26 mpg highway with AWD models.
Warranty
The limited warranty covers 3 years or 36,000 miles;
Powertrain warranty covers 5 years or 60,000 miles.
What we like
Sporty handling;
Comfy and quiet in the highway;
The powertrain is polished, lively, and fuel-efficient;
The notable list of safety and tech features.
What we don't
Less rear cargo space than many competitors;
Below-average towing capacity.