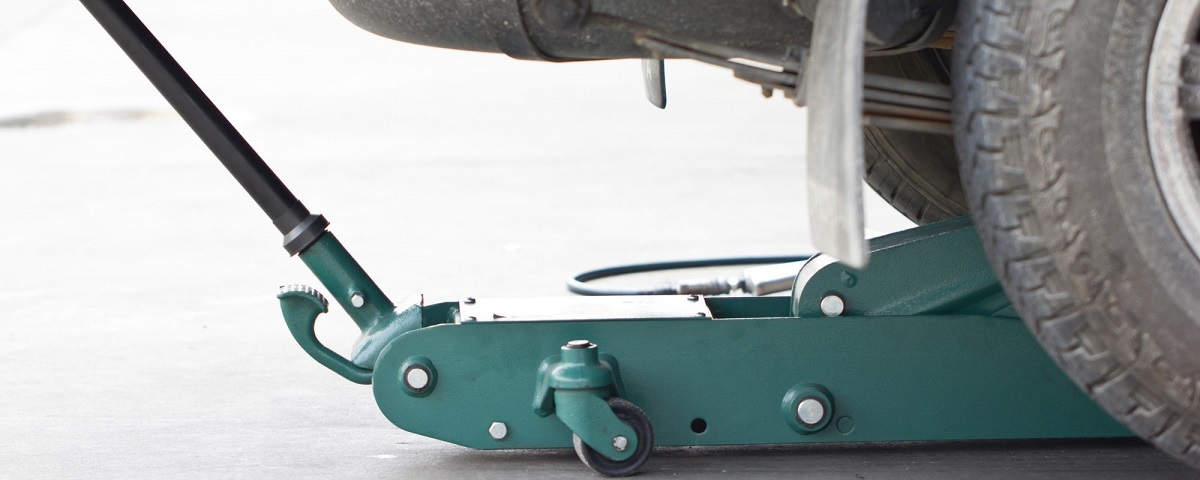 5 Ton Floor Jack – Best 5 Picks for 2022 (Buying Guide)
Whether you need to change your tire or you are into something more complicated, a reliable 5 ton car jack is an essential piece of equipment.
A 5 ton hydraulic jack is a tool that helps you raise your vehicle and lower it safely. Most of today's low-riding cars are designed for maximum aerodynamic efficiency, so most of us cannot get underneath them. So, they need to be elevated in order to access the parts that need to be serviced.
A good 5 ton jack will help you change a tire or oil with ease but also has a necessary strength for more significant projects. Stay with us, and we will present you the best 5 ton floor jack reviews to help you choose.
Floor Jack 5 Ton Picks for 2022
These are the best 5 ton floor jack Amazon has to offer. First, the humble floor jack needs to be demystified in this handy guide. Next, look at the best 5 ton floor jack for sale.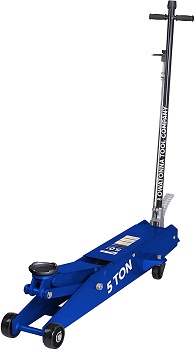 Capacity: 5 tons
Lift range: 6" to 22"
Reach: 47"
Saddle diameter: 5-1/8"
Frame height: 7.9"
Handle length: 43"
Floor space: 15" x 56"
Casters: 4; 4.4" fixed front (2) , 2.8" mid-body swivel (2)
This heavy-duty jack has a 3-position handle with lock and release controls, is extremely safe and durable. It has a long chassis and a built-in safety overload that prevents using this jack beyond its rated capacity.
A foot pedal offers a convenient speeding up the lifting operation. Handle lock and release controls are located on top of the 43" spring-loaded handle, locked into any position from vertical to horizontal.
This floor jack is ideal for lifting smaller work vehicles, step vans, and bucket trucks. If you need heavy lifting, this is the jack for you. It is important to mention that meets all 5 ASME PASE 2019 safety standards for floor jacks.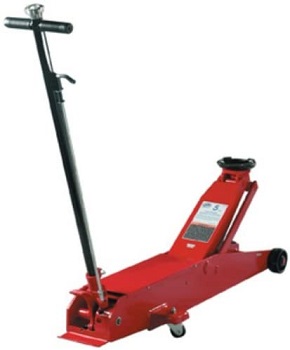 Capacity: 5 tons
Lift range: 7" to 27"
Item size: 57-3/4"L x 17"W x 7-5/8"H
Saddle diameter: 6-1/2"
Ram extend: 5"
Handle length: 42-1/8"
Floor space: 15" x 56"
Item weight: 233 lbs.
This 5 ton air hydraulic floor jack features the welded hydraulic pump and cylinder construction to increase its strength and prevent leaking of the hydraulic fluid. It is chrome plated for additional rust resistance. Wiper seals protect the hydraulic system from contaminants, and a convenient foot pedal allows no-load lifting.
Front wheels with roller bearings and ball bearing-mounted rear caster wheels provide stability and easy maneuverability of the jack. The handle has an independent release knob and can be locked into one of 3 positions. Bypass and overload safety valves prevent beyond-the-rated-capacity use and overextension of the ram. It also meets ASME PASE 2019 standards.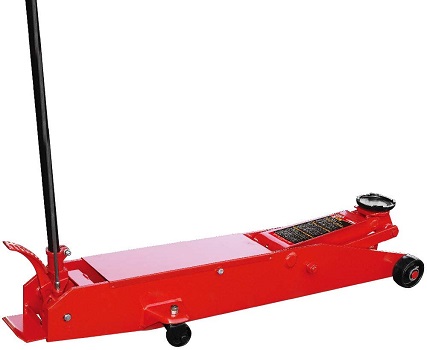 Capacity: 5 tons
Lift range: 5" to 22"
Item size: 61.81"L x 16.54"W x 13.39"H
Handle length: 42"
Item weight: 231 lbs.
This 5 ton floor jack is perfect for lifting buses, heavy trucks, agriculture, and construction equipment. The long frame extends past the overhang of commercial vehicles while foot pedal control provides quick set-up and rise. In addition, it features a heavy-duty hydraulic pump piston that effortlessly raises the lift arm. Pump piston dust shields and wiper seals protect the hydraulic system from contaminants.
A wide stance achieves stability under load. It is equipped with 2 large steel casters and 2 360o swivel casters for greater maneuverability. A built-in safety overload system (overload valve) prevents use beyond load capacity to avoid damages and user injury.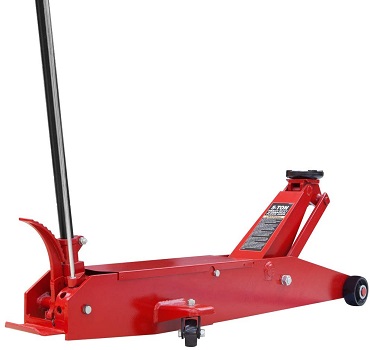 Capacity: 5 tons
Lift range: 5-15/16" to 22""
Item size: 18.9"L x 11.81"W x 63.58"H
Item weight: 220 lbs.
This 5 ton low profile floor jack permits handling all lift truck configurations with flat or edged surfaces due to the dual position lift pad. A flat surface features a 5 ton load capacity, while an edged surface features a 4 ton load capacity.
It is constructed with heavy-duty steel, providing long-term durability with an industrial luster and equipped with steel casters for smooth maneuverability. It is ideal for changing tires; also offers easy access under a forklift or tractor. It features a chrome-plated pump core with high surface hardness. This is because a casting press with high strength is so strong and durable. It also has a convenient foot pedal control.
Capacity: 5 tons
Lift range: 5" to 22"
Item size: 61.81"L x 14.42"W x 16.54"H
Handle length: 45-3/4"
Saddle diameter: 5-3/4"
Chassis width: 17"
Chassis height: 7.87"
Item weight: 230 lbs.
This heavy-duty service jack is designed for continuous use in garages, equipment dealers, and commercial services. T-handle features a lever for locking into one of 3 positions. A simple hand release knob allows controlled lowering of the load. At the same time, a convenient foot pump quickly raises the saddle to lift prior to air assist.
Its uniweld construction is robotically welded for increased strength and leak protection; wiper seals serve as hydraulic system protection from contaminants. In addition, heavy-gauge steel side plates prevent twisting.
How do 5 Ton Floor Jacks Work?
Floor jacks are powered by hydraulics or mechanics. The mechanically powered jacks are usually smaller and easy to store. Still, they require a lot of mechanical force using a screwing mechanism. On the other hand, hydraulic floor jacks are bigger and heavier, but they will help you lift your truck effortlessly.
A hydraulic jack creates pressure by moving oil through two cylinders via a pump plunger. When you push the handle downwards, the jack lifts the vehicle up.
When a person lifts the jack's handle, the pump piston moves upwards. In this sense, you are drawing the fluid power out of the bottle jack. The fluid power will then fill the pump cylinder with the liquid pressure. Conversely, you apply a force when you push the handle down so that this pressure will become the pressurized liquid.
The pressurized fluid that is contained in the check valve will then move to another channel. The pressurized fluid force will slowly fill the main cylinder; this movement will push the piston to move upwards. If you pump the handles few times, you can lift a car to a certain height.
When you need to lower the vehicle, you must slowly turn the release valve. It will slowly drain the liquid force from the main cylinder so that the oil will be moved from the main cylinder to the fluid reservoir. This will allow the jack to go back to its original position.
Types of Jacks
There are 3 main types of floor jacks, each with its own sets of benefits and drawbacks.
Floor Jacks
These are the biggest and the heaviest jacks available on the market. There are 1.5, 2, 2.5, 3, 3.5, 4, 5, 6, 10, and 22 ton capacity floor jacks.
As far as the 5 ton jack price is concerned, it is the pricier and used mainly by professionals, especially those of higher capacity. It also requires a lot of space for storage and maneuver.
Bottle or Piston Jacks
This type of jacks are more portable; they use a piston mechanism to lift a vehicle. However, although they can be very helpful, they are limited in height – they can raise the vehicle twice the height of the jack. Also, these jacks are hard to put under lower sports cars; they are recommended for use on higher vehicles like tractors or SUVs.
Scissor Jacks
These are particularly useful when you need to change your tire – they are not suitable for bigger jobs. They are usually found in many spare tire kits. They are very lightweight and portable, but the winding-motion mechanism can sometimes be tiring to use.
What to Look in a Floor Jack?
Floor jacks are impressive pieces of equipment – with a bit of help from physics and engineering, you can lift tons. Here are several considerations you have to make when shopping around for a floor jack.
Tonnage Capacity
All floor jacks are rated to a specific maximum weight capacity. Typically this rating is provided in tons, so the jacks with tonnage capacity of 2 and 3 tons are the most common. However, most professional users opt for at least 3 tons to cover all the bases.
For most DIYers, it is essential to determine the Gross Vehicle Weight in the vehicle's manual or on the sticker in the driver's door jamb. It is important to know that you do not have to lift the entire vehicle. If you lift the car near the engine, which is the worst case, the jack needs to support roughly 60% of the weight of the entire car.
A general rule of thumb is that you can safely lift most sub-compact, compact, and economy midsize cars with a 2 ton jack. For luxury midsize cars, full-size cars, SUVs, vans, and trucks, a 3 ton jack is suitable. If you have a particularly heavy or oversized vehicle, you may have to jump up to a 3.5 or 4 ton jack (or bigger), but this does not apply to most cars.
Ground Clearance of the Vehicle
It is defined as how high off the ground your jack point sits. A jack point is a place where the jack contacts the vehicle. The low profile floor jack may be the best choice for cars with low ground clearance like sports cars, race cars, and lowered performance cars.
For higher cars like SUVs, vans, coupes, and others, the hydraulic floor jack is the best option. However, if you own an exceptionally high car like a lifted truck, you may find a bottle jack more suitable.
Suppose you want to have a jack only for emergencies. In that case, the scissor jack is perfect due to its portability, lightweight, and compact size.
Material
A 5 ton steel jack is the most popular because it is the most durable and least expensive. However, it is also the heaviest.
5 ton aluminum floor jack is the least durable and expensive type of floor jack. However, it can be less than half the weight of the steel counterpart. As a result, the aluminum floor jack finds its place in road assistance, mobile mechanics, and the race track, where speed and mobility are prioritized.
The hybrid jacks are made of both steel and aluminum. The lift arm and other structural components are made of steel, while the side plates are aluminum. Thus, they strike a balance in both weight and price.
Maximum Height
The last thing is the maximum height of the service jack. Most of them go up to 14" or 15", which will work for most cars. But if you have a truck with 20" wheels, it will not be sufficient. You will not be able to lift it entirely, or you will need to crawl under the vehicle to find a lower contact point.
How to Use 5ton Jack?
Never climb under a vehicle if only a floor jack supports it; always use jack stands. It is extremely dangerous because if the jack fails or someone bumps it, you could be seriously injured.
Always raise your car on level ground. Resting your jack or jack stands at an angle creates a tipping hazard as the vehicle can go over center relative to your jack and fall.
Use appropriate jack points on your vehicle; that is said, precise points where the frame is reinforced to support the car's load when raising it with the jack.
Raise and lower your vehicle slowly and carefully. It will allow you to identify any problems before they happen, so you will be able to prevent the damaging of your car.