5 Best Car Batteries Reviews in 2022 (+ Buying Guide)
A car battery is a crucial component that ensures your vehicle operates safely and consistently. This part supplies power to a vehicle's starter, lights, and ignition. During the time, a battery can lose capacity, resulting in unreliable and slow performance, but regularly replacing this device can help you avoid potential problems. Let us guide you through what you have to know to find the best battery for your car and your budget. We focus on battery type, price range, best brands on the market, life span, and reliability. Best car battery page was published in 2019, but we update the page with the latest products as soon as they hit the shelves or online stores. July 2021 update included new how-to sections that can help you not just to buy the best car battery but also help with cleaning the battery terminals, how to disconnect the battery, how to test old battery and how to charge the battery.  So, make sure to bookmark or recommend Automotozine as the best resource for drivers that are searching for the best car battery in 2021.



Main Features to Consider Before Buying
Size – It's pivotal that you install a battery that's the proper size with adequate terminal locations. In case the terminals are in the wrong place, the cables on the vehicle might not reach the cell, or they might not fit correctly. Always check your owner's manual to find precisely what you need. For example, size 24/24F batteries fit many Lexus, Toyota, Honda, Nisan, and Acura vehicles, while size 48H6 batteries fit many U.S. and European cars;
Manufacture date – Batteries lose strength during the time, so it's essential that you choose the newest one possible. They have a code with a letter/number that indicates when batteries were manufactured. Manufacturers use different types of codes, so ensure you know what you're looking for when you pick a battery. Avoid devices that are older than 6 months from the date they were manufactured.
Easy installation – Most batteries are located in the front of your car under the hood. They're usually easy to access and replace;
Reliability – It can be a real hassle if you're on your way somewhere, and you can't go because your vehicle won't start thanks to a dead battery. Top-rated car batteries are designed to be reliable and durable.
Technical specs – They're rated by a variety of elements, including the type, CCA (cold-cracking amps), and reserve capacity. CCA, for example, refers to the number of amps a battery can produce when the temperature drops to 0° F;
Weight – Units can weigh between 25 and 60 pounds, which can make them hard to lift and carry. This's much easier to do if it has a plastic handle. Additionally, you can use the handle to lower the battery into the engine compartment;
Warranty – Look for a composition with the longest free-replacement period. Companies typically have a free-replacement and prorated period, which will provide you partial reimbursement.
Pricing – You can find a decent auto battery under $100, but not necessarily the best one. The cheaper the product, the shorter its life. Those that are inexpensive may last a year or two. Most cells typically fall between $100 and $300. The lower end will cover lower-performing products, while higher-end batteries will cost a bit more.
Battery Types
Before buying a new auto battery, it's essential to research which type works best for your vehicle.
Valve Regulated Lead-Acid (VRLA) Batteries
They last longer than flooded models – offered in gel cell and absorbed glass mat (AGM) versions. Both forms are low-maintenance, dry, and sealed to prevent spillage/leaks and recharge relatively quickly.
Flooded (Wet Cell) Lead-Acid Batteries
These batteries are one of the oldest and most reliable models on the market, and they're offered in serviceable and maintenance-free styles. The serviceable model can be refilled with water when electrolyte levels get low, while the maintenance-free compositions retain its fluids for the battery life.
Function – Both forms are filled with an electrolyte that causes the chemical reaction required to provide a flow of an electrical charge;
Limited maintenance – These units use freely suspended plates – insulated from each other, sealing the fluid, so you don't need to top it off.
Gel Cell Batteries
Function – They use a gelatin substance in the electrolyte that lowers the amount of discharge;
Suitable in warm water – These models work very well in high-heat applications or hot weather. This functionality makes them ideal in heavy-duty or high-performance vehicles that might produce lots of heat under the hood.
AGM Batteries
Function – AGM batteries use very thin mats to keep resistance low and generate a high burst of amps. This action makes startup fast and easy, making these compositions perfect for a starter battery;
Great in cold weather – The materials in these kinds of car batteries stand up well to low and freezing temperatures;
Excellent for vehicles in storage – If you have a vehicle that isn't driven daily, these cells are suited to hold a charge better than other models when idle.
What is the Best Place to Buy Car Battery?
There are plenty of brick-and-mortar and online stores that sell car batteries, such as Amazon, Walmart, Pep Boys, Advance Auto Parts, and Costco. The main difference between them will come down to battery types, brands, and extra features they provide. However, finding an auto repair shop that specializes in your vehicle's specific model and make can have additional benefits.
Who Makes the Best Car Battery?
Finding the right car cell is a challenge for most people, especially in this big market, where numerous manufacturers have flooded the market. This is why we've made this list of 4 best car battery brands.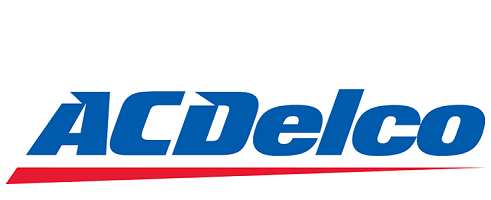 ACDelco
For most Americans, ACDelco is the best car battery brand. It's owned by GM and has been around since the birth of General Motors in the early 1900s. Headquartered in Grand Blanc, MI, the company's parts are included in more than 2.5 million GM vehicles produced each year. One of its most popular products is ACDelco 94RAGM Automotive Battery.
Optima
Optima was founded in 1972 and is located in Milwaukee, WI. They were responsible for the first maintenance-free lead-acid batteries for commercial/military use as well as the first high-performance AMG automotive batteries. One of its best products is Optima Batteries 8171-767  YellowTop Prius Battery.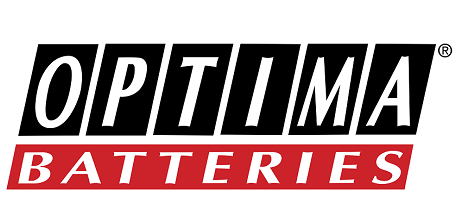 DieHard
Sears, based in Hoffman Estates, IL, first introduced DieHard batteries in 1967. During the testing phase, not one battery product in over 26,000 starts in temperatures ranging from sub-zero to over 100 degrees. Its popular product is the DieHard Advanced Gold AGM Battery Group 34R.
Odyssey
Odyssey batteries are produced by EnerSys Energy Products Inc., a wholly-owned subsidiary of EnerSys, which is based in Reading, PA. The company has manufacturing facilities in Warrensburg, MO, and Newport, Wales, United Kingdom. The brand produces high-quality products that provide superior performance for a variety of power applications. One top battery is the Odyssey PC680 Battery.

What is the Best Car Battery in 2022?
We've rounded up the brief reviews of 5 best auto batteries on the market you can buy today. Give them a thorough read to find the one that ideally fits your personal needs.
This battery has high-density negative paste, which increases overall battery life and performance. Also, ACDelco 94RAGM is manufactured with enhanced life alloys and silver calcium for better performance and cycle life purposes. Plus, it's a pressure tested and sealed product with vent caps to prevent any leaks and extreme shock.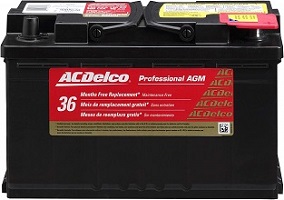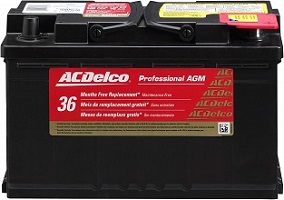 ACDelco 94RAGM provides about 80 AMP hours of energy and an impressive 800 cold cranking AMPS. Thereby, this unit is perfect for every type of vehicle, from sports cars to heavy trucks. Its fantastic cold-cranking AMPs not only helps the battery work well in regular conditions but aids to turn over in a harsh environment without any problem, too.
Specifications
Type – AGM Automotive;
Voltage – 12 V;
CCA – 850;
Reserve capacity – 140 minutes;
Dimensions – 12.4" x 6.9" x 7.5";
Weight – 56.1 lbs;
Warranty – 36 months.
Highs
High-density negative paste enhancing overall lifespan and performance;
Prevents acid leakage;
Heightens conductivity;
Improved life alloy.
Lows
Only manufactured in vehicles that need AGM batteries.
The YellowTop from Optima is the ideal choice for power-hungry vehicles with multiple aftermarket accessories. This deep-cycle, long-lasting unit features exceptional cranking power. The cell delivers a 3x longer life thanks to a precise and superior SpiralCell technology. It provides quicker recharging, and you can discharge/recharge it over 300 times. This makes it one of the leading recharging cycling capability in the industry.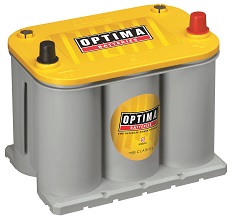 This product offers over 15 times the internal vibration resistance of regular batteries. It reduces recharge time and improves power output consistency. YellowTop arrives in a sturdy, spill-proof body that can withstand extreme heat and is mountable at different locations in the car.
Specifications
Type – AGM ;
Voltage – 12 V;
CCA – 450;
Reserve capacity – 66 minutes;
Dimensions – 5.02" x 9.27" x 8.89";
Weight – 26 lb;
Warranty – 36 months.
Highs
Deep-cycle and cranking power;
Up to 3x longer life and maintenance-free;
More than 15 times the vibration resistance;
Quicker recharging and 300+ discharge/recharge cycles.
Lows
It needs more installation time.
One of the best gold cells on the market, the DieHard Advanced Gold 34R, uses AGM technology for great power and extreme longevity. This battery is specifically designed for cars that undergo intense vibrations during everyday use. With optimized power full-frame negative/positive plates which prevent life-robbing electrical shorts and improved electrolyte suspension system that protects internal parts, this cell can withstand today's elevated temperatures successfully.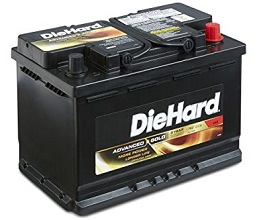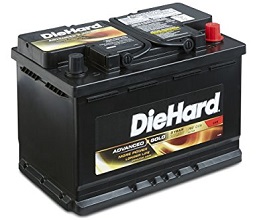 The brand claims 20x more protection against vibration, so longevity should be guaranteed. The product's design is spill/leak proof, ensuring protection to sophisticated electronic equipment. Plus, it's maintenance-free and mountable in virtually any position.
Specifications
Type – AGM ;
Voltage – 12 V;
CCA – 775;
Reserve capacity – 120 minutes;
Dimensions – 6.9" x 10.75" x 8";
Weight – 44.5 lb;
Warranty – 36 months.
Highs
AGM technology;
20x more vibrant resistant;
Easy to install;
Maintenance-free.
Lows
Sometimes it doesn't fit properly.
The Odyssey PC680 includes an AGM design that securely retains the cell electrolyte between glass mat separators. It makes this battery fully spill and leak proof and enhances the cell's resistance to shock/vibrations that can kill conventional batteries. Also, the high purity lead plate electrodes ensure a long battery life while delivering more performance.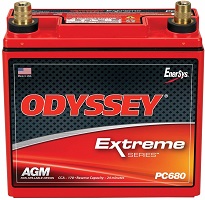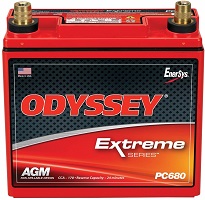 It can provide up to 400 charging cycles at 80% discharge depth, more than 3x that provided by traditional batteries. Plus, the fully sealed design recycles generated gases internally, too. Compared to spiral-wound cells, this one delivers up to 40% more reserve capacity thanks to better usage of internal space.
Specifications
Type – AGM ;
Voltage – 12 V;
CCA – 170;
Reserve capacity – 24 minutes;
Dimensions – 3" x 7.13" x 6.5";
Weight – 16 lb;
Warranty – 24 months.
Highs
Top-rated recharge efficiency and sealed lead battery;
Performance is significantly improved over standard batteries;
manufactured to work in harsh environments;
3-10 years of servicing life.
4The Optima RedTop battery is a great option when you need strong cranking power in harsh weather. Designed with a shock-absorbing and durable polypropylene case, this cell is maintenance-free. It's spill proof and constructed to provide a powerful starting burst every time. The product delivers over 15 times better the vibration resistance of earlier models and a 2x longer life. It features a 110-minute reserve, making it ideal for heavy battery users.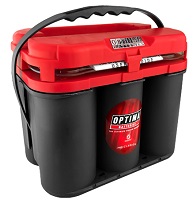 This's what you need for a normal engine starting. It's a reliable unit for most automotive and RV starting. You can also use it to start heavy equipment and diesel vehicles with no aftermarket accessories. Like the YellowTop, this cell features the SpiralCell technology to cope with extreme temperature and other causes of battery failure.
Specifications
Type – AGM ;
Voltage – 12 V;
CCA – 800;
Reserve capacity – 110 minutes;
Dimensions – 6.88" x 10.06" x 7.88";
Weight – 37.9 lb;
Warranty – 36 months.
Highs
Powerful startup;
Long-lasting and durable cell;
Holds charge well;
Plenty of adaptors.
How Long Does a Car Battery Last?
The lifespan of your auto battery depends on how long it can hold its charge and is capable of being recharged. Once it can't be recharged, it's the end. There are several things that can affect the battery, including temperature, humidity, and other environmental elements.
It's critical to remember that no battery lasts forever. Whether you're keeping your vehicle in storage all year or driving it regularly, you'll still have to replace the battery at some point. Standardly, an auto cell will last between three and five years. Pushing a battery longer than 5 years, even under ideal driving conditions, could cause it to fail without notice. Therefore, many battery makers recommended a replacement schedule of five years.
How to Disconnect a Car Battery?
If your car doesn't start because your battery is dead, you'll want to pull it out and get it checked and replaced. Follow the next steps to see how to change a car battery safely and efficiently:
Locate the battery: On most vehicles, the battery is placed under the hood. Other cars may have their batteries in the trunk. Check the vehicle's manual to find the battery easier.
Find positive and negative terminals: The positive terminal carries "+," while the negative one is marked with a "-."
Get the wrenches: Get the right couple of 10-millimeter open-end wrenches to disconnect the cables and get the job done faster.
Disconnect the cables: Ensure the car's ignition is off and wear adequate eye protection before you start working around the battery. First, unbolt the negative battery cable and be careful not to touch the positive one at the same time. Once you've removed the negative cable, push it out of the way and remove the positive cable.
Remove the battery: Since most batteries are secured by a clamp, you'll need to remove the clamp first. Use a socket wrench with an extension on it and remove the clamp slowly.
How to Charge a Car Battery?
First, you need to prepare your battery for charging. To do so, check whether you need to remove it from your car or not. However, the majority of conventional vehicles won't require any battery removal.
Once you've prepared your battery, follow these steps to charge it properly:
Turn off all car electronics
Remove the negative cable, then positive (be careful not to touch both of them at the same time!)
Clean the battery terminals
Connect the battery charger (connect the positive cable to the corresponding positive terminal on your battery; repeat the process with the negative cable. Do not reverse these steps!)
Once the charging is complete, remove the charger.
How to Test a Car Battery?
You can test a car battery by yourself by performing a simple headlight test.
Start the vehicle and turn on the headlights. If everything seems regular, proceed to the next step.
Rev the engine. If the headlights stay at the same brightness, it means your electrical system is fine. However, if your headlights dim, it means they're running off the battery.
Another way to test your car battery involves using a multimeter:
Turn off the ignition, lights, radio, and any other accessories in the vehicle.
Set your multimeter to 20 DC volts.
Put the red lead on the positive battery terminal (marked by a red cover or a + sign)
Put the black lead on the negative terminal.
Follow the measurement – if the reading is below 12.4 volts, you will need to charge your battery.
How to Clean Battery Terminals?
By cleaning your battery terminals, you're helping your car battery perform better and last longer. Besides, you're helping prevent battery corrosion.
To start the process, you'll need the following material we all have at home:
Protective gloves (dish gloves, for example)
Baking soda
Water
Rag
Old toothbrush.
Once you've gathered the tools, you can begin the cleaning process:
Step 1: Mix a tablespoon of baking soda into a cup of water and stir together until it is entirely mixed.
Step 2: Turn your engine off. Open your hood and undo the negative and then the positive cable connected to your battery. Then, take a closer look at your battery and check for any buildup, corrosion, or grime on the terminals.
Step 3: Dip an old toothbrush in the baking soda cleaner you've prepared and scrub the terminals. It might require a bit of elbow grease, but it is critical to clean the terminals thoroughly.
Step 4: Fill up a spray bottle with water to spray down the terminals or use a damp rag to wipe the battery.
Step 5: Lubricate the terminals with petroleum jelly. The petroleum jelly will prevent corrosion and help strengthen the connection.