5 Best Ozone Generator for Car – Top Ozone Machines to Remove Bad Odor and Smoke
Maybe you have tried everything you can think of to get rid of the foul smell in your car, but have you ever heard of ozone car cleaning? The ozone treatment is there when everything else fails; it is the best thing for removing stubborn odors, cigarette smell the pets smell, the mold and spilled liquid. Ozone generator for car smells is an excellent choice because ozone as gas can reach under seats, inside vents; it will saturate upholstery fibers and reach all the nooks and crannies that you cannot.
This buying guide will lead you through the list of the top 5 ozone generators available on the market.
What is Car Ozone Generator, and How Does It Work?
An ozone machine is a device that creates ozone from oxygen atoms.
Ozone is a gas made of 3 molecules of oxygen. O2 is the natural gas we inhale and is made of two oxygen molecules, while ozone is an inorganic molecule with the chemical formula O3. It is both a natural and an artificial product that occurs in the Earth's upper and lower atmosphere (the stratosphere and the troposphere). As part of the atmosphere, the ozone layer absorbs most of the harmful UV rays. Still, it is considered a respiratory hazard and a pollutant.
With ozone machines, we intentionally produce ozone gas. They do it by breaking apart oxygen into single atoms. They attach to other oxygen molecules in the air to form ozone. It is accomplished in one of the 2 ways:
Ultraviolet radiation: similar process to that of how the sun's UV radiation splits O2 into single atoms.
Silent corona discharge: the machine uses electronic discharge to split O2 molecules into individual oxygen atoms. These atoms then attach to other O2 molecules to form the ozone. It is much more efficient than devices that use UV radiation technology.
Top 5 Car Ozone Generators for 2022 [+ Buying Guide]
Using an ozone generator for car odors to eliminate them will leave your car smelling fresh without the usage of artificial fragrances. The cigarette smoke smell, the pets smell, the mold, spilled liquid, and many others may be neutralized with the right portable ozone generator for car.
1. Enerzen 0-777 Ozone Generator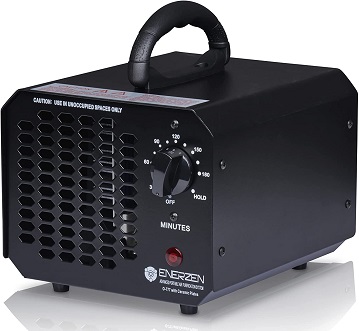 This odor decontaminator destroys odors you cannot reach instead of masking them. Ozone reacts directly with pollutants in the air, water, fabrics, and walls to destroy them for a long time.
Unlike other types of air purifiers, this generator does not require air passing through the machine to eliminate odors. It is easy to use, with adjustable fan speed and ozone output to create a pulsating effect. This Enerzen 0-777 inexpensive ozone generator for cigarette odor in car effectively destroys smells you cannot reach with its capacity of 6,000 mg/h.
It is strongly advisable to operate the generator in the unoccupied spaces –  remove any people, pets, and plants.
WHAT WE LIKED // Consistent ozone output, Strong fan, Affordable
WHAT WE DIDN'T LIKE // No wheels, Short cord
2. Home Sanitizer Solutions Industrial Ozone Generator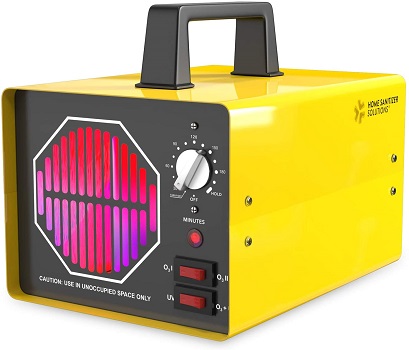 This ozone generator for car smell will clean and sanitize any surface of your car, kill any viruses, bacteria, and other germs. It produces 25,000 mg/h, which makes him ideal for professional use in car detailing businesses.
This model uses a 2-stage sanitizing system. Other than generating ozone, it also uses UV light. The UV lights are applied to the air for an additional sanitizing effect. With its compact size, it is convenient to use in both large and small areas. It absorbs stale and fumy smells and sanitizes the air.
It is essential to choose the sanitizing time based on the size of the space you want to sanitize, so we liked the convenient automatic shut-off timer.
WHAT WE LIKED // Easy to use, Quiet
WHAT WE DIDN'T LIKE // Nothing we could think of
3. Heravac OG-75 Ozone Generator Machine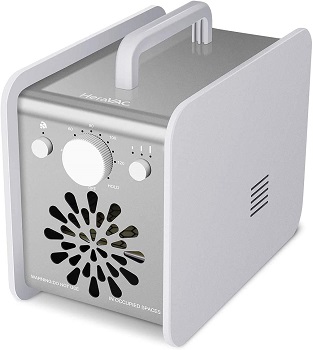 Heravac small ozone generator for car is a portable unit and does the job of removing odor from your vehicle. This high-powered unit covers up to 4,000 square feet at once, so it could also be used in houses, schools, hotels, offices, or water/fire-damaged areas.
This unit produces 12,000 mg/h and is for unoccupied space only. It has a safety switch (child lock) to prevent children from turning it on accidentally or changing settings. It uses the latest, high-end honeycomb ozone sheet to optimize ozone release.
Heravac low-maintenance ozone air purifier with an adjustable power button lets you choose low, medium, or high ozone output. Once the ozone smell dissipates, the clean, crisp scent remains.
WHAT WE LIKED // Compact and lightweight, Affordable
WHAT WE DIDN'T LIKE // Strange design of the switches and dials
4. ELINP Industrial Ozone Generator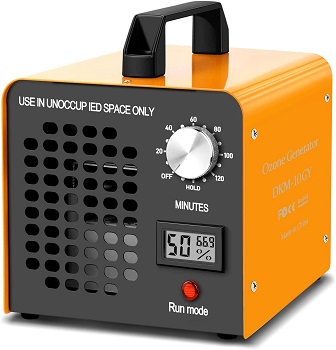 This ozonator produces 10,000 mg/h of ozone and features a timer that is automatically turned off for 120 minutes. Treatment time can be adjustable according to the room size and air quality. If you do not know, you can start with 10 min, and increase the treatment duration or frequency next time.
Elinp ozone generator for car smoke and other unpleasant smells that tend to linger features a humidity meter. We loved it because the humidity will affect the role of ozone – the greater the humidity, the weaker the effect of the machine will be and vice versa, so it is helpful to keep the indoor air dry.
WHAT WE LIKED // Powerful, Great quality
WHAT WE DIDN'T LIKE // Lack of intake filter
5. OdorStop OS4500UV Professional Grade Ozone Generator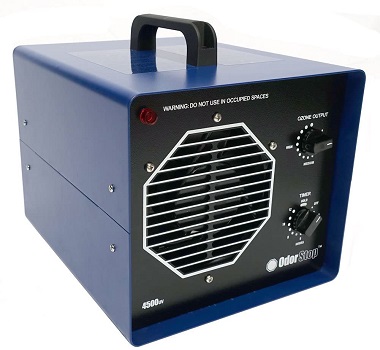 Ozone generator car detailing is nothing without this powerful unit. OdorStop OS4500UV continues to set the standard in the ozone industry with innovative concepts and designs for every odor and purifying need.
This model is a combination of an ozone generator and a UV air treatment system. Therefore, you can shut the ozone off and use it as an ultraviolet air cleaner only. This allows you to use it in occupied spaces, which proved to be a very convenient feature. Suitable for car detailing enthusiasts.
This unit features a high-quality aluminum housing, a remarkable 300 CFM fan, a 12-hour timer with a hold option, and a variable ozone output that varies from 250 mg/h – 3000 mg/h.
WHAT WE LIKED // Lightweight
WHAT WE DIDN'T LIKE // Ozone output less than expected
How to Use Ozone Generator in Car?
Ozone odor removal is a permanent solution to the foul odor, provided you have removed the source of the smell. You can deal with your 'smelly' problems, including cigarette smoke, mold / musty odor, pet odor, spilled milk, and many others. You only need to follow several simple steps.
STEP 1: Preparation for the Ozone Treatment
You must start your ozone treatment by removing the source of the smell.
If you have a problem with mold, it is useful to mechanically clean the surfaces or contaminated areas with fungicides or other appropriate cleaning agents.
If the source of the smell is spilled liquid (for example, milk or juice), then you need to pre-wash the carpet or upholstery or thoroughly wash it.
If you are dealing with rodents or insects, the first thing you need to do is to remove their nests, urine, and feces, or any dead animals.
STEP 2: Setting the Ozone Generator
When the preparation stage is done, you can now set the ozone generator. The easiest way to do that is to put it inside the car, for example, on the front passenger seat or the armrest. The extension cord can slip through the slightly opened window or door ajar. The best way to ensure that the ozone will not 'leak' is to seal the rest of the opened window or door with wide masking tape, foil, or foam sheets.
STEP 3: Ozone Treatment
To ensure that ozone is sucked into ventilation ducts, once or twice during the treatment, set the ventilation system on a closed circuit and run car fans for about 15 minutes. This will remove odors from the vent system of the car. Suppose you know that a bad smell comes from, for example, an air conditioning evaporator. In that case, it is advisable to run the fans while the engine is switched off, of course, if your battery will cope.
Ozone treatment time depends on the type of odor, size of the vehicle, the intensity of the smell, and other factors – every case is slightly different. You can always check the results – after some time, you stop ozonation by turning off the ozonator and let the fresh air go into the interior. After some time, you check if the odor from the inside of your car is gone. Maybe you need to repeat the procedure several times in order to get rid of the persistent stench.
STEP 4: Ventilation
There is a residual smell of ozone after the treatment, so you need to ventilate your car. The fragrance is similar to the smell of ozone, but actually, it is a smell of residues after reaction with ozone – they accumulate on soft surfaces like upholstery, and it is temporary.
You can intensively ventilate the inside of the car and ride with windows down; you can also wipe the dashboard and seats with a damp cloth, vacuum the floor mats, or simply park the car for few hours with windows open.
It is necessary to take appropriate precautions when doing ozone treatment in your garage. Be sure to open the door to the garage when you need to start the engine because both the Ozone and Carbon monoxide in exhaust fumes are toxic in enclosed spaces. Ozone can also get out of the vehicle into the garage, so be extremely careful.
How to Buy the Best Ozone Generator for Car?
Before you plunge into the world of ozone generators, you need to analyze your necessaries. In this buying guide, you can read about each property to get an idea which product is the best option for you. Here are some of the most important aspects of ozone generators.
Capacity
Each ozone generator has a certain capacity – it is the capability of the machine to release ozone gas in the surrounding, and it is measured in milligrams per hour (mg/h). It shows the amount of ozone that is going to be released in the area every hour.
With a high-capacity generator, you will be able to do the job for a very short time. Some models even have a variable ozone output, which is a convenient feature so you can adjust the capacity and the time required for the task.
Coverage Area
Your purchase should also be based on the size of the space you plan to ozonize. Most units declare a maximum working area in square feet. Still, for the usage in cars, any ozone generator will do the job – the difference is only in the time required for the task.
Timer
One convenient feature is a timer – you just need to set at what time it will start ozonizing and at what tie the machine will shut off. So, you do not need to intervene in the process, as it can be hazardous to stay in the area of ozonation.
Portability
In addition to the dimensions of the ozone generator, portability is one crucial feature for car usage. It is not just the weight; it will be easier to carry it around and move from one place to another due to its portable design. Fortunately, most of the units are hand-carry units and are easily moved.
Easy to Use
You do not want to spend too much time figuring out how your ozone generator functions; you just want to push few buttons and leave the area.
Price
Of course, the famous budget. It determines which generator you will buy, or at least indicate which one you will consider. In these cases, the option that offers the best value for your money is the key.