10 Best Microfiber Towels for Auto Detailing (+ How to Choose Microfiber Car Cloths)
Cleaning your car demands extra precaution and care to ensure that you don't leave it with annoying streaks and unsightly scratches. One of the most effective ways to accomplish this is by using car microfiber towels. They clean the vehicle gently but are still highly efficient in removing even the tiniest dirt particles.



This article lists the best microfiber cloth for cars, suited for detailing and DIY projects like waxing and coating. Products here can be used by professional car detailers and by beginners and guys who do car wash by themselves. However, before we jump to best-selling items in June 2022, don't miss our microfiber buying guide. The guide reveals all information you need on thickness, dimensions, grams per square meter, quality grades, piles and benefits of microfiber towels compared to conventional cotton cloths and chamois we used a few years ago. Make sure to bookmark or frequently visit this page since we update you with new products that we consider the excellent choice for pros and car enthusiasts. Keep reading to learn more about the best microfiber car cloths for drying, waxing, interior cleaning, window and leather cleaning.
What is Microfiber Towel?



It's a piece of cleaning cloth made of microfiber fabrics initially intended for cleaning a vehicle.  Different materials are utilized in the fabrication of microfiber towels, often depending on the purpose. Still, they do share some common features like absorption capability, toughness, softness, electrostatic property, and filtering capability.
What Is It Made Off?
Polyester and polyamide are mixed at different ratios to produce different types of microfibers. It results in a broader range of microfiber towels for particular applications. You can see the blend ratio of a towel at the product description. The proportion is often stated as 75/25 or 90/10, which signifies the ratio of polyester to polyamide.



Another major differentiator for microfiber towels is density. The denser the microfibers, the more it can absorb and is generally more expensive. The thickness of a microfiber cloth is labeled in GSM (grams per square meter). That makes uniformity, which you can use to compare different towels. For instance, if a 12×16 cloth is 400 GSM, this means it a square meter of the fabric weighs 400 grams, not the 12×16 material itself. Microfibers are 2 times thinner than silk, 3 times thinner than wool, 8 times thinner than cotton, 100 times finer than a human hair.
Microfiber Cloths Benefits
The biggest gain from microfibers is their effectiveness at enticing dirt and absorbing liquid. Microfibers have a star-shaped structure on each strand, which is ideal for cleaning. Contrarily, the cotton towel has an inconsistent tube shape. Since microfiber cloths are super-soft, non-abrasive, they're perfect for car detailers.
Types
One of the first and perhaps most essential elements to consider when buying a microfiber towel is the type. It's crucial to be sure you choose the proper type as they're meant for different uses. Most of them are classified into 5 main categories – short pile, medium pile, long pile, waffle weave pile, and applicator pile.
Short pile – The short pile towels are excellent for all-purpose cleaning, but they're not ideal for very sensitive surfaces as they can leave scratches and marks. Most of the short pile towels come in 80-20 blend and with a GSM of 220-250. You can use them to clean upholstery, dashboard and all those parts of a vehicle that aren't very delicate;
Medium pile – Medium pile towels can be further sorted into standard medium, plush, and medium-large pile. Standard medium towels are great for the removal of car wax. They can also be used to rinse water off of the surface. While medium pile towels are a little better than short ones, you still can't use them on delicate surfaces. Plush towels are perfect for all kinds of delicate cleaning, including removing dirt and dust from chrome finished trims, glass, and other scratch-prone surfaces. Their blend is in the ratio of 75-25, and they have higher GSM ratings. Plus, the medium-long pile is useful for the semi-delicate surface. They have GSM of up to 400 and are handy for basic cleaning. But, they're not as soft as the plush towels.
Long pile – The long pile is softer than the previous two types. These towels are suitable for buffing and have a superior water absorption capability. Also, they can deliver the best shine to your cars as well without any scratches.
Waffle weave pile – The waffle weave towels pile is great for all sorts of cleaning, but they work best for mirrors. These towels mostly come in a blend of 80-20 with 350 GSM.
Applicator pile – The applicator pile towels are fantastic for the application of paint sealants or car wax. And they come in a blend of 70-30 mix and with 350 GSM.
Core Features
When you shop for microfiber car cloths, there're several things that you need to bear in mind to choose the right product. Especially, the following matters:
Grams per square meter
When it comes to accessing the quality of a microfiber towel, the GSM is what you want to check. As we said, It's a measurement of the density of the towel. Therefore, the higher the rating, the thicker and softer the towel will be. The majority of low-cost microfiber towels you'll find are usually between 200 and 350 GSM. Still, if you're willing to spend the extra, you'll be able to have an ultra-plush towel that is perfect for auto detailing due to the softness. If you're using a microfiber towel for exterior detailing, it's recommended to use 300 GSM and above. Anything below is suitable only for car interior or wiping off glass cleaner without leaving streaks on the window.
Thickness
The thickness or density of the microfiber is the number of fibers available per square inch. The more fibers in the towel, the more absorbent and efficient the cleaning cloth would be. Thick microfiber car towels will be denoted as "plush" products, like fluffy bath towels. The thick towels are ideal for polishing and buffing cars.
Dimension
You'll notice that the most common size of the microfiber towel is 16 x 16 inches. Using towels that are too large will be difficult to handle and create streaks as your hand used for buffing isn't in control of the full towel.
Reusability
Buy machine-washable microfiber cleaning cloths that you can use over and over again. These items offer the best value for the money.
Price Range
Top-quality microfiber cloths that are made by reputable brands like Meguiar's, Chemical Guys, Detailer's Preference, cost from $15 up to $40. Price usually depends on the cloths number included in the set, GSM and dimensions.
10 Best Microfiber Towels for Cars in 2022
Keep reading the reviews of the best microfiber car towels you can buy in the market.
1. Chemical Guys MIC-507-06
Chemical Guys make these premium quality microfiber towels to ensure you always get a professional-grade finish. The towel works great for glass and car surfaces more prone to scratches. And each has silk banded edges that make it super convenient and safe to use on these delicate surfaces.
You can use this microfiber cloth to clean both dry and wet surfaces, and their material is also quite long-lasting. These towels also don't need any chemicals or harsh substances to provide a proper cleaning. You will also have an easy time keeping them clean as they're machine-washable. And they'll retain the color and not fade even after several washes.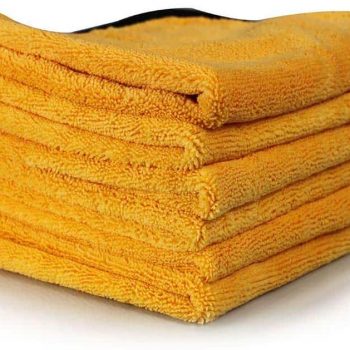 For a package of 6 microfiber towels, it seems a little pricier, and they're also quite thin, but they're the best microfiber towels for auto detailing you can buy today.
Key features
Ideal for final-touch buffing and wiping;
Have lint-free/scratch-free results;
Silk edges further minimize scratches;
Prevent swirling and scratching;
Bright yellow color highlights dirt – shows you when to flip to avoid scratches.
2. Adam's Polishes Double Soft Microfiber Towel
When it comes to buffing off wax or other detailing products, you must avoid scratches or swirls to the paintwork. Many detailers will, therefore, choose Adam's Polishes Double Soft Microfiber Towel for car cleaning.
It's made from premium microfiber and is a 920 GSM mix of blush fibers. This towel is double the thickness of the Single Soft Towel, which ultimately gives you a plush even feel beneath the surface and enables you to be more precise during use.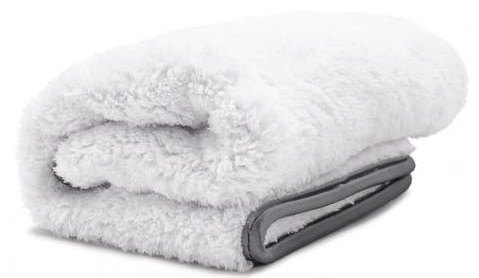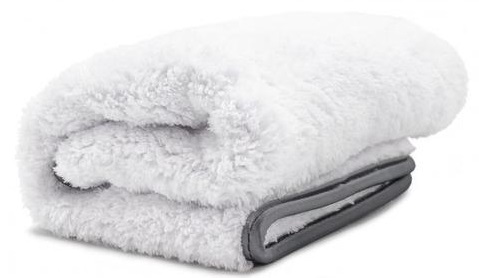 It's one of the best microfiber towels for auto detailing, but also come with an expensive price tag. It'll put off many people. Still, if you are looking to eliminate any swirl marks or scratches, this soft towel is terrific.
Key features
Improved thickness;
Outstanding 920 GSM;
Extremely soft;
Scratch-free satin edge;
Buff away polishes and car wax with ease.
3. Meguiar's Water Magnet Microfiber Drying Towel
This Meguiar's microfiber towel is designed to provide high absorbency and ensure minimal wring-outs to speed up the cleaning. It's available in the size of 22 x 30 inches, and this single towel is sufficient to clean the entire vehicle. And the larger size means you cover more area with every pass.
It soaks the water two times more than the traditional towels, and the waffle-weave pattern is great to be used on the glass and other delicate surfaces. With this high-quality and one of the best microfiber towels for car, you also get a spot and streak-free finish. Plus, it won't shed any fibers on the surface.


For a single towel, this one might seem relatively expensive. However, given its superior absorbent nature and the fact that it' reusable and washable, you'll still get excellent value for your money.
Key features
Minimizes drying time with fewer wring-outs;
Absorbs up to 2 times the water of conventional terry towels;
Leaves a spot-free finish without streaking;
Reusable, plus machine washable;
Ultra-plush and extra-large.
4. Best for Black Cars : Autofiber Zeroedge Detailing Towel
Unlike conventional microfiber car wash towels, Zeroedge offers one continuous cleaning surface to eliminate the risk of scratching a vehicle's delicate surface. Endings usually produce a thicker section on the cleaning cloth. It can make undue pressure on the surfaces, leaving some marks that may or may not be visible.
Its construction guarantees that the surfaces will remain as pristine as the day you first purchased it. The fibers follow a more cleaning-efficient split fiber design. They are constructed of a dual pile blend of polyester and polyamide at the ratio of 1:4. It's available in 5 colors as well.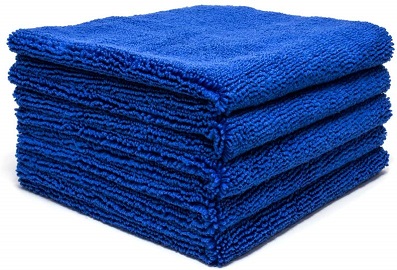 Key features
Premium microfiber fabric – ultra soft and gentle;
Ultrasonic zero-edge finish;
Includes two different piles;
Ideal weight and size;
It can be folded in 4 to 8 different clean sides.
5. AmazonBasics Microfiber Cleaning Cloth
These AmazonBasics ultra-soft/non-abrasive towels will never put a scratch on your vehicle. Also, they don't need any chemicals to clean the car. You'll have lint-free and effortless cleaning only with the towel itself, and it will also not leave any swirls
Moreover, the densely packed fibers will absorb water and moisture 8 times more than their weight. Plus, the pack is available in 3 different colored towels to escape cross-contamination, and the total quantity is 24 reusable clothes.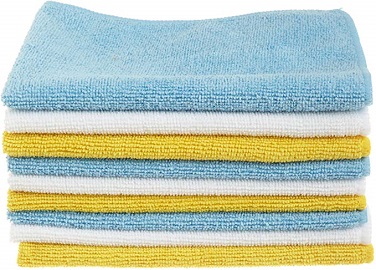 Some people might find these microfiber detailing towels a little thinner and smaller, but the great news is they still clean up good and quick.
Key features
Ultra-soft, non-abrasive microfiber cloths won't scratch paints, coats, or other surfaces;
Cleans with or without chemical cleaners, and leaves lint/streak-free results;
Absorbs 8 times its own weight;
The pack comes with 3 different towel colors (white, blue, and yellow);
Rinse and reuse 100's of times;
Imported – 90% polyester/10% polyamide.
6. Buff Pro Red Microfiber Towels
Buff Pro serves this wide range of microfiber towels that you can find in the size of 12 x 16 inches, which is ideal for most cleanup jobs. These super-soft towels are perfect for various applications such as buffing, polishing, and scrubbing. Also, they're heavier, which makes them more absorbent.
With these cloths, you won't have to worry about leaving any lint or residue behind, and these towels also reusable and machine washable. The good news is that you can use them for up to 500 washes.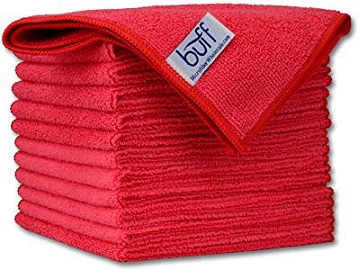 They seem a little abrasive, and so these towels might leave some tiny scratches, but they'll hardly be noticeable for most cars. Although they're not very durable, Buff Pro Red Microfiber Towels should last long enough for the price.
Key Features
Absorbs 7 times their weight in liquid;
Hypoallergenic;
Works on any surface with/without chemicals, leaving no streaks or lint behind;
Towels can be washed and reused hundreds of times;
Great price.
7. Zwipes Microfiber Cleaning Cloth
These Zwipes super-soft microfiber cloths (12"x16") will work for different purposes, including cleaning, dusting, and drying. Its design features 110,000 fibers per square inch to attract and trap tiniest grimes and dirt.
Also, these top-rated towels are designed to offer great value for money as they're quite expensive for a 36-pack. They come in assorted colors to prevent cross-contamination. These cloths can soak water 8 times their weight. Plus, they don't leave any streaks or lint on the surface.
Even though the colors fade a little too quickly with every wash, this should not be a big concern as it won't affect the effectiveness of the towels.
Key features
Plush, super-soft microfiber cloths, perfect for cleaning various surfaces;
Designed with 110,000 fibers per square inch, enabling you to clean with/without chemicals;
Streak-free and lint-free cleaning with a non-abrasive design that won't scratch surfaces paints;
Absorbs 8 times its weight in water, plus dries in half the time of conventional towels;
They can be reused and washed 100's of times.
8. Cartman Microfiber Cleaning Cloth
Cartman offers these high-quality automotive towels in a 30 pack and size of 14" x 14". They're available in deep black color. Each of the towels is uber-soft and non-abrasive to ensure it won't scratch the car surfaces. Towels will clean without leaving residue or lint behind and with no swirls.
You can use them to clean with or without chemicals, and they'll absorb up to 8 times their weight to reduce wring-outs. They're also versatile towels that you can use to clean different surfaces and for various applications.
Since all come in one color, it's easy to cross-contaminate by using an already dirty one, but that's an easy problem to fix by being keener. Despite being thinner, they still absorb and clean efficiently.
Key features
Ultra-soft, non-abrasive microfiber cloths won't scratch coats, paints or other surfaces;
Cleans with or with no chemical cleaners, and leaves lint/streak-free results;
Absorbs 8 times its own weight;
30black color pieces per pack;
100% polyester.
9. Zeppoli Reusable Microfiber Cleaning Cloth Set
This Zeppoli microfiber cloth is incredibly soft and no-abrasive to ensure they don't scratch vehicle. It comes in a pack of 24 and an excellent price to make sure you get great value for cash, and this set offers up to 10 times absorption capacity. These towels don't leave streaks or lint on the surface wherever you clean.
Also, these multiuse towels come in 3 different colors so you can use them for various cleaning applications with no cross-contamination. They're also thinner but still clean well enough.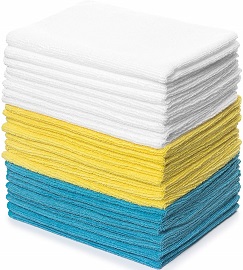 Key features
Super soft;
Multi-purpose;
Absorbs up to 10x its weight and cleans without leaving lint or streaks;
24 pack is great value for your money ;
It comes in 3 different colors.
10. Camco Microfiber Cleaning Cloth
Camco presents this 12-piece car wash microfiber towels pack ideal for various cleaning applications and works on different surfaces. These towels provide streak and lint-free finish and won't scratch any surface. Plus, you can use them with or with no cleaning agents. Don't forget that they're multipurpose and washable too.
They're also highly-absorbent towels that will reduce wring-outs to speed up the job. These microfiber towels could be a little larger, but they still clean excellent and quick enough.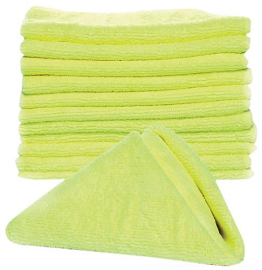 Key features
Excellent for cleaning cars, RVs, trucks, motorcycles, and boats;
Soft, non-abrasive cloths won't scratch paint or clear coat finishes;
Lint-free cloth great for cleaning glass surfaces;
Machine washable enabling you to reuse over and over.
Durable
11. Bounus: Norwex Package – Window & Enviro Cloth
Norwex is a famous brand overseas. They came from Norway and are relatively new in the US. Norwex cloths are a fantastic option for both housekeeping and car detailing. Enviro cloth is an excellent overall solution for car windows, stainless steel appliances, countertops, fireplace glass, glass tables, shower walls and tile grout lines, even woodwork.
Norwex Enviro Cloth measures 13.78″ x 13.78″ and Norwex Window Cloth measures 17.72″ x 17.72″. It can be used for cleaning dashboards, leather seats, and chrome details.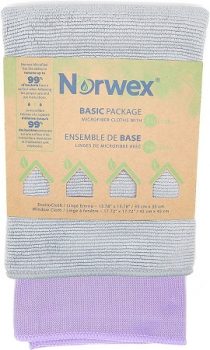 Key features
No extra cleaners needed
A bit pricey, but money well spent
No streaks
Antibacterial and Chemical-free
The basic package includes one enviro cloth and one window cloth
Easy to maintain and wash with warm water
Fantastic reviews from satisfied buyers