7 Best Convertible Top Cleaner Products to Buy in 2022 (Reviews & Buying Guide)
The two biggest enemies to your car's top are the UV rays and acid rain.



When your convertible top was brand new, it came with protecting coating to protect it from UV rays as well as a waterproof coating to seal the surface and prevent the corrosive chemicals in the water from seeping into the fibers causing damage.
Over time this protective coating loses its effectiveness. It needs to be replenished not only to protect the top from the Sun but to restore its ability to repel water, which also helps to prevent the mold and mildew.



The good news is that convertible top cleaner safely removes stains and dirt from any soft top. The powerful formula breaks down stains and lifts them away in seconds. Works on vinyl, fabric, canvas, textile, and synthetic soft tops.
Understanding why you need to have proper top care, and what are the types as well as the key features of these convertible top care products, plus knowing what to consider before buying helps to ensure that you have a car's top that is as handsome as it was the day you purchased the machine.
Is Your Cabriolet Vinyl or Fabric?
The first step in the protection is to establish if your convertible top is made of fabric, also known as cloth, canvas, or if the top is made of vinyl.
The best way to know this is to check with the automobile manufacturer.



Bear in mind, if you're not the first owner, the top could have been replaced with a top made from a different material. This could also have been done by the dealership when it was new, so it's best to test your top if you're not absolutely sure of the material.
Defining the type of the car's top is very important as you'll need to be sure you use the correct cleaner for your specific top.
Fabric/vinyl convertible top treatment test
These steps will help you to determine the automobile roof material.
Take about 1/8 spoon of water and put it on the roof;
Rub water into the material;
If it starts to soak in, it's more than likely canvas, but if it sits on the top and smears but doesn't soak, it's more than likely vinyl.
What Makes the Roof Dirty?
Keeping the car's top clean all the time is a tough task. Below are some of the most prevalent defects that ruin the appearance of the vehicle's roofs.
Dust;
Bird droppings;
Three sap;
Wind and rain;
Road debris;
Smog;
Mold or mildew.
These elements can easily set into the roof of your vehicle, make the roof fade, or develop harsh spots. So, retaining the top cleaned and maintained will keep it in the best shape.
What to Skip
Tops are mostly made from fabric or vinyl. It means that there're plenty of ingredients that you should avoid using. Beneath are some of the things that you'll want to refrain from using on the soft top.
Bleach;
Glossing agents;
Silicone;
Citrus.
These ingredients can break down the material on the roof. It can result in the soft top becoming non-resistant to water and make worse at the seals or seams.
Always make sure that the top layer you pick involves natural auto shampoo and non-detergent based ingredients to escape unnecessary damage to the roof.
Core Features of the Cleaners
The cleaners have some attributes that are important for your top. For the vinyl-oriented solutions, there're several core features.
There're no petroleum distillates or silicone oils or included inside of these products. They also repel dust, grease, dirt as well as helping to prevent mildew growth.
The canvas cleaner its own features and benefits. Similar to the vinyl, it has no silicone in the products. They also include UV protection with a UV blocker to add extra protection to your top.
A high-quality product restores the original water and stain repellency and helps keep natural as well as manufactured elements out of the canvas. Using these solutions adequately will help renew and prolong the life expectancy of your cloth roof.
What to Consider Before Making a Purchase?
There're a few factors that need to be considered before buying any cleaners for your top.
The first thing to be taken into account is what sort of roof you have. If you're not sure if it's vinyl or cloth, again, you should reach to the person or company that you purchased your ride from to get clarification.
Another deliberation is the multitude of products available on the market. It's essential to read convertible top car cleaner reviews and speak with auto detailer to make sure you're buying a solution that could protect and maintain your roof in the best way possible.
How to Clean a Convertible Top?
If the car's roof is torn or ripped, it'll have to be replaced by a professional car detailer. Still, you can prevent much of this by ensuring the top is clean and adequately sealed.
Follow the instructions.
Wash tops in the shade, never in direct sunlight;
Wash the entire top at one time, never spot clean as it'll leave spots or rings;
Wet roof entirely and rinse off dirt;
Spray cleaner and apply evenly over the roof and scrub lightly with a soft bristle brush;
For rough soiled areas, spray and allow to stand for 15 minutes;
Scrub gently using a bristle brush;
Rinse completely with water until no remaining foam from cleaner has remained.
Note – Convertible top must be thoroughly dry before applying the protectant.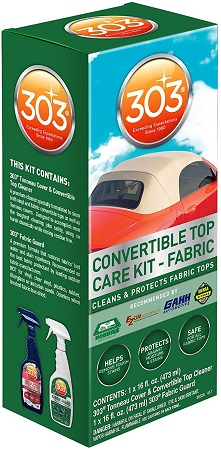 303 is a famous detailing brand, and it's perfect for fabric roofs with stains or soiling. It's a 2-in-1 formula that not only clean but also protects against moisture and stains.
The company is confident in its solution, and claim that using this top cleaner and protectant will add extra life to your roof.
Generally, the 303 convertible top cleaner kit for fabric material is an excellent all-rounder that efficiently restores even the toughest stains.
Features: Great for fabric roofs and contains no harsh chemicals, High-tech fabric protection restores oil/water repellency, The quick-acting formula that tackles heavy stains, Odorless and residue-free.


Meguiar's is one of the most well-known car detailing names, and their solutions may be the answer to all your troubles.
If you're hunting for a safe and powerful spray that will remove harsh stains and dirt, the G2016 is the right solution.
Therefore, this Meguiar's convertible top cleaner is the superior product that can be used on both vinyl and fabric roofs. It's highly rated overall, returns results every time, and offers excellent value for money.
Features: Ideal for both fabric and tops, The penetrating formula doesn't require hard scrubbing, Easy application via the spray bottle, Removes even the toughest stains.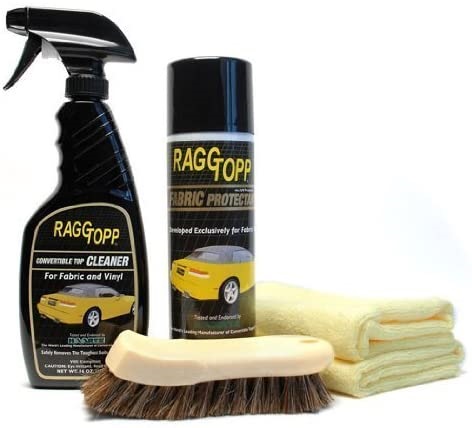 The Ragtop convertible fabric kit is trendy across the USA for a reason. It's a twin combination, which contains both a cleaner and convertible top protector for total care.
It means defects such as bird droppings, road salt/grit, tree sap, and other kinds of dirt will be easily eliminated.
If you wish your vehicle's top to bead, this is the ideal cleaner/protector for you. It provides the top fabric with the guard that causes beading but at the same time, enables it breathes to prevent mold or mildew.
Hence, the whole package is the ideal cloth convertible top cleaner and protectant kit you can find that will provide first-grade protection against several defects.
Features : Anti-oxidant, low pH with no bleach formula, Leaves no residue or damage to other car's surfaces, Protects and repels smog, UV acid rain, salt, tar, and so o , Won't harm paint, metal trim, and plastic/rubber surfaces.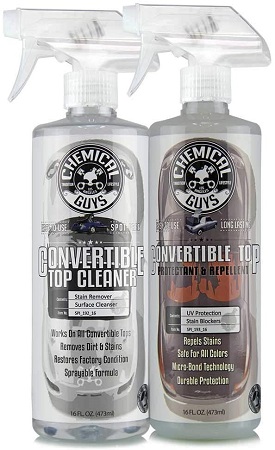 Another superb soft-top convertible cleaner and protectant option us by Chemical Guys with their Ultimate Convertible Top Care Kit.
Chemical Guys convertible top restorer is the leader in its class at removing stains and tough dirt from fabric and vinyl roofs.
It's safe to use on all roofs and works by lifting any dirt away from the ceiling to restore the roof to almost new condition.
This convertible top conditioner works by providing a protective layer against UV rays from direct sunlight and dirt.
This gives beading on the roof when it rains, which is a reliable indicator that the product is doing its job.
Features: Sprayable formula eliminate all dirt and stains, Suitable for all soft top colors, Safe for vinyl, fabric, and synthetic roof materials, Water-based formula, Restores the roof back to its original appearance, Includes horse hair scrub brush.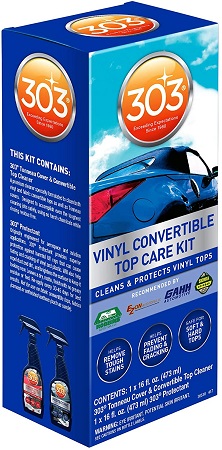 303 Convertible Top Cleaner Kit for vinyl leverages a colloidal operation to stir up and suspend grease, dirt, and oil so that it wipes away with ease. It contains no detergents or soaps that can dry or leave a residue.
Plus, the environmentally safe formula doesn't contain nitrates, phosphates, or toxic organics, to irritate your skin or run off into your backyard.
All 303 cleaners are non-toxic, safe, and 100% biodegradable. While 303 Vinyl Convertible Top Cleaner Kit is safe to use, you can be sure it's fantastic since it bares the 303 badge. This solution is unique in the auto care segment for cleaning and preserving vinyl.
Features: Eliminates stubborn stains, Gives superior protection against harmful UV rays, Protectant restores genuine color, Adds years of life to tops.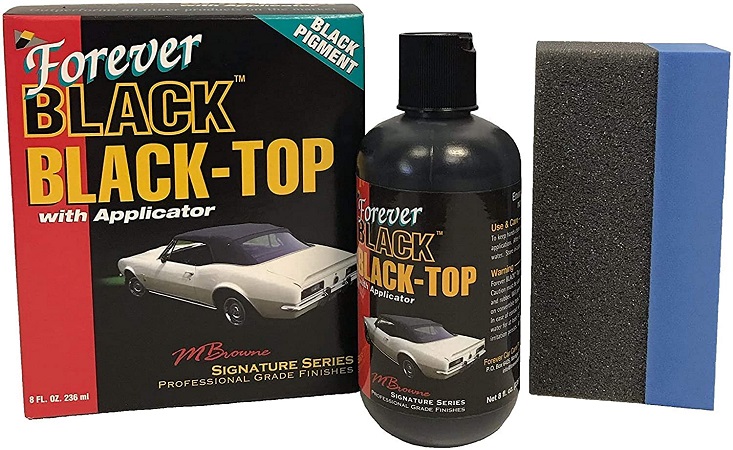 Forever Black Black-Top is a black dye in an easier-to-control gel form that re-colors the vinyl and creates a deep, black luster.
Its water-based, environmentally friendly formula contains no oil or silicone. These ingredients can dry the vinyl and cause it to entice dust. A top treated with this solution retains its flexibility, and the non-glossy finish doesn't attract dust.
To prolong the roof's color, Forever Black acts as a vinyl top protectant, and it's water repellant. This mix of restoration/protection will keep your convertible top looking its best for up to one year.
Feature: Designed without the use of silicones and oils, Water-based and environmentally friendly formula, Delivers high UV protection to prevent further damage, Restores the deep, dark color to faded vinyl tops.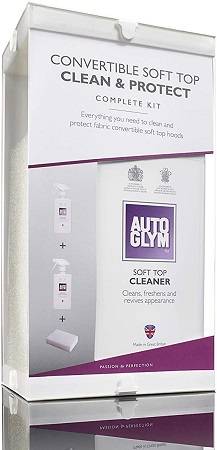 The Auto Glym canvas convertible top kit made in the UK is a highly productive cleaner/protector formulated to restore all fabric tops.  Its formula is capable enough to remove any defects on the roof, but at the same time, it's 100 percent safe.
The Auto Glym company claims to clean, freshen, and revive the image of the top roof quickly. You can also leave the formula on the roof overnight to break down even the heaviest dirt.
Feature: Has applicator for effective scrubbing, Spray application minimizes wastage, Protects from soiling and water intrusion.