10 Best Oil Filters – Reviews & Ultimate Buyer's Guide



Clean motor oil is imperative because if it was left unfiltered for some time, it might become saturated with small, hard particles that can wear surfaces in the engine. The dirty oil can wear the oil pump's machined components and ruin the bearing surfaces in the engine. The central role of the oil filter is removing contaminants from the engine's oil that can accumulate during time as the oil keeps the motor clean.



But what is the best oil filter? How do you find the right one out of the top-rated products on the market?
Move the mouse down to read our reviews and a ultimate buyer's guide to choose the best car oil filter for your car.
Oil Filters
Preview

Manufacturer
Brand
Champion Laboratories, Inc.
Bosch
Mobil 1
Item Weight
9.1 ounces
8 ounces
4 ounces
Item model number
CAS3506
3323
M1-110
Customer Rating
More Detals
What Is the Best Oil Filter?



While it's easy to take the first oil filter that you see in the auto store, it may be wise to consider the options that you have. We took the time to examine dozens of oil filters on the market.
Below are 10 of the best oil filters for the car.
1. Mobil 1 M1-110 Extended Performance Oil Filter ($9.97)
The filter features a 99.6 percent efficiency at 25 microns due to the synthetic media material. Perhaps the most impressive characteristic is the class-leading media capacity, which can hold up to staggering 28 grams of contaminants – double that of many competing products. Mobile claimed that this filter should last 15,000 miles with synthetic oil before a change.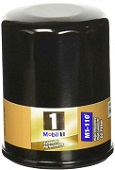 Also, you'll get a premium silicone anti-drain back valve that screens out oil from pouring back into the filter when the engine stops. It ensures no dry starts since you'll always have oil in the motor. There's also a metal bypass valve which is activated if the medium is clogged and can't provide adequate flow rate to the engine. Lastly, this best oil filter brand product can withstand up to 9 times the usual operating pressure. In digits, this equates to 615 Pascals per square inch, which is higher than pretty much any other filter.

6% cleaning efficiency at 25 microns;
Top filtering performance;
The class-leading capacity of 28 grams;
Up to 15,000 miles of use when used with synthetic oils;
Withstands up to 9 times operating pressure.

Silicone media isn't reinforced with metal backing.
2. Motorcraft FL820S Oil Filter($8.99)
Motorcraft FL820S Oil Filter is devised to work with Ford, Lincoln, and Mercury vehicles, but it can also work for any other vehicle that it can fit. This tip-top product prevents abrasives such as sand, carbon, and bits of metal before they get into the oil and ruin the engine. It's also fitted with pressure-relief valves that minimize the likelihood of the contaminated oil circulating back to the engine and ensures a constant supply of oil even in cold conditions.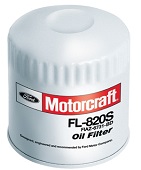 With the durable steel case on FL820S, you can be sure that it'll last longer, and the case also includes flutings for easy removal. The 12-gram dirt capacity might seem inadequate when compared to others on this list. However, for that price, it's still more than enough.

Eliminates carbon, sand, and metal bits;
Features a dirt-collecting mechanism;
Made from strong and durable material;
Works in extreme conditions;
Maintains the oil supply even if the filter is clogged.

Don't work well with synthetic oils.
3. Bosch 3330 Premium FILTECH Oil Filter ($8.99)
Bosch 3330 Premium Oil Filter implements advanced FILTECH media technology to incorporate more filtering area in such a compact pack. The filtering components make up about 42% of the internal parts. It's made of filtering material that is 30% thicker than the typical oil filter. This ensures more impurities are caught before it circulates in the engine.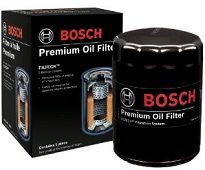 It's made from premium housing and durable steel plates that prevent any unwanted leaks while providing an ideal fit. It features a silicone anti-drain back valve, so you won't experience any dry starts. The gasket keeps a tight seal utilizing a high-quality lubricant – easy to remove. It works perfectly with Castor motor oil.

FILTECH media technology ensures fantastic filtering performance;
Well-made housing and steel plates;
Traps even the smallest impurities;
Prevents dry starts;
Internally lubricant sealing gasket.

Fit can be poor sometimes.
4. HP-1003 K&N Oil Filter ($15.99)
K&N HP-1003 is one of the most durable products in the industry. It works well in extreme conditions. Its filter walls are designed with heavy-duty components that prevent any particles from damaging the housing. Plus, it's crafted to accommodate oil pressures that are beyond normal without its filter bursting. Also, this filter can handle synthetic motor oils quite well.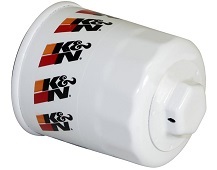 The oil filter unit includes an integrated hex nut welded on its canister, so it's really easy to attach using a wrench. It prevents any potential dry starts as its anti-drain back valve keeps the oil from draining back when you're shutting down your vehicle. Aside from cars, this product is also highly recommended for trucks, SUVs, motorcycles, and ATVs.

Durable and withstands high oil pressures;
Traps 99 percent if oil impurities;
Easy to install and remove;
Suitable for all oil types;
Great build quality with safety wire.

Hex nut may not fit some sockets.
5. FRAM Ultra Spin-On Oil Filter XG10575 ($25.94)
The FRAM XG10575 Oil Filter with SureGrip boasts a greater than 99% multi-pass filtering efficiency at 20 microns in order to provide superb oil filtering capabilities under any driving conditions. It provides extended protection for up to 20,000 miles of use and features a dual-layered, synthetic media that has been supported with metal screen traps to help extend the life of the filter.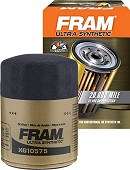 It's excellent for removing contaminants, and also comes with a larger than average capacity for holding dirt. It comes with a unique grip coating that makes it easier to install and remove the oil filter. The product also has a precision coil spring inside. The relieve valve is reinforced Nylon with glass fiber. It may not be great as silicone, but it's still the best oil filter for synthetic oil.

Anti-slip texture;
Internally lubricated gasket;
Precision coil spring with glass-fiber-reinforced nylon poppet relief valve;
20,000 miles of protection;
99% multi-pass filtering efficiency at 20 microns

Leaks may occur when constable used in extreme weather conditions
6. Mann Hummel Oil Filter 816 X ($12.99)
The Mann filter looks and works identically to the BMW OEM oil filter. If you drive a BMW or similar SUV, this oil filter would most likely be an ideal fit. It's sold with O-rings that are made from hard plastic only. If your care engine has a specific requirement for metal-free oil filters, then this should fit in perfectly. Additionally, its high capacity ensures that it's filtering most, if not all, of the impurities in the car oil.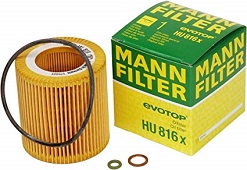 The tight pleated structure occupies a relatively bigger surface that makes filtering more effective and efficient. Thanks to its unique form factor, it can be easily replaced with a wrench and other removal tools that you already have in the toolbox.

High separation efficiency;
Easy installation and removing;
Works like OEM;
Perfect for BMWs;
Long-lasting product.

Leaves lint and waxy residue initially.
7. Ford Racing M-6731-FL820 HD Racing Oil Filter ($16.99)
This is a useful oil filter that will keep the cars all-important oil free of dirt and other contaminants as it flows throughout the engine. It's a much bigger filter than the original equipment filters that come with many of the Ford vehicles you can use this product. The bigger filter means more filtering space and a little bit more time between oil changes.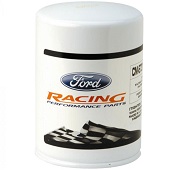 Its well-designed build enables higher burst strength and can withstand considerable impulse fatigue. It combines cellulose-fiber materials with synthetic-polymer components that filter out 50% more impurities than the typical oil filter. It can also work with synthetic engine oil.

It's made for high-performing engines with its durable components;
Filters 50% more than standard oil filter;
Bigger filtering space that enables more oil to pass through;
Strong build design;
Ideal for powerful Ford vehicles.

8. Royal Purple Extended Life Oil Filter ($14.24)
This product delivers 99% efficiency at 25 microns due to the 100% synthetic micro-glass media. The synthetic fibers are compact and fine, preventing almost all impurities from getting through. You can be assured that the dirty oil entering the filter is coming out clean and ready to service the engine.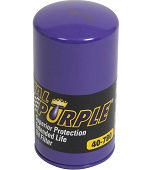 Its nitrile rubber base gasket is utilized to prevent leaks as well as a silicone anti-drain back valve that prevents dry starts. The end caps, center tube, and bypass valve are all metal and will offer a lifespan comfortably over 10,000 miles. The shell housing of the filtration system is extra thick also, which keeps the internal parts safe from road debris.

Long-lasting built;
99 percent cleaning efficiency at 25 microns;
Super thick shell;
Easy installation;
Withstands extreme condition;

The oil flow level is on the low end.
9. ACDelco PF61E Professional Oil Filter ($9.00)
It features a filtering capability of 98% when working with and breaking down contaminants. Its multi-layer filtering nets are the main reason for this processing capacity, along with its 25-30 micron ability. A tighter seal is built in so that as temperatures rise, leakage doesn't happen.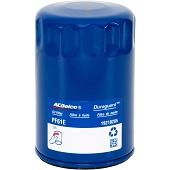 The product also has a cellulose media that can filter tiny particles and filter almost anything out to ensure that the oil of the car is continually free from debris. Its filtering capacity gives durability and consistent flow management. It also demonstrates the strength and is actually 5 times stronger than any other leading oil filter. Plus, it comes with a lubricity gasket that helps in reducing installation torque.

Durable design;
Impressive filter seal for improved burst strength;
Cellulose media traps extra tiny particles;
Fits quite well;
Reliable filtering.

May break up during the cold weather.
10. Toyota Genuine Parts 04152-YZZA1 ($4.87)
This oil filter is crafted perfectly to remove impurities in Toyota engines. It's recommended to be used with Toyota branded air filters also. Still, you can use this product with other brands of air filters if required. The Toyota air filters stand out thanks to the high-quality O-Rings in them. It's much better compared to even the leading aftermarket brands.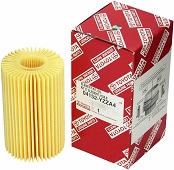 Additionally, the 04152-YZZA1 is highly affordable, despite being an OEM part. The O-Ring is made in such a manner that it always retains its form. It'll stay intact even during installation. It means the installer doesn't need to worry about accidental leaks. While it's not the most premium item on this list, it does the job expeditiously regardless of the motor oil type.

Affordable;
It fits ideally into Toyota engine;
OEM part;
Great efficiency levels;
O-Ring doesn't twist during installation.

Issues with drain mechanism.
Not widely available.
Best Oil Filter Comparison Chart
| Name | Media Type | Price |
| --- | --- | --- |
| Mobil 1 M1-110 Extended Performance Oil Filter | Synthetic | ($9.97) |
| Motorcraft FL820S Oil Filter | Cellulose | $8.99 |
| Bosch 3330 Premium FILLTECH Oil Filter | Blend | $8.99 |
| HP-1003 K&N Oil Filter | Cellulose | $15.99 |
| FRAM Ultra Spin-On Oil Filter XG10575 | Synthetic | $25.94 |
| Mann Hummel Oil Filter 816 X | Mixed Fiber | $12.99 |
| Ford Racing M-6731-FL820 HD Racing Oil Filter | Blend | $16.99 |
| Royal Purple Extended Life Oil Filter | Synthetic | $14.24 |
| ACDelco PF61E Professional Oil Filter | Cellulose | $9.00 |
| Toyota Genuine Parts 04152-YZZA1 | Blend | $4.87 |
Mechanical – Mechanical oil filters use materials such as pleated cotton and filter paper to prevent impurities in the oil from breaking through. With time and more dirt in the filtering material, they minimize the oil flow;
Cartridge – Cartridge oil filters have a basic design that hasn't changed a lot over time. They include a housing case with a filtering media that you have to replace from time to time. Recent design improvements added a spin-on to improve the filtering capabilities. The filtering media is built from a synthetic material, paper, cotton, or cardboard found in mechanical oil filters;
Magnetic – Since most of the debris and impurities in oil are small metal components, a magnet can draw them out of the oil as it passes into the motor. They apply either a magnet or an electromagnet to purify the oil on the go. It makes cleaning the oil filter as easy as taking contaminants off the magnet;
Sedimentation – Sedimentation oil filters pull the debris down to the bottom of the filter. Since the debris is heavier than the oil, the filter relies on gravity to do all. To some extent, sedimentation works in cleaning the oil. Still, It's not the most reliable way to eliminate contaminants from the oil. With the oil's speed and pressure, many contaminants escape the pull of gravity and enter the engine;
Centrifugal – Oil filters that utilize the centrifugal force have a design that allows the oil rotates inside the housing at high speed. The oil goes out while the impurities get stuck to the walls of the housing.

Capacity – The oil filter capacity demonstrates its ability to hold the contaminants it collects from the oil with no need to replace it. Two elements affect the filter's capacity – the media type and the build of the filter. Capacity means better mileage. When a filter hits its capacity, it'll let unfiltered oil into the engine via the dump valve;
Filtration media type – Inside every oil filter, there's a material that actually performs the filtering of the oil. That material, called media, is made of synthetic, cellulose, or a combination of those two. Synthetic type is usually made from polyester, glass, or Nylon and has a better filtration capacity due to the high quality of the tightly woven fibers. It can capture the tiniest impurities in the fluid without affecting the oil's flow rates. Cellulose is less expensive than synthetic media but has a lower quality. Blend media is a better choice both in cost and performance;
Design of housing – The lack of standards in the car industry means every brand and model has its own specifications. Its weight and housing design determine whether an oil filter can be installed in a specific car or not. Ensure the filter's specifications match your vehicle's requirements outlined in the owner's manual.
Ease of use – Filters come in different sizes and shapes. Not every filter will fit into your car. When you select the one that's designed for your car, it should be easy to install without problems;
Who Makes the Best Oil Filter?
Below are the three best oil filter brands on the planet.
Mobil 1 – ExxonMobil is the corporation behind Mobil 1. Around 135 years ago, the firm started as a local kerosene seller on the U.S. market. Now, it's one of the largest oil and petrochemical enterprises in the world. Best oil filters in its lineup are the Mobil 1 M1-110 Extended Performance Oil Filter and Mobil 1 M1-113 Extended Performance Oil Filter;
Motorcraft – Motorcraft was launched in 1972 to provide spare parts for Ford Motor Company. As we said, it manufactures car parts for Ford, Lincoln, and Mercury vehicles. The oil filter made by this brand fits into many car models and makes. Top products are the Motorcraft FL820S Oil Filter and Motorcraft FL-500S Oil Filter;
Bosch – In 1887, Robert Bosch invented a magneto ignition device for an engine. 10 years later, this genius installed the device in a three-wheeled vehicle, and the rest is history. Today, the Bosch Group has facilities all over the world and employs around 400,000 people. Top products include the Bosch 3330 Premium FILTECH Oil Filter and Bosch 3410 Premium FILTECH Oil Filter.
Extends engine lifespan – The motor needs clean oil circulating inside it to run at top performance. A high-quality oil filter keeps the dirt and other contaminants in the oil from reaching the engine's internal parts. This prolongs both the engine's life and power;
Guards against oil oxidation – No matter how bad or good the road conditions you drive in are, car oil oxidizes during the time. The oxidation brings in even more contaminants to the oil and reduces its efficiency. A filter screens out these contaminants from making their way inside the engine and guards the motor against damage;
Prevents engine heat spike – Overheating of the engine is a common issue caused by low-quality oil. The buildup of impurities and dirt in the oil can wear down the engine and kill heat conductivity. The oil filter keeps the engine components lubricated with pure oil and prevents engine overheating.
Less than $10 – Oil filters at this price tag aren't the finest quality. You have to change this type of filter more often than other alternatives that cost more. The poor quality can end up costing more in engine servicing and repairing in the long term;
$10 – $15 – On average, good-quality filters sell in this range. These products utilize good filtration materials, so you don't have to change them so often;
Over $15 – An oil filter in this price range will likely have all the attractive features. According to their functionality, the valves are made from silicone or steel to withstand high temperatures and pressures.