Best Synthetic Oil – 9 Top Choices for Your Engine



When it comes to picking the best motor oil for your engine, there are two options available – synthetic and conventional oil. You should know that traditional lubricant is simply a crude oil (unrefined petroleum) or by-product of crude oil. In contrast, synthetic oil is a chemically modified petroleum product. Today the highest-performing and longest-lasting engine oils are synthetic.



But it can be a tough task determining which synthetic oil is really the best. That's where we come in with our ultimate buying guide. We've gone through tons of products to show you the 9 best products on the market currently available.
What is the Best Synthetic Oil?



Choosing the best synthetic oil for your car means reading reviews, studying product features, and diving into the pros and cons of available configurations and blends. With the right oil, keeping your vehicle running in top form can become a reality.
It's a fully synthetic, single-viscosity oil from Valvoline – a reputed brand of engine oil manufacturers. With this oil, you can be assured that you're giving your vehicle top-quality protection. After all, this lubricant reaches you only after having undergone some rigorous quality checks and meeting ILSAC standards (GF-5), API services (SN/SM, Resource Conserving), and General Motors' Dexos 5 specifications.
The product consists of a specially formulated group IV oil stock base, underpinned with special anti-wear additives. Not only do these play a part in keeping your motor running smoothly by ensuring minimal contact between moving parts, but the durable supplements also remain in the oil for a longer time, providing your engine with extended protection from wear and tear.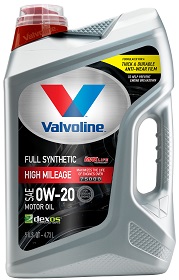 A powerful blend of additives gives long-lasting wear protection;
Highly efficient at dissolving and preventing sludge buildup;
Cuts down wear of engine parts by reducing friction;
Keeps motor protected against seizing in cold weather;
Makes clean combustion, reducing fuel loss and engine emission.

It might be suitable only for smaller vehicles.
For high mileage protection, ExxonMobil offers a full synthetic oil for motors with over 75,000 miles. Featuring great overall lubrication and wear protection, this oil is designed to outperform the brand's conventional high mileage oils. It'll protect critical motor components in higher mileage engines, while minimizing the sludge and deposits that conventional lubricants can leave behind. Its formula also prevents leaks, which could naturally happen on older engines.
It uses a proprietary blend of high-performance synthetic base oils to provide up to 500,000 miles of proven protection. It also has a boosted level of seal conditioner to safeguard engine seals, since, during the time, rubber seals can harden. Depending on the viscosity, the product meets or exceeds the requirements of API SN Plus, SN, SM, and SL. Plus, some grades meet or exceed ACEA A1/B1, A3/B3, and A5/B5.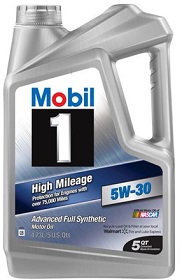 Formulated for high mileage engines;
Protects critical engine parts;
Reduces deposits and sludge conventional oils can leave behind;
Prevents leaks.

Limited viscosity choices.
Royal Purple's Synthetic Oil sports enhanced additive technology that prevents metal-to-metal contact beyond both GM dexos1 and ILSAC GF-5 specs while delivering better fuel economy and protection for car exhaust emissions equipment. This lubricant also includes patented anti-wear additive chemistry, which reduces the harmful effects from exhaust gases.
If you're using fuel with ethanol, this product should be towards the top of your list since it also has designed additive technology that prevents the lubrication starvation and white sludge that occurs with higher concentration gasoline-ethanol blends. The brand's API-licensed oils carry the current API and ILSAC motor oil licenses, and the GM dexos1 gasoline motor oil approval.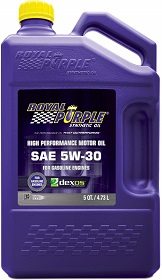 Provides better wear protection;
Improved fuel efficiency;
Protects catalytic emission system;
Increases compatibility with ethanol, corrosion protection;
Meets dexos1 and ILSAC GF-5 requirements.

Limited viscosity options.
Using Fluid Titanium Technology, EDGE Advanced is the choice for drivers who are looking for maximum performance and protection for their cars. Castrol claims to help the oil transform its structure under pressure in order to keep components apart while minimizing friction for peak motor performance.
It enhances oil film strength by 30% and reduces friction, which can steal your diesel engine of horsepower. It's ten times stronger versus high-temperature oil thickening and six times stronger against wear compared to the rivals. The 0W grades will also beef up your fuel economy. Depending on the viscosity, this oil exceeds or meets a wide scoop of industry standards such as API SN, SN Plus, ILSAC GF-5, GM dexos1 Gen 2, and ACEA A1/B1.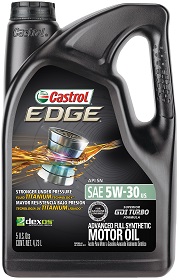 Engineered to offer strength under pressure;
Minimizes metal-to-metal contact;
Reduces engine deposit formation;
Meets different standards (API SN, ILSAF GF-5, GM dexos1).

Sometimes the oil turns black faster than some competitors.
If you run a diesel engine and want a synthetic oil alternative, the Shell's ROTELLA will be your first pick. Compared to standard 15W-40 products, this lubricant will improve fuel economy by 1.5%, while its Triple Protection Plus formula mixes fully synthetic base oils with advanced additives to bring in equipment protection and long motor life. It's also formulated with additive technology to protect against the effects of dirt, soot, and other impurities.
The product is designed with shear stability to resist viscosity loss while maintaining optimal oil pressure. This oil is suitable for diesel-powered vehicles such as classic cars, tractor/trailers, and heavy-duty pickup trucks.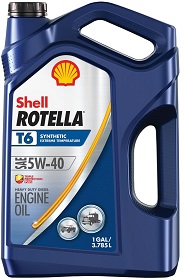 Improves fuel economy;
Formulated with addictive technology to protect against various contaminants;
Engineered with shear stability;
Overwhelming positive reviews.

Only certified for diesel engines.
This lubricant is fully synthetic, which increases the overall performance. It makes the car to have improved fuel efficiency. The designing of this oil is for use in low and high temperatures. Amazingly, it doesn't lose protection easily. The high temperatures viscosity prevents easy thinning. Moreover, with low temperatures tolerance, it maintains performance throughout.
Unlike conventional oils, this one has an excellent mileage range. It can be used for excellent balancing in the formulation. So, even when driving on extreme temperatures, it stays constant. Its anti-wear additives help the engine to run smoothly. Plus, it's compatible with most supercharge and turbocharge vehicles.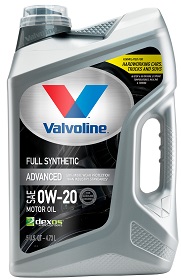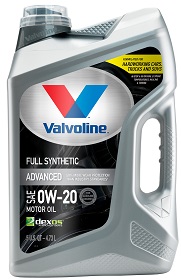 Improved mileage;
Increases fuel efficiency;
Great anti wears additives;
Cleans the motor.

Oil canister isn't ergonomic and difficult to use.
Pennzoil Platinum Full Synthetic Motor Oil has been engineered using the brand's PurePlus gas-to-liquid technology, a patented operation that converts pure natural gas into a high quality, full synthetic base lubricant. The manufacturer claims its base oil is 99.5% pure, which means it contains fewer impurities than base oils made from unrefined petroleum.
It's also excellent for turbocharged engines, by offering protection against the effects of LSPI (low speed pre-ignition). The product flows quicker in extremely cold temperatures, which means your motor parts get quickly lubricated during a cold start. In extreme hot temps, the oil features a lower tendency to evaporate.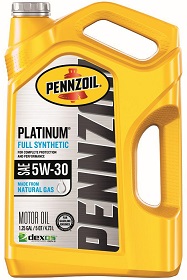 Fully synthetic oil;
Improves fuel economy;
Helps protect engines from horsepower loss;
Excellent performance in extreme temperatures;
Provides wear protection from friction and oxidation stability.

May not be compatible with all vehicles.
Boasting an advanced full synthetic formula, Extended Performance Synthetic Oil is formulated to help prevent sludge build-up and deposits for longer motor life while maintaining stable oil viscosity.
This product will provide great overall lubrication and wear protection under different operating conditions due to a precise balance of performance supplements. It also features excellent oxidation and thermal stability and fantastic control of lubricant breakdown. With amazing low-temperature capabilities, this oil will help your engine start faster in the cold for quicker protection and extended motor life.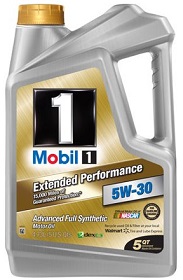 Prevents deposits and sludge buildup;
Overall lubrication and wear protection performance;
Exceptional control of oil breakdown;
Superb low temperature capabilities.

Some users claim this oil made their engines noisier.
Valvoline's high-mileage 5W-20 oil with MaxLife technology comes engineered specifically for gasoline motors that have passed the 75,000-mile point on their odometers. It's a synthetic blend oil with extra additives to make it ideal for high-mileage engines. These additives have seal conditioners to regenerate the motor's seals and anti-wear agents to reduce engine wear.
Further supplements include anti-oxidants and detergents. It can be in a 5-quart container, but you can also get a 6-pack of 1-quart bottles or a 3-pack of 5-quarts. Of course, this high-mileage 5W-20 oil only makes sense if your vehicle's engine has passed the mark.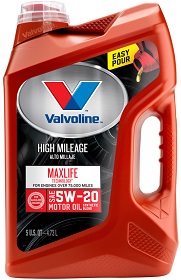 A mix of mineral and synthetic oils for the best features;
Comes with seal conditioners to rejuvenate aging engines;
Included detergents keep the engine running cleaner;
Prevents oil breakdown.

It's not much use for low-mileage vehicles.

Best Synthetic Motor Oil Comparison
Photo
Product
Type
Size
Price
Valvoline 0W-20 Full Synthetic Motor Oil
full synthetic
5 quarts
$22.98
Mobil 1 High Mileage 5W-30 Synthetic Oil
full synthetic
5 quarts
$27.47
Shell ROTELLA T6 Full Synthetic 5W-40 Diesel Engine Oil
full synthetic
5 quarts
$21.98

Buying Guide

There's a wide range of synthetic motor oils available, and finding the right one is vital to maintaining your engine. There are many things to take into consideration, so continue reading this guide, and we will help you decide what product is perfect for your car.

Who Makes the Best Synthetic Motor Oil?

There are numerous engine oil brands on the market, and all of them offer quality products for different purposes and motor types. The top brands used today are ExxonMobil, Valvoline, Castrol, Royal Purple, Pennzoil, and so on. Also, several car manufacturers also produce engine oils designed to work best with their vehicles.

Viscosity grade – It's the most important factor in choosing the proper synthetic motor oil for your needs. If you drive your vehicle in a hotter climate or ring your motor out often, a viscosity of 10W-40 is ideal. For commuting in most cold or warm climates, a 5W-30 synthetic oil is a right choice. Finally, if you ride in an environment that could be described as arctic, a 5W-20 or even 0W-20 synthetic oil is recommended;
Application – The labels on all kinds of synthetic oil list the specific application that the lubricant is designed for. Typical synthetic oil applications include extended performance, higher mileage, diesel engines, and motorcycles. Always double-check your vehicle's condition before you best the best car oil for your vehicle;
Combability with existing oil – Before you add this oil to your ride, it's essential to note if the product is compatible with other sorts of oil. If it isn't, you must drain the existing oil before filling it up with the synthetic one. It's also pivotal to consult your owner's manual to verify which type of oil your car requires;
Additives – Each brand adds its own proprietary blend of additives to improve certain properties. For example, viscosity-index improvers work surprisingly well in ensuring that lubricant doesn't get too thin at higher temperatures. Also, additives like detergents are efficient cleaning agents formulated to remove deposits and sludge from your motor. Find out which additives would provide the benefits you need the most before buying synthetic engine oil.

Extends engine life – The best synthetic motor oil is engineered to have a high degree of natural solvency so it can clean and remove deposits. This keeps your engine soot- and deposit-free so it can run as smoothly and efficiently as possible, as well as prolong the lifespan of motor seals and other parts;
Maximizes engine performance – There's a reason why high-performance vehicles and race cars all run synthetic oil —superior motor performance. Users often report that they perceive more power/torque from the motor when they utilize synthetic oil. Plus, it's slicker than conventional oil, so it'll definitely make your car runs smooth as glass;
Enhances fuel mileage – Premium synthetic oil reduces the amount of friction that occurs between key engine components, therefore making your engine runs efficiently and smoothly. This improves the fuel mileage of your ride, so you'll spend more time on the road and less time/money at the gas station;
Flows better in hot or cold weather – The proprietary formula of synthetic motor oil makes it flow better in extreme temperatures. During winter, its resistance to viscosity breakdown allows it flows freely regardless of how cold it's outside, so your vehicle is less likely to break down due to cold starts. Alternatively, synthetic oil works at top performance during hotter weather as well;
Longer lifespan than conventional oil – The best full synthetic motor oil has a considerably longer lifespan than conventional oil or synthetic blends. In some situations, full synthetic oil features a change interval of up to 15,000 miles, compared to 3,000 miles for the conventional product;
Saves you money in the long term – Even though synthetic product initially costs more per quart than conventional, it saves you dollars in the long run. You won't only get more mileage out of motor components and save money on fuel, but you'll also spare on less frequent oil changes.

Full synthetic – It's designed with a unique molecular structure and is infused with additives to provide optimal wear protection and performance for your motor. Unlike conventional oil, it's not derived from whole, unrefined petroleum, so it's created without any of the impurities. The best synthetic motor oil brands use a proprietary blend of anti-wear and cleaning additives to make your drive smooth as silk;
Synthetic blend – This's a mix of conventional oil and a brand's synthetic base oil. It's a conventional oil fortified with synthetic additives for better motor performance and protection. Synthetic blend doesn't deliver the same level of protection and performance as a top-rated synthetic oil. However, a synthetic blend gives more benefits than conventional oil.