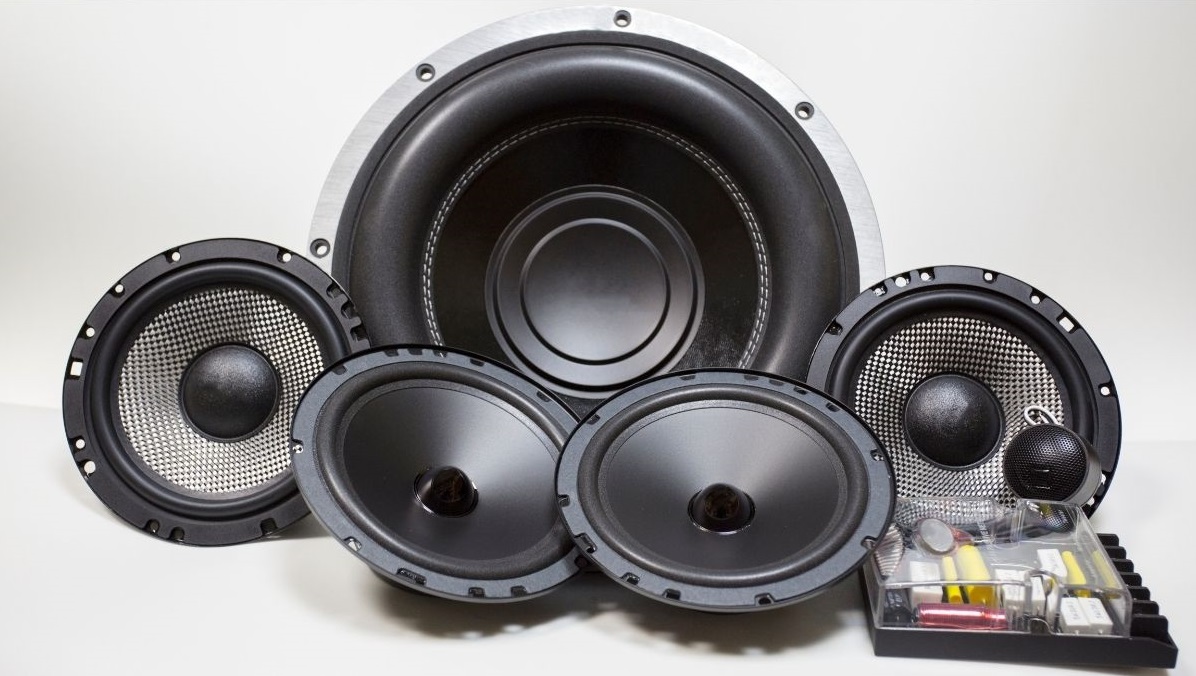 Best 12 inch Subwoofer – 8 Top Choices for 2022 [+ Buyer's Guide]
Best 12 inch subs will undoubtedly change your entire listening experience. If your factory audio system is not enough for the crystal clear deep bass, you will need good 12 inch subwoofers.
A subwoofer is a loudspeaker that can produce and boost low-pitched audio frequencies known as bass and sub-bass, lower in frequency than those generated by a woofer. No matter what kind of music you like to listen to, a quality sub can distinguish between a good and excellent sound system.
With many options available, it is sometimes hard to make a well-informed choice on your next car subwoofer purchase. Therefore, we will explain terms like voice coils, impedance, frequency range, power, and sensitivity in the buying guide.
We will also present some of the best 12 inch subwoofer for a small enclosure, best 12 inch shallow mount subwoofer, best cheap, best for the money and many more.
In the end, we will talk about the most famous manufacturers of the 12 inch powered subwoofers – so make sure that you go through our buying guide before you check out our list and enjoy a deep bass music experience in your car.
Best 12 inch Subwoofer of 2022 [Reviews + Buyer's Guide]
When looking for the best-sounding 12 inch subwoofer, there are several factors you need to consider, like the available space in your car, your musical taste, and your budget. We are presenting our top 8 picks in 8 different categories: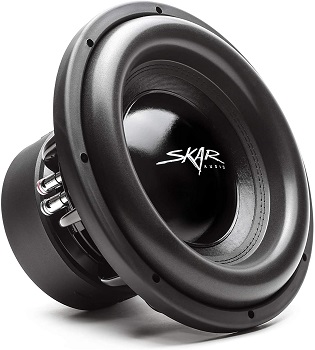 Dual 2 Ohm Voice Coil Configuration
Peak Power: 2500 Watts
RMS Power: 1250 Watts
Competition Grade Pressed Paper Cone
3" High-Temperature CCAW Voice Coil
Frequency Response: 25 Hz – 250 Hz
Sensitivity: 85.1 dB
Xmax: 23.5 mm
Mounting Depth: 7.75"
This subwoofer is driven by a high-flux double stack ferrite motor that allows for extreme power handling for extended periods, combined with the 3", high temperature, 4-layer, black aluminum CCAW voice coil.
The EVL Series can deliver incredibly accurate and powerful bass due to various advanced design features that make this subwoofer unique and in a class of its own.
WHAT WE LIKED // High-power handling capability, Punchy and deep bass, Powerful sound production
WHAT WE DIDN'T LIKE // It can be too loud for some and challenging to install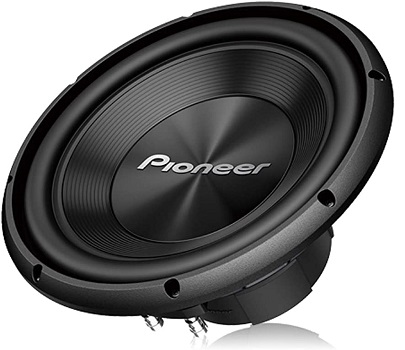 Continuous Power Handling (RMS): 500 Watts
Maximum Peak Power Handling: 1500 Watts
Glass fiber and mica reinforced injection-molded polypropylene (IMPP)
Butyl Rubber Surround Material
Stamped Steel Basket Material
Double Stacked Ferrite Magnet Material
Sound Pressure Level (Sensitivity): 77 dB (+- 1.5dB)
Frequency Range: 20 Hz to 2.3 kHz
Nominal Impedance: 4Ω
Dual Voice Coil (DVC)
Magnet Weight: 60 oz
Mounting Depth: 5.8"
This shallow-mount sub has an incredibly tight and precise bass reproduction. As a result, Pioneer TS-A300D4 is perfect for smaller vehicles that need a punchy unit to fit a small, sealed enclosure.
WHAT WE LIKED // Great peak power and frequency range, Oversized double stacked magnet, Smooth sound characteristics
WHAT WE DIDN'T LIKE // Loudness limitations due to the shallow-mounted design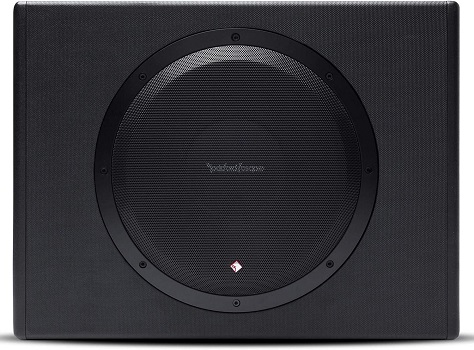 Dimensions (Wedge H x W x D1 x D2): 15" x 19.8" x 11" x 7"
Adjustable 12db/Octave low pass crossover
Built-in adjustable bass EQ
Built-in 0°/180° phase switch
Remote bass level control
Thermal and over-voltage protection
Separate low level and speaker level inputs
Proprietary high output woofer
Constructed with 5/8 inch MDF
Large AWG input terminals.
As a global leader in audio innovations, Rockford Fosgate has made this P300-12 for you to quickly add bass to the system without separating amplifiers and subwoofers.
This best single 12 inch subwoofer box features a Punch 12″ subwoofer in a custom sealed enclosure. A mighty 300 Watt amplifier powers it. The system is all-inclusive, so you only need to run power, ground, and a signal from the source to get this subwoofer moving.
Features a durable exterior that resists scrapes and bumps while in the trunk or cargo area. "Closed-loop" design ensures optimum performance between woofer, amplifier, and enclosure.
WHAT WE LIKED // Produces crystal clear, tight, heavy bass without being overwhelming, Easy to install
WHAT WE DIDN'T LIKE // Price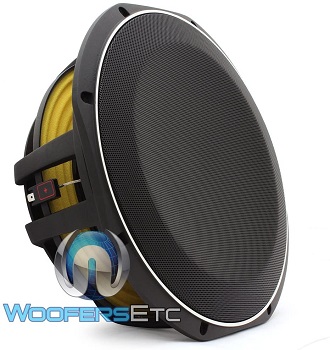 Dimensions: 7"L x 13"W x 13"H
Nominal Impedance: 4 ohm Single Voice Coil
Sensitivity: 85.15 dB
Power range: 75-300 watts RMS
Peak power handling: 600 Watts
Sealed box volume: 0.65 cubic feet
Ported box volume: 1.125 cubic feet
Top-mount depth: 4.625"
Free air resonance (Fs): 32.35
12TW subwoofer delivers a powerful combination of shallow mounting depth and excursion capability while operating in tiny enclosures.
JL Audio's patented thin-line woofer technology compresses the architecture of the 12TW1 using a "concentric tube" structure built into the injection-molded cone body.
This structure of the best 12 inch shallow subwoofer supports the voice coil and a full annular spider while permitting a large motor structure to be further forward in the speaker than with conventional designs.
WHAT WE LIKED // No pole vent – permits mounting close to the rear wall of the enclosure, Delivers the rich, deep, and controlled bass
WHAT WE DIDN'T LIKE // Price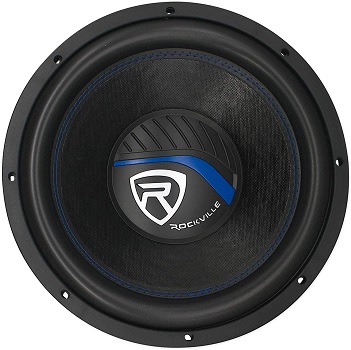 Impedance: Single 2-Ohm Voice Coil
Peak Power Handling: 1400 Watts
Program Power Handling: 700 Watts
CEA Rated RMS Power Handling: 350 Watts
Frequency Response: 25 Hz – 1.5K kHz
Sensitivity: 88 dB
Cutout Diameter: 11.02" inches
Mounting Depth: 5.03" inches
50 Oz High-Quality Magnet
Sealed Enclosure Volume: 0.8 – 1.3 Cubic Feet
Vented/Ported Enclosure Volume: 1.3 – 2.0 Cubic Feet
Weight: 10.1 Lbs.
The best 12 inch subwoofer under 100 is this Rockville model K5 W12K5S2. It features a fiber-reinforced ultra-stiff black non-pressed paper cone that makes the speaker sounds louder even without requiring a lot of power to push it. In addition, a thick foam surround provides incredible sound quality with minimal distortion.
WHAT WE LIKED // Affordable, Good building quality, Easy installation
WHAT WE DIDN'T LIKE // Nothing we could think of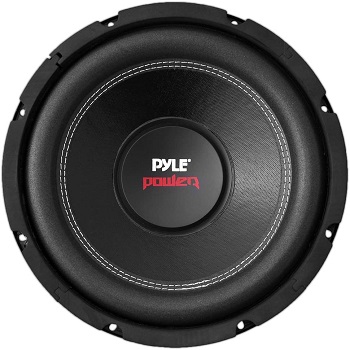 SPL: 90dB
60 Oz. Magnet
Black Steel Basket
Non-Press Paper Cone
Dual 4 Ohm Impedance
2" 4-Layer Dual Voice Coil
Specially Treated Foam Surround
800 Watt RMS / 1,600 Watt Max Power
Spring Loaded Push Down Speaker Terminals
Dimensions: 12.2" (Diameter) x 5.1" (Depth)
Pyle subwoofers as the best budget 12 inch subwoofers will bring a new life to your audio system with a fraction of a price. This small enclosure unit will add extra punch to your low-end and give you that huge sound you want. The sound is produced by a 2" 4-layer high-temperature dual voice coil with 60 oz., heavy-duty magnet, pushing 1,600-watt maximum power. It is all housed in a stamped steel basket for more outstanding durability.
WHAT WE LIKED // Clean sound, Pocket-friendly price, Decent sensitivity
WHAT WE DIDN'T LIKE // Lower power rating than claimed, Inadequate low-frequency range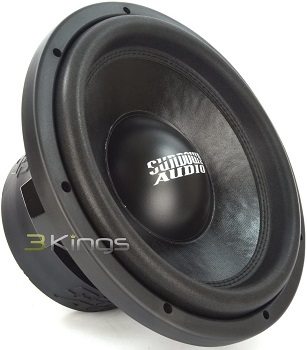 Impedance: 2 ohm
RMS power: 750 Watts
Dual voice coils
FS: 33.71 Hz
Sealed enclosure: 1.0 cubic feet
Ported enclosure: 1.75 cubic feet
Recommended tuning: 35 Hz
The Sundown SA series D2 REV.3 is the best 12 inch subwoofer for deep bass optimized for small ported, sealed, and band-pass enclosures. It features high strength cast aluminum frame, vented magnetic gap, optimized high-velocity pole vent, black aluminum 2.5" voice coil former for superior heat dissipation – the result is that the SA has the ideal mix of mass and stiffness to give you the best performance in nearly every type of enclosure.
WHAT WE LIKED // Durable construction, Extremely powerful bass
WHAT WE DIDN'T LIKE // Requires a powerful amplifier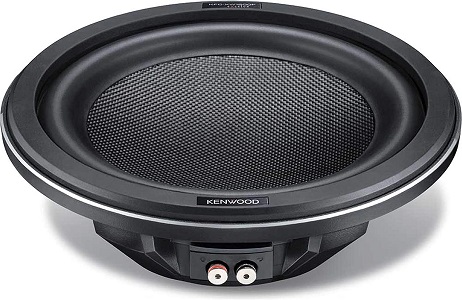 12" 4-ohm shallow-mount subwoofer
Carbon-glass fiber composite cone with butyl rubber surround
Cast aluminum basket
Power range: 50-350 watts RMS
Peak power: 1,400 watts
Frequency response: 30-700 Hz
Sensitivity: 91 dB
Mounting depth: 3-15/16"
Sealed box volume: 0.8 cu. ft.
Ported box volume: 0.8 cu. ft.
The best 12 inch subwoofer under 200 is the Kenwood Excelon KFC-XW1200F. This "flat" subwoofer produces serious bass output in the hard-to-fit areas of your compact car or truck. And this shallow-mount sub measures less than 4" deep so that you can get creative with the installation.
The beefed-up rubber surround maintains control over the cone, minimizing distortion that is caused by resonance. A die-cast aluminum basket offers rock-solid housing with plenty of venting to ensure heat dissipation. The silver-plated push terminals offer very convenient connections and provide excellent transfer of the signal.
WHAT WE LIKED // Rugged construction, Tight, punchy sound
WHAT WE DIDN'T LIKE // Sometimes it can make a cracking sound
The Best 12 Inch Subwoofer Buyer's Guide
Comparing several specs of the best 12 subs can help make your decision. Some of them are:
Impedance
The resisting property of a voice coil is called its impedance and is measured in ohms. The lower a speaker's impedance, the easier it is for an amplifier to supply power. So you must take both device's impedance into account. Standard impedance figures are usually 2, 4, 6, and 8 ohm.
Power
In power handling of the best 12in subwoofer, there are 2 main values you need to consider: RMS and Peak Power. RMS (Root Mean Square) refers to how much power a subwoofer can handle continuously. The higher the RMS power, the louder and more powerful it can be consistent over time.
Peak power is the total amount of power that your subwoofer can manage in short bursts for a limited time. Both numbers are significant to know, as if you push your subwoofer beyond these levels, you could accidentally damage it.
Sensitivity
Sensitivity measures how loud a speaker will get with a given amount of power; it is measured in decibels (dB). So, for example, a subwoofer with a high sensitivity rating will require less power to reach a high output level than a sub with a lower sensitivity. Because of that, higher sensitivity is usually better.
Voice Coils
Best car subwoofers for deep bass are manufactured with a single voice coil (SVC) or dual voice coil (DVC).  A voice coil is the coil of wire around the tube attached to the speaker cone's apex. The voice coil provides the motive force to the cone by reacting a magnetic field to the current passing through it.
An SVC has one winding coil, and a DVC has two separate windings. SVC cannot work with a significant number of amplifiers, while DVC is capable of more wiring configurations.
Frequency Range
The frequency response specification describes the range of frequencies or musical tones a subwoofer can reproduce, measured in hertz (Hz). The typical frequency range for a subwoofer is between 20–200 Hz.
You do not need a wide frequency range for the best 12 subwoofer. The lower the frequency responses, the better.
Top Subwoofer Brands for 2022
What's the best 12 inch subwoofer? We will present to you some of the most renowned companies.
Rockford Fosgate – a company that creates human experiences in sound. Founded in 1973, it is still a global leader in the car audio revolution. The company implements the most state-of-the-art technology in the audio world to enable you to enjoy passionate music.
Kicker – as a continually evolving brand, Kicker is pushing the limits of audio design technology, performance, and integration in the quest for ultimate sound. The original Kicker was the first full frequency-range speaker box designed specifically for cars and trucks.
Pioneer Corporation – today Pioneer is a world leader in electronics products for the car, home, and business markets, respected for its role in introducing such innovations as consumer laserdisc, car CD player, GPS car navigation, etc. To this day, Pioneer still develops and manufactures innovative and high-tech entertainment and electronic products.
Alpine Electronics, Inc. – or simply Alpine, is founded in 1978 and to this day strives to answer the demands of consumers and automakers with high-quality products. It is one of the world's premier manufacturers of electronic components for computer and electronic car equipment.