13 Best Off-Road Vehicles for Mad Max Driving



Best off-road vehicle is by default the Jeep Wrangler! What if you don't prefer its flagship, though? There are tons of excellent Jeep Wrangler alternatives in the desert!
Some have supreme trail-ready add-ons, covering low-range gearing and four-wheel drive, locking differentials, and lifted suspensions. Others include advanced all-wheel-drive platforms and enhanced underbody protection to arm otherwise standard SUVs and trucks for dirt-preparedness.



Here are our 13-favorite rock-climbers.
1. Jeep Wrangler ($38,000)
The emblematic Jeep Wrangler is reasonable the most complete off-roader you can walk into a dealership and buy.
The Jeep's designers and engineers have worked inexhaustibly to keep the Wrangler pertinent, with the latest innovations and technological features.
Not only does every version have four-wheel drive and reliable axles, its 2- and 4-door body styles can effortlessly be stripped down, making them topless and/or doorless for a unique experience.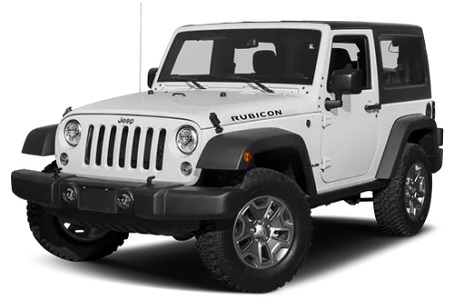 As the one of the best off road vehicles off all time, Wrangler offers 10.9 inches of ground clearance, a departure angle of 37 degrees, and an approach angle of 44 degrees.
Its rear and front axles can be matched with locking differentials and distribute a 2-speed transfer case with low-range gear ratios for ideal crawling capability/traction.



Brawny 33-inch BFGoodrich KM all-terrain tires and a disconnecting front anti-roll bar are added in the top-line Rubicon trim.
2. Mercedes-Benz G550 4×4 ($250,000)
Luxury SUV and off road could be the ideal couple, and the G 550 4×4 does a marvelous job of demonstrating this. With long military heritage, the G-Class models have been drifting off the beaten trail for about 40 years.
The Mercedes- Benz G 500 is the best off road SUV that spares no expense in delivering high-quality off-road performance.
King-sized dual coilover shock cushion each wheel and jack the rig up enough for a colossal 17.7-inches of ground clearance, causing the 22-inch wheels to look suitably sized for the behemoth.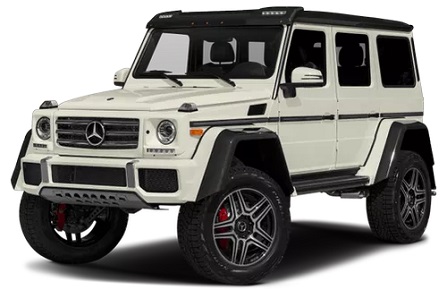 The twin-turbocharged V8 delivers highly responsive power and severe torque through a wide range of the rpm spectrum, giving the beast a persistent feel in every situation.
3. Ford F-150 Raptor ($53,205)
This truck doesn't just seem brutal — it has the performance to fit that rugged facade. Not only does a high-output engine give this animal extra power, the Raptor includes forceful front skid plates, an air-extracted hood, and a Terrain Management System.
There's also a Baja mode for top-speed Mojave desert racing along with a Rock mode for those who favor rock crawling.
The Raptor has a locking rear differential with 4.10 gears, which is what the Wrangler Rubicon includes also.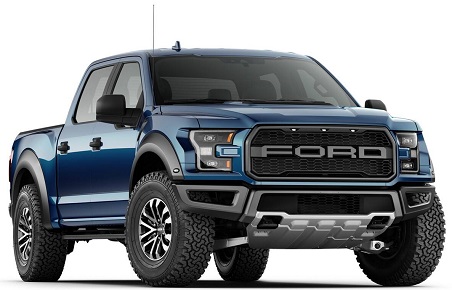 Although the F-150 hasn't been around for as long as some of the other predators on the list, it certainly has made its presence known in the off-roading niche.
However, it'll undoubtedly get the job done, no other model can compete with the off-road monster that is the Raptor.
4. Chevy Colorado ZR2 ($41,400)
While there are less expensive models of the Chevy Colorado, the champion in the mud is the ZR2. It comes with all the attractive features you would expect from the best off road truck on this list, such as leather upholstery, Android Auto/ Apple CarPlay, and a 7-speaker premium audio system.
Plus, you get specialized bumpers that enable for more off-road capability, big knobby tires, a lifted suspension, a spray-in bedliner, and fender flares.
You can opt for the standard V6 in the ZR2 or choose the optional 4-cylinder diesel motor. It's better to stick with the less expensive standard V6 since it gives superior acceleration on the cheap.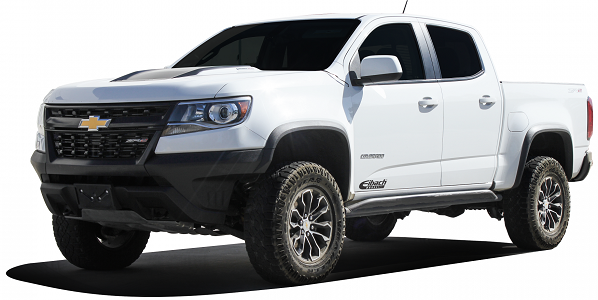 If you want even more off-road package, check out the mad ZR2 Bison, which provides steel bumpers, sport fender flares, front winch preparation, and 5 Boron steel skid plates.
5. Toyota 4Runner TRD Pro ($49,765)
The Toyota 4Runner earned a reputation for off-road bravery, and the current model lives up to its forerunners' image.
4Runner TRD Pro has a standard limited-slip rear differential plus excellent ground clearance and approach and departure angles.
Every 4Runner is skillful, but the 4-wheel-drive-only TRD Pro is the most aggressive, due to its electronic locking rear differential and beefy underbody skid plates, specifically tuned front springs, and 2.5-inch Fox internal-bypass dampers that lift the ride height by 1.0 inch.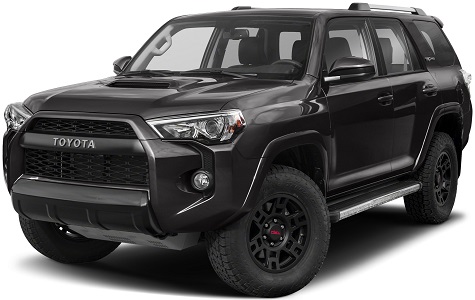 17-inch wheels wrapped in Nitto Terra Grappler tires give mighty traction in different conditions. Don't forget, the Toyota looks tough with its large brand lettering in the nose and black-painted roof rack.
6. Land Rover Range Rover ($90,900)
The Range Rover is a luxury SUV that is perfectly capable for off-road environment. It's not cheap; still, you get a lot for your cash.
Land Rover's brand offers a top-class interior comparable to many luxury sedans, and impressive on-road capabilities for a big SUV. However, it can take you places no other luxury SUV could hope to reach.
Its body was crafted to boost ground clearance and includes short front and rear overhangs — all to make climbing over barriers easier.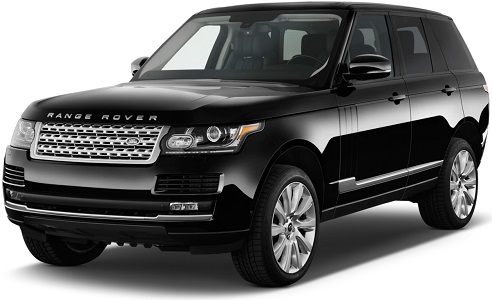 Terrain Response system also sets different vehicle parameters for various kinds of terrain. This reach boy can even wade into the water up to 35.4" deep.
But the Range Rover isn't an Indiana Jones truck. Its leather-lined interior implements a dual-screen infotainment platform and a built-in Wi-Fi hotspot that can support up to 8 devices.
The cutting-edge SVAutobiography model even highlights reclining rear seats and a refrigerated drink compartment. The British manufacturer also offers a variety of powertrains, from a uber charged V8 to plug-in hybrid.
7. Nissan Titan XD Pro-4X ($47,210)
It's not a full-size pickup, and it's quite big to be considered as a small truck, the Nissan Titan XD is somewhere between these defined segments as a midsize truck.
Packed in a slightly smaller shell then some of its competitors, the Titan XD has the performances of a half-ton but the features of a three-quarter-ton rig.
The Pro-4X off-road kit arms the truck with tuned Bilstein shocks, 32-inch all-terrain tires, and skid plates for the engine/transfer case.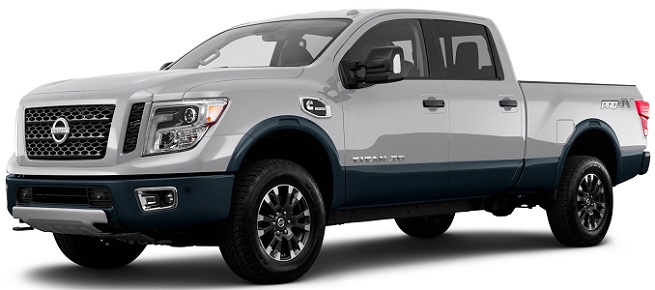 For those who prefer to venture by diesel as opposed to gas, Nissan offers the Pro-4X with the after-sought Cummins 5.0-Liter V8 turbo diesel and supporting Aisin six-speed automatic transmission.
This powerhouse cranks out fewer horses than the gas model, but hits the torque specification with tremendous 555-pound feet of grunting oomph, delivering extreme low-end power for hill climbs.
8. RAM 1500 Rebel ($44,490)
The Rebel is based on the RAM 1500, the brand's livelihood rig. The manufacturer introduced the model in 2015, and it was recently updated as part of a complete redevelopment of the entire 1500 lineup.
While the Raptor takes the formula of upgrading a basic truck even further, the Rebel is a more sensible kit that more folks will be able to get the most out of.
The list of upgrades includes 33-inch Goodyear Wrangler DuraTrac tires and an electronic locking rear differential to aid traction.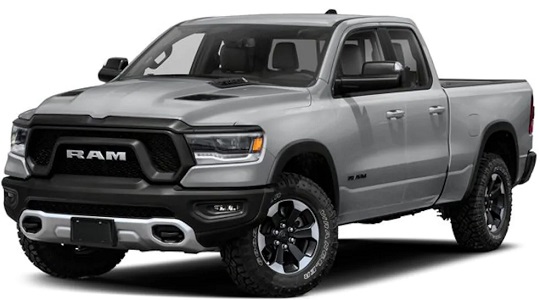 This model also gets a 1-inch suspension lift, a skid plate, and improving ground clearance. Like other Ram 1500 versions, the Rebel is available with air suspension, but the standard suspension is a coil-spring configuration with Bilstein shock absorbers that involve a remote-reservoir design aimed to keep them cooler, which boosts performance.
The Rebel comes with the same powertrains as other Ram 1500 variants, like a 3.6-liter V6 paired with Ram's eTorque mild-hybrid system, or a 5.7-liter Hemi V8.
The omnipresent Uconnect infotainment system, including Android Auto and Apple CarPlay, is available too.
9. Lexus LX ($86,380)
The current-generation Lexus LX is bigger than the GX and soon will be available for a senior discount when it turns 11 years old. But this premium SUV stays one of the plushest and flashiest established off-roaders you can own.
It has a full-time 4-wheel-drive system that features a 2-speed transfer case with low-range transmission and a limited-slip center differential.
It also includes a self-leveling air suspension with adaptive dampers and a powerful 383-hp 5.7-liter V-8 matched to an 8-speed automatic.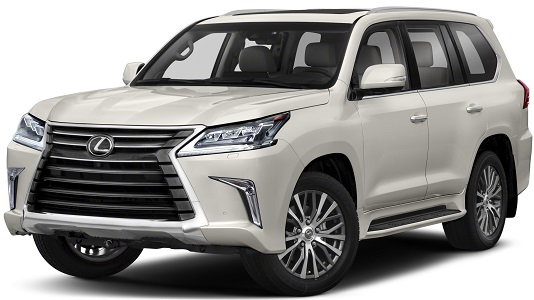 The LX features 8.9 inches of ground clearance and decent approach, departure angles, and breakover. Plus, it benefits from terrain-management and hill-start assist software.
10. GMC Canyon All Terrain X ($36,600)
Not all off-road-ready trucks need to be usuriously priced to be qualified for the dirt road race, and the GMC Canyon All Terrain X arrives in at the lowest price for new vehicles on this list.
Not stinting on the gear necessary to get your rollers dirty off-road, GMC filled the All-Terrain X trim with a Z71 suspension kit consisted of coilover shocks up front and twin-tube socks with dual-stage leaf springs in the rear.
31-inch Goodyear all-terrain tires give the grip for 17-inch wheels in a showy black finish. Rock rails crafted from 3-inch tubular steel with incorporated footsteps help passengers in mounting the cab, where they're welcomed by rubberized all-weather floor mats.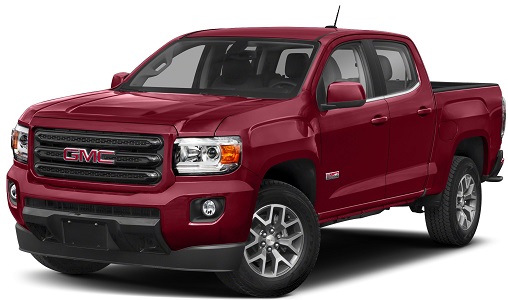 This toy also comes with Hill Descent Control, which automatically applies pressure to individual brake calipers once a wheel loses traction, a superb feature for those learning the tricks of the off-highway trip.
11. Jeep Gladiator
The Jeep Gladiator rides on the four-door Wrangler's winning formula by installing a pickup bed to its tail.
Gratefully, the Gladiator maintains the same off-road willingness as the Wrangler and has been reinforced so it can tow up to 7650 pounds.
Its doors and roof can also be removed. This Russell Crowe Jeep utilizes dual solid axles with available locking differentials and features standard low-range gearing.
An optional disconnecting front anti-roll bar enhances axle articulation over uneven terrain, and sizeable 33-inch BFGoodrich KM all-terrain tires (optional) look cool and aid traction.
Plus, it can ford 30 inches of water and includes up to 11.1 inches of ground clearance, with plentiful approach and departure angles. Its multiple skid plates and beneficial tow hooks complete the equipment.
12. Ford Expedition FX4 Off-Road Package
The Ford Expedition has cavernous interiors and a fantastic twin-turbocharged 3.5-liter V-6. It's also available with a rich trail-ready gear through the FX4 Off-Road package.
Provides solely with the entry-level XLT trim with all-wheel drive, the FX4 equipment brings upgraded front/rear dampers, a heavy-duty engine radiator, a 2-speed transfer case, and an electronic limited-slip differential with a 3.73:1 rear-axle ratio.
There are, of course, FX4 emblems, along with running boards and 18-rims wrapped in all-terrain tires. Below, plenty of skid plates guards the fuel tank and other critical parts from hard objects.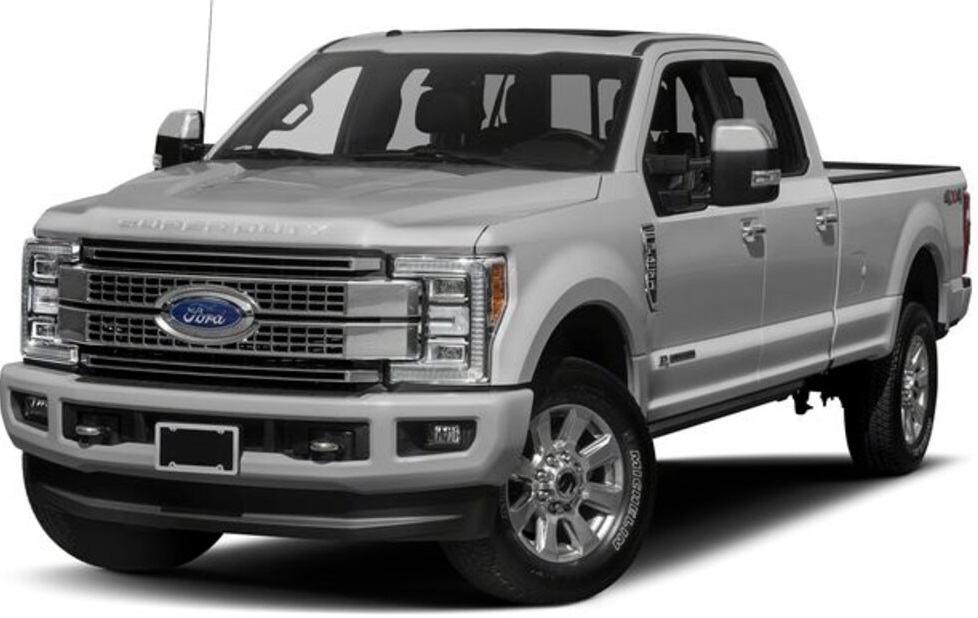 13. Suzuki Grand Vitara
The Suzuki Grand Vitara was more than an affordable folks mover, it was also a sneaky unibody-plus-ladder-frame SUV that has felt in price enough to be considered as one of the best used off-road vehicle.
The Grand Vitara disappeared from the U.S. market in 2013. Still, you'll want to look for this great used SUV in any case to maximize value.
Certain four-wheel-drive editions offer low-range transmission, which runs together with a 155 hp 2.5-liter V-6 motor when the moving gets rough (or a 2.7-liter, 185 horsepower V-6 from 2006-2009). 4-door convenience is standard with the Suzuki SUV.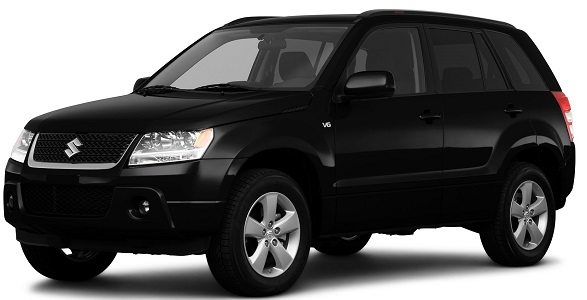 Our Takeaway
The Jeep Wrangler is considered as one of the best off-road cars of all time. But there's a plethora of knotty rivals that have no problem keeping up with the king of the jungle.
From newer vehicles to the tried-and-tested brands that have been around for decades, the SUVs and trucks we have involved on this list can handle just about anything and everything you put in their route.