Cargo Van Shelving – 8 Smart Work Van Organization Ideas
You just bought new cargo van as addition to your business fleet? The empty cargo area of the van is not convenient to store and manage all the tools you haul to the job site. Not only can you damage the van's floor or walls, but you can also damage your equipment. This is the right moment to play smart and choose a custom cargo van shelving system to maximize your organization, properly store your tools and make your van neat and clean. The market is flooded with all kinds of cargo van interior storage accessories. There are van shelving systems, partitions, drawers, cabinets, roof racks, pull out storage, etc. Furthermore, all shelving solutions are adjusted for trades and vocations like plumbing, electrician, HVAC or contractors. A few decades ago tradesmen had to make cargo van shelves and other storage accessories by themselves. Van manufacturers still did not realize the importance of organizing cargo van interior. Usually, DIY cargo van shelving involved plywood, screws and metal bolts. They had to properly measure cargo space, custom-make shelves to suit van cargo space, then install dividers and make final refinements. Those who were brave enough and had some math knowledge used metal instead of plywood. They used metal plates, so it was very easy to cut yourself on them every time you needed to pull out some tools from van's shelve. But, things were about to change.
New Kids on The Block
Realizing market's potential and huge demand for high-quality work van storage systems that will be capable of handling heavy use for many years, van makers and small companies started with the production of all kinds of work van accessories. Shelves and shelve systems were the first among them. Mercedes-Benz, Chevrolet, Dodge, and Ford started with upfits that became very popular among small businesses like heating, general construction, electricians, mobile vets, locksmiths, and other. Companies like Weather Guard, SmartLiner, Sortimo, Ranger, AutoTruck, Gruau, Knapheide, KargoMaster and Adrian Steel became suppliers for major makers in the field of commercial transportation.

Van Shelving Materials
Instead of old-fashioned materials like plywood and row metal, they started to use sophisticated materials like aluminum and stainless steel. They are light, strong, durable, rust-resistant, and you can't cut your fingers on rounded edges. They look nice too, giving the van a premium look. Furthermore, some van shelving units have an option for repositioning shelves without drilling new holes in the van or shelves. All you need to do is unscrew the shelve and screw it in a new position. Adjustable shelving is possible both for standard and high-roof vans.
Perfect Fit + Adjustable Solution
Universal fit or van specific? This is an easy question, right? In the beginning, shelves were universal fit, meaning that a lot of precious space can be lost. It is always better to have shelves made just for your model of a work van. Since shelves are made to match exact dimensions of cargo space, there is no possibility to lose space anymore. Everything is in the perfect place to allow access to any tool in the van while preserving space for easy entrance to cargo both from the side and rear doors. As you can see, van shelving units are installed on the walls and above the wheel wells. They match every van model, no matter if it is Mercedes Sprinter 144 or 170-inch wheelbase, or Ford Transit with standard, medium or high roof. You can easily find shelving unit to maintain the workable area and keep inventory under control. No matter if shelves are welded or adjustable, they are a perfect fit with no wasted space.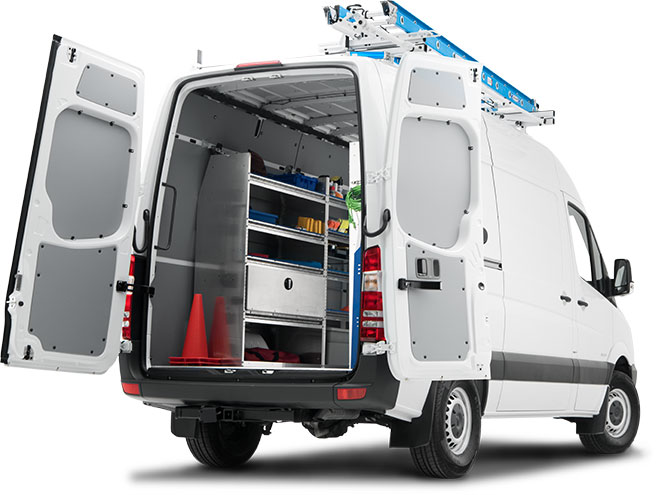 As you can see, van shelving units are installed on the walls and above the wheel wells. They match every van model, no matter if it is Mercedes Sprinter 144 or 170-inch wheelbase, or Ford Transit with standard, medium or high roof. You can easily find shelving unit to maintain the workable area and keep inventory under control. No matter if shelves are welded or adjustable, they are a perfect fit with no wasted space.
Shelving Units Types
Without a doubt, standard van shelves are a huge help, but why not add other components and make them even better? There is a variety of accessories that will further enhance van organization and storage management, some of them can be:

Cargo van packages – these are pre-configured by the manufacturer. You have the option to choose package per vocation. More about vocation work vans in lines below.
Standard shelving units contour with open backs and front – these are bare-bones shelves and the foundation of shelving system that usually gets upgraded with other accessories.
Shelving units with closed backs and doors – more sophisticated version of shelving units. Have closed backs that keep van's walls from being scratched and indented with tools.
Dividers – used to divide open shelve units, usually made of high-quality plastic or aluminum. Shelve dividers are cheap and allow you to customize and divide the shelf in different lengths. Dividers are easy to install and remove or relocate per requirement.
Lockable doors – an easy way to protect tools from thieves when van's doors are opened is to install doors with a lock on one or more shelves.
Hooks – are usually mounted on the side of the shelves. They need to be easily reached and are usually used for hoses and electrical cables, but also for hanging workwear.
Bins – these are universal, not vehicle specific, but are great for organizing small items and accessories. Bins are made of hard plastic and can be easily used for many years. They come in different sizes, shapes, and colors.
Lips – are great small and universal addition to keep your items in place under the shelf unit. Lips are affordable accessory made of aluminum. They usually come in 36" or 42" length. If you are driving on bumpy roads and construction sites, consider installing retainer lips.
Toolbox cradles – To maximize the efficiency of van shelving system you can install (in just a few minutes) tool-box cradles. They are similar to the drawers and are very convenient for organizing medium-sized tools the way you want. They come in different sizes but are always made from aluminum or stainless steel. Price is around $100, and they are a universal fit.
Many van makers offer pre-configured shelving systems and upfits. They are developed with needs and uniqueness of several vocations in mind. Depending on the work truck model and vocation, you can opt for general service or some trade-specific packages and save some bucks when choosing pre-defined shelving system. Cargo van business upfits include general contractor upfits, delivery/catering upfits, electrician/telecom upfits, HVAC/plumbing upfits and passenger transport upfits. These modifications by trade go far beyond shelving. They can truly transform your work van into a small office on wheels. This way you can work faster, optimize workflow and save time. Let's see specifics for some upfits.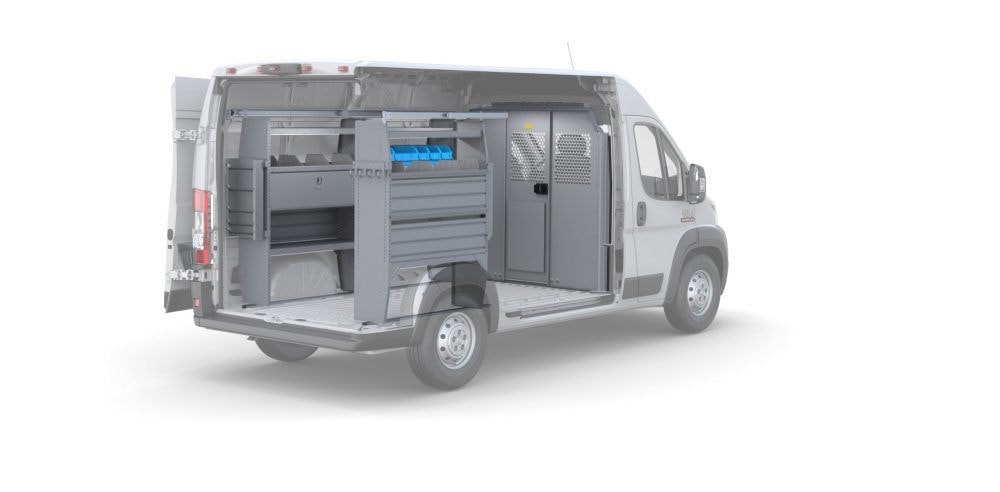 General Contractor Van Upfit
Your needs, personal taste, and budget will dictate the level of customization. Steel shelves, drawers, bins, cabinets, and dividers are specially designed for contractors. Work van upfits are very similar no matter what brand of the van you are driving. There are several manufacturers that supply van makers, most trusted are Adrian Steel, Ranger, and Knapheide. Base level shelving system usually includes steel adjustable shelving units, one drawer, dividers and one hook bar. Base general contractor shelving van upfit cost around $1,000 (for standard wheelbase van with standard roof).
Expert advice: You can apply for different commercial incentive and that way save huge when buying van accessories. You can customize even further and add hose reel $87, workbench with vise $755, document holder $40, hook set $65, lashing strap with lock buckle $35, multi-functional door panel $17, or ladder rack $1,024.
HVAC Van Upfit
Basic HVAC van upfit needs to be corrosion resistant with customized compartments for water pumps, recovery machine, and pipes. All shelving has to be made of galvanized steel or aluminum. Small items like fuses, covers, nail plates and connectors have to be placed in bins and tool-box cradles. Basic HVAC upfit provide optimal storage for pipes, bottles, fittings, recovery tank rack, gauge and hoses hooks, and HVAC tools. Additional upfit include a pull-out vise, ladder rack, windows guards, but most needed are pullout drawers and additional bins. The price of HVAC upfit is a bit higher. For $3,000 you can upfit your vehicle with all needed shelves, drawers and storage to increase productivity on job site. You'll pay a similar price for plumber and electrician upfits. Expert advice: Don't forget to label drawers with item names (especially small ones) for locating them quickly when in a hurry.
Electrician Van Upfit
Similar to HVAC and plumbing upfits electrical upfit has a variety of shelves, drawers, made from aluminum, galvanized steel, and structured foam. Shelves are developed to carry heavy parts electricians use every day like roto-hammers, Dremel tool, wires, etc. Small items like switches, outlets, plates, PVC connectors, breakers, water-proof covers, tapes are stored in pullout drawers or plastic bins. Bins usually store torch, knee pads, cutters, and soldering guns. Expensive stuff like digital meters, voltmeters, and amperemeters should be kept in locked drawers. Electrician van setup includes a place for ladders that are mounted below to van roof.
8 Work Van Organization Ideas
What is the best practice for organizing work van interior? There are some tips you should follow no matter if you are a plumber, electrician or a general contractor. We put together a list of 8 work van organization ideas to help you prioritize tools in the van and get them quickly whenever you need them.
Idea #1 - Keep Big Items Close to The Door
It makes sense as that will keep your back safe.. Store big, bulky and heavy items close to the rear or side doors, so you can easily pull them out of the van without going into the cargo area. Heavy rotary tools, water pumps, water tanks need to be stored on the floor, so you can drag them out easily.
Idea #2 – Keep Frequently Used Items On (or near) the Door
Items you use constantly but are not so heavy should be stored in the multi-functional door panel or close to the door, but they don't need to be on the floor.
Idea #3 – Leave Space for Unhindered Van Entrance
Don't forget that you'll need to access and move inside the cargo space easily. Space between shelves allows you to step into the van freely and pull out the drawers and reach every corner of the van. This is especially important if you use a high-roof van. What's the point of well-organized side shelves when they are out of the reach?
Idea #4 – Consult Your Workers
This one is especially important for young small business owners who just bought their first commercial van. If you have a crew member with a lot of experience, consult him. You can be surprised how many things you can learn from older technicians. At the end of a day, the crew will use the van most of the time, so let them propose what they think is important to improve van organization.
Idea #5 – Label All Bins, Drawers, and Shelves
Put small items like connectors, copper fittings, gas pipefitting, etc. in plastic bins or drawers. Label all bins and drawers with item names to get them in seconds. The best option would be to engrave steel drawers since a marker can easily fade away in just a few months.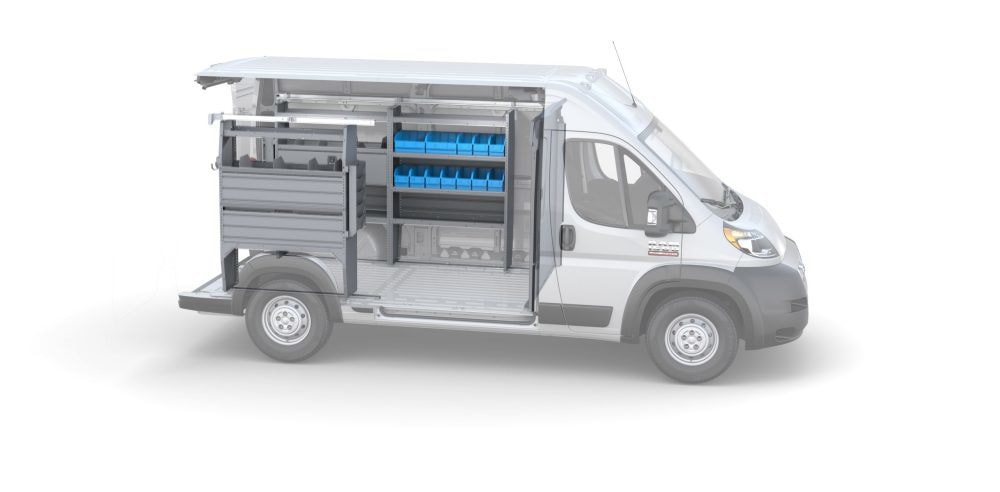 Idea #6 – Add Some Light
Many cargo vans don't come with pre-installed light in the cargo area. LED light panels can be easily installed if you have 12V plug in the back of your van. Interior lighting for cargo area should be installed on the roof of the van and close to the floor. The perfect scenario would be to install an adjustable light that allows working on the van bench vise at night if necessary.
Idea #7 – Keep Expensive Gear Under the Lock
If you use expensive tools or test equipment like electricians keep them in drawers that have a lock. When you are on the job site doors of the van usually remain open and your tools are exposed to everyone that passes by the parked van. Invest in a good steel and aluminum lockable drawer and you won't need to worry about the safety of the equipment.
Idea #8 – Reconsider or Re-organize
Think creatively. If you think something is wrong with the current van interior organization, re-organize until you find the perfect setup for your vocation and job requirements.