Plumbing Van – The Office, Storage and Tools in One Place
For many plumbing professionals, their vehicle serves as both, their storage area and office. Therefore, investing in a reliable vehicle is crucial for transporting valuable materials, plumbing tools and equipment to and from the job site. When you depend on tools and equipment daily, while having them easily accessible and organized can significantly improve job productivity. Therefore, choose equipment specially made for plumbers, since it provides the pre-selected assortment of van "gear" and accessories that offer the optimal storage and organization for plumbing needs. Van outfitters include a bulkhead, shelving, ladder racks drawers, lighting, pull out storages and other accessories.
Partitions
It's a crucial safety feature like airbags, and therefore it's a must-have thing in any plumbing van. A partition or bulkhead is positioned at the front of a commercial van, behind the seats. It's a wall-like structure made from different materials such as steel or aluminum. It's an essential part of upfitting your plumbing van. A bulkhead makes a separation between the cargo and driver, protecting the driver from shifting load. It keeps work tools in the back of the van, ensuring your safety while you drive from one job site to another. By setting up a van partition, you're designating a cargo space in the van. Keeping plumbing equipment in one place makes it easier to find the needed item or tool for the job. You can also add several partition accessories which will create more storage and space for tools and equipment. It's critical that a bulkhead has been installed in your work van, because a plumbing van without partition is potentially dangerous. In case, a vehicle stops suddenly or wrecks, cargo may be moved to the front of the van, causing a severe injury to the driver.
Plumbing Van Shelving
A tidy, well-organized cargo van will impress customers. Shelving allows to organize and maximize cargo space and improves vehicle loading. Van shelving also increases driver and passenger safety, since loose tools rolling around in cargo area can be dangerous.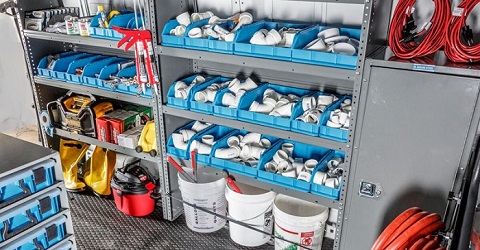 Choosing the Right Shelving Material

The 4 factors to consider when choosing proper shelving material are
cost, weight, flexibility, and durability
. Plywood is more flexible than fixed steel shelving, but not flexible as aluminum shelving. On the other hand, aluminum is lighter but more expensive than plywood. •
Aluminum shelving
is very durable and lightweight. They're the lightest options available, but also the costliest. You can find some excellent commercial systems for decent money; •
Steel shelving
is 10-15% heavier than aluminum, but it's more flexible, which is excellent since a van interior moves all over the place. It's just as durable as aluminum, but the weight might be a problem; •
Plywood
is so cheap and easy to work with. But is heavy, since a full wooden system is about 500 kg. This can jeopardize payload capacity and fuel economy. If you're doing some simple shelving, DIY plywood may be good solution.
Types of Van Shelving
Knowing which type of shelving best fits your needs can be challenging. First, you must measure the dimensions of the van and determine the proper layout for your tools. Once you size up your needs, you're ready to choose from one to many shelving options available.
Custom Shelving System
Custom shelving systems for plumbing van provide an organization system tailored precisely to job needs. You can have your own idea about what you want but consider leaving it up to the professionals. Shelving benefits include: • Ergonomically optimized van space; • Specially designed space for plumbing tools to keep them from crashing or falling around; • Improves job efficiency.
Corner Shelving
If you need shelving system which requires large spaces for materials, corner shelving is most adequate for that purpose. You can opt to install them on the floor or up to the ceiling.
Open Shelving
You can build open shelving that fits all type of drawer systems. Use aluminum or steel shelving to keep it affordable and easy to install.
Ladder Racks
They attach to the roof of a cargo van for storage and secure transportation of ladders. If you use ladders regularly, you understand how important is to have a reliable ladder rack that you can trust to keep the ladder safe on the road. They make much it safer to load and unload the ladder. Instead of pulling the ladder out of the work van, let the ladder rack the work. Loading, transporting, and unloading becomes streamlined and straightforward with a ladder rack. Ladder racks are mostly made from aluminum, steel, and rarely from wood. Few main types of ladder racks are typically used for work vans such as: • drop-down racks, • grip-lock rack, • utility racks, • perimeter racks, • and ladder keepers.
Drop-Down Racks
This type of ladder rack allows the plumber to quickly raise and lower ladder from the top of vehicle. Still, it should be noted that this type of rack includes moving parts and is for that reason more of an investment than some of the alternatives.
Grip-Lock Racks
They firmly grip ladder rungs to prevent shifting and slipping during transport, which cuts down the risk of potential damage and injury.
Utility Racks
The most versatile solution on the market, utility racks make the most transportation of cargo, including ladders, efficient and simple.
Ladder Keepers
They are installed on the roof inside of plumber van. This secure option is most popular among contractors that actually need to protect ladders from the thieves.
Drawers
If your cargo van is already "packed" with tools and equipment, but you still need additional storage, drawers are an excellent solution for you. They provide extensive, secure storage for vans. Keep power tools, small parts, equipment neatly organized. Many drawers can be mounted out the rear side door and are also stackable. Floor drawers are engineered to be easily accessible through van's rear side or doors. Additionally, they're stackable to allow the highest amount of customization. Instead of having tour excess equipment spill over onto the floor, causing a mess, floor drawers provide that extra space for storing stuff out of sight. Metal parts drawers offer low-cost storage for bolt and nuts, or other small items, while drawer cabinets provide versatile storage for small items and tools.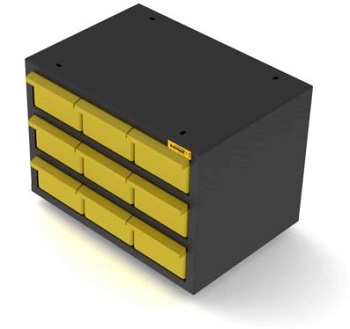 Van Lighting
There are plenty of bright LED light units you can get improve light levels in your work van. Some light units can be hooked up into the existing light system, while small battery-operated units can be inserted inside and turned off or on with a light finger press when you're leaving or entering the load space. There is also added lighting on the van's exterior, in the form of fog lamps and spotlights. Certain manufacturers offer kits that can be retrofitted to add more lighting, while the most straightforward form can be a light bar that goes on top of the plumbing van.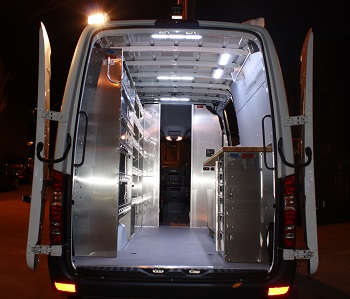 Van Accessories
With a secured cargo area for large and high-buck items, pipe storage for conduit chutes for side-accessible storage, a well-organized cargo space is ideal for plumbers that get things done. In addition to those standard productivity-boosting features, there are many options and accessories commonly used by plumbers: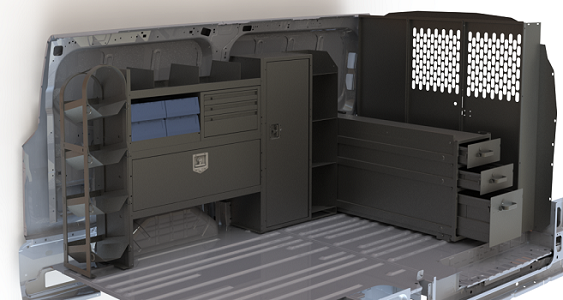 •
Parts Bins
: Plumbers carry a lot of fittings, valves, and many more small components. Organize and store them in bins made explicitly for both large and small parts; •
Pipe Vise Bracket
: Don't find yourself continually running back and forth from your workbench. Measure and cute pipe or conduit right on site with this solution; •
Liftgate
: Stop unloading heavy items like water heaters and jetting equipment by hand. Increase job safety and productivity with a liftgate; •
Cargo Area Crane
: Using a small telescopic crane mounted directly inside the rear load area for loading and unloading heavy equipment can, improve efficiency and safety; •
Shelf Dividers
: They're practical, easily adjustable to organize stuff. Shelf dividers bolt to shelving, with no drilling needed; •
Storage Bins
: They can be used for a wide variety of cargo containment needs; •
Lockable Storage Bins
: They may be added to any storage module to create a secure compartment;
Plumbing Van Organization
Building a mobile storage system will help you and your crew cut the time spent finding and gathering equipment needed for the project.
Here're 3 tips to help you organize plumbing van setup.
Build a Base
Making a solid foundation is a vital part of building an efficient storage system in the plumbers' vans
. It's imperative to store bigger items on the floor or in lower sections of the van and leave space towards the top for smaller pieces. Generators, drain cleaning machines, and air compressors are some examples of large equipment that you must store at a low level. Keeping large stuff on the bottom not only maximizes space but will also "save" your back when hauling bulky items.

Tools Management
Once you've created your foundation, start placing items vertically along the interior walls of a work van. Place pieces according to size and work your way up, putting the smallest parts at the top. Put hooks and pegboard to hang medium-sized items such as hand and power tools.
Tool storage bins are an excellent option for keeping small repair parts in order
.
Keep Things in Order
Since work van is a mobile workspace, it's easy for the interior to become messy by the time the job is finished. Trash and wrappers from lunch on the road get on the floor, dirt gets tracked in, and waste from cutting work material in the back of the van covers the interior surfaces.
Minimizing mess and keeping the cargo van clean will improve the van's room
. Install trash bags, sanitizing wipes, a slim trash can, and a duster to keep van tidy and bright.
What is the Best Cargo Van For Plumbing?
Being a plumber is tough work, and you need a cargo van that works just as hard as you. Actually, work van should make things easier on you. You depend on the efficiency and reliability of your tools, one of which is your work wan. Therefore, the best plumber van is one that's capable of fulfilling these 3 demands: safety, performance and storage.
Things to Consider When Purchasing Plumbing Van
Cargo van is such a critical part of your everyday operations, so buying a plumber van must be taken seriously. Therefore, follow the top 8 features that will help you find the best work van for your business.
Storage
Depending on the type of plumbing projects you work regularly, you must pick a van which has an ample storage space. Other than the stuff, you need to find out if the van is large enough to fit you and crew members.
Fuel Costs
Maybe the fuel costs are reasonable right now, but they're varying all the time. Therefore, you must consider these options. Look for fuel efficient diesel van. Diesel engines have great mpg and towing/hauling capabilities because of fantastic torque.
Towing Capacity
Since sometimes you must pull equipment that's too big to be loaded inside cargo van, towing capacity is another crucial feature to take into consideration. A high-performing cargo van should be capable in towing at least 6,000 lbs of maximum weight.
Payload
When you're at the dealership, double-check the van's listed payload to see the maximum amount of weight that it can carry. Search for a work van with a payload capacity of at least 5,000 lbs or more to ensure you'll be able to haul all of equipment and crew from project to project.
Maneuverability
Job locations are virtual obstacle courses for work vans, with tight parking spaces and pieces of equipment that must be skillfully navigated around. Find a cargo van that has a turn diameter of at least 41 to 37 feet to provide you safely maneuver around the job location.
Door Openings
Test to see how wide the openings are on the rear and side doors of a van. The best solution is to compare the door measurements to a standard pallet width, which is about 50 inches. If the doors are wider than a standard pallet, then it'll be simpler to move ample equipment in and out of the van.
Interior Cargo Height
Take the measurement of the van's interior vertical height from the floor to the roof. Seek for a cargo van with an interior height of at least 78 inches or more to deliver optimal head clearance while working in the back of work van.
Step-In Height
Choose a van with a low step-in height will guard your knees and minimize the risk of injury. Any step-in height less than 23 inches will make it easier to move tools in and out of the van, but a 20-inch step in height will offer better comfort.