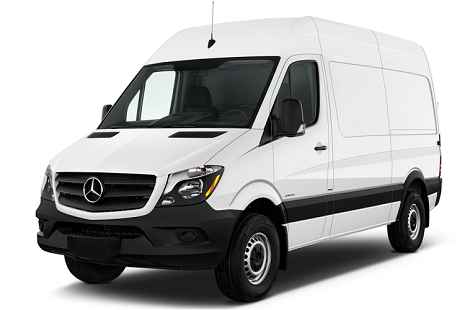 Mercedes Sprinter Cargo Van - the Only AWD Vehicle in the Van's World
A key factor of cargo vans' utility is their ability to be upfitted to the customer needs. These vehicles are erased slates, ready to be modified to suit the job at hand. As one might expect, there's a dizzying array of upfitter solutions out there representing varying levels of quality and integration. Mercedes Sprinter van has been a pioneer in the North American market, introducing commercial customers here to tall and slab-sided European-fashion van format all the way back in 2001. A Sprinter van is about any job or journey. If there's a "super vehicle" of the van universe, it's the Mercedes Sprinter. It offers performance, power, and economy, so it has jumped on more orthodox supercars, and it also can carry plenty of equipment or cargo in its generous load bay. It's a very wise choice for any other van buyer thanks to Mercedes-Benz vast choice of different configurations. There are different wheelbases, body lengths, roof heights, and specifications to choose, giving the customer the opportunity to pick the van they really need and want. The Sprinter Cargo Van has the efficiency, power, and capacity to handle job. The newly redesigned van offers more connectivity, an increased focus on technology, safety features, an in the US at least, the option of a gasoline engine. Now, the German manufacturer is trying to engineer another significant change in van tastes. The Mercedes is pouring tech from luxury cars into vans, starting with new Sprinter.
Mercedes Sprinter Cargo Van Specifications
Engine
The turbocharged 6-cylinder diesel engine is a bit slow to get up to speed. Low-speed maneuvers create some challenges for this big "dude." This 6,000-pound van reaches 0-60mph in 11.5 seconds. The 3.0-liter turbodiesel V6 doesn't feel powerful off the line, but once up to speed, it's pretty easy to maintain the truck's forward momentum. The Sprinter slowed from 60 mph in 138 feet during an emergency panic test. The brakes remained consistent in feel and performance during testing, as well as out on the road in typical driving. The steering is precise considering the van's purpose as a pure commercial vehicle. The Mercedes Sprinter Cargo Van is excellent on the highway and also light sufficient for park lot duty.
The Sprinter is relatively narrow considering how tall it is. Taking sharp turns at speed isn't this vans forte. An assertive stability control system lends a hand if it senses the van is beyond the limits. Despite its dimensions, this conference room on wheels is comfortable to drive. Tight parking lots can create some stress due to its size, and the modest backup camera is only somewhat helpful. 4-wheel drive is available on many configurations, but given this van's high center of gravity and low ground clearance, the Sprinter has just suited relatively graded or well-worn dirt trails. Driver comfort is a top priority for the Sprinter. The driver position is upright, but the seats are comfortable even during long drives. The rear seats provide ample leg, hip and headroom.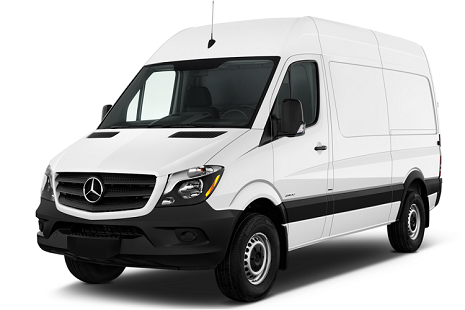 Design
Interior is a unique fusion of typical van basicness and some of the items from Mercedes' passenger cars. Despite the 3-pointed star on the nose, interior materials leave no doubt that you're in a work van, not a lux one. But the Sprinter has some car-like touches such as steering-wheel controls and push-button start that will be quickly identifiable to anyone who has driven a C-class. At its most spacious, an extended length, super-high-roof Sprinter van boasts over 586 cubic feet of cargo capacity. Mercedes boasts that the Sprinter van was ahead of its time when it brought its realistic, high-roof, European style to the U.S. year ago. Now, rivals like the Ram ProMaster have followed suit.
3 roof heights, 2 wheelbases, and 3 lengths are available, expanding the size of that rectangle, and more important, the volume inside considerably. At its largest, the Sprinter is over 24 feet long and 10 feet high.
Towing Capacity

Since towing-capacity is all about numbers, and because it's easy to get lost in many available configurations, towing capacity for all Sprinter 1500s powered by the 4-pot is rated at 5000 lbs.
Models 2500, 3500, 3500 XD and 4500 V6-powered Sprinters can tow up to 7500 lbs
. The 4500 model only comes with a dual-wheel configuration, while 3500 and 3500 XD versions can either be with a reinforced single wheel that Mercedes-Benz dual-wheel setup or a Super Single.
Mercedes Sprinter Cargo Van MPG
After gathering real-drive data, it was found that the Mercedes Sprinter Cargo Van gets approximately 14.5 mpg on average. The Sprinter is exceptionally customizable, though, which means the fuel economy for each Mercedes van will vary on a vehicle-by-vehicle basis. Different wheelbase, payload capacity, and powertrain options will affect the van mileage. With the new 9G-TRONIC nine-speed transmission gas engine and the 7G-TRONIC plus seven-speed automatic transmission diesel engine, you choose what best fits your needs for fuel efficiency and performance.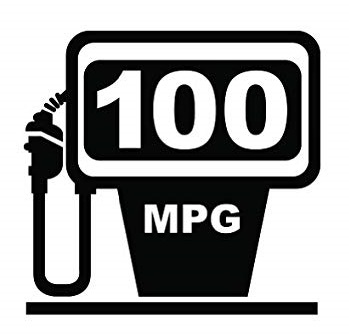 Safety
Big vans such as the Mercedes-Benz Sprinter are not usually crash-tested by both the IIHS (Insurance Institute for Highway Safety) and the NHTSA (National Highway Traffic Safety Administration), so there's no assigned score here. The Sprinter comes with 6 airbags and offers a wide array of advanced techs such as adaptive cruise control, automatic emergency braking, and active lane control. Not only these are major safety features, but they also may help lower running costs by eliminating fender-benders.
Mercedes Sprinter Cargo Van Extra Features
Base Sprinters have power windows and locks, keyless ignition, and air conditioning
, but that's about it. Standard connectivity lets fleet operators keep track of vans from a website or smartphone applications.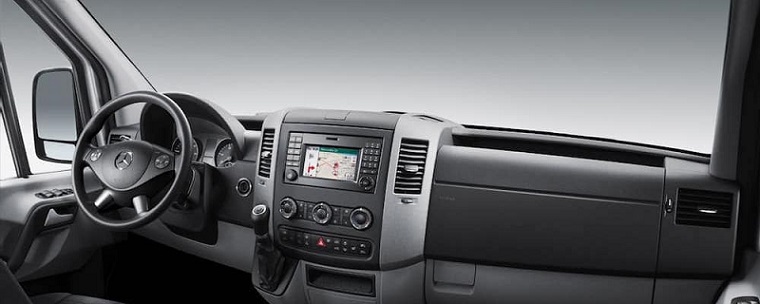 The Sprinter's options also include upgraded touchscreens for infotainment in 7.0- and 10.3-inch sizes, different upholstery, painted bumpers, alloy wheels, and various cargo management solutions. Larger infotainment screen is bright and easy to use. Most importantly, it allows fleet managers to push notifications for drivers.
Mercedes Sprinter Cargo Van Upfit Solutions
Whether you're configuring a Mercedes Sprinter Cargo Van for pleasure or business, there are many solutions available. You can choose many upfit packages such as electrician, HVAC, plumbing, delivery, or general services.

Once you opt the exact model you want, you can pick from many different packages such as steel shelving, aluminum shelving, partitions, and more. It all depends on what you plan to use a cargo van. There's a configuration for any job. With these organizational tools, you'll be able to work faster and save time searching for the tools you need to get a job done. The upfit package and partition allow you to organize your equipment better. A few simple shelving units can make a big difference in your business.
Mercedes Sprinter Cargo Van Pros and Cons
You should consider any valuable information that can help when deciding why you should purchase a new or used Mercedes Sprinter Cargo Van. Here's a list of advantages: • Easy to drive: The Sprinter van is surprisingly easy to maneuver give its size, and can easily navigate city streets: • Reliability: It is well-known as a reliable and robust van; • Excellent gas mileage: The diesel engine on this cargo van means it gets better gas mileage than a similar-sized van. Some report gas mileage in the high 20, which is impressive for a large van; • Interior space: A vast amount of interior space will perfectly fit the bill; • Value: The price of Mercedes cargo vans doesn't go down all that much, so if you need to sell, it won't be as big of a hit to your wallet. Here're the main disadvantages: • Price: Many people think Mercedes vans cost excessively high. New Sprinters are in the $35,000-range, and used vehicles are also high-priced for used cargo vans; • Maintenance: The Mercedes Sprinter includes a lot of proprietary technology that can only be worked on a Mercedes dealership.
4-Cylinder vs. 6-Cylinder
The Mercedes-Benz Sprinter Van comes with a 2.1L turbo-diesel 4-cylinder engine, rated at 161 hp and 265 lb-ft of torque. Sprinter turbo diesel engine gets coupled with a 7-speed automatic and uses 2-stage turbocharging and direct injection.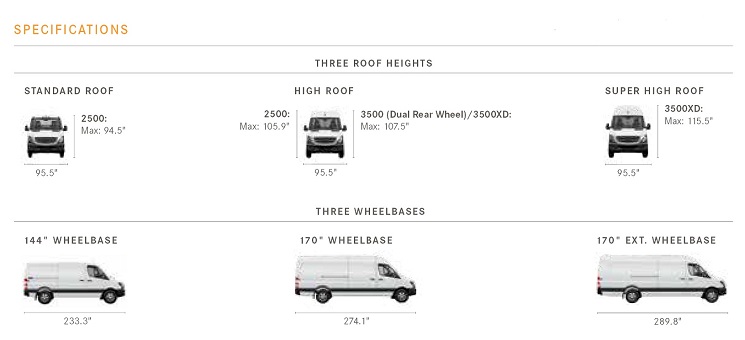 Differently, from the V6, the 4-cylinder turbo diesel engine saves you up to 17% in fuel costs. Optional engine is a 188-hp 3.0L turbo-diesel V6 engine with a turbocharger intercooler and direct injection. Not only that the V6 provides a stronger impact of power, but it also produces an incredible 325 lb-ft of torque, which is more than competitors. High torque production can be especially advanced for commercial vans because it helps the engine create greater low-speed power. It serves to lengthen service life and give fuel economy a boost.
Conclusion
The new 2019 Mercedes-Benz Sprinter strives to overshadow the standard limits of vans with an advanced infotainment system and more driver-assist tech than "rivals." The quiet cabin, stability, car-like feel, the safety of this van makes it a pleasure to drive. The Sprinter beats the competition on available payload capacity, driver assistance technologies, and overall driver experience. It matches competition on available volume. It isn't the most budget-friendly option on the market, but it's also currently the only cargo van with available 4x4. The Mercedes Sprinter van is an ideal hard-working commercial van designed specially to help grow your business. Its roomy interior, class-leading payload capacities, advanced safety features, and fuel-efficient diesel engine make the Sprinter Cargo Van the top-notch choice for businesses of all types. Remember, Mercedes offers a 5-year/100,000-mile powertrain warranty and 3-year/36,000 mile new-vehicle warranty for Sprinter 2019 model.