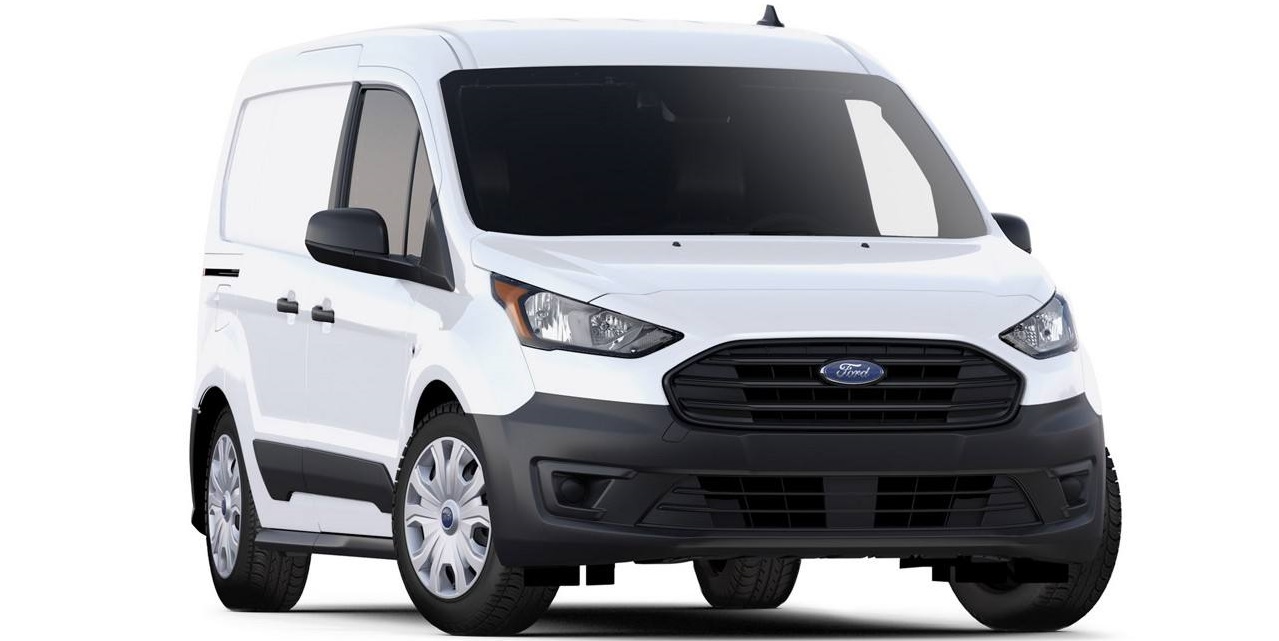 Ford Transit Connect Cargo Van - Fits the Commercial Van Bill Perfectly
When you're looking for a work van that offers the kind of adaptability small business owners and tradespeople need, you can stop search with the Ford Transit Connect cargo van. Specially designed for Europe, where compact vans predominate, the Ford Transit Connect turns out to be "vantastic player" for urban, suburban, and even rural use in the United States. The Ford Transit bonds the automaker's small cargo van and passenger wagon that slots below the full-size Ford Transit which replaced the dated E-Series van. Even though the first-gen Ford Transit Connect hit European streets in the early '00s the small delivery van didn't arrive in the United States until its mid-cycle refresh for the '10 model year. The first impression is that this vehicle was purposed for house-cleaner services, catering, flower delivery, and even surf shops that didn't require the payload of a larger cargo van. This commercial van is smaller and less expensive than the Honda Odyssey and full-size commercial vans such as Nisan NV or Ford Transit. Also, the Connect is more maneuverable and has better fuel economy. 2019 Transit Connect is available in 2 sizes, 2 trim levels XL and XLT. They're all rear-wheel drive and powered by a 169 horsepower 2.5-liter 4-cylinder connected to a 6-speed automatic transmission.
Specifications
Utility The Connect cargo van has the 104.8 cu. ft. of cargo volume in short-wheelbase and 127.4 cu ft in the long wheelbase with the same towing capacity up to 2,000 lbs. The maximum payload rating is 1,570 pounds. Driving The Transit Connect is likely the best-driving vehicle in the compact-van "field" thanks to responsive steering and appropriate body control. The new 8-speed transmission helps get the most from the engine. With its unibody chassis and front-wheel drive configuration, the Ford Connect is more alike to a sedan than a standard cargo van.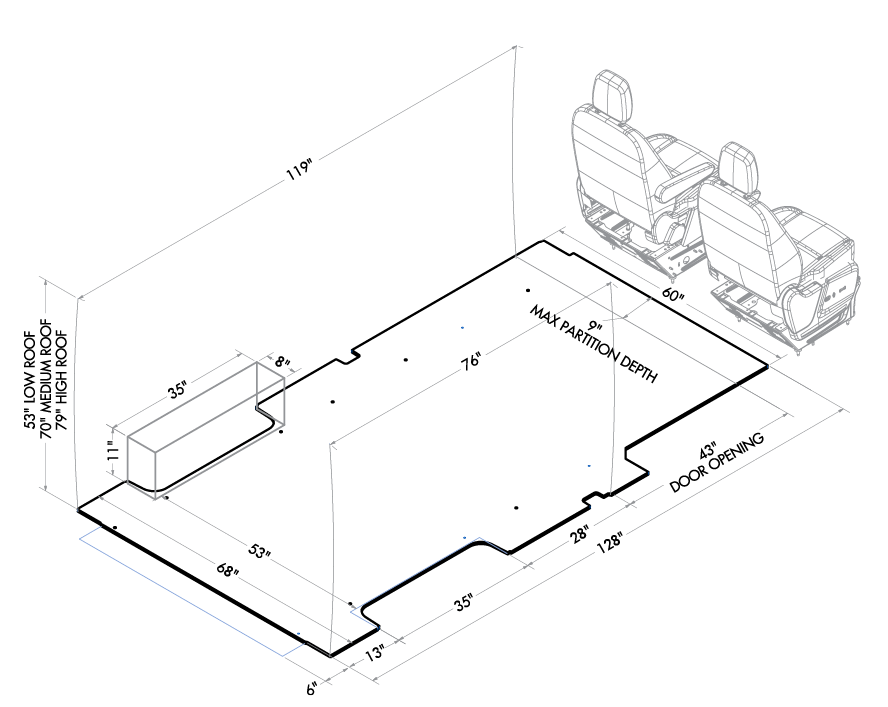 Technology The available Ford Sync 3 infotainment system is quick to respond to user inputs and feels much like a smartphone, with pinch-to-zoom and swiping gestures. Less user-friendly is the standard stereo interface, which includes a small central screen controlled by many buttons. Engine This Ford van is a rare model that doesn't offer a turbocharged EcoBoost engine. For 2019, all Ford Connect models utilize a 2.5-liter 4-cylinder with 169 horsepower. The engine is matched with a 6-speed automatic transmission, and all Connects are front-wheel drive. The 2.5-liter can be specified for CNG (Compressed Natural Gas) or LPG (Liquefied Petroleum Gas, Propane). Comfort The Transit Connect provides exceptional comfort and quiet, tight interior inside a commercial vehicle purposed to haul supplies, packages, tools, and other cargo. The cabin looks just like in a compact Ford crossover vehicle. With the raised roofline, there's still more a foot of head space above even taller drivers. Dimensions The standard wheelbase model of the new Ford Transit Connect cargo van has a 104.8-inch wheelbase, a 174.2-inch overall length, and a 72.2 width. The extended model has a 120.6-inch wheelbase, a 190-inch total length, and a 72.2-inch width. The cargo area in the standard wheelbase model is 104.8 cu ft. The extended wheelbase version has 127.4 cu ft of cargo space.
Design
The new Ford Transit Connect is a considerably more appealing vehicle than its forerunner, whose styling backdated to 2002 and took slab-sided to a new dimension. Ford's designers hit the right balance between style and function. Its modern design transcends a professional image, one that will represent your business in the best manner. Large panels inside allow you prominently display company as a mobile business card with vibrant, can't miss it graphics.

Exterior
Ford Connect cargo van is still boxlike and slab-sided, but the front end is similar to many Ford passenger vehicles. The new Transit Connect is one of the smallest vans offering the choice of a traditional liftgate or split cargo doors that open up to 180°. A short wheelbase model is 173.9 inches length, while the long wheelbase version has 189.7 inches length. Interior With a fascia and door panels similar to Ford's Escape SUV, the interior of the 2019 Transit Connect is more car-style than you might expect with 2 seats up front.
Equipment
Standard Equipment The basic Transit Connect cargo van includes the standard features like air conditioning, vinyl seats, AM/FM stereo with audio input jack, six-way manual-adjust driver's seat, rear cargo lights, and tilt/telescoping steering wheel. Optional Equipment Extra features on the Transit Connect include rear and front parking sensors, choice of swing-out rear doors, and a rearview camera. Ford Connect also includes a new Sync 3 infotainment system with Bluetooth wireless connectivity, 6.5-inch touch screen, navigation, Android Auto connectivity, and Apple CarPlay. The significant feature, especially for fleet-owners, is Ford Telematics. This system improves efficiency, tracks a van's location, and monitors its speed and how long it sits "unemployed." Ford Transit Connect cargo vans can be configured to accommodate a variety of delivery and commercial needs.
Ford Transit Connect Cargo Van Mileage
EPA
(Environmental Protection Agency) fuel economy ratings for the
2018 Transit Connect cargo van
2.5 L, 4 cyl, 6-speed automatic are 20/27/23 mpg city/highway/combined. EPA fuel economy ratings are 21/28/24 mpg city/highway/combined for the
2015 Transit Connect cargo van
with 4-cylinder, 2.5 L, and 6-speed automatic transmission. Environmental Protection Agency fuel economy grades are 20/27/23 mpg city/highway/combined for the
2012 Transit Connect cargo van
XL 2.0-liter, 4-cylinder, 4-speed automatic transmission.
Safety
The
IIHS
(Insurance Institute for Highway Safety) and
NHTSA
(National Highway Traffic Safety Administration) haven't crash tested the 2019 Ford Transit Connect. Still, 2018 Ford Transit Connect was tested by NTHSA, and rated with 5-stars, overall. It's highest rating with 5-stars for side impact safety but 4-stars each for frontal-impact and rollover protection. Forward collision warning, pedestrian detection, and automatic emergency braking are standard on all
2019 Transit Connect models
. Lane-keeping assist, blind-spot monitoring, adaptive cruise control, and rear cross-traffic alert are optional.
Great for Vocational Upfits
Customize a Ford Transit Connect cargo van with a vocational upfit that exactly matches your needs. Available is anything from shelving units, storage cabinets, literature, holders, rooftop ladder racks, to drawers, cargo management packages, double floors, and many others.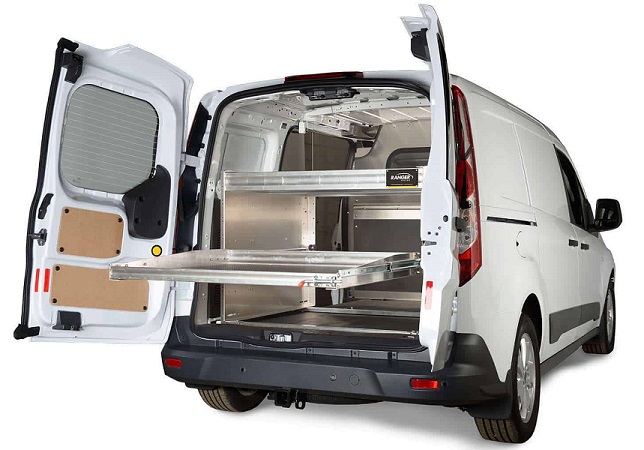 What's New for 2019?
"Visually speaking," the entire front trim of the 2019 Connect cargo van has been revamped, with new dashboard and seats. The refreshed 2019 Ford Transit Connect gets a revised front dashboard with a new engine option and active safety tech. Van boasts dual sliding doors that allows delivery drivers and business owners to access their valuable cargo from either side of the vehicle. 3 different powertrains are get-at-able for the 2019 model, including a new diesel option.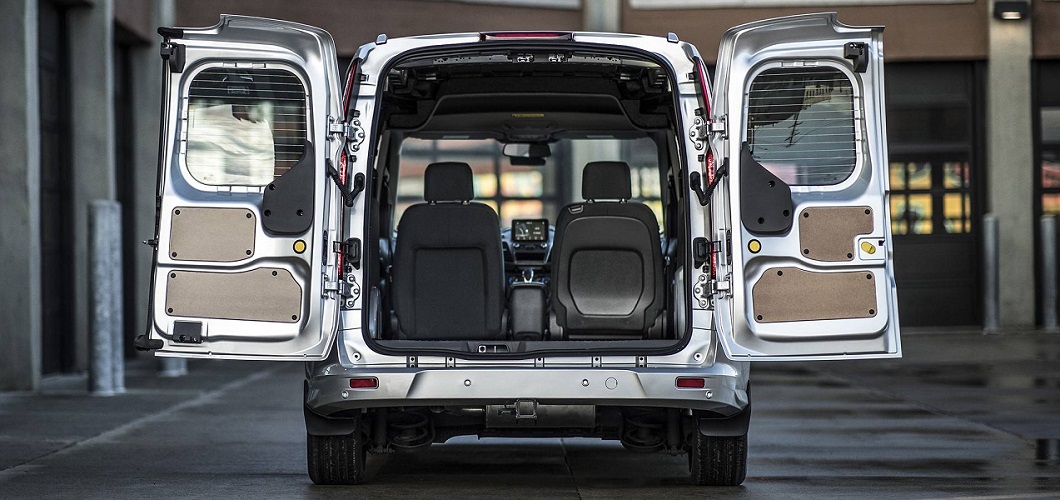 The standard offering is a new 2.0-liter 4-cylinder gasoline engine mated to an also new 8-speed automatic transmission. This configuration features standard auto start-stop, a heavy-duty battery, and is E-85 compatible. A second and fleet-only option uses a 2.5-liter 4-cylinder engine paired to a 6-speed automatic transmission, which can be outfitted to run on propane or natural gas. The third and new option is a 1.5-liter EcoBlue diesel engine. It's a tiny turbocharged diesel engine paired to the 8-speed automatic transmission, and also features auto start-stop and EcoCoach/EcoMode functions to monitor fuel economy and encourage fuel-efficient driving behaviors. Also, the new Transit Connect includes standard pre-collision assist with wind stabilization, rearview camera, pedestrian detection, and embed 4G LTE modem with capacity up to 10 wireless devices.
Ford Transit Connect Cargo Vans vs. Ford Transit Cargo Van
While both the Ford Transit Connect and Ford Transit are available for varying purposes, engines, height, and wheelbases, the primary difference between the two is their grade. The Transit is larger, which means it offers more cargo space, passenger room, and more power. The Transit Connect, however, is manufactured for inner-city businesses that still need a van, and the result is smaller sizing, agile handling, and better gas mileage. The Ford Transit Connect is a light-duty cargo van built with unibody construction and front-wheel drive. The Ford Transit cargo van is a heavy-duty cargo van with a body-on-frame truck construction and rear-wheel drive.

The Ford Transit Connect prioritizes efficiency and packaging above else, allowing you to pick between a 1.5-liter 4-cylinder, 2.0-liter 4-cylinder direct injection engine, both outputting 162 horsepower, and 2.5-liter 4-cylinder that can be outfitted to accept propane. The Ford Transit has up to 310 horsepower of the available 3.5liter EcoBoost V6 engine. Able to tow up to 7,500 pounds, the Ford Transit cargo van doesn't shy away from any job. The available 4,500 pounds of payload further cement the Transit's superior utility.