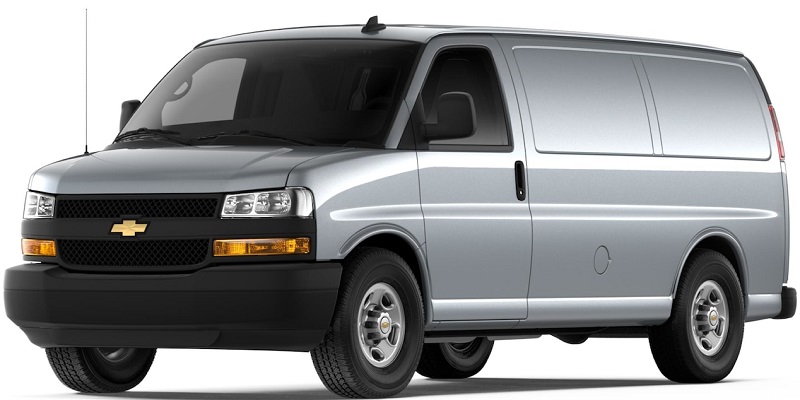 Chevrolet Express Cargo Van – There's Room for Everything
Originally launched in 1996, the Chevy Express has been in production for over 20 years, but it has been improved with new technologies to keep it up to date. Full-size vans are excellent vehicles for small-business owners thanks to their extensive cargo areas and substantial towing and payload capabilities. The Chevy Express Cargo Van is one of these versatile equipment haulers, with class-leading towing figures and a reasonable starting price. But its many drawbacks should lead you to consider one of its rivals instead. The primary knock against the Express is its age. From 1996 it has received only sporadic refreshes and updates since then. The cabin is positively dated against the rest of the class, and the Express offers none of the current safety and technology features of its competitors. Although offered in standard and extended wheelbases, the Express has less cargo volume than other vans due to its single low roof height while others offer multiple roof configurations. And while payload and towing capacities are noteworthy, its inefficient V8 will increase the monthly fuel bill more than competitors' V6 engine.
Chevrolet Express Cargo Van Configuration
It's a full-size van with 2 seats and massive cargo space. Two load options are available: 2500 and 3500. Each is available in a standard or extended-wheelbase configuration. It doesn't matter, which staring configuration you choose, the Chevy cargo comes only in a single, modesty equipped WT (work truck) trim. Numerous stand-alone solutions are available.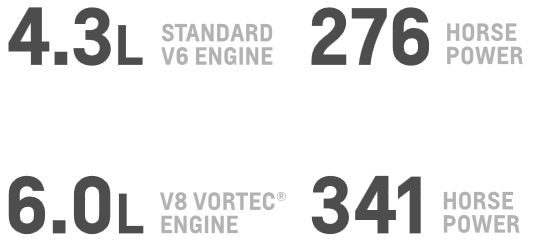 Standardly, the rear-wheel drive Chevrolet Express cargo van is powered by a 4.3-liter V6, 276 horsepower and 298 pound-feet of torque paired to an 8-speed automatic transmission. Alternate powertrains are available if the standard V6 doesn't meet your requirements, including a 6.0-liter V8 (341 horse-power, 373 pound-feet of torque) matched to a 6-speed automatic and 2.8-liter 4-cylinder diesel engine (181 horse-power, 369 pound-feet of torque) with 8-speed automatic transmission.
Chevy Express Cargo Van Specifications
The following rows are the first impression of what is important about this van and what you can expect: Maneuvering Even the standard-wheelbase is a large vehicle, and it drives like one. Accurate steering and smooth handling aren't among the big Chevrolet's marching orders. The improved V8 engine is responsive, though, and quickly gets the van up to highway speeds, even with a full load of cargo. Interior The interior seems exceptionally dated compared to the rest of the rivals. The old-fashion look continues with the engine covering that protrudes into the driver and passenger footwell. Getting into cargo space is hampered by a low roof and the lack of a door behind a driver.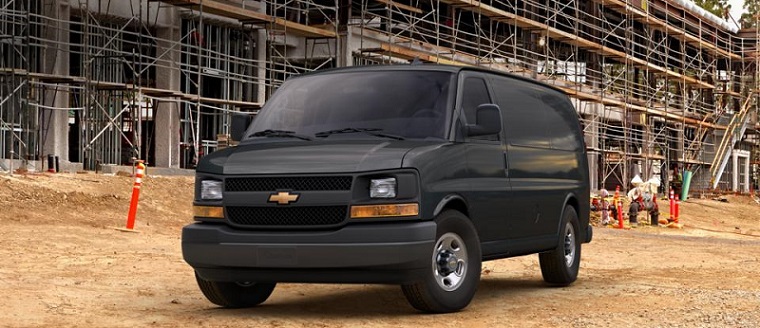 Exterior Chevrolet's Express cargo van has been around for years, and its design is well-known. It's a box with rounded corners, and it's quite unattractive. Actually, it looks about as good as might be reasonably expected. Exterior differences are few but include sliding or split swing-out side doors and rear doors with or without windows. Utility Cargo bay behind the front seats measures 239.7 cu ft in the SWB (short-wheelbase) Express, increasing to 284.4 cubes into the LWB (long-wheelbase) model. Cargo capacity in the SWB model is in line with similar vans, but the LWB's volume is lacking. For your hauling and towing needs, there's an available hydra-matic 6-speed automatic transmission that has Tap-Down & Tap-Up driver shift control and auto grade braking to slow the van using the engine automatically. Comfort The driver and front passenger have been divided by a massive center bulge covering some of the engine and transmission, the width of which makes the driver feel squeezed even in this large vehicle. Chevy's basic controls are easy to find and merely to use, but comforts are less. Tech The standard radio includes only with AM/FM radio option and auxiliary jack. You'll have to pay more for a CD player, satellite radio, a USB port, and an old touchscreen interface.

All Express' models include stability control, side-curtain airbags, and anti-lock brakes. Our experts' favorite these Chevy Cargo safety features: Backup Alarm It sounds like an exterior alert to pedestrians and other motorists when the Chevy Express is put in reverse. Rear Park Assist It sounds like an alert when the Express is close to an object behind the vehicle. Rear Vision Camera This camera displays a view of the area behind the van in the rearview mirror.
Express Cargo Van Optional Features
If you want anything beyond the standard Express cargo van equipment, you'll have to hit the list. You can get Bluetooth, navigation, blind-zone alert, and backup sensors, plus the most recent version of OnStar Commercial Link. There're also choices for a larger gasoline V8 or 4-cylinder turbodiesel, standard- or extended-body lengths, and various option packages.
Warranty
New Chevrolet Cargo Van includes 5-year/100,000-mile powertrain limited warranty for qualified fleet users, which provides 24-hour roadside service.
What's New in 2019 Chevy Express Cargo Van?
The Chevrolet Express Cargo Van is the lucky recipient of a few minor yet notable changes and updates. First up is a difference in the color palette: the graphite metallic exterior color replaces with shadow gray metallic.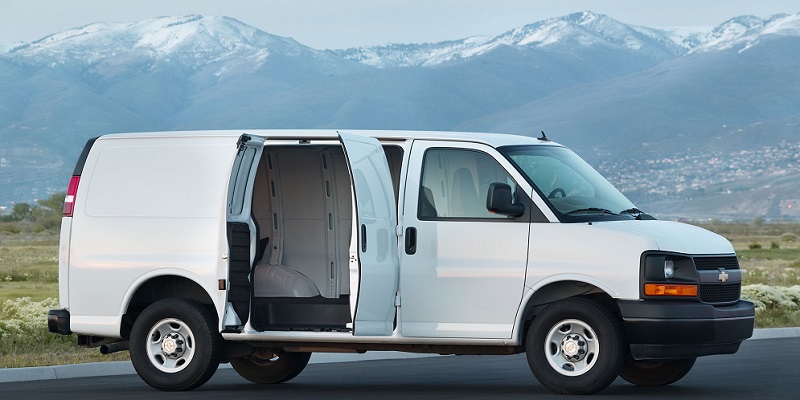 Additionally, all 2019 Express cargo vans receive the 3 new safety features such as forward collision alert, lane departure warning, and theft deterrent system.
Used Chevrolet Express Cargo Vans
Chevy's Express Cargo Van is generally pretty reliable, but these are work vans. Nobody goes easy on them, and instead, owners bring the van to its very brink before servicing. And some years are indeed worse than others at handling that "abuse". Even though there's not a great deal of 3-party information available, it looks like any Express made after the '02 would be a decent buy. As with almost everything you intend to drive daily, skip models which debut a significant drivetrain change, and you should be in the clear as far as defects and major repairs go. The 06' is definitely the best of the old crew, any older and you're looking at an army of problems because of a heavy-duty property of the van. Anyhow, the 2006 Chevy Express Cargo Van and every model after that are absolutely worth breaking into 5 figures, especially if the power is a priority.
Chevy Express 2500 vs. Chevy Express 3500
Price There are a lot of things to take into account when calculating the overall cost of a cargo van. The primary consideration is the list price or MSRP (Manufacturer's Suggested Retail Price). When looking only at list price, the Chevy 2500 cargo van will have less impact on your wallet than the Chevrolet Express 3500 cargo van. Another factor is the destination charge, which is a standard charge for transporting the vehicle to the dealer from the manufacturer. Both the Chevrolet Express 2500 and 3500 cargo vans have similar destination charges. Driving The Chevy Express 2500 has a significantly larger turning radius than the Chevy 3500, making it much more complicated to handle in and out of tight places. Utility With the Chevy Express work van 2500 you'll be able to haul more tools and equipment than the Chevy Express cargo van 3500.
Performance If you need something to pull, the Chevrolet Express 2500 will do just as well as the Chevrolet Express 3500, since they have about the same towing capacity. In terms of horsepower, the score is equal between the Chevrolet Express 2500 and the Chevrolet Express 3500. Drivetrain With similar torque, the Chevrolet Express 3500 van and Chevrolet Express van 2500 are actually even transmitting their great horsepower to the wheels. Comfort As far as legroom and headroom go, there's not much difference between front seat comfort between these two. Dimensions The Chevrolet Express 3500 cargo van is about the same width as the Chevrolet Express 2500. If you choose to go with the Chevrolet Express 2500 cargo van, you may be circling the alley searching for a space large enough to park more often than with the Chevrolet Express cargo van 3500.