Ford Econoline – The Most Reliable U.S. Cargo Van for Decades
Large cargo vans have always been an excellent solution for independent contractors and business fleets. Not only that these vans feature more protection from weather and thieves than pickup trucks, but they also offer a lot of space and numerous storage options for all your equipment. But the Ford Econoline wasn't just a van, it was America's draft horse. It was how Americans got stuff done like delivering, repairing, and building businesses. The Ford Econoline may be the kid of the 20th century, but many updates through the decades keep it competitive in the utilitarian field. The Econoline you would buy today is still recognizable as basically the same E-van from 1975.
Ford Econoline Van History
The full-size Econoline has been a pivotal vehicle for Ford since its introduction in 1961. The Ford Econoline was the bestselling U.S. full-size van but at its prime, and this full-size van held nearly 75% of the market share in the USA. Early Econoline van was based on the Ford Falcon and to compete with the Volkswagen T2 and Chevrolet Corvair 95 passenger vans. The first Econoline layout was unique in that a cab over with the mid-engine design was incorporated. With the introduction of the 2nd generation Econoline Van, Ford would implement a unique and new design element that would radically change the full-size van market. Like the Ford Transit for the European market, the 1969 Ford Econoline van has been used an ultra-compact front engine design for a more balanced ride and better V8 engine capacities. Another significant change came when the 3rd generation was introduced in 1975. The Econoline was revamped on a new platform similar to a pickup truck. Changes included a full frame, a full hood, and styling more akin to F-Series trucks. After a long and fruitful journey, Ford discontinued the Econoline models after 2013. The only exception is for use as a chassis for shuttles, school buses, box trucks, motorhomes, and other utility vehicles.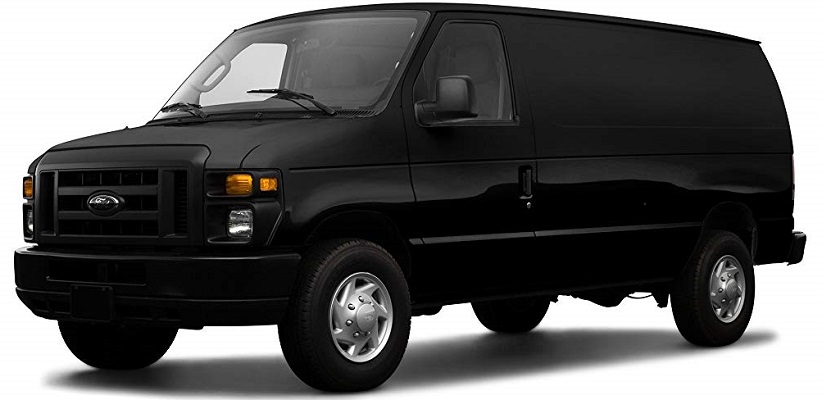 Trim Levels
Classified as a full-size van, the Econoline is offered in 3 versions. Customers with lighter-capacity needs can choose the E-150 model, while those with more demanding requirements should focus on the E-250 and Ford Econoline E-350 super duty models. Heavy-duty versions come in 2 different lengths: 212" for the regular model and 232" for the extended version.
Under the Hood
The Econoline van has 3 available engines. Standard E-150 motor is a 4.6-liter V8 that generates 225hp and 286 lb-ft of torque. Optional on the E-150 and standard on all Ford Econoline E350 models is a 5.4-liter V8 that produces 255 horsepower lb-ft of torque. Both engines are mated with a 4-speed automatic transmission. Ford E350 Econoline shoppers can upgrade to a 6.8-liter V10 that makes outstanding 305 hp and 420lb-ft of torque. A 5-speed automatic transmission comes with the V10, while adequately equipped, an E-350 can tow up to 10,000 pounds.
Driving
The base 4.6-liter V8 looks poor-suited for such practical and powerful hauler as the Ford Econoline van is. It's passable if you're only driving in the city or carrying light loads, but most drivers will be happier with the stronger V8 or V10. The turning circle is enormous, and any change in direction is followed by a considerable amount of body roll. Folks used to a carlike ride will probably find the Econoline a bit rough but tolerable, given its great utility.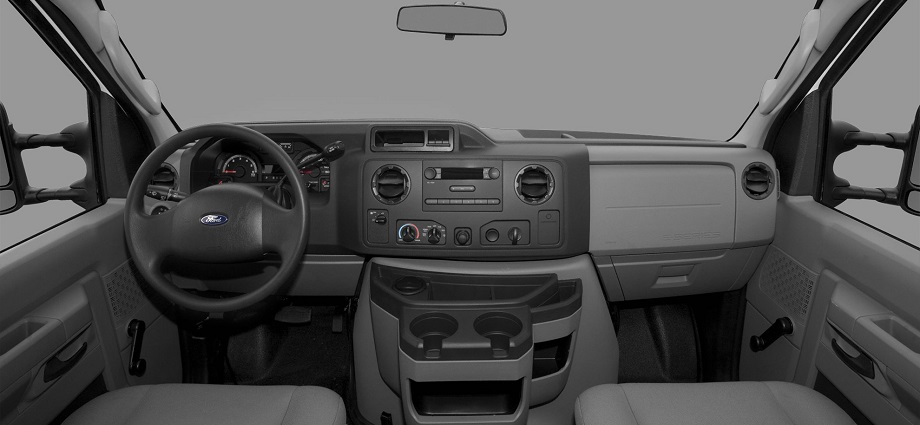 Interior
Inside the Econoline, function definitely takes priority over design. Luckily, controls are well placed, and storage is plentiful. The cabin is humble with its vinyl flooring and upholstery but with the addition of front captain's chairs, an optional second-row bench, an insulation package, a sliding side cargo door, and a side or rear window glass. Standard-length vans feature a maximum cargo capacity of 237 cubic feet, while extended-length vans have an ample 275 cubic feet of space.
Safety
All Ford Econoline vans come standard with 4-wheel antilock disc brakes and stability control. Side or side curtain airbags aren't available, but rear parking sensors and a rearview camera are available as options. In case, you want to improve safety on the ice or snowy road, you can convert this cargo van successfully. Since a converted Ford Econoline 4x4 is an excellent choice for all weather and road conditions.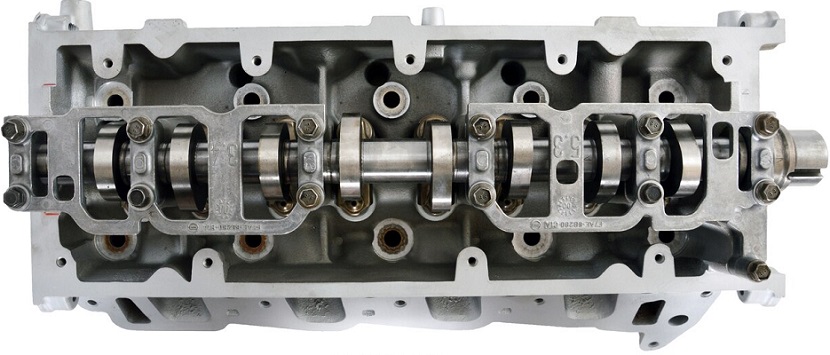 MPG
Fuel economy varies depending on axle ratios. The 4.6-liter V8 is estimated as 13 mpg city/17 mpg highway and 15 mpg in combined driving. The 5.4-liter engine is graded at 12/16/14 mpg for the Ford Econoline E150 and 12/16/13 mpg for the Ford E350 Econoline. The 6.8-liter V10 is rated at 10/14/12 mpg.
Standard & Optional Equipment
Standard features include 16-inch steel wheels, air-conditioning, vinyl front floor coverings, vinyl front bucket seats, a limited-slip differential, manual telescoping mirrors, a tilt-only steering wheel, and a 2-speaker AM/FM radio with an auxiliary audio jack. Available options include a navigation system, chrome exterior trim, alloy wheels, cruise control, keyless entry, power-adjustable/manually telescoping mirrors, a sliding side door, rear parking sensors, a rearview camera, running boards, a household power outlet, upgraded towing packages with optimized axle ratios, interior insulation, a second-row bench seat, cloth upholstery, captain's chairs, user-defined upfitter switches, Ford's Sync voice activation system, a 6-speaker CD stereo, and satellite radio.
Customization
For the business on wheels that requires additional customization, many special packages gear this full-size van with a diversity of shelving units, bins, drawers, racks, and drawers, as well as the optional Ford Work Solutions and Crew Chief. Crew Chief keeps tabs on vans in its fleet, speed, tracking location, maintenance, and idle time, while Work Solutions transforms the workhorse van into a sophisticated office on wheels, with a built-in computer, remote file access, mobile Internet, and on-site tool inventory.
Technical Specifications

2013 Ford Econoline Cargo Van Commercial E-150

Body Style: E-150
Drivetrain: Rear Wheel Drive
Passenger Capacity: 2
EPA Fuel Economy Est - City (MPG): 13 (2011)
EPA Fuel Economy Est - Hwy (MPG): 17 (2011)
Engine Type: Gas/Ethanol V8
Displacement: 4.6L/281
Fuel System: Electronic Fuel Injection
SAE Net Horsepower @ RPM: 225 @ 4800
SAE Net Torque @ RPM: 286 @ 3500
Trans Description Cont.: Automatic
Front Tire Size: LT225/75R16E
Rear Tire Size: LT225/75R16E
Spare Tire Size: LT225/75R16E
Front Wheel Size (in): 16 x 7
Rear Wheel Size (in): 16 x 7
Front Wheel Material: Steel
Rear Wheel Material: Steel
Brake ABS System: 4-wheel
Disc - Front (Yes or ): Yes
Disc - Rear (Yes or ): Yes
Rear Brake Rotor Diam x Thickness (in): 13.6 x - TBD
Fuel Tank Capacity, Approx (gal): 33.0
Wheelbase (in): 138.0

Ford Econoline vs Ford Transit
If you're searching for a van for business, or if you're seeking for a van that can haul a big group, you'll probably consider the Ford Econoline and Ford Transit. But, what is exactly so different between these two Ford models. Our team of experts rounded up all their differences to help you in choosing the right work van. Engine • The Econoline includes 3 engines. Base versions used a 225-horsepower 4.6-liter V8, while customers who needed more power could upgrade to a 255-hp 5.4-liter V8. The only offered engine in the heavy-duty E-350 was a 6.8-liter V10 that made a robust 305 hp and 420 lb-ft of torque; • Econoline fuel economy is "poor," as the van needs 13 mpg in the city and 16 mpg on the highway. These numbers fell to 10 mpg city/14 mpg highway with the V10; • The Transit offers the old V8 and V10 in 3 smaller new options that provide much better fuel economy figures. Standard is a 275 horse 3.7-liter V6 that peddles gas mileage ratings as high as 14 mpg city/19 mpg highway. For more "muscles," you can choose a 3.5-liter turbocharged V6 that touts 310 hp, 400 lb-ft of torque and basically the same fuel economy; • The Transit's most efficient model is a turbodiesel 5-cylinder that offers just 185 hp but 350 lb-ft of torque.
Driving Compared to the Econoline, the Ford Transit provides tighter steering, more direct maneuvering, improved visibility, a more comfortable ride, better brakes, and quicker acceleration. Ford Transit is easier to drive, more maneuverable van than the Econoline. Interior In terms of interior, the Transit has completely different up-to-date interior than his older brother Econoline. Everything is different, from the gauges, steering wheel, dashboard, center stack, switchgear, controls, to the shift lever. There's a high-roof version for extra cargo room and an even longer long-wheelbase model for additional cargo space or seats. Also, the front seats have been reshaped for a more comfortable driving experience. Safety Transit standard equipment includes an available backup camera (optional on Econoline), optional rear parking sensors, and a smart lane-keeping assist feature, which can be useful for professional drivers who might be at risk of drowsing after a long stint at the wheel. Passenger variants of the Transit also offer side-curtain airbags that cover the van's full passenger space, despite how many rows of seats you choose. That feature wasn't available in any Econoline models. Extra Features The Transit offers a huge step up over the Econoline in terms of equipment, technology, and features. In fact, just about every up-to-date feature of Transit wasn't offered in the Econoline, including lane-keeping alert, parking sensors, MyKey (personalized key technology), and MyFord (touch infotainment system). On the other hand, the Econoline was positively outdated, offering only the entry level of features and equipment to opt for.
Bottom Line
Comparing to its competitors, the Ford Econoline cargo looks dated in terms of its design and driving performances. But the Econoline's reputation for reliability and reasonable price are definitely factors to consider this van for your business.