Mercedes Metris Groundbreaking Review - Best Mid-Size Commercial Van in the USA
While Mercedes-Benz is most famous for its line of lux vehicles, including class-leading sedans, coupes, roadsters, wagons, and SUVs, they also offer several commercial vehicles, including cargo vans. Overall, a commercial RWD (rear wheel drive) van, the Metris can be configured as a passenger-hauling shuttle or a near-windowless delivery van. With almost the same length as a minivan, the Mercedes is wider and taller, with plentiful headroom and available seats for 8 people. The Mercedes Benz Metris is a little bit "exotic" since it's the only van on the market that's sized between small and full-size commercial van. As such, the Metris offers enhanced capability compared to those small vans but a more maneuverable size than the bigger full-size vans. The Mercedes-Benz Metris is engineered for those who need a commercial van that's not big or expensive as the Sprinter, but more capable than compacts like the Ford Transit Connect. Smaller than Sprinter, Ram ProMaster, and the full-size Ford Transit, the Metris is larger than Ford Transit Connect and the Ram ProMaster City.
Mercedes-Benz Metris Trim Levels
It's crucial to seriously check the trims of the van you're interested in to make sure that you're getting the features you need, or that you're not overpaying for features you don't need. This comparison chart helps you narrow down to the trims that are right for you.
| Van | Engine | Horsepower | City MPG / Hwy MPG | Transmission | Drive |
| --- | --- | --- | --- | --- | --- |
| Metris Cargo Van Standard Roof 126' Wheelbase | 4 Cylinder Turbo | 208 | 21 / 24 | 7-Speed Shiftable Automatic | RWD |
| Metris Cargo Van Standard Roof 126' Wheelbase Worker | 4 Cylinder Turbo | 208 | 21 / 24 | 7-Speed Shiftable Automatic | RWD |
| Metris Cargo Van Standard Roof 135' Wheelbase | 4 Cylinder Turbo | 208 | 21 / 24 | 7-Speed Shiftable Automatic | RWD |
| Metris Passenger Van Standard Roof 126' Wheelbase | 4 Cylinder Turbo | 208 | 19 / 23 | 7-Speed Shiftable Automatic | RWD |
| Metris Passenger Van Standard Roof 126' Wheelbase Worker | 4 Cylinder Turbo | 208 | 19 / 23 | 7-Speed Shiftable Automatic | RWD |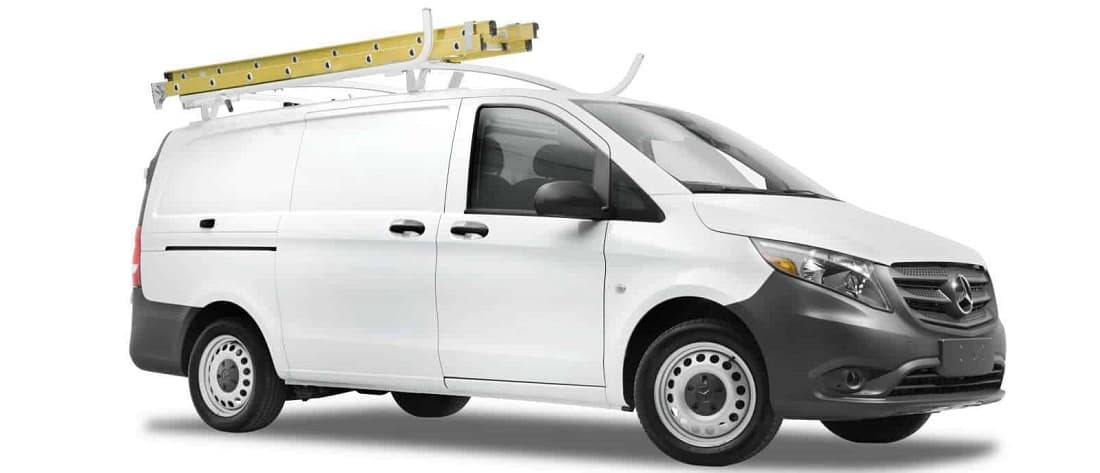 Mercedes Metris Specs
The Metris is available in 4 version and can be outfitted for cargo duty or as a 5, 7, or 8-passenger van. The Mercedes Metris Cargo is one with an extensive cargo area, while the Passenger fills that area with 2 rows of seating. There are also Worker Passenger and Worker Cargo versions that cost less than their non-Worker peers in exchange for a smaller list of available features. An extended-wheelbase model is offered for the Metris Cargo only. Driving The Mercedes Metris is likely the leading performer in its class, with a reliable engine, a smooth-shifting transmission, and powerful brakes. The turbocharged 2.0-liter engine with a 208hp 4-cylinder is energetic compared to other small cargo vans. The 7-speed automatic offers Manual, Eco, and Comfort shift modes. During driving, the Metris' brake pedal is progressive and easy to operate. The engine is convenient, and the transmission downshifts promptly to help slow the van smoothly to a stop. The optional auto stop-start system runs like clockwork in the background. Comfort Road and tire noise are prevalent on the freeway. Around the city, the sound is more acceptable, while comfort is otherwise. The manually adjustable seats are suitable for the long shift, the ride is pleasant, and the climate controls are easy to launch. Considering the plainness of the driver's seat, it is unexpectedly comfy. There's a decent amount of sideways support for a Mercedes Benz Metris cargo van. Still, the basic manual seat adjustments, don't offer much personalization. Utility Numerous features are available at additional cost to upfit the cargo area, though small-item storage is limited. The same can be said for other cargo-oriented vans. Generally, it's a very capable van for hauling and getting work done. In the field of utility, the Metris is as capable as its rivals. The Metris Cargo includes a 2,502-pound payload capacity, while its competitors have a 1,800-pound capacity or lower. It also has a best-in-class GVWR (gross vehicle weight rating) of 6,724 pounds. The Metris has cargo area features such as partitions, LED lighting, and variable cargo tie-down positions. Its 186 cubic feet of cargo volume increases slightly on the extended-wheelbase variant to 199 cubic feet. This van also has a rear liftgate or swing-out rear cargo doors that open 270°. The Metris Cargo boasts a 5,000-pound towing capacity. There isn't another van in this class that comes close. It's also pre-wired for trailer use with a 3.46 axle ratio, too. Small-item storage is limited for front passengers. There are 2 in-dash bins, 2 cupholders, and clipboard-size cutouts on top of the dashboard. Technology Nothing is too much luxe, what is expected for Mercedes badge. But for a work cargo van, the Metris offers about everything you need. The Metris Cargo includes the basics: AM/FM radio, a USB port, and auxiliary jack, and a 5.8-inch navigation screen. The navigation functionality is of basic quality but feels sufficient in this app. The same can be said of the 5-speaker audio system up front. Bluetooth is standard in the Metris. Phone pairing is easy enough to use with hands-free feature without too much distraction from the road. Navigation voice controls are an option in the multi-function wheel package, but they don't work for phone controls. Phone feature like Siri can be used as a workaround.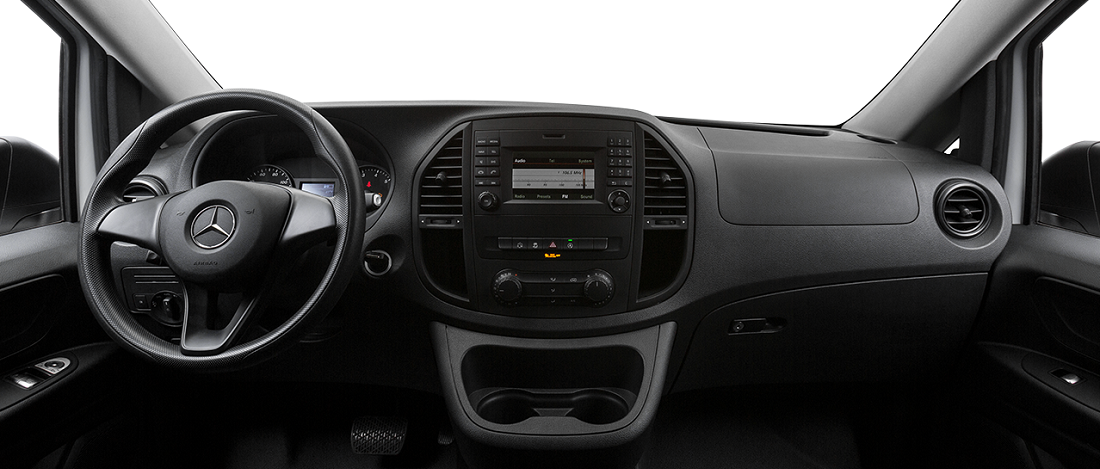 Mercedes Metris Interior
You'll find it easy to go into and out of Metris. But there are sitting position limitations once behind the wheel. Headroom and elbow room are ample. Typically for the cargo model, the lack of window limits outward visibility, even with the rearview camera. The 2 front seats are the only hurdles to a completely open interior, so roominess isn't an issue. Metris has a great deal of headroom and elbow room up front, while a long dashboard and tall windshield add a sense of roominess for front passengers. The seat-to-steering position will be unhandy for some people, and the manual seat adjustments don't provide a lot of adjustment. The steering wheel slops, but without the advantage of a telescopic adjustment, there's small chance to adjust the seat to your taste. The step-in height for this Mercedes van is just 18.5" which means that is high as you have to raise a foot to get in. It puts the seat bottom at just the right height to slide in and out easily. The flat seat cushions help even more. The Metris use switches you've seen in previous Mercedes models, so most controls are easy to use and reach too.
Mercedes Benz Metris MPG
Due to the low-pressure turbocharger and well-though-out gearing, the Metris provides comparable fuel efficiency to less powerful and smaller counterparts like the Ford Transit Connect which is available with either a 178-hp turbocharged 1.6-liter motor (25 mpg) or 169-hp 2.5-liter four-cylinder (23 mpg).
Mercedes Metris Accessories
Devoted to deliver high-quality solutions to Metris van, Mercedes accessories offers practical and various solutions to make sure your van is flexible on the road. Featuring a wide range of accessories, from floor mats to ladder racks and lane keeping assist, Metris has everything you need to complete driving experience. Exterior Accessories • Ladder racks: Suitable for all basic carrier bars, the ladder rack keeps ladders secure during transit. It consists of 4 high-angle brackets, and elastic cords, and 1 locking bracket; • Basic carrier bars: The robust set of 2 crossbars features a level loading surface and comes sheathed in plastic for extra cargo protection; • Alustyle carrier bars: Engineered to be aerodynamic and to be combined with different accessories, such as bike racks or roof boxes; • Trailer hitch kit: Designed to meet van's maximum weight carrying capacity of 5,000 lbs; • Side window wide deflector: Prevents windows from steaming up and guards van interior from rain, dust, and insects; Interior Accessories • Becker MAP PILOT navigation module: Transforms radio into a top-performance navigation system with 3D map views; • Clipboard writing surface: A functional writing surface that merely attaches and securely over the steering wheel; • All season floor mats: Robust and washable floor mats made from synthetic material for heavy use. They're made with recessed areas and raised edges; • Trunk trays: For passenger vans only, the shallow trunk tray protects luggage compartment from scratches and dirt. Trays are made from lightweight, long-lasting plastic; • Seat cover: The protective seat comes in Black Tunja and is geared with the extra safety of a thorax side airbag.
Conclusion
There is only one obstacle to ownership, though, and it's the price of a new vehicle. If you're a fleet owner only interested in the bottom line, another small van might suit you better. But overall, the Mercedes Metris features enough value to justify its price.