High Roof Cargo Vans – 4 Highest of the Bunch
Full-size cargo vans are spacious, but high roof cargo vans offer more space for your tools, drawers, ladders and give you the opportunity to organize cargo room and work more efficiently. How many times you cursed lousy luck because you need to crawl on knees every time you want to pull out long pipes, cables or open drawer with small items. A difference in 20 inches in cargo height can mean a lot no matter if you are plumber, electrician, HVAC or contractor.
If you think it's the right time to consider high roof cargo van as an option these are four models you can't miss. Maybe they look the same because of a high top, but they drive differently, handle corners differently, have different price tags and fuel economy. To make a final decision which one you'll join to work fleet check other vital details, not just cargo capacity – cargo space dimensions and cubic feet. Ground clearance is important too. High roof cargo vans usually have bigger engines than standard roof counterparts. Aerodynamic is often neglected here, but it has a crucial role in van fuel efficiency. However, these are the 4 most recommended high roof cargo vans by professionals.
2017 Ram ProMaster Cargo Van 2500 High Roof

First on the list, and most popular lately is RAM's model ProMaster 2500. This is a middle solution offered by RAM. Smaller is model 1500, and bigger is 3500. This van is possible to buy in two wheelbase lengths, short wheelbase 136WB, and long 159WB. Numbers here stand for inches. An overall length of the shorter model is 213.1", longer wheelbase model length is 236". Let's see specs you are most interested. Regular wheelbase ProMaster 2500 high roof has cargo capacity (behind rear seats) of 353 cubic feet, longer version has 420 cubic feet. Overall height (without roof rack) for both models is 99.44". High-roof body style indeed offers more storage options and headroom. 6 feet person can easily stand in cargo a have some space over top of the head. Low roof model offers only 88.7" of height. A new van equipped with standard 3.6L Pentastar V6 VVT engine (280 horsepower) and 6-speed automatic transmission costs $33,695. Used 2017 ProMaster 2500 high roof, with low mileage and in good shape is possible to find for $23,000. Why do you need to consider ProMaster cargo van? This is the only cargo van at the market with front wheel drive. It is pretty good on the snow and ice. Turning radius is way better compared to main rivals. Driving the van of its size can sometimes be challenging, especially on the city streets, but that is not the case with ProMaster. Tight turning radius helps a lot. Engine comes from Chrysler, and it's up to the task when accelerating under maximum payload. The motor is quiet, smooth and refined. Driver sits very high, and driving position allows good ergonomic. Because of ProMaster's front wheel drive, the van has the lowest floor height in the segment. Low step-in height makes this van very easy to load. Cargo space is possible to load and unload by two side doors and rear door which opens under a 270-degree angle. If this cargo capacity is not enough for you, RAM offers 3500 high roof cargo van in extended version. This model is rated over 462 cubic feet of cargo volume when properly equipped.
Ford Transit Cargo Van High Roof

We could say Ford is king of customization. Transit, Ford's full-sized cargo van is produced in 3 roof heights and 3 wheelbase lengths. Transit 150 (number represents wheelbase) is offered only as low and medium roof, Transit 250 and 350 is possible to buy as low, medium and high roof body style. Furthermore, Ford proffers gas and diesel engines for all its vans. Let's see capabilities of Ford Transit High Roof cargo van. Cargo volume behind first row seats Transit is 404.3 cubic feet. EL version (extended long) has enormous 487.2 [cu. Ft.] of cargo volume. And that is a lot of space for tools and materials. This makes Transit almost a leader when it comes to cargo volume. We say almost because the segment leader is Mercedes Sprinter with an incredible capacity of 586 [cu. ft.] Suspension and chassis are very tight. Unibody construction makes Transit very easy to drive even as high roof. It responds immediately and makes you think like driving a sedan or SUV. With a robust 3.5L EcoBoost engine, it is also swift. Cargo vans aren't meant for a race, but it's good to know that engine is capable of producing 310HP and 400 lb-ft of torque. And that torque is enough for some serious towing. How serious? Maximum towing capacity is 6,800 pounds. Maximum payload capacity is 4,200 pounds. So why choose Transit? Because of tree things; versatility, drivability and affordable price. Transit is not a cheap van, that is for sure, but compared to Mercedes Sprinter Ford will cost you less in the long term. If you take into the account maintenance, spare parts, and overall dependability, Ford Transit is the most recommended cargo van with high roof. Furthermore, the best option for many small business and fleet owners is buying a used commercial van with low mileage. Used 2015 Ford Transit cargo van high roof can be easily found under $25,000 though low and medium roof versions are much more represented.
Mercedes Sprinter Cargo Van High Roof

As we already said, Sprinter is cargo van with the highest cargo volume capacity of 586 [cu. Ft.] Germans did a great job with 2017 model, and we expect the same with new Sprinter 2019. Back on the present model. Mercedes offers Sprinter high roof as standard wheelbase (144"), long (170") and extended wheelbase. All wheelbase versions use 6-cylinder 3.0L diesel engine. Van utilize 5-speed automatic transmission and has rear-wheel drive. The engine produces 188HP and 325 lb-ft of torque. Maximum payload capacity for 170-inch version is 3,104 lbs. Maximum towing capacity is 5,000 lbs. Strange enough is fact Mercedes-Benz doesn't offer petrol engines for 170" and extended version of Sprinter. A key feature that is in our focus, along with most significant cargo capacity, is an interior standing height of 77.8 in, almost 6,5 foot. So we came to two most obvious reasons to recommend Sprinter, lots of cargo room and fantastic fuel economy of a diesel engine. A downside of this work van is a price. Sprinter is the most expensive cargo van in the US market. Maintenance is not cheap as well, but at least you have a reliable commercial van that will last for many years. If you want to save money, and who doesn't, find used Merced Sprinter high roof. Model from 2017 with plenty of extra features, especially safety ones, cost slightly under $40,000. Same as with Transit, more represented are low roof trim levels and short 144WB models.
Nissan NV Cargo High Roof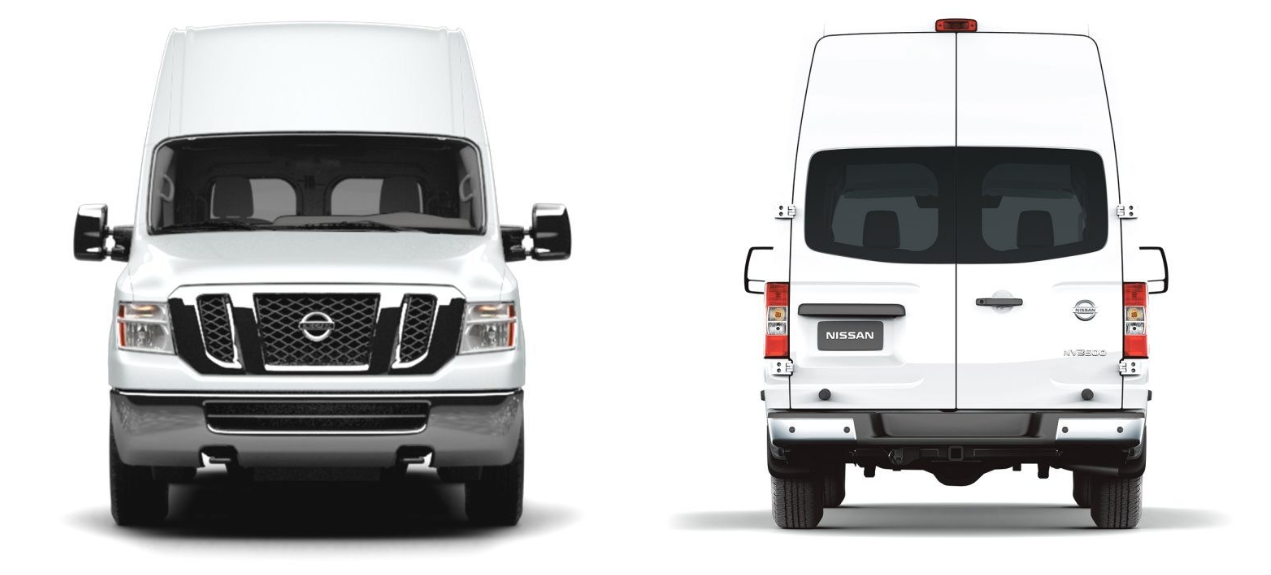 One fleet owner recently said if you still use a pager and flip phone this is the cargo van for you. Jokes aside but Nissan NV Cargo is the only commercial van who still use the body on frame design. Compared to Transit, ProMaster, and Sprinter, Nissan NV looks like it needs entirely new design. Despite the outdated exterior lines, everything works fine, the van is built to last, and it's tailored for those who work behind the steering wheel. If you don't mind NV's boxy look from the nineties, know this van is reliable and sturdy as hell. NV Cargo gas engines are not famous by the excellent fuel economy (only 12 mpg), but at least they are proven for many years. That is why Nissan offers top-notch 5 years/100,000 miles bumper-to-bumper warranty. Above mentioned rivals serve 3 years or 36,000 miles warranty. NV Cargo High Roof has 323 cu.ft. of cargo space. This position NV to the last spot on our list, although this is slightly weak result compared to RAM ProMaster's 353 cu.ft. Cargo room height is enough for someone who is 6'3" tall. What are the pros of this old school cargo van? Affordable price, satisfying ground clearance, powerful V8 petrol engine and sturdy materials inside the van and cockpit. Used 2016 Nissan NV high roof costs around $20,000. A few years older vehicle is possible to find around $15,000.
To Conclude
There is nothing sexy and fancy about high roof cargo vans. They offer more cargo space than low and medium roof brothers; you can walk inside cargo area and still have a room on top of your head, you can organize better, improve productivity, haul more loads and heavy tools, finally work faster. Bottom line, the best high top cargo vans are those who make you money. Simple as that.